This post may contain affiliate links. Please read my disclosure policy.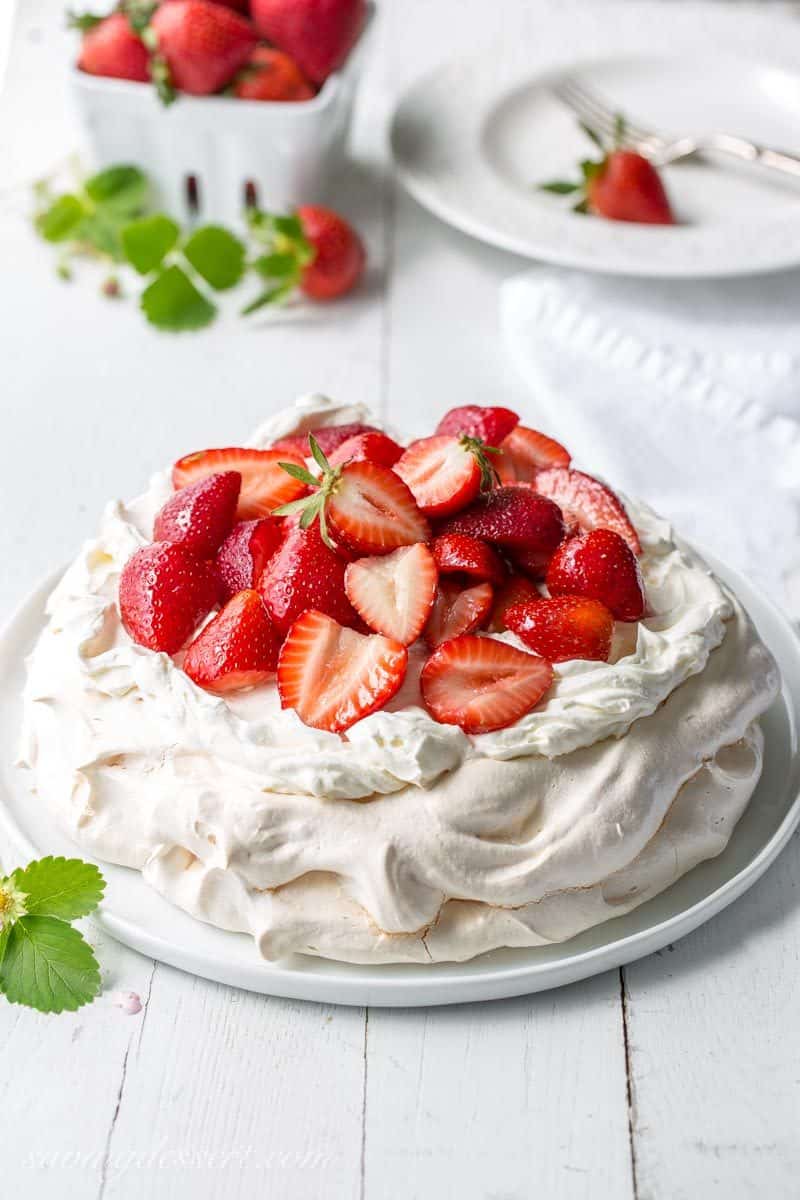 Strawberry & Mascarpone Pavlova Recipe ~ named for the famous early 20th century Russian prima ballerina Anna Pavlova, the dessert is said to mimic her tutu with light-as-air fluffiness!
The outside is crispy and sweet and the middle is soft like a marshmallow.  Traditionally served with whipped cream and fresh fruit, Pavlova is a popular dessert in Australia and New Zealand, however neither can agree on who made it first!
This is not my first Pavlova friends.  Being the stubborn baker that I am, I had to go ahead and make my first Pavlova recipe on a rainy, humid day.  I know better, and not sure why I thought I could work miracles with a meringue.  But alas, it was a great learning experience and a direct path to a big, tall, sunken in the middle Pavlova, which was actually delicious anyway.  Back to the drawing board.
Pavlovas, meringue cookies, and macarons all have something in common.
There's no way to successfully make them on rainy days.  So I made a plan to try again on the next clear day.  In the meantime, I did a lot of research, read a few bazillion Pavlova recipes and finally found the one that made complete, and perfect sense.  If you want to make a Pavlova, check out Nagi's post at RecipeTin Eats.  She nailed it with the directions, explanations, and she even posted a video!  I slightly adapted her Pavlova recipe, then added my own toppings to create this delicious recipe.
Airy and light, the Pavlova hardly weighs an ounce and could probably fly away in a stiff wind.  The strawberries and mascarpone cream keep it on the plate, but not by much!
My mother-in-law used to make meringue cookies when my husband was little.  He has great memories about her baking and especially those "egg white deals" (a/k/a meringue cookies.)  I've researched Pavlovas for a long time now so when he asked if I would make one, I was ready to roll.  The biggest mistake I made with the first Pavlova (other than it being a rainy day) was trying to make it too tall.  I measured an 8-inch round, used 6 egg whites built it up to about 4-inches high.  The secrets I learned from Nagi were to keep the Pavlova to around 2-inches tall, using a 9-inch round cake pan as a guide, and only use 4 egg whites.  The only adjustments I made to her recipe was to decrease the cornstarch and I added a pinch of salt.  We could not be more pleased with the outcome.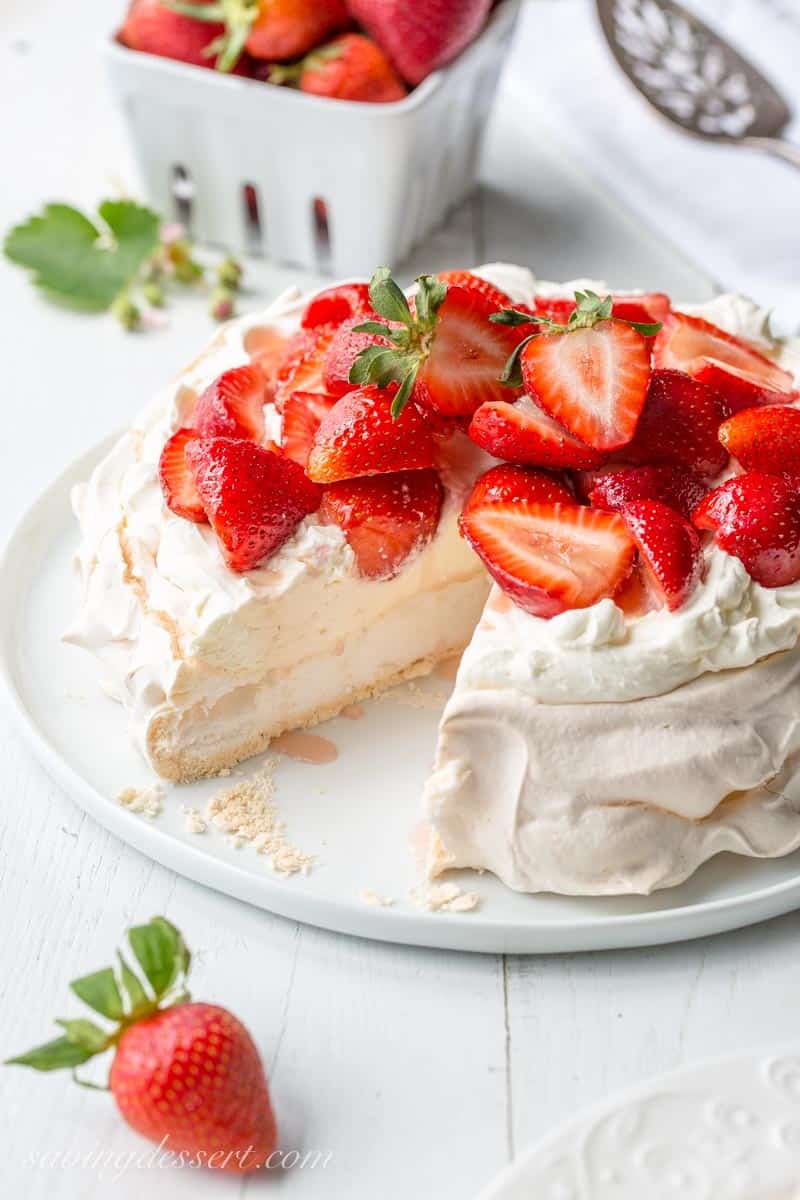 I can't wait to make this again and plan to serve it at our next get-together.
Here's what I really love about a Pavlova, you can whip this up first thing in the morning on the day you want to serve, then bake for 1 1/2 hours, turn off the oven and leave it until ready to serve.  The mascarpone cream can also be whipped up ahead of time, as well as the strawberries.  Bring all the pieces together just before serving and delight your guests with this quintessential Aussie summer treat.
Thanks for PINNING!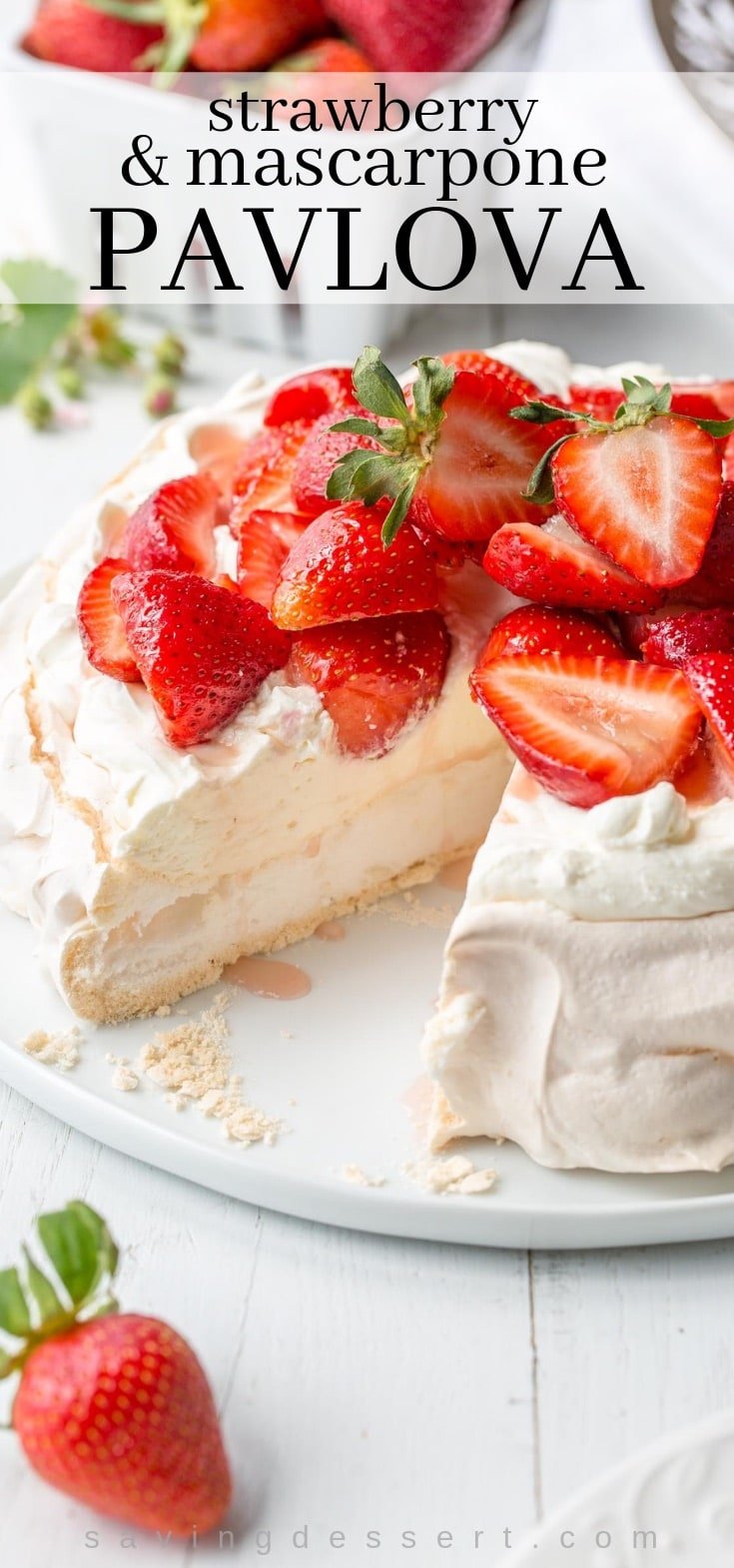 Strawberry & Mascarpone Pavlova Recipe
Cook Time:
1

hour
30

minutes
The outside is crisp and sweet and the middle is soft like a marshmallow. Traditionally served with whipped cream and fresh fruit, Pavlova is a popular dessert in Australia and New Zealand.
Ingredients
For the Pavlova:
5

large egg whites

(room temperature)

1

cup

superfine sugar

2

teaspoons

cornstarch,

sifted

pinch of fine sea salt

1

teaspoon

white vinegar
For the Mascarpone Cream:
4

ounces

mascarpone cheese

1

cup

heavy whipping cream
For the Strawberries:
2

cups

fresh strawberries,

stems removed

2

tablespoons

Grand Marnier,

or other orange liqueur

2

tablespoons

superfine sugar
Instructions
To make the Pavlova:
Separate the eggs whites and yolks making sure there is no yolk in the egg whites. Reserve the yolks for another use (like ice cream!) Lightly cover the egg whites and leave at room temperature for a hour or two.

When ready to make the Pavlova, preheat oven to 340°F.  Line a baking sheet with parchment paper.  Using a 9" cake pan as a guide, draw a circle on the parchment paper.  Turn the paper over and set aside.

Place the egg whites in the bowl of a stand mixer fitted with the whisk attachment. (Alternatively use a hand mixer) Beat on medium high until the egg whites are very foamy and hold soft peaks.

Add the sugar, one tablespoon at a time, blending for a few seconds after each addition. After adding all the sugar, beat for 3-4 minutes or until the meringue is no longer gritty. To test, rub a small dollop between your fingers.

Sift the cornstarch over the meringue, and add the salt and vinegar. Fold the mixture with a rubber spatula until all ingredients are incorporated.

Take about 1 teaspoon of the meringue and use it to secure the parchment paper to the baking sheet. Place a small dot under the 4 corners and press against the pan to adhere. This makes it much easier to spread the meringue into the circle.

Dollop half the meringue onto the parchment and using a large metal spoon, carefully spread to fit the circle. Add the remaining meringue on top and spread almost to the edges. The sides should be slightly sloping. Spread to flatten the top. The whole Pavlova should be about the size of a 9-inch cake pan and about 2-inches high with sloping sides, wider on bottom, slightly smaller on top (see photos.)

Carefully place the Pavlova in the oven and immediately reduce the temperature to 240°F.  Bake for 90 minutes without opening the oven.  After 90 minutes, turn off the oven (leaving it closed) and allow the Pavlova to cool for several hours.  
To prepare the strawberries:
Place the prepared strawberries in a heat-proof bowl. In a small saucepan, combine 2 tablespoons of sugar and the Grand Marnier. Heat the sugar mixture on medium, stirring occasionally, until the sugar is dissolved. Pour the syrup over the strawberries and gently toss to coat. Set aside while preparing the mascarpone cream.
To make the Mascarpone Cream:
Combine the heavy whipping cream and the mascarpone in a medium mixing bowl. Beat on medium high until it's creamy and thick and holds a pretty peak. Don't over-beat the cream. You want it to be silky smooth with good texture.

Gently dollop the cream on top of the Pavlova. It's heavy so be gentle. Carefully spread the cream to about 1-inch from the edge. Gently spoon the strawberries on top and pass any remaining juice to drizzle on individual servings. Serve immediately. Store leftovers in an airtight container in the refrigerator. The Pavlova is best eaten the day it is served.
Recipe Notes
Nutrition information is calculated using an ingredient database and should be considered an estimate. When multiple ingredient alternatives are given, the first listed is calculated for nutrition. Garnishes and optional ingredients are not included.
Nutrition
Calories:
308
kcal
|
Carbohydrates:
34
g
|
Protein:
4
g
|
Fat:
17
g
|
Saturated Fat:
11
g
|
Polyunsaturated Fat:
1
g
|
Monounsaturated Fat:
3
g
|
Cholesterol:
48
mg
|
Sodium:
48
mg
|
Potassium:
116
mg
|
Fiber:
1
g
|
Sugar:
32
g
|
Vitamin A:
640
IU
|
Vitamin C:
21
mg
|
Calcium:
47
mg
|
Iron:
0.2
mg
And finally, I can't make any promises, but this should be the last of the strawberry recipes for a while.  I hope you found a few new recipes to try and suggest a quick search of the SRFD archives if you need more!  If you're a nut for mascarpone, strawberries and/or Grand Marnier, you may also like our favorite Strawberry Mascarpone Cake, Fresh Strawberry Ice Cream and this delicious Strawberry Dutch Baby. If you end up with a few extra strawberries this year, don't forget about our wonderful spiked Easy Small-Batch Strawberry Jam, it's so good!
I can't wait to make these Simple Meringue Cookies ~ from That Skinny Chick Can Bake – my husband will LOVE them!  Oh and check out these Strawberry Cupcakes with Strawberry Meringue Buttercream ~ from Brown Eyed Baker.  Toni from Boulder Locavore posted beautiful Forget Me Nots (rose-flavored meringue cookies) that are absolutely beautiful.
I hope you had a wonderful weekend.  Thanks so much for stopping by!
Tricia