This post may contain affiliate links. Please read my disclosure policy.
Good morning Friday. Thanks for coming by! I've missed you since last week. We've had a busy week with lots going on so a glimpse of the weekend is a welcome blip on our radar. Next week will offer a much slower pace. More on that later.
I'm not trying to take the easy way out today with another panini post. You know I only share the good stuff and this is a great sandwich. Sometimes I just start pulling stuff out of the fridge and try to make something out of the remnants. We had a little left over pesto (yum!), some juicy ripe tomatoes, a little Fontina cheese and 1/2 an avocado. I also had some Tuscan Garlic bread in the freezer so dinner was born.
Spread a little pesto on one side of four slices of bread. Cut several thick tomato slices and place them on top of the pesto.
Add sliced Fontina cheese – mmmmm.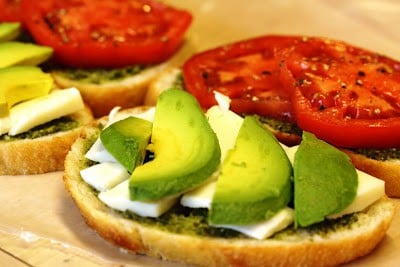 Then add the avocado and a little salt and pepper.
Warm the panini pan, press or skillet on medium low heat. I like to cook a little slower so the cheese will melt, and Fontina cheese melts so good.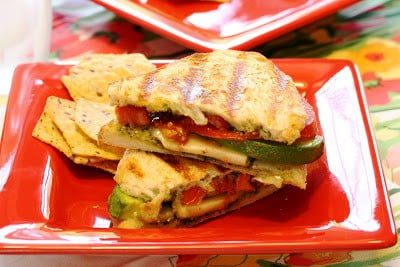 Cut the sandwiches in half and serve immediately.
Once again the panini was a big hit with both of us. Tons of flavor, juicy tomatoes and creamy avocado. A delicious meal in minutes.
Tomato, pesto, avocado & cheese panini
4 slices good bread such as Tuscan Garlic
1/2 avocado, sprinkled with lime juice and sliced thin
1 large tomato, sliced thick
2 tablespoons pesto
3-4 ounces Fontina cheese, sliced
Olive oil for coating the panini pan, skillet or press
Spread pesto on one side of each slice of bread. Add tomato slices, avocado and cheese. Sprinkle with salt and pepper to taste and top with bread slice. Cook on medium low heat in a panini pan lightly brushed with olive oil. Brown slowly to melt the cheese and serve immediately.
~~~~~~~~~
We have a good old fashioned pie coming up Monday. It has oatmeal in it so you can eat it for breakfast. No really – isn't that a rule somewhere? Have a terrific weekend and don't forget how much I appreciate you stopping by!