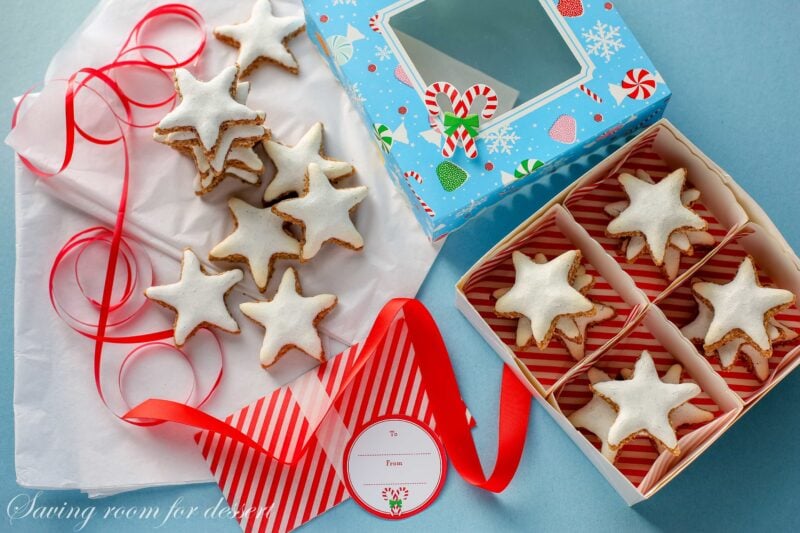 December already – oh my!  There are so many recipes I'd like to try this year and with only 30 days left in 2014, it looks like I won't make it!  So before the holidays get away from me I wanted to post these lovely traditional German Christmas Cookies.  Zimt is German for cinnamon and sterne is star, and that is exactly what these are … cinnamon star cookies.
The dough is simple to make using ground almonds, sugar, cinnamon and egg whites.  This recipe calls for a small amount of flour but there are many variations available for those requiring gluten free cookies.
The dough is rolled out and cut into star shapes then painted with a meringue glaze before baking.  This fascinated me and I couldn't wait to give it a try.  While painting icing on each cookie is a bit tedious, I think it was well worth the effort.  It's not hard and was actually fun – sort of like decorating cut out cookies.  I love these old recipes from far away places – and this one does not disappoint.
Zimtsterne taste better as they age – so they are perfect for gifting.  These cookies are making their way to family members in Georgia today.  I hope my traveling husband doesn't eat too many before he gets there!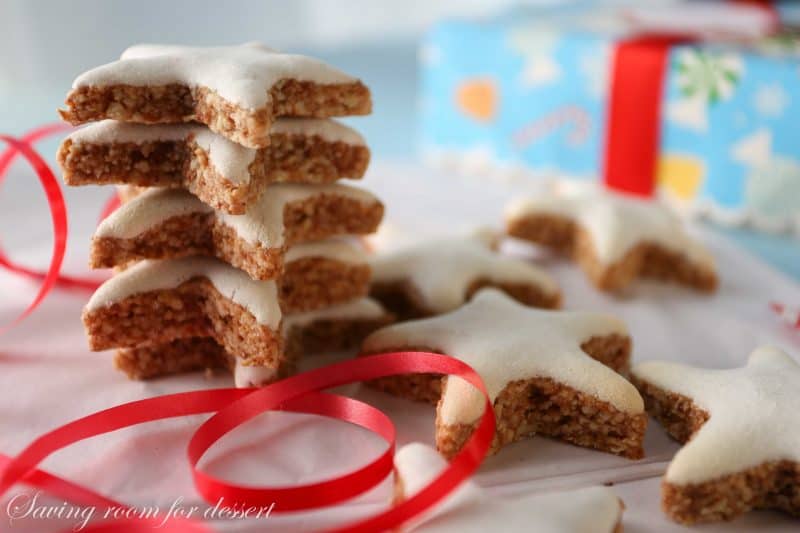 Almonds and cinnamon create a wonderful base and the sweet meringue makes these irresistible.
Zimtsterne ~ Cinnamon Stars
A delicious blend of ground almonds and cinnamon topped with a sweet meringue glaze. A traditional German Christmas Cookie adapted from a recipe on Food.Com by Thorsten.
Recipe type:
Cookies, Dessert
Cuisine:
German Christmas Cookies
Ingredients
FOR THE DOUGH:
300 g almonds, finely ground (approximately 2 cups)
100 g super fine granulated sugar (approximately ½ cup)
50 g unbleached all-purpose flour (approximately ⅓ cup)
2 teaspoons ground cinnamon
2 large egg whites
FOR THE MERINGUE GLAZE:
1 large egg white
1 dash salt
200g super fine granulated sugar (approximately 1 cup)
1 - 2 teaspoons milk
Instructions
FOR THE DOUGH:
In a large bowl whisk together the almonds, 100 g sugar, flour and cinnamon.
Add 2 egg whites and mix using a rubber spatula until the dough holds together. It will be sticky.
Press the dough into a large circle on a piece of plastic wrap. Cover with additional plastic wrap and refrigerate at least 1 hour, or more.
Preheat oven to 325 degrees. Line two baking sheets with parchment or a silpat mat.
Roll the dough between two pieces of parchment paper to approximately 1 cm or ⅜" thick. Cut out star shapes and place on the prepared baking sheet.
Re-roll the remaining dough cutting out more stairs until all dough is used.
FOR THE MERINGUE GLAZE:
Beat the egg white with the salt until stiff. With the mixer on, slowly beat in the sugar until incorporated. The meringue should have a spreading consistency but not be runny. Add a little milk if needed, ½ to 1 teaspoon at a time until you get the right consistency.
Place about ½ teaspoon of meringue in the middle of one unbaked cookie. Immediately use a small brush to drag the meringue out onto the tips of the stars. Continue until all cookies have a meringue glaze.
Bake the cookies for about 8 minutes - watching carefully as you do not want the meringue to brown.
Remove from the oven and cool on a wire rack. Store in an airtight container.
Notes
I used a digital scale and measured all ingredients in grams. The conversions to cups are approximate. The traditional German star has 6-points, I only had a 5-point star cutter so that's what we used. My cookie cutter is 2½ inches tip to tip.
Ready to pin!
Did you have a lovely Thanksgiving?  We really did – and ate way too much!  It feels good to get back to "normal" dishes and fewer casseroles.  Did you bake this weekend?  Please feel free to leave a link in the comments section with your favorite Christmas cookie and thanks so much for stopping by!
Tricia
SaveSave