This post may contain affiliate links. Please read my disclosure policy.
Blueberry Zucchini Cake – a delicious slice of summer!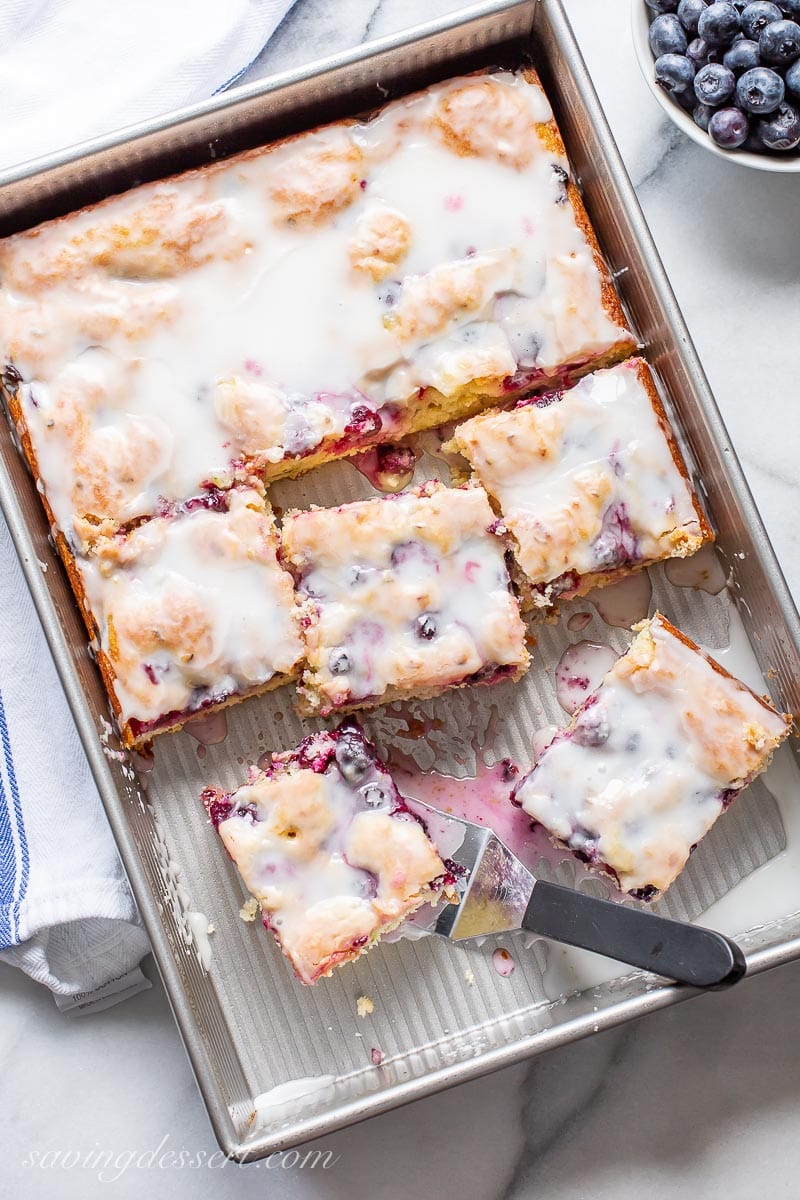 You're going to LOVE this deliciously moist and flavorful cake stuffed with zucchini, lemon and blueberries.
The phrase "deliciously moist" doesn't mean this lovely zucchini cake is wet or gooey. It means this cake holds together beautifully and is not at all dry, or lacking in any way.
After making this recipe more times than I can count, we've dialed in the perfect combination of flavors and a fool-proof method for making the perfect summer cake!
Ingredients needed for Lemon Blueberry Zucchini Cake:
With a couple of key ingredients you can make an amazing cake the whole family will love!
Fresh zucchini – you'll need 2 cups shredded zucchini (do not pack), about 1 medium squash. If you only have large, seedy zucchini on hand, be sure to scrape out the seeds before shredding. Don't peel the zucchini. Leave the green outer skin in place.
all-purpose flour
baking powder
baking soda
salt
buttermilk – well shaken. Low fat or whole buttermilk works well here, but we prefer whole.
zest and juice of 1 lemon – if your lemon is dry, use the juice of two lemons. Be sure you only zest the outer yellow portion of the lemon rind. Please don't zest the white pith as it can make your cake taste bitter!
vanilla extract
unsalted butter – you can use salted butter but be sure to cut the amount of added salt in half.
granulated sugar
eggs – room temperature
fresh or frozen blueberries – if using frozen blueberries you don't need to thaw first. Our blueberries were a little past prime and practically melted into the cake. That's not a bad thing, however. If you have blueberries that you need to use ASAP, this is a great cake to use up your over-ripe berries.
Ingredients for the simple glaze:
confectioner's sugar
buttermilk – if you don't want to refrigerate the cooled, iced cake, omit the buttermilk from the glaze. Personally I adore the flavor here, so I hope you'll give it a try. The sweet, tart and tangy glaze is terrific!
juice of 1/2 lemon – more or less as needed for the perfect pouring consistency!
How to make Blueberry Zucchini Cake
1. First, shred a medium zucchini on a large box grater.
Scoop the shredded zucchini into a fine mesh strainer set over a bowl. Allow it to drain while preparing the cake batter. Whenever I make zucchini bread, chocolate zucchini muffins, our corn and zucchini casserole or this cake, the zucchini is always different. Some zucchini are drier than others and won't leave any moisture behind in the bowl.
Other times the zucchini is dripping wet and drains quite a bit. Discard any zucchini juices left in the bowl.
If using large zucchini, don't forget to scoop out the seeds before shredding.
Don't press or squeeze moisture out of the squash. Leave it in the strainer and if nothing drains out, no worries. You need some moisture left in the squash to make the cake moist and tender.
2. Next, combine the dry ingredients:
Whisk together the flour, baking power, baking soda and salt. Set aside.
3. Combine the wet ingredients:
Whisk together the buttermilk, lemon zest, lemon juice and vanilla extract. Set aside.
4. Beat the butter and granulated sugar
In a large bowl combine the butter and sugar and beat with an electric mixer until light and fluffy. Once the butter mixture is light and fluffy, add the eggs, one at a time, beating well after each addition.
5. Blend the flour mixture into the butter and sugar in 3 additions alternating with the buttermilk mixture.
6. Add the grated zucchini and blend until combined.
7. Spread the cake batter in the prepared baking pan and scatter blueberries on top.
You can also fold the blueberries into the batter before spreading in the pan. We've tried this cake several ways but prefer scattering them on top before baking. This gives the cake a blueberry buckle-like appearance as some of the berries sink down into the batter creating dimples.
8. Preheat oven to 350 degrees F and bake!
Once baked, remove from the oven and cool on a wire rack for at least an hour. Drizzle with a simple buttermilk glaze and allow the cake to rest for 15 minutes. All those bumps and ridges on the surface of the cake are perfect for the glaze to settle into, creating sweet pools of tangy deliciousness!
Enjoy 🙂
Can you taste the zucchini in this cake?
Nope! Your family will never know there's a vegetable in their dessert. If you look really, really close you might see a few flecks of green from the skin of the squash. Other than that, there's nothing to see except moist cake with bright lemon flavor and juicy pops of blueberries.
Does this Zucchini Cake taste like zucchini bread?
This is not a quick bread recipe even though it comes together just as fast. Our sheet cake tastes like cake all the way to the last bite. It's sweeter than zucchini bread but doesn't include any more sugar. The buttermilk glaze probably adds the "icing on the cake" finish to our recipe.
Zucchini bread recipes typically include cinnamon, raisins and nuts. Both zucchini bread and cake call for shredded zucchini in the recipe. Our zucchini cake is lighter in flavor with a brightness from the lemon and blueberry jam-like pockets of flavor.
Perhaps using butter in the cake in place of vegetable oil makes the biggest difference in flavor, texture and appearance. Both are delicious treats not to be missed when your garden is overflowing with zucchini!
How to freeze Lemon Blueberry Zucchini Cake
This cake freezes very well. If you're planning to freeze your Blueberry Zucchini Cake we recommend leaving off the glaze until thawed and ready to serve.
When freezing leftovers (if you even have any left over) cut the cake into individual pieces and freeze. Thaw just what you need at the time and serve.
If freezing the entire cake, leave it in the pan, cover with plastic wrap and then foil. Thaw at room temperature in a few hours or overnight in the refrigerator. Glaze with our simple buttermilk icing or a dusting a powdered sugar.
Can you use other kinds of berries in this zucchini cake recipe?
Sure! Use diced strawberries, blackberries or even raspberries. However, we love the blueberry lemon combo so that's what we usually use.
Feel free to omit the blueberries if you want. The cake will still be delicious with a slightly different flavor profile.
Finally, no matter what kind of fruit you use, be sure to make this cake while there's plenty of zucchini in your garden or at the farmers market!
Thanks for PINNING!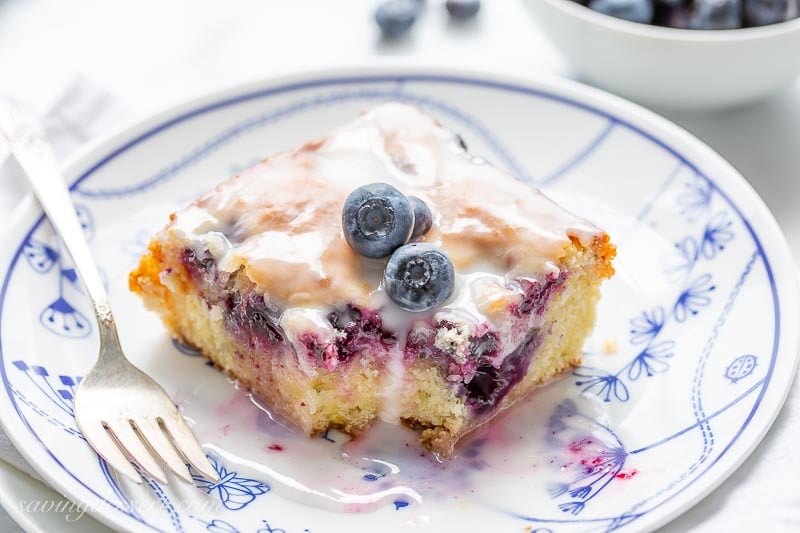 Blueberry Zucchini Cake
Total Time:
1

hour
15

minutes
The whole family will love this deliciously moist, flavorful cake stuffed with zucchini, lemon and blueberries. A must-make summer recipe!
Ingredients
For the cake:
2

cups

shredded zucchini,

do not pack (1 medium)

3

cups

all-purpose flour

(378g)

2 ½

teaspoons

baking powder

¼

teaspoon

baking soda

½

teaspoon

salt

½

cup

buttermilk

(125g or 4 ½ oz)

zest and juice of 1 lemon

1

teaspoon

vanilla extract

1

cup

unsalted butter,

room temperature (226g or 8oz)

2

cups

granulated sugar

(445g)

2

large eggs,

room temperature

2

cups

fresh or frozen blueberries

(10oz)
For the glaze:
2

cups

powdered sugar

(230g)

¼

cup

buttermilk

(60g or 2 ¼ oz)

juice of ½ lemon
Instructions
To prepare the cake batter:
Shred the zucchini on a large box grater. Transfer to a fine mesh strainer and drain while preparing the batter. (SEE TIPS)

Preheat oven to 350°F. Lightly grease a 13x9-inch baking pan. Set aside.

In a medium bowl, whisk together the flour, baking powder, baking soda and salt. Set aside.

In a measuring cup combine ½ cup buttermilk, lemon zest, lemon juice and vanilla. Stir to combine and set aside.

In a large mixing bowl beat together the butter and sugar until light and fluffy. Add the eggs, one at a time, mixing well after each addition. Add ⅓ of the flour mixture to the butter and eggs. Beat on medium until blended. Add half the buttermilk and mix until combined. Repeat alternating with half the remaining flour and then all the remaining buttermilk. Add all remaining flour and blend on medium until incorporated. Add the zucchini and blend until incorporated. Scrape the bottom and sides of the bowl with a spatula, then blend again.

Pour the thick batter into the prepared pan, smoothing the top with an offset spatula or spoon. Scatter the blueberries over the top slightly pressing the berries into the batter. Bake for 45 to 55 minutes or until the top is golden brown and a toothpick inserted in the center comes out clean. Moist crumbs are okay but no wet batter. Cool completely on a wire rack.
To prepare the glaze:
Whisk the glaze ingredients together until smooth. Spread over the top of the cooled cake. Allow the glaze to set slightly then serve.

Store leftovers in an airtight container in the refrigerator.
Recipe Notes
TIPS for preparing zucchini:
If using large, seedy zucchini, cut in half and scoop out the seeds before shredding.

Don't peel the zucchini before shredding.

Some zucchini may be drier than others. Always drain shredded zucchini in a fine mesh strainer. If the zucchini is dry you may not have any liquid extracted. If it's a juicy squash, you may have a few tablespoons of liquid drained.

Do not press the zucchini to extract moisture. Some added moisture is what makes this cake so deliciously moist.

Discard any drained zucchini liquid.

Don't pack the shredded zucchini in the measuring cup.
Nutrition information is calculated using an ingredient database and should be considered an estimate. When multiple ingredient alternatives are given, the first listed is calculated for nutrition. Garnishes and optional ingredients are not included.
Nutrition
Calories:
495
kcal
|
Carbohydrates:
82
g
|
Protein:
5
g
|
Fat:
17
g
|
Saturated Fat:
10
g
|
Polyunsaturated Fat:
1
g
|
Monounsaturated Fat:
4
g
|
Trans Fat:
1
g
|
Cholesterol:
70
mg
|
Sodium:
240
mg
|
Potassium:
143
mg
|
Fiber:
2
g
|
Sugar:
57
g
|
Vitamin A:
592
IU
|
Vitamin C:
6
mg
|
Calcium:
85
mg
|
Iron:
2
mg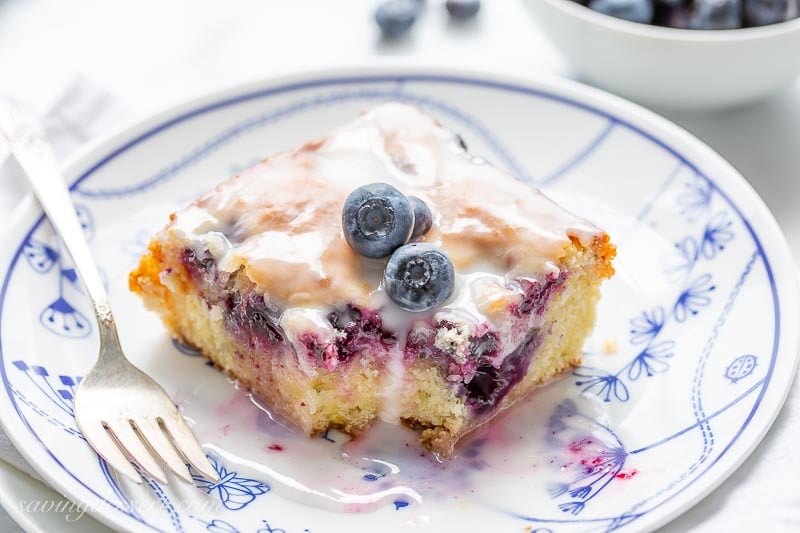 Saving Room for Dessert is a participant in the Amazon Services LLC Associates Program ~ I earn a small commission, at no additional cost to you, which I use to pay for web hosting and services for this blog.
Originally published August 2020, updated July 2021