Mini Black Bottoms – a deliciously moist and fudgy cake topped with cheesecake dough mixed with mini chocolate chips. They're very easy to make and super easy to eat!
This time of year it seems like everybody's having little gatherings, luncheons, Saturday night parties, church events and pot luck extravaganzas at the office.  That's where these fantastic little treats come in.  They're very easy to put together, bake, pack and share.  Just imagine a moist chocolate cake with a dollop of chocolate chip cheesecake in the middle.  The cheesecake flavor comes through loud and clear while the mini chocolate chips add a little texture and an extra bite of chocolate.
It's been YEARS since I've made these.  When I say years, I mean more than 20 at least.   Do you ever forget about old recipes and then one day it dawns on you that maybe your readers would love this recipe too?!
These Mini Black Bottoms may not be super Christmasy, but oh my they are good … and perfect for any event, or any time of year.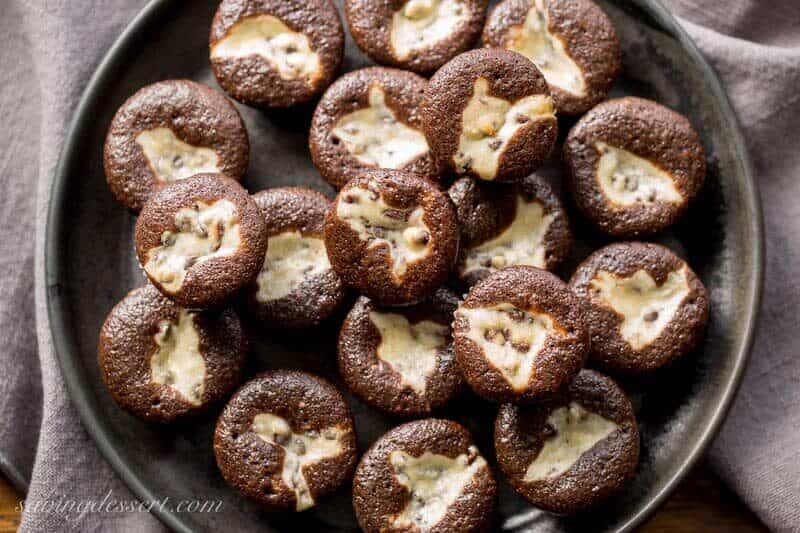 This recipe is hand written on an index card, in my own handwriting, so I have no idea where it came from so many years ago.  Back in the day I was a realtor so it could have been from a co-worker or friend of a friend, etc.  But I'm so grateful to have found it again and will certainly make these for all our upcoming events.
I used mini cupcake liners for this recipe but would not in the future.  The Mini Black Bottoms hold together perfectly so as long as you pack them with wax or parchment paper between layers, they should do well.  The paper liners just make you have to work that much harder before popping them in your mouth!
The chocolate cake recipe has a unique and surprising ingredient … vinegar!  Just like baking with buttermilk, vinegar does some amazing magic on these tiny bites.
This recipe makes about 60 Mini Black Bottoms so there's plenty to share, with a few extra to taste-test, and couple more to hide in the back of the refrigerator for later.   Oh don't forget to try one warm from the oven.  You may just swoon!  Be sure to PIN so you can find this recipe later when you need it!
Don't forget to PIN to your favorite cupcake board, chocolate board, or dessert board!
Mini Black Bottoms
Mini Black Bottoms - a delicious fudgy cake topped with a cheesecake dough mixed with mini chocolate chips. Very easy to make and super easy to eat!
Ingredients
For the Cheesecake Mixture:
8 ounces cream cheese, room temperature
1 large egg
⅓ cup granulated sugar
¼ teaspoon salt
6 ounce package mini semi-sweet chocolate chips
For the Chocolate Cake:
1½ cup unbleached, all-purpose flour
1 cup granulated sugar
1 teaspoon baking soda
¼ cup cocoa powder
1 cup water
⅓ cup vegetable oil
1 tablespoon vinegar
1 teaspoon pure vanilla extract
Instructions
Preheat oven to 350 degrees. Lightly spray a (24 count) mini-muffin pan with vegetable spray.
In a medium mixing bowl, using an electric mixer, blend together the cream cheese, egg, ⅓ cup granulated sugar, and salt until smooth. Using a rubber spatula, fold in the chocolate chips. Set aside.
In a clean medium mixing bowl, combine all the chocolate cake ingredients. Gently blend (using clean beaters or a wooden spoon) until the mixture is smooth and all ingredients are incorporated.
Scoop 1 tablespoon of the chocolate mixture into the wells of the muffin tin. Allow the chocolate "bottoms" to rest for 5 minutes. Scoop 1 teaspoon of the cheesecake mixture into the center of the chocolate cake.
Bake for 20-25 minutes or until done. Immediately remove the mini Black Bottoms from the pan and cool on a wire rack. Repeat with remaining batter until all Black Bottoms are baked.
Store in an airtight container at room temperature or for longer storage, in the refrigerator.
Notes
If using mini-paper liners, be sure to spray with vegetable cooking spray.
Here are a few more easy recipes you might enjoy!
I find myself looking for ways to use my mini muffin tin!  Click on the photo for more information:
The small print: If you decide to purchase something at Amazon after following my affiliate link, I receive a small commission, at no additional cost to you, which I use to pay for web hosting and services for this blog.
Are you getting tired of all these dessert posts yet?  I hope not!  I have a few more to share and since we're going to have to eat nothing but salads in January, desserts may be few and far between for a while.  Oh well – such is the circle, eat, diet, eat, diet, exercise!  Let's enjoy it while we can 🙂
Happy Wednesday!  Thanks so much for stopping by!
Tricia