This post may contain affiliate links. Please read my disclosure policy.
Flaky homemade Buttermilk Biscuits Recipe
Our BEST homemade Buttermilk Biscuits Recipe
Hard to resist and incredibly easy to make, these biscuits are buttery, flaky and soft, and may be better than grandma's! Our Buttermilk Biscuits recipe is fool-proof with plenty of tips and tricks for tall, moan-worthy, drool-inducing biscuits made from scratch.
I've been making biscuits my whole life.
As a young baker I cut my teeth on Bisquick biscuits. What could be easier than a little boxed baking mix combined with milk? Using my mom's wooden rolling pin, I learned a lot about rolling out dough by making those biscuits.
It was practically a rite of passage for me to be allowed to make biscuits for our entire family, especially on holidays. A big southern breakfast with eggs, biscuits and sausage gravy was an event we all looked forward to.
Once I had a family of my own, I carried on the big breakfast holiday tradition with my kids, too.
Now that we're empty nesters, we only have biscuits on special occasions. Mostly because I have absolutely no self control around a pan of hot biscuits. I could eat these buttermilk biscuits every single morning for the rest of my life and never get tired of them.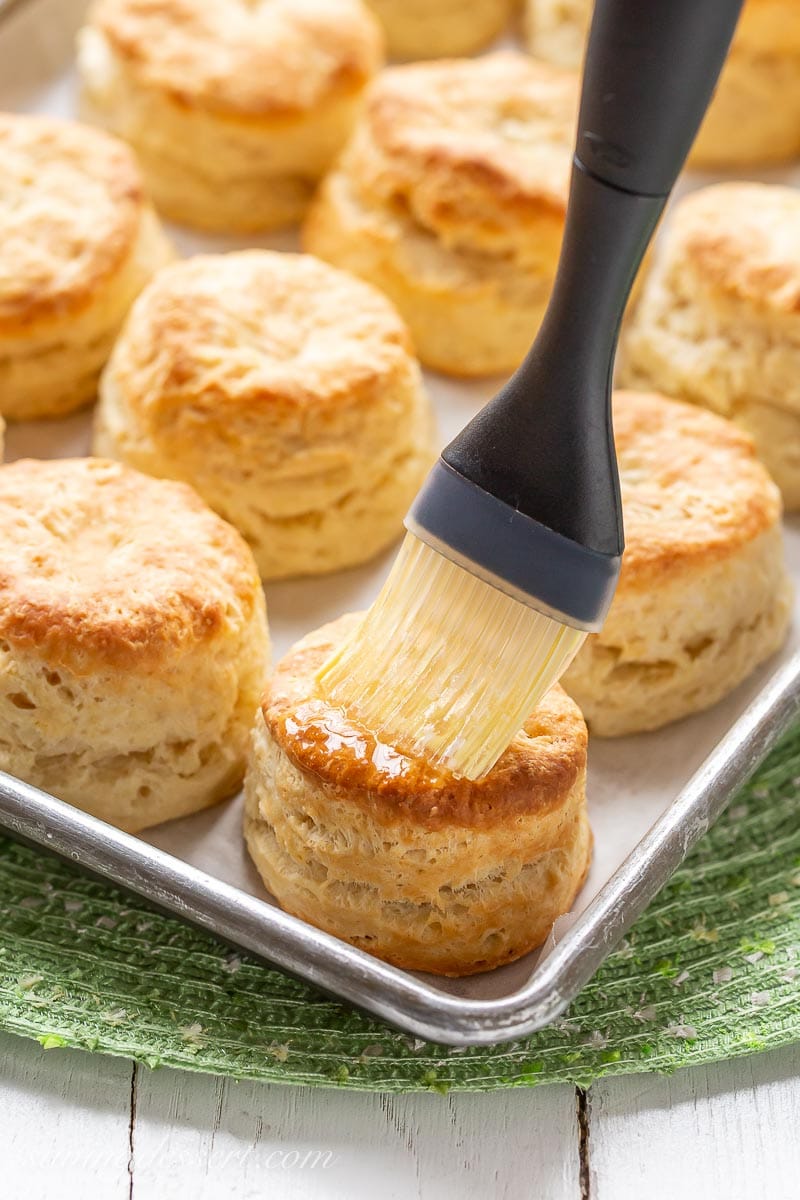 This buttermilk biscuits recipe is almost as easy to make as a box mix, and so much better!
To make the best homemade buttermilk biscuits, start with frozen butter.
First cut the cold butter into small 1/2-inch pieces and place in the freezer. The butter needs at least 30 minutes to get cold enough to make flaky biscuits.
While the butter is in the freezer, preheat the oven, line a baking sheet with parchment paper and combine all the dry ingredients in a food processor. Once frozen, add the pieces butter pieces to the flour mixture and pulse until it resembles a coarse meal.
If you don't have a food processor, this step can be done with a pastry cutter or by using a fork and knife cutting the butter into small pieces.
Next, pour the flour and butter mixture into a large mixing bowl.
Add the cold buttermilk and mix with a wooden spoon until almost combined. The biscuit dough may seem a little dry at this point, but don't worry, it will come together.
Using your hands, gently knead and turn the dough in the bowl until all dry flour is incorporated. This only takes a minute.
Turn the dough out onto a lightly floured work surface and gently knead by hand until smooth.
IMPORTANT: Overworking the dough will cause the biscuits to be tough. Use a light hand and don't knead the dough more than necessary.
Once smooth, pat the dough into a 9-inch round about 3/4 to 1 inch thick. For more distinct layers, you can fold the dough over like a business letter before rolling and cutting.
If you prefer a thinner biscuit, roll the dough to 1/2-inch thick. Anything between 1/2 and 3/4-inch thickness makes for a nice sized biscuit with plenty of flaky layers.
Cut out the dough using a 2 1/2 inch biscuit cutter.
The biscuits can be baked several ways. Place them about one inch apart on a parchment lined baking sheet or in a cast iron skillet with the sides touching. If you use a cast iron skillet with the biscuits touching each another, they'll need a few extra minutes in the oven.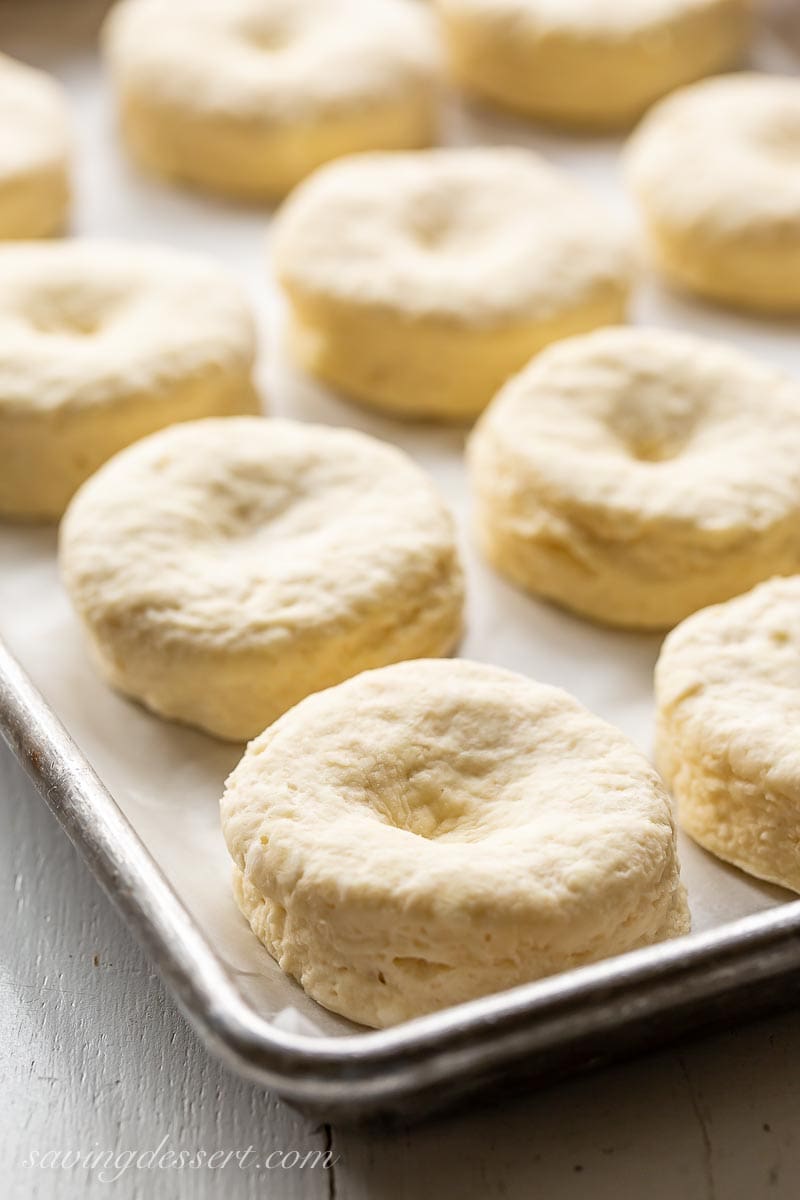 Tips to get thick cut biscuits to bake up tall and straight:
When baking big, tall biscuits, there's a chance they'll rise quickly and lean over while baking. This is not necessarily a bad thing because wonky biscuits still taste great.
Placing biscuits side-by-side in a skillet or on a baking sheet helps prevent them from growing sideways in the oven.
However, there's a simple trick you can use to help make big, tall straight biscuits on a cookie sheet. Using your thumb, gently press the center of each biscuit creating an indentation.
The thumbprint doesn't need to be deep. All you need is a slight dip in the center to help the biscuits grow tall and straight while baking. Grandmas know the best baking secrets!
For best results, use a good sharp biscuit cutter for this buttermilk biscuit recipe.
For perfectly layered, flaky biscuits, use a good sharp-edged cutter. If the cutter is dull and presses down on the dough instead of easily cutting through, the biscuits may not rise properly.
This may also cause the biscuits to flop to one side and bake unevenly. If you don't have a good biscuit cutter, cut the dough into squares using a sharp knife.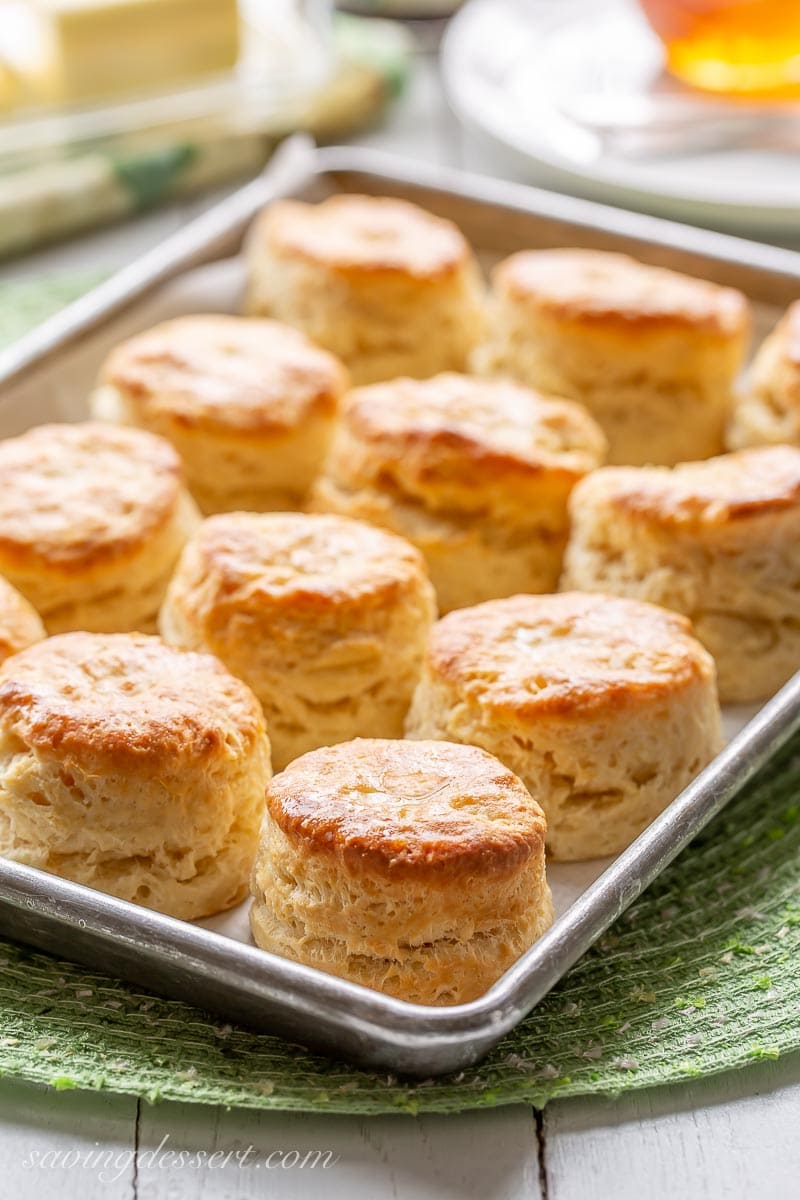 Brush the tops of the biscuits with melted butter, before and/or after baking.
Brushing melted butter on unbaked biscuits helps create a beautiful golden brown crust. You don't need a lot of butter, just skim the tops with a buttered pastry brush then bake as directed.
You can also brush melted butter on hot biscuits as they come out of the oven. This step is completely optional, but highly recommended 🙂
These buttermilk biscuits have a terrific buttery flavor, so more butter is not necessary.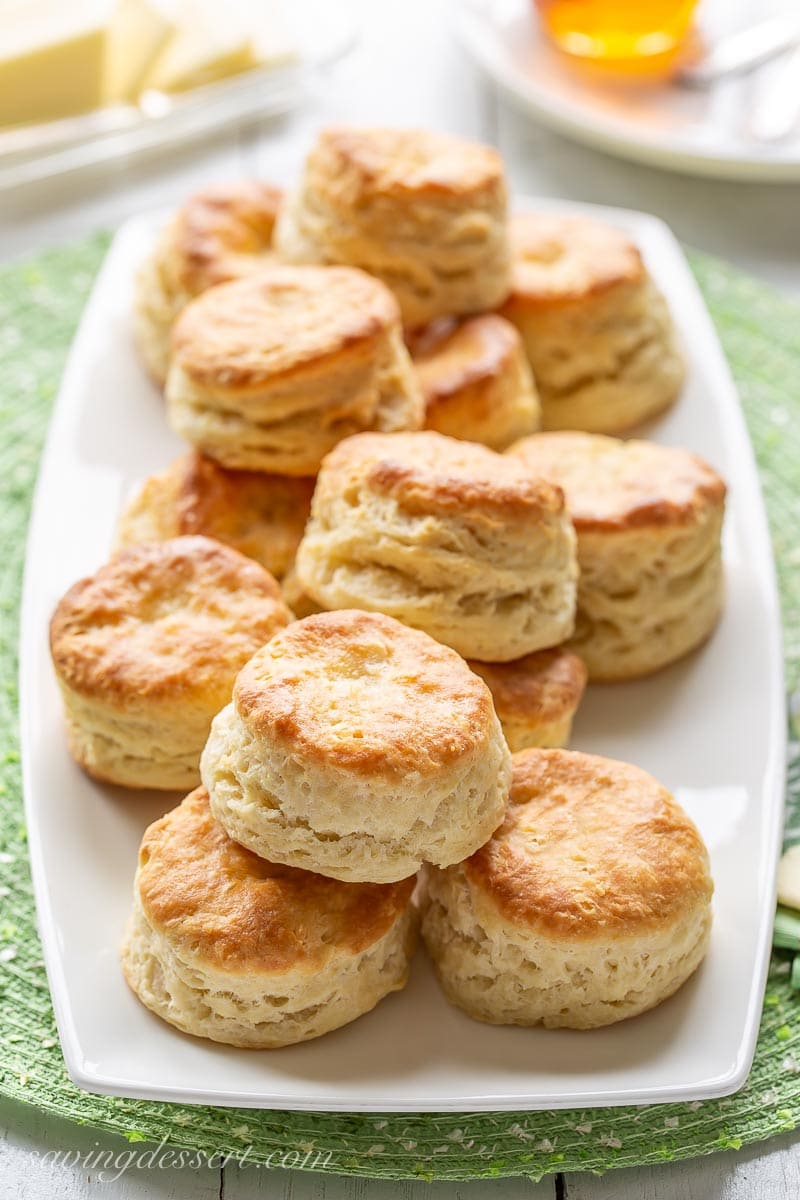 What if you don't have buttermilk?
If you don't have buttermilk readily available, you can make your own! Pour 1 tablespoon plus 1 teaspoon of white vinegar in a 2-cup measure. Add enough milk to reach 1 1/3 cups.
Stir to combine then leave the homemade buttermilk at room temperature for 5 to 10 minutes before using. Proceed with the recipe as directed.
Can you use other kinds of flour for these biscuits?
This recipe calls for all-purpose flour. I don't recommend using other kinds of flour as the biscuits may not come out flaky, moist and tender. If you want to use bread flour, search for a recipe for biscuits that calls for bread flour.
Do you have to use unsalted butter?
No worries if you don't have unsalted butter on hand. Simply reduce the amount of salt called for in this recipe to 1/4 teaspoon if using salted butter.
Troubleshooting biscuits that don't rise:
If your biscuits don't rise and come out of the oven flat and tough, check your baking powder and baking soda to ensure they're still active. It takes about 2 minutes to check your leaveners using our simple method.
Additionally, make sure you measure the flour correctly using the stir, scoop and level method. All these tips and methods can be found on our post for the Top 9 Baking Tips and Tricks.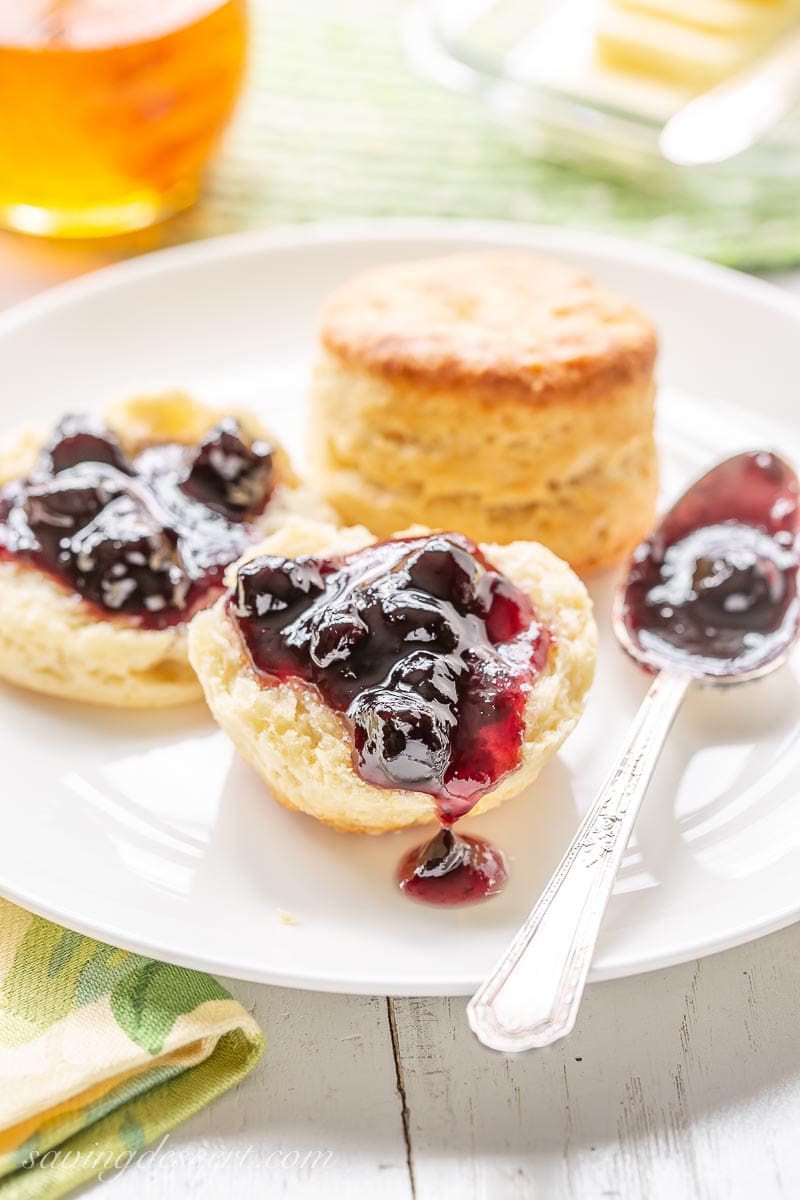 Here are some of our favorite ways to enjoy homemade buttermilk biscuits fresh from the oven:
Slathered with a big spoon of jam or fruit preserves;
Topped with a drizzle of honey;
Split open and covered in hot sausage gravy! One of my favorites 🙂
Leftover biscuits are great too!
Split,  butter and toast the biscuits on a baking pan in the oven. Serve with soup or any of your favorite casseroles.
Make a sandwich with ham and honey mustard, or turkey and cheese.
And finally, one of my all-time favorite ways to enjoy leftover biscuits is warmed slightly in the microwave, halved and topped with a heaping spoonful of tuna salad.
Thanks for PINNING!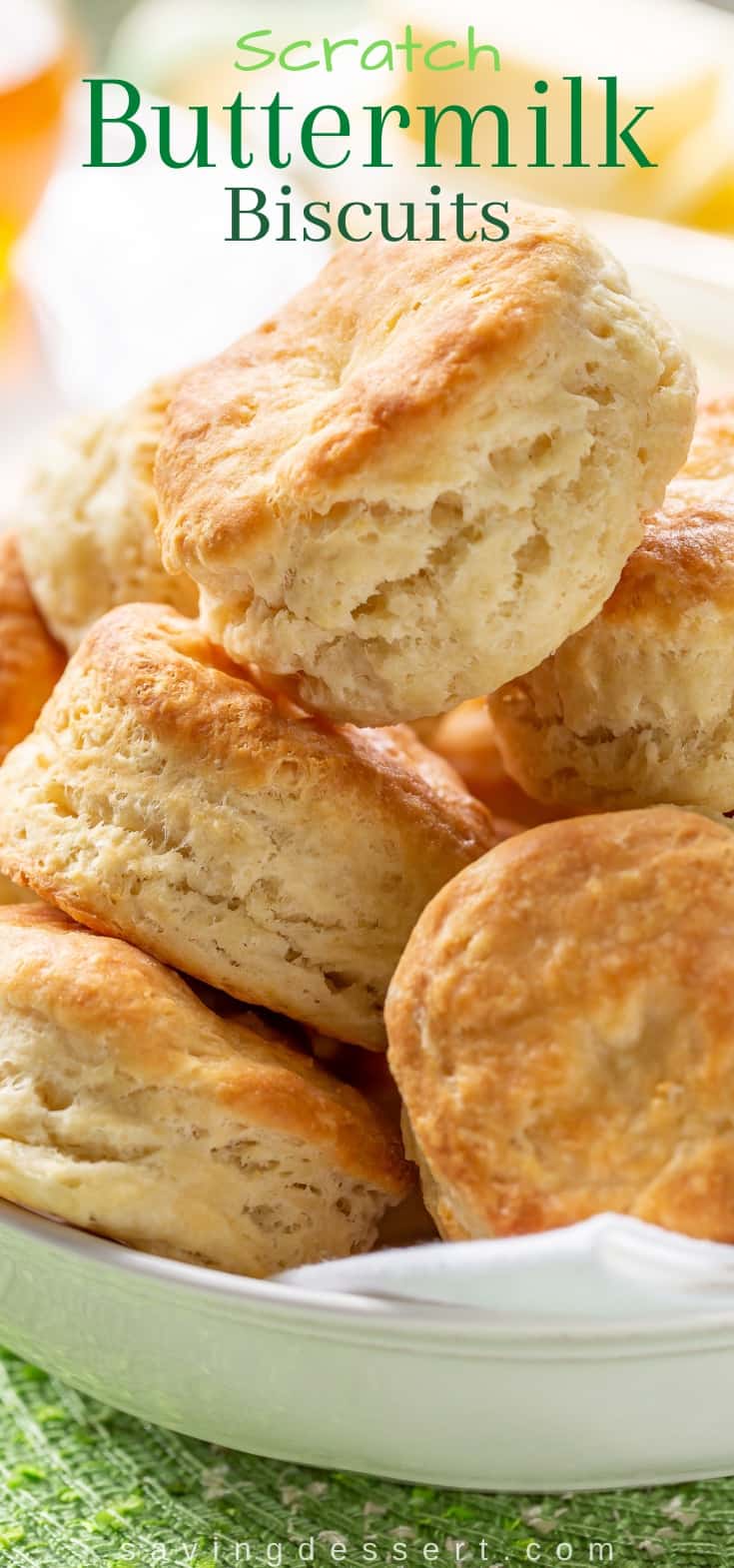 Let's be baking friends! When you try our recipe please leave a comment on this post. If you loved this recipe we'd appreciate a 5-star rating! Sharing your experience, variations and insights will help all our readers, and it helps me too.
If you're on Pinterest feel free to leave a comment and photo there if you have one. If you share on INSTAGRAM tag @savingroomfordessert so we can stop by and give your post some love.
FOLLOW Saving Room for Dessert on FACEBOOK | INSTAGRAM | PINTEREST | TWITTER  and subscribe to our YOUTUBE channel for all the latest recipes, videos and updates.
Buttermilk Biscuits Recipe
Course:
Bread, Breakfast, Brunch
Soft, tender, flaky and buttery Easy Buttermilk Biscuits Recipe!
Equipment
Baking Sheet

Sharp Biscuit Cutter
Ingredients
3

cups

all-purpose flour

(400g)

1

tablespoon

granulated sugar

1

tablespoon

baking powder

½

teaspoon

baking soda

1

teaspoon

salt

8

tablespoons

unsalted butter,

cut into ½-inch pieces and frozen for 1 hour

1 ⅓

cups

buttermilk,

well shaken (10 ¾ oz or 310g)

melted butter for brushing on top,

optional
Instructions
Cut the butter into small pieces and freeze for at least 30 minutes, or longer.

Preheat oven to 425°F. Line a baking sheet with parchment paper; set aside.

In the bowl of a food processor, combine the flour, sugar, baking powder, baking soda and salt. Pulse once or twice to combine. Add the frozen butter and process until the mixture resembles coarse meal.

Pour the flour mixture into a large mixing bowl. Add the buttermilk and stir with a wooden spoon to combine. The mixture will seem dry, this is okay. Using your hands, knead the dough in the bowl until all dry flour is incorporated.

Turn the dough out onto a lightly floured work surface. Knead the dough 8 or 9 times times until smooth. Roll the dough into a 9-inch circle that's about ⅔ to ¾-inch thick.

Using a lightly floured 2 ½ round cookie cutter, cut out the biscuits and arrange on the baking sheet. Gather the scraps and reform into a ¾-inch thick round. Cut out remaining biscuits and place on the prepared pan.

You can also place the cut-out biscuits in a lightly greased cast iron skillet, with sides touching.

Using your thumb, gently press the center of each biscuit creating an indentation. This doesn't have to be deep. Lightly brush the tops of each biscuit with melted butter, if desired. Bake for 15 - 18 minutes or until golden brown and well risen.

Brush the tops of the hot baked biscuits with butter, if desired.

Serve warm with sausage gravy, butter, jam or honey.
Recipe Notes
Makes about 12 to 14 (2 1/2-inch round) biscuits
If rolling the dough to 1/2-inch thickness, you should get about 18-20 biscuits. Reduce baking time to 12-15 minutes.
If planning to freeze, omit brushing melted butter after baking.
Reheat leftover biscuits in the microwave on 50% power, or split and butter each half before toasting under the broiler.
If using salted butter, reduce the salt to 1/4 teaspoon.
Nutrition information is calculated using an ingredient database and should be considered an estimate. When multiple ingredient alternatives are given, the first listed is calculated for nutrition. Garnishes and optional ingredients are not included.
Nutrition
Calories:
202
kcal
|
Carbohydrates:
26
g
|
Protein:
4
g
|
Fat:
9
g
|
Saturated Fat:
5
g
|
Polyunsaturated Fat:
1
g
|
Monounsaturated Fat:
2
g
|
Trans Fat:
1
g
|
Cholesterol:
23
mg
|
Sodium:
375
mg
|
Potassium:
72
mg
|
Fiber:
1
g
|
Sugar:
2
g
|
Vitamin A:
277
IU
|
Calcium:
96
mg
|
Iron:
2
mg
Everybody's crazy about our Buttermilk Biscuits recipe!
If you're a biscuit lover too, you'll want to try these Buttermilk Blueberry Biscuits. A flavorful treat sure to impress your family and happy guests.
And finally, for one of the best home cooked pans of comfort food you'll ever make, try our Chicken Pot Pie with Herb Biscuits. It's hard to find enough words to properly describe how much we LOVE this recipe!