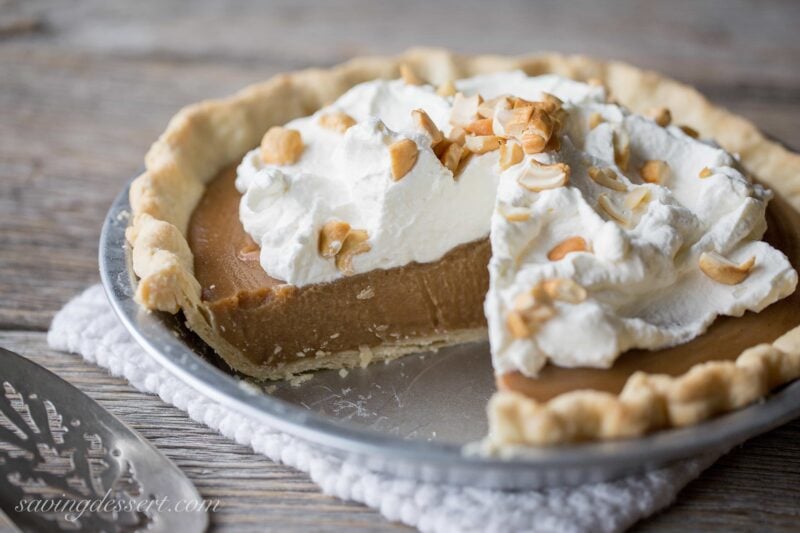 This may not be a pumpkin dessert, but it almost looks like one.  I think this pie looks like caramel, after all it is a very close cousin.  Caramel is made with granulated sugar, butter and cream; and butterscotch is made with brown sugar and butter.  This butterscotch pie filling is very similar to Dulce de Leche in texture and color.   It's creamy and sweet and makes a perfectly wonderful fall dessert.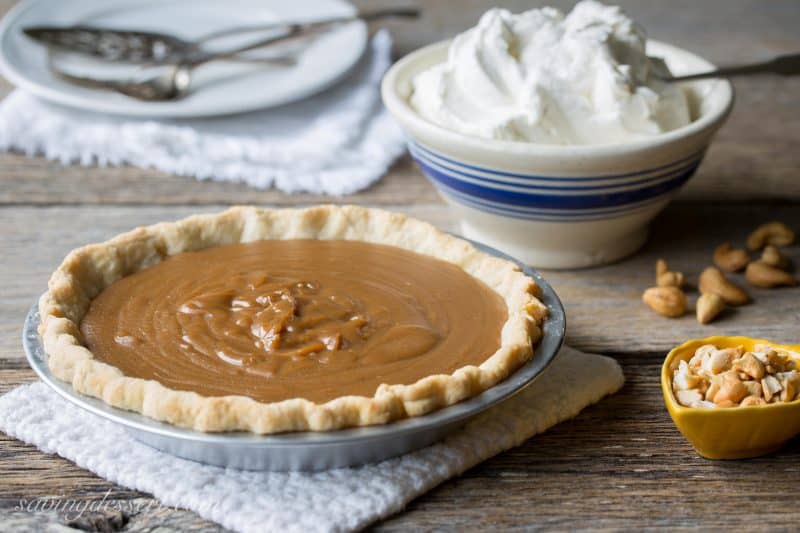 The filling set up perfectly, not too stiff and not too creamy.  Just before serving add a topping of lightly sweetened whipped cream and a sprinkle of roasted chopped cashews.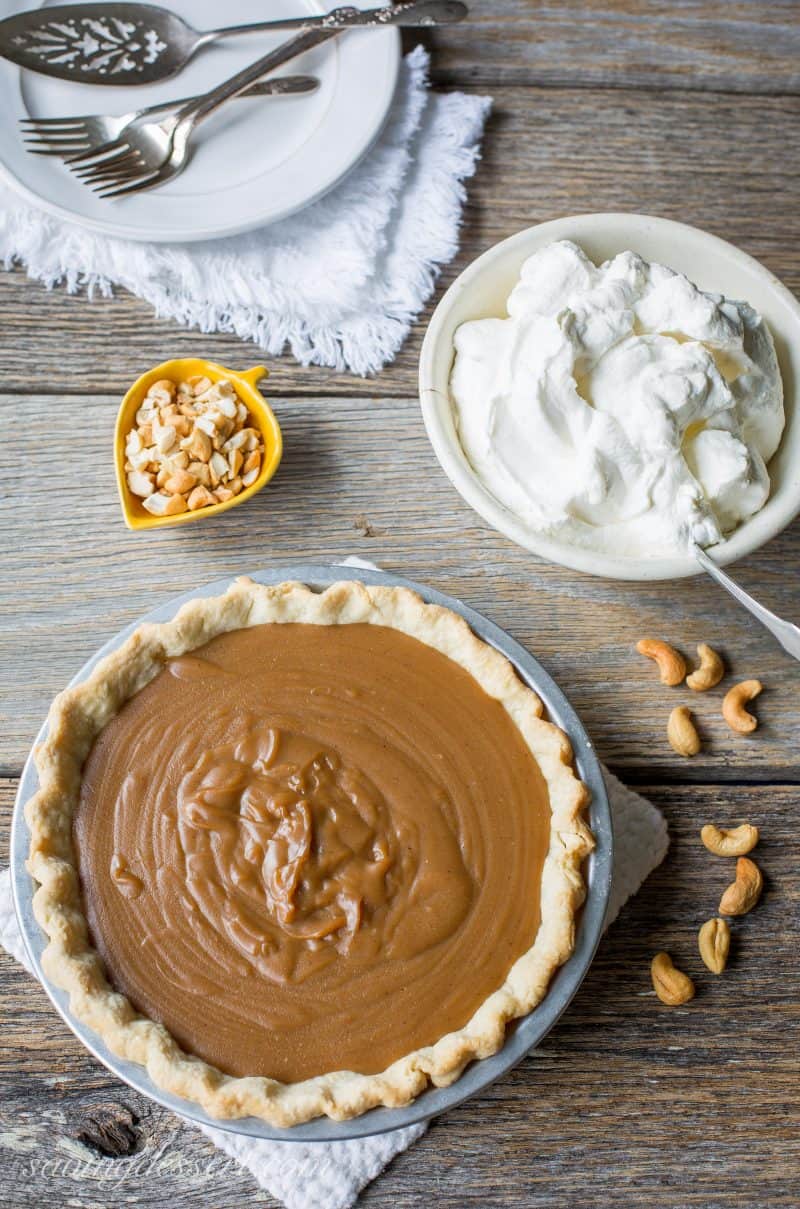 Are you a butterscotch fan?  I've always loved the flavor myself.  The filling is a custard and not difficult to make.  It does take a good 10-15 minutes of stirring while the custard cooks.  The hot butterscotch is then tempered with egg yolks and finished with pure vanilla extract.  Good luck keeping your spoon out of the warm filling.  Goodness 🙂
Simple pie, simply wonderful!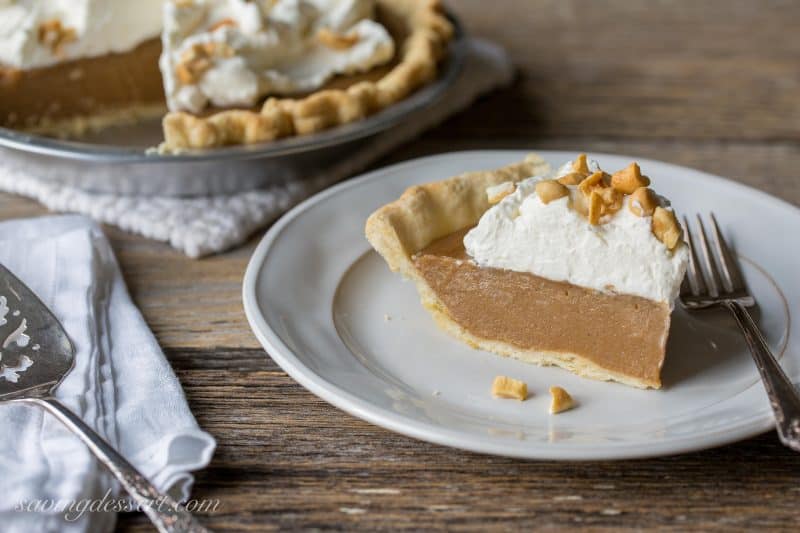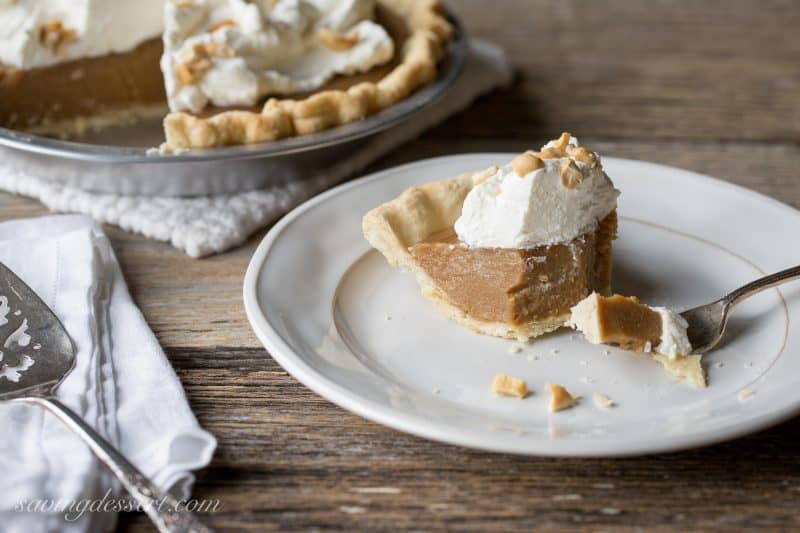 I was trying to clean up the first bite, then had to fix the second, and a third, etc. etc.  But it's lucky I got mine now because it has been disbursed to all our favorite taste testers.  Gone with the wind.
Butterscotch Pie
Old fashioned butterscotch custard served in a pre-baked pie crust then topped with sweetened whipped cream and chopped roasted cashews. Your butterscotch loving taste testers are going to thank you for this one!
Recipe type:
Dessert, Pie
Ingredients
1 (9-inch) baked pie crust (recipe below)
8 tablespoons unsalted butter (1 stick)
1 cup dark brown sugar (packed)
1 cup boiling water
3 tablespoons cornstarch or arrowroot
2 tablespoon unbleached all-purpose flour
½ teaspoon salt
1⅔ cups milk
3 egg yolks
1 teaspoon pure vanilla extract
For the topping:
1 cup heavy whipping cream
2 tablespoons confectioners sugar
½ cup roasted, salted cashews, chopped
Instructions
Place the egg yolks in a small mixing bowl. Whisk lightly. Set aside.
In a medium, heavy bottom good saucepan combine the cornstarch, flour, and salt. Whisk in the milk until blended. Set aside.
In a large light-colored skillet melt the butter over medium/low heat and cook stirring constantly until it turns nutty brown in color. (see note) Gradually add the dark brown sugar. Cook, stirring constantly, until it is melted, about 5 minutes. Carefully add 1 cup of boiling water. This is like making caramel as the mixture will sputter and spit.
Add the brown sugar mixture to the saucepan with the milk and flour. Heat over medium-low heat, stirring constantly until it begins to boil. This could take 10-15 minutes. Keep stirring.
Once the mixture has thickened, remove from the heat. Drizzle spoonfuls of the hot butterscotch into the egg yolks while whisking constantly. Repeat until you have added ⅓ of the butterscotch to the egg yolks.
Pour the egg mixture into the saucepan with the remaining butterscotch and return to the heat.
Cook, stirring constantly, until the mixtures begins to boil. Cook for another minute then remove from the heat and stir in the vanilla.
Pour the custard into the pre-baked pie shell. Cool then refrigerate until ready to serve.
To make the topping whisk the heavy cream until soft peaks form. Add the confectioners sugar a little at a time and whisk until thickened. Dollop the whipped cream on top of the pie then add chopped cashews.
Notes
Browning butter a light colored skillet helps when you're trying to determine the color. Dark skillets make it difficult to see.
Pie Crust
Ingredients
1¼ cups unbleached all-purpose flour
½ teaspoon salt
4 tablespoons cold unsalted butter, cut into ½" pieces
3 tablespoons cold shortening
3 tablespoons ice cold water
Instructions
In the bowl of a food processor, pulse the flour and salt to combine. Add the shortening and butter and process by pulsing until the mixture resembles a coarse meal. Add 3 tablespoons ice cold water and pulse a few more times until it starts to come together. Do not over process. If the mixture holds together when you pinch a few pieces, then it is done.
Gather all the dough together and press into a disc. Wrap in plastic wrap and refrigerate for 1 hour or longer.
Remove the dough from the refrigerator and place on a lightly floured work surface. Using a rolling pin, roll into an 11 or 12 inch circle. Gently place the dough into a 9" metal or glass pie plate. Fold the extra dough under to form an edge and crimp decoratively. Pierce the bottom the crust a few times with a fork. Refrigerate the crust for 30 minutes or until well chilled.
Preheat the oven to 375 degrees. Line a baking sheet with foil and place in the oven to preheat as well. Remove the pie crust from the refrigerator and line with parchment paper and pie weights or dried beans. Bake the crust for about 20 minutes.
Remove the parchment paper and pie weights or beans and set aside. Return the crust to the oven and bake another 10 minutes or until it starts to brown lightly.
Remove from the oven and set aside to cool while preparing the filling.
Don't forget to PIN to your favorite dessert board!

Thanks so much for stopping by!  I hope you have a wonderful week.
Tricia