This post may contain affiliate links. Please read my disclosure policy.
Perfect Pie Crust in 3 Easy Steps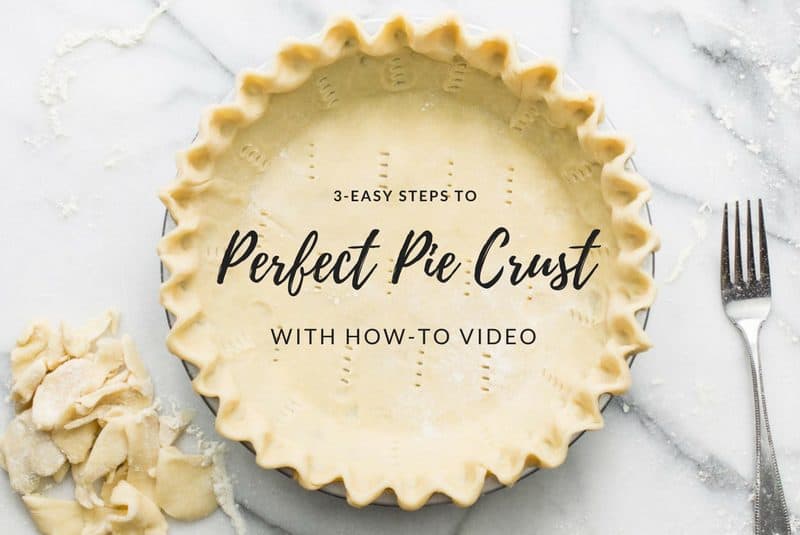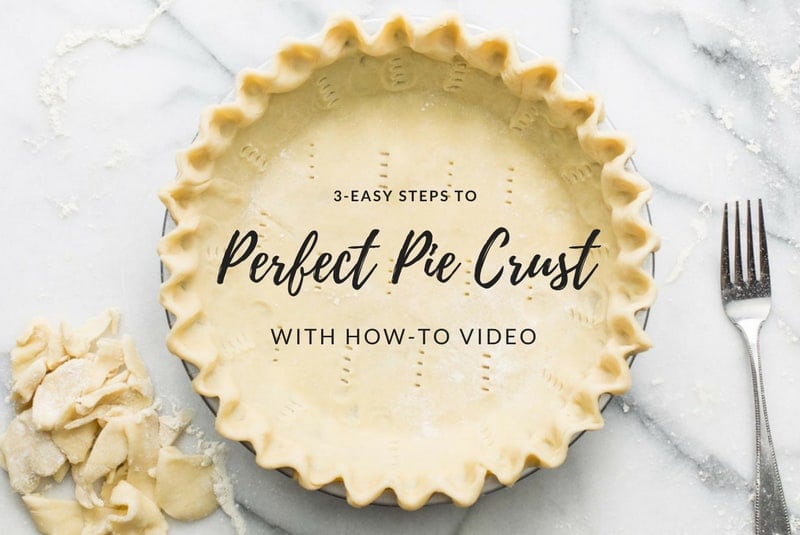 With just a little patience and practice, you can make flaky pie crust for all your favorite recipes.
Thrill your pie loving friends and family and let this be the year you make homemade, completely from scratch, pie crust!  But before we get ahead of ourselves let's start by saying I'm not a pastry chef, nor do I claim to have the only pie crust recipe in the world that works.
However, I've been making pies since I was 10 years old (a long time ago), and I once won a blue ribbon at a county fair for my apple pie. Not the same as a being a star on a cooking show, I know, but I've done the homework. Pies have always been the most requested desserts I make.
There are almost 100 pie recipes posted on the blog so I think it's safe to say, I have some pie street-cred!
I've also provided some tips and a trick or two to help prevent soggy bottomed pie crusts. Read on!
Our easy recipe is made right in a food processor
You don't have to use a food processor to make perfect homemade pie crust recipe, but it sure makes it easy!
I've shared a link for an inexpensive pastry cutter at the end of this post. It's a great tool for making our Perfect Pie Crust Recipe without a food processor.
This recipe makes enough for two pie crusts. I recommend making the recipe as is and freezing the second disk of dough if not needed immediately.
Frozen pie pastry will keep for 3 months if sealed in plastic wrap and stored properly in a freezer bag.  Thaw the dough overnight in the refrigerator before rolling out, filling and baking.
STEP 1: MAKE THE DOUGH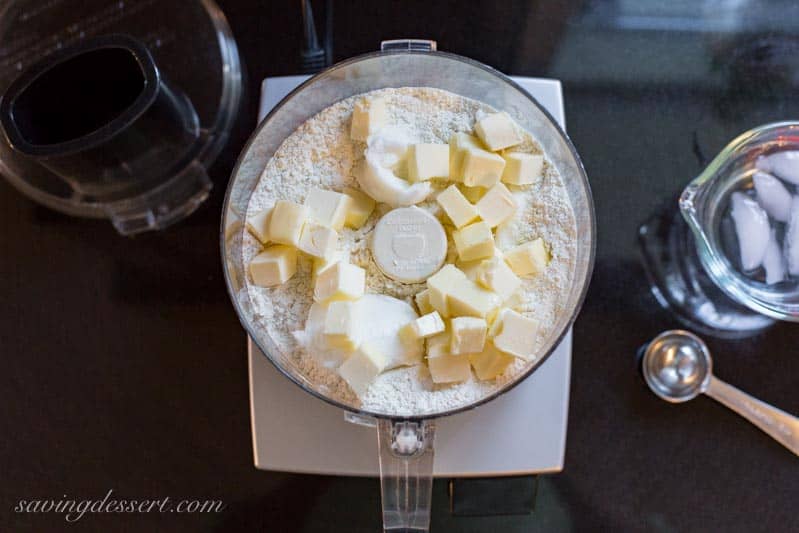 Combine the flour, granulated sugar, salt, cold cubed butter, and Crisco shortening in the bowl of your food processor.
Process (using short bursts/pulses) until the mixture resembles a coarse meal.  There should be some small pea sized pieces of butter visible.  For a tender crust do not over process.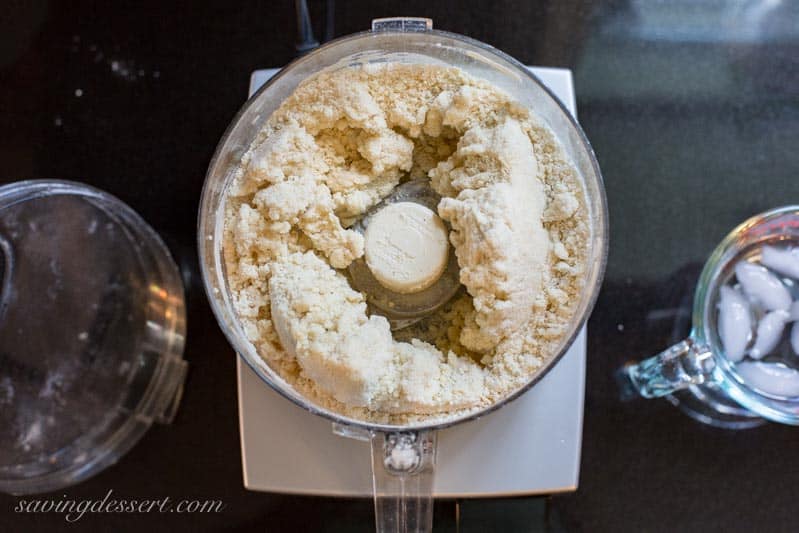 Add three tablespoons of ice cold water and pulse a few times to combine.  It should start to come together with plenty of dry flour still visible.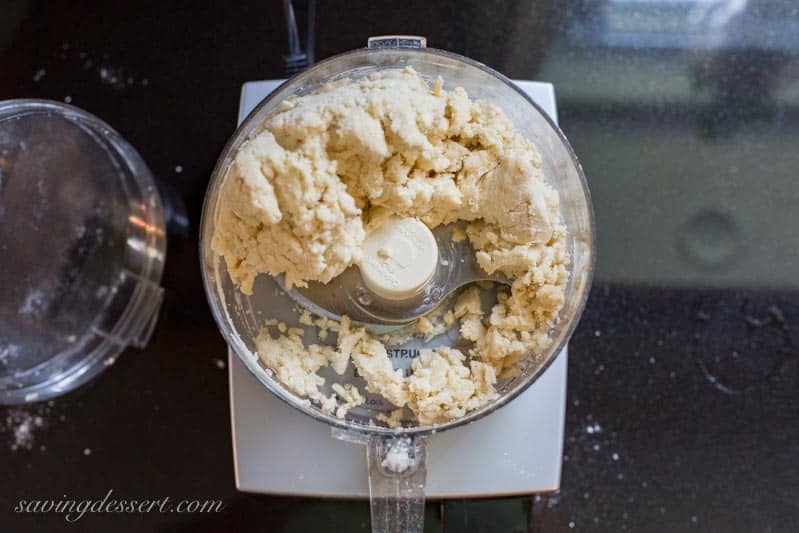 Add the remaining 3 or 4 tablespoons of cold water and process just until it starts to clump together.
STEP 2: FORM THE DOUGH INTO A DISK AND REFRIGERATE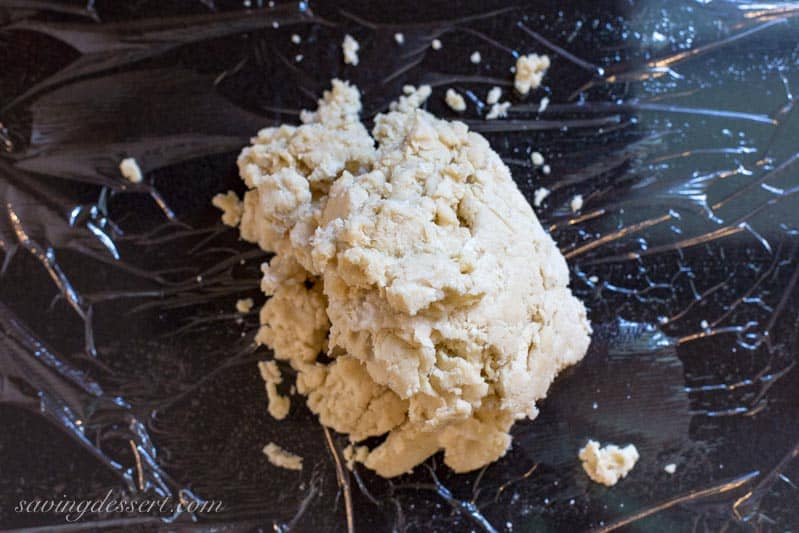 Dump the crumbly dough out onto a piece of plastic wrap. Gather the dough together, form into two disks then wrap each one individually. Refrigerate the dough for at least an hour, or up to three days. Overnight works best!
STEP 3:  ROLL, TRIM & CRIMP
Place the dough on a lightly floured work surface. Start rolling the dough from the center and push it out rotating the dough as you go. I'm a visual learner and if you are too, check out our how-to video for a look at the entire process! Also, check the tips at the bottom for lots of great information about making Perfect Pie Crust.
Ease the dough into your pie dish taking care not to pull or tear the dough.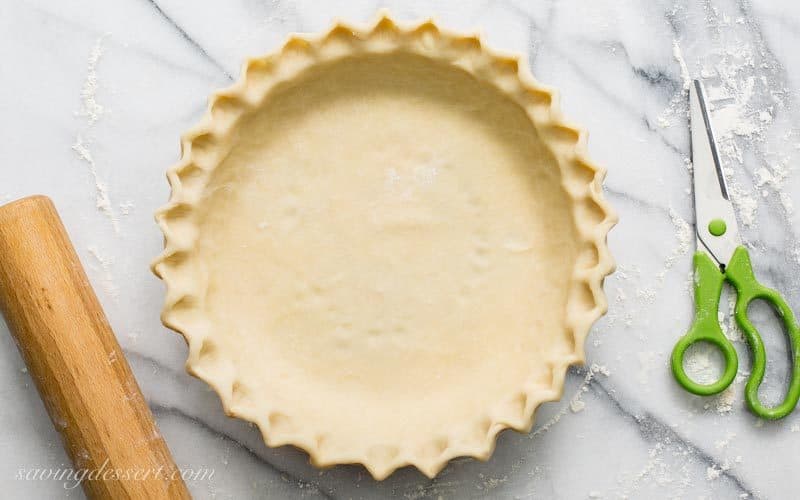 Pinch the edges of the dough together with your thumb and forefinger. Once the crust is rolled out, trimmed and crimped, you can load it up with your favorite fillings and bake.
How to make a crust for no-bake pie fillings
Or if you're making a no-bake pie filling (like our Icebox Strawberry Pie) you can pre-bake or blind bake the crust. Prick the entire pastry with a fork, line it with a piece of parchment paper, fill it with pie weights (see link below), or dried beans and bake until set.
Remove the beans and parchment paper and set aside. Brush the partially baked crust with a beaten egg white and return to the oven. Bake for a few more minutes or until browned. Cool and fill as needed.
Why do you add beans or pie weights when baking an unfilled pie?
Pricking the bottom and sides of the pastry helps prevent large bubbles from forming. Adding the pie weights or beans prevents the dough from sliding down the sides of the pan and keeps it where it needs to be. Fill as desired.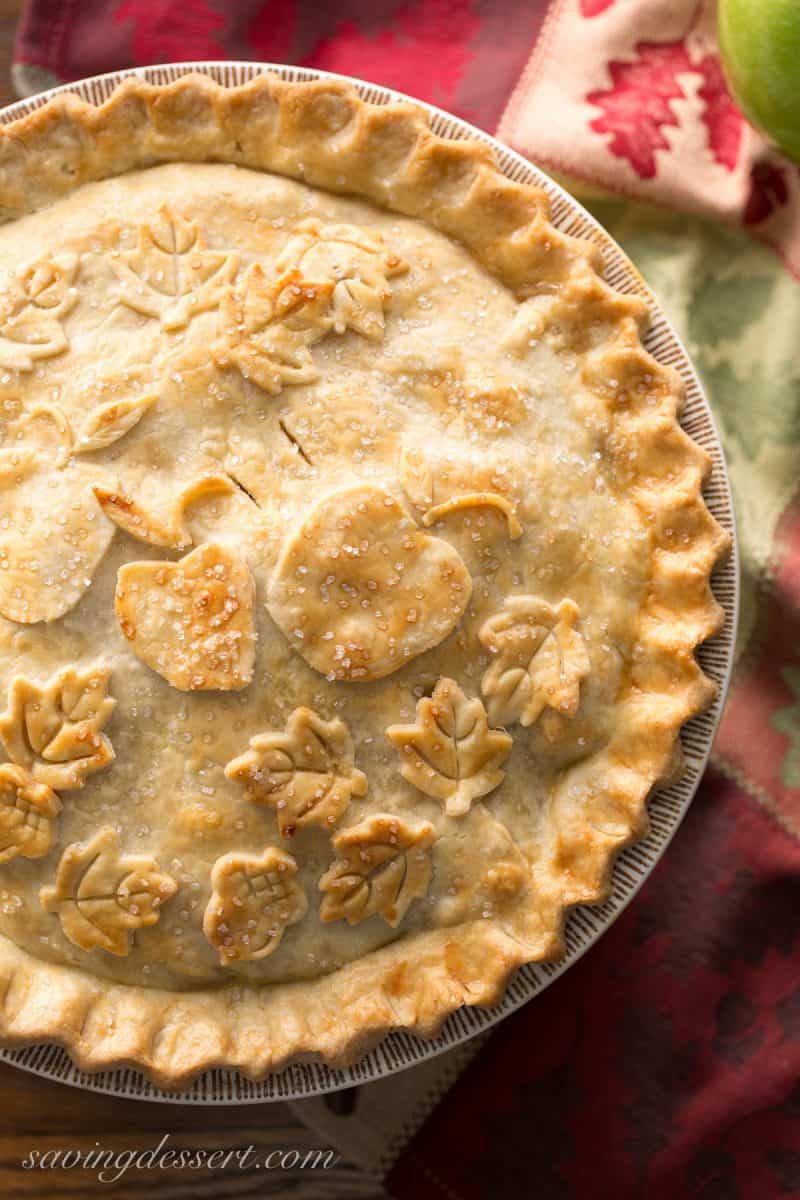 Our Perfect Pie Crust recipe makes enough dough for two single crusts or one double crust pie.
This recipe makes enough dough for our Classic Double Crust Apple Pie made in a 9-inch pie plate. You should have enough scraps leftover to cut out decorative dough cookies to decorate your pie. When making a double crust, be sure to brush the entire top of the pie with an egg wash. I also like to sprinkle the unbaked pie with a little coarse sugar.
The egg wash helps the pie turn a beautiful golden brown and gives it a shiny finish when baked.
How to prevent a soggy bottom pie
Soggy bottoms can be troublesome in double, and unbaked single crust pies. However, I've picked up a few tricks over the years and found a fool-proof way to ensure the bottom crust browns and holds up well, even under all that creamy filling.
When you're ready to bake, place an aluminum foil lined, rimmed baking sheet or baking stone in the oven while it preheats.
Make and assemble your pie in a heavy metal or aluminum pie plate.
Place the pie pan on the preheated stone or pan and bake!
Direct contact with the hot metal of the pan helps to brown and crisp the bottom crust under all the filling.
This really works so if you're concerned or worried about soggy bottoms, try using an aluminum pan on a hot baking stone or cookie sheet. This really works!
Cookie cutters or pie crust punches are an easy way to decorate pies.
Another easy method for decorating pies is to use cookie cutters to create a themed design. Stars are great for patriotic holidays, leaves and pumpkin cut outs for fall, and snowflakes for winter.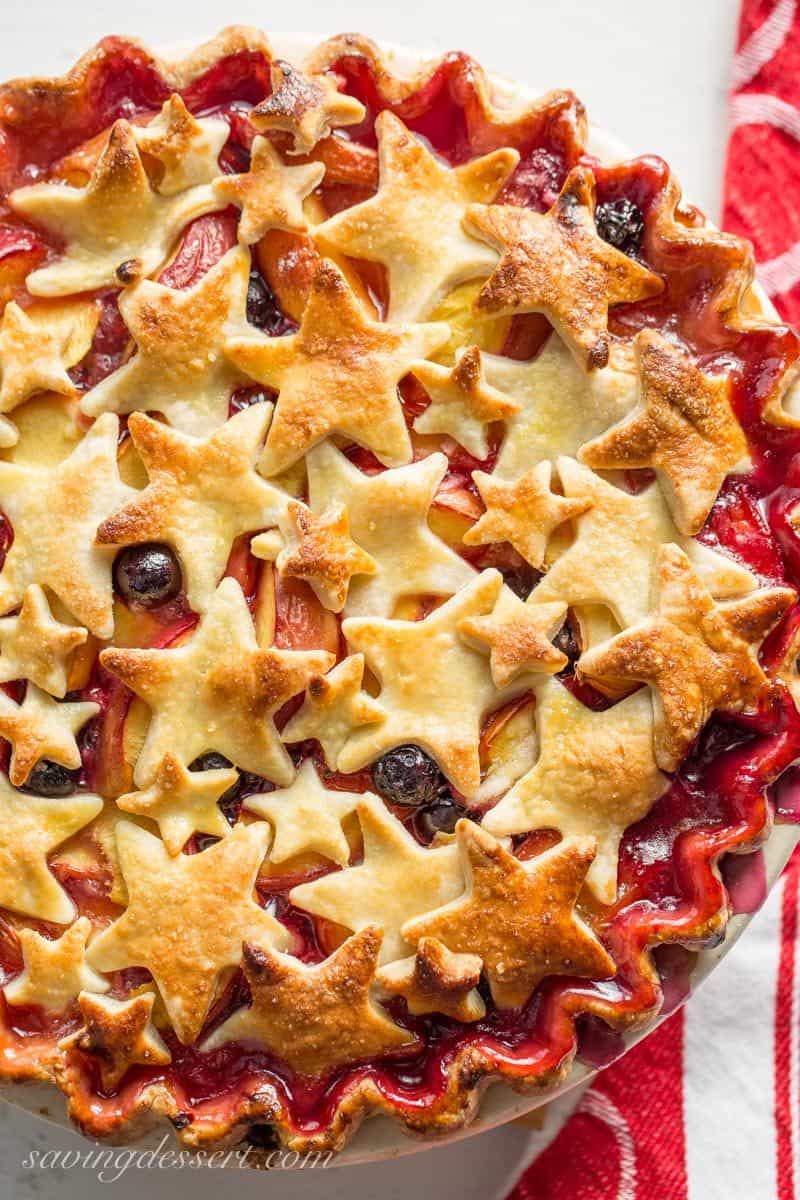 I especially love the cookie cutter method when decorating fruit pies.
The juices bubble up in between the cutouts adding color and appeal. Check out this easy recipe for Nectarine Blueberry Pie complete with a how-to video.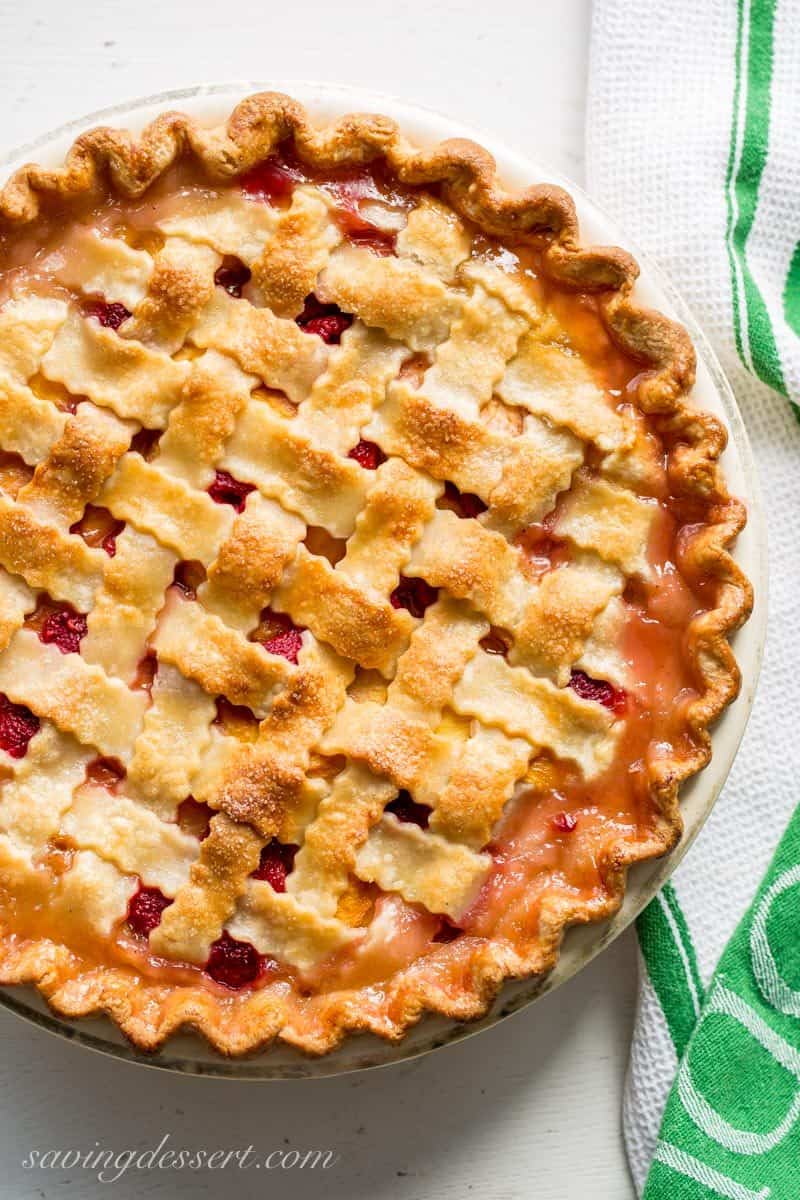 Our Peach Raspberry Pie features a beautiful lattice crust. We shared a how-to video to see how easy it is to weave the design.
Make the strips of dough as thick or thin as you want for the desired appearance.  Pies don't have to be perfect to turn out great. Each one is unique and different but always delicious!
Tips for Making Perfect Pie Crust
When measuring the flour, spoon it gently into a measuring cup and level off the top using the back of a table knife. If you scoop out the flour using the measuring cup, it will be packed and you'll end up with too much flour, making the dough crumbly.
If you have a kitchen scale, I recommend using the measurements noted in grams and ounces.
About the ingredients:
It's important that your butter is very cold and cut into cubes. If the butter is not cold, the dough will stick to your work surface.  Cut your butter into 1/2-inch pieces and refrigerate until needed.
I've found, through lots of trial and error, that a pastry crust made using half butter and half solid shortening performs the best.  The crust will turn a beautiful golden brown but not be greasy like many all-butter crusts can be. I don't refrigerate my Crisco shortening but it wouldn't hurt if you want to try.
I always use good quality unsalted butter.  European style butters are usually the best. I've ruined more than one crust using generic or grocery store brands of butter that may be greasier or have more moisture than good quality butters.  I also prefer to add my own salt instead of buying salted butter. Personally, I can tell a difference in the flavor.
Use ice cold water.  Fill a measuring cup with ice, then cold water.  Set aside until needed.
The how-to's for perfect crusts:
Do not over process the dough if using a food processor.  There should be small chunks or pea sized pieces of butter visible.  The chunks of butter melt when baked creating the flaky layers we all love in a good crust.
If too much water is added to the dough, it will become tough and no longer flaky.  I like to add the least about of water needed to form the dough.  I start by adding 6 tablespoons, then add the 7th if needed.  Humidity can also affect the dough so use less to start and add more if needed.  The dough should never be pasty or wet.
Refrigerate the dough at least an hour, but preferably overnight, before rolling it out.
Generously flour your work surface before rolling out the dough.
Use a good wooden rolling pin, and never wash it with soap.  Clean with hot water and dry before storing.
It's nearly impossible to roll out dough on a hot counter top.  Marble surfaces are popular for rolling dough because they are cool.  You don't need marble but make sure the surface is cool and the room temperature is not too warm.
Rolling out the dough:
If the dough has been refrigerated for more than a few hours, you may need to let it rest for 10-15 minutes before it's soft enough to roll out.
Roll the dough into a large circle, turning the disc as needed and adding flour to the work surface as needed.  Next, roll the dough out from the center toward the edges and work all the way around in a clockwise pattern until large enough to fit inside the pie plate with at least 1-inch of dough hanging over the side. (See video)
Run your hand over the dough as you roll it out to check for thick or thin spots.  The dough should have an even thickness all the way around.
Never stretch or pull the dough.  Ease it into the pie plate and scoot it around if needed to fit properly.  Stretching the  dough could cause thin spots that will not cook evenly and may leak filling into the pie plate.
If you have leftover scraps of dough, roll them out again and cut into various shapes using cookie cutters.  Brush the "dough cookies" with an egg wash and sprinkle with cinnamon and sugar.  Bake for 10-15 minutes until browned.  Crust cookies are great as decorations on cream pies, or served as cookies.  Waste not – want not!
If using dried beans as pie weights, you can cool them down after baking the crust, then store in a container until you make another pie!
Thanks for PINNING!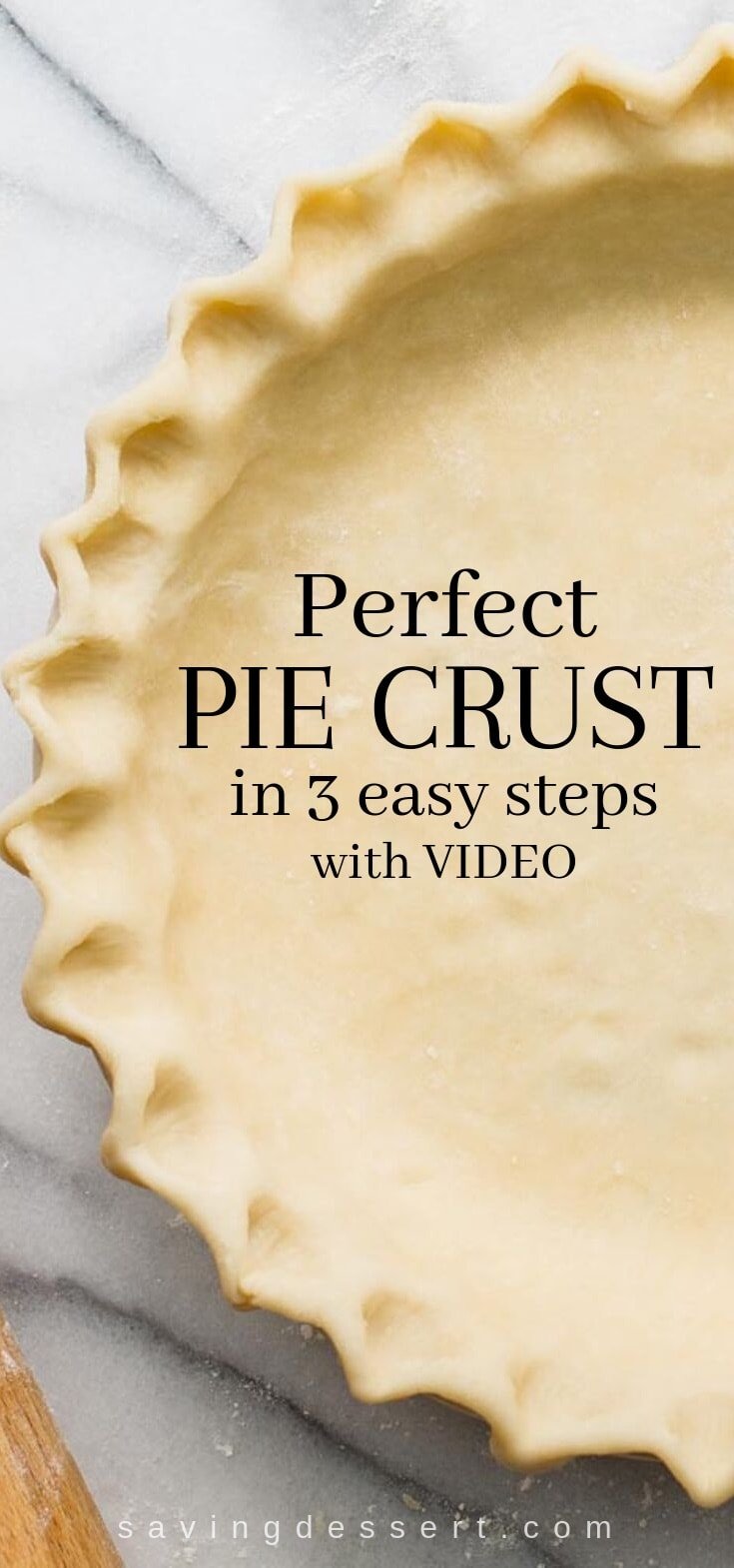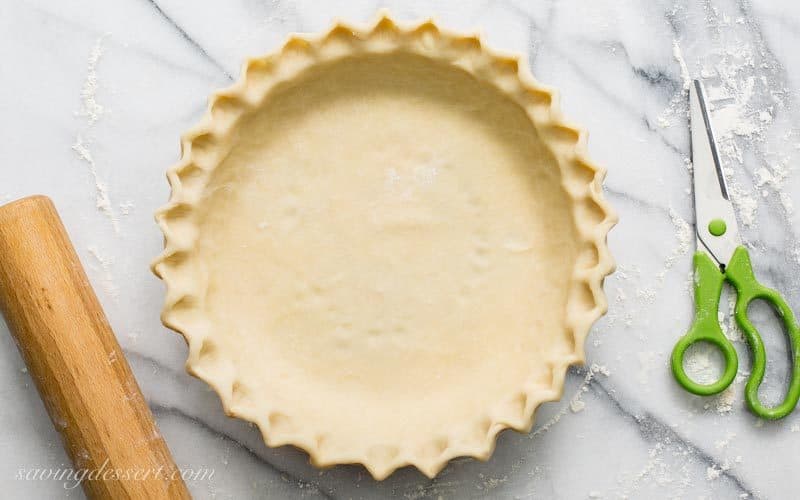 Perfect Pie Crust Recipe
Total Time:
1

hour
20

minutes
Flaky and buttery, this is a simple and delicious pastry for all your pie recipes. This recipe makes enough dough for a double crust or two single/bottom crusts.
Ingredients
2 ½

cups

all-purpose flour

(320g)

1

teaspoon

granulated sugar

1

teaspoon

salt

8

tablespoons

cold unsalted butter

cut into 1/2-inch pieces (4-ounces or 113g)

⅓

cup

solid shortening

(63g) like Crisco

6-7

tablespoons

ice water

1

large

egg

whisked with 1 tablespoon water (for egg wash)

1

tablespoon

coarse sugar

for topping if desired on double crust pie
Instructions
Combine the flour, sugar and salt in the bowl of a food processor. Pulse to combine. Add the butter and shortening and process (using short bursts/pulses) until the mixture resembles a coarse meal. There should be some small pea sized pieces of butter visible. Add 3 tablespoons of the cold water and pulse a few times to combine. Add 3 more tablespoons water and process until the dough starts to hold together. Don't over process. Add one more tablespoon of water, if needed, for a total of 7 at the most.

Gather the dough together and divide in half. Form each half into a flat disk about 6 inches round. Wrap each disk in plastic wrap and refrigerate at least 1 hour or up to 3 days.  You may need to let it come to room temperature for 15 minutes for easier rolling if it's too cold.

Place a disc of dough on a well floured, clean work surface. Using a rolling pin, start in the middle of dough and push outward with even pressure. Start again in the middle and press outward but move around like you're hitting all the numbers on the face of a clock. Start at 12 o'clock, move to 2 o'clock, etc. until the dough is in a circle large enough to allow for a 1-inch overhang. Trim excess dough with kitchen shears.
For a double crust pastry pie
Fill and top with the remaining pastry in your favorite design, i.e. lattice, cut-outs, solid top, etc. Brush the top crust with an egg wash made by beating one large egg with 1 tablespoon of water. Brush over the crust and sprinkle with sugar before baking.

To help prevent a soggy bottom crust, place a baking sheet or baking stone in the oven while preheating. Use an aluminum pie plate to make the pie. Place the filled pie directly on the hot pan or baking stone. Contact with hot metal will help the bottom crust cook quickly before it has a chance to get soggy. It will also brown nicely.
For a Pre-Baked Single Crust
Pierce the sides and bottom of the pastry with a fork. Refrigerate the crust for 30 minutes. While the pastry is chilling, preheat the oven to 375°F. Remove the pie crust from the refrigerator and place on a baking sheet. Carefully line the pastry with parchment paper, then fill with pie weights or dried beans. Bake the crust for 20 minutes.  

Remove the parchment paper and pie weights or beans and set aside. Brush the inside of the pie crust with a beaten egg white. Return the crust to the oven and bake another 10 minutes or until it starts to brown lightly. Remove from the oven and set aside to cool while preparing the filling.
Recipe Notes
If only using 1/2  the recipe, wrap the extra pie dough in plastic wrap and seal in a freezer bag. Frozen dough will keep for up to three months. Thaw overnight in the refrigerator.
If the dough splits while rolling out, it needs to soften. Allow it to rest at room temperature another 5 minutes, then try again. 
Substitute 1 teaspoon to 1 tablespoon of vodka for equal parts water
Nutrition
Calories:
160
kcal
|
Carbohydrates:
15
g
|
Protein:
2
g
|
Fat:
10
g
|
Saturated Fat:
5
g
|
Polyunsaturated Fat:
1
g
|
Monounsaturated Fat:
3
g
|
Trans Fat:
1
g
|
Cholesterol:
15
mg
|
Sodium:
147
mg
|
Potassium:
23
mg
|
Fiber:
1
g
|
Sugar:
1
g
|
Vitamin A:
175
IU
|
Calcium:
5
mg
|
Iron:
1
mg
What's your favorite pie?
Our family loves different kinds of pies at different times of the year.
Blueberry Crumble Pie is a favorite anytime, and our rich Chocolate Pecan Pie is the family choice at the holidays.
Food and Wine has a lovely post listing the Top 10 All-Time Favorite Pies. I think I want to make them all!