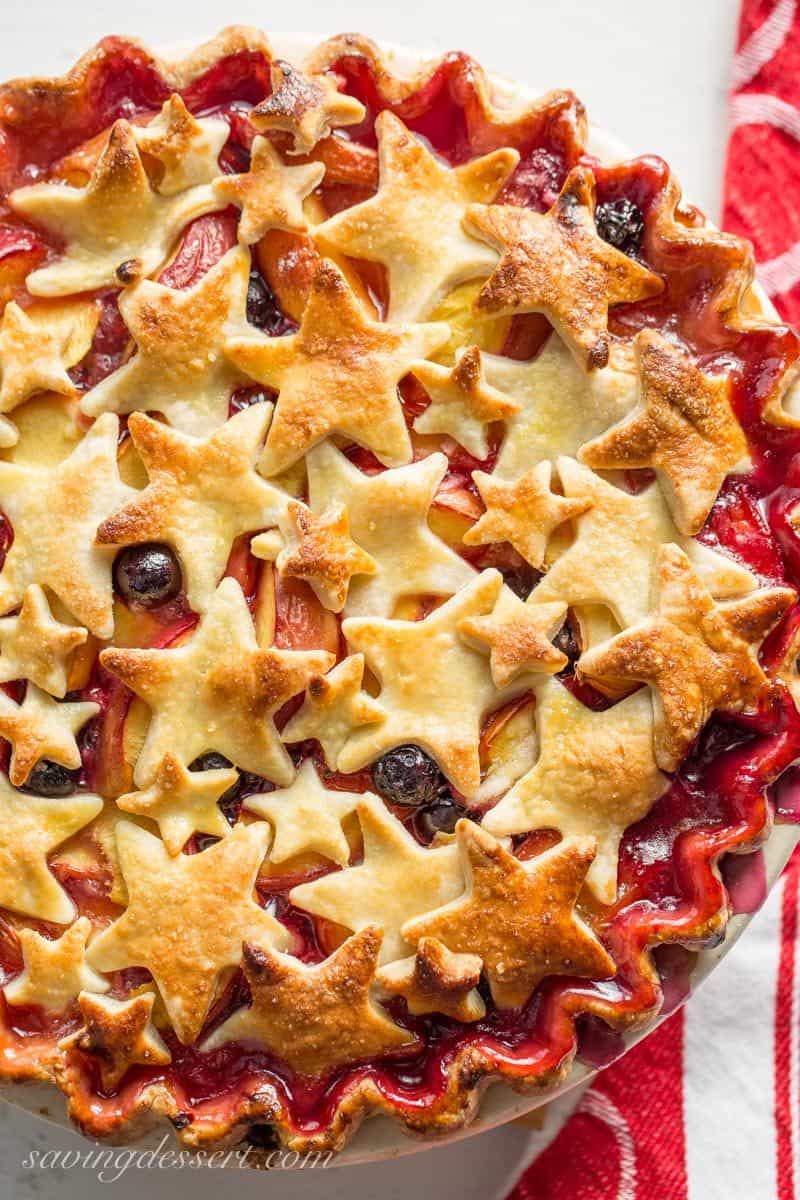 Nectarine Blueberry Pie ~ bake the season with this juicy, tangy, sweet pie filled with ripe nectarines and plump blueberries.  Topped with a homemade flaky crust cut into shapes with your favorite cookie cutter, you'll be the star of your next celebration with this delicious dessert!
Have you ever had a dog that loses all self control when they see a bunny, bird or, heaven forbid, a squirrel?  Our dogs (terriers) would trade life itself to chase a squirrel.  They're easily distracted by such craziness and sometimes I feel the same way, but not about squirrels.  I was in our favorite grocery store the other day with a completely different recipe in mind, when I saw a giant bin of the season's first nectarines.  I took a sharp turn with my cart and chased down the ripest, most beautiful fruits I could grab.  Then this pie happened and we watched some very happy folks eat it up!
Watch our VIDEO for step by step directions on how to make this fun Nectarine Blueberry Pie!
I had a lot of fun making this pie and now I'm going to be whistling all day!
As regular SRFD readers know, pies speak to me, actually call me by name, and fruit stuffed pies are my jam ~ pun intended 🙂 Pies are great for all seasons, any and all holidays, and are especially perfect for family celebrations.  Over the years I've made a bunch of pies, but simple fruit pies are some of my favorites.
When making fruit pies one of the biggest challenges is getting it to hold together once the juices are released.  One of my favorite tricks for a thicker filling is to mix in 1/2 of a grated apple before baking.  The apple helps thicken the filling, which helps it hold together.  While a slice of pie is out of this world delicious when served warm from the oven, it holds together much better when cooled completely.  This is a juicy pie and if cut while still warm, I can't guarantee it will hold together perfectly.
However, when given the chance to cool, this pie slices beautifully and tastes amazing!  You can refrigerate the pie once cooled and still have a tasty treat, and be guaranteed to not lose all the filling in a soupy mess.  Pies are made to be a bit messy – so if you don't care about perfect slices, serve it in bowls with a spoon.  The taste will still be fantastic no matter how it looks.
With our without ice cream?  I'm an a la mode kinda girl myself 🙂
Nectarine Blueberry Pie
Bake the season with this juicy, tangy, sweet pie filled with ripe nectarines and plump blueberries. Topped with a homemade flaky crust cut into shapes with your favorite cookie cutter, you'll be the star of your next celebration with this delicious dessert!
Ingredients
For the filling:
2/3

cup

granulated sugar

3

tablespoons

cornstarch

zest of 1 lemon

7-8

nectarines, pit removed, then sliced (do not peel)

6

ounces

fresh blueberries, rinsed and dried (about 1 1/2 cups)

juice of 1 lemon

1/2

of a small apple, peeled, cored and grated on a large box grater (I used Granny Smith)

1

Double Pie Crust (recipe below)

1

egg yolk

1

tablespoon

milk or cream

1

tablespoon

granulated sugar to topping (optional)
Instructions
Prepare the pie crust and refrigerate for 30 minutes or up to 3 days. (See recipe below) Line a large baking sheet with foil and set aside.

When ready to bake, preheat oven to 375 degrees. Whisk together the sugar, cornstarch and lemon zest. Place the sliced nectarines and blueberries in a large mixing bowl. Add the sugar/cornstarch mixture, lemon juice and grated apple to the fruit. Using a large rubber spatula, gently fold to combine. Set aside while rolling out the crust.

Roll out one of the pastry discs in a circle that's big enough to allow a 1-inch overhang. Trim the excess dough with kitchen shears. Fill the pastry crust with the nectarine mixture spreading into an even layer. Roll out the remaining pastry and cut into shapes using a cookie cutter. Place in a random pattern over the filling as desired.

In a small bowl, whisk together the egg yolk and milk. Brush the crust "stars" and around the top edge of the crust (see video). Sprinkle with sugar.

Place the pie on the foil lined baking sheet and bake for 75-90 minutes or until the crust is browned and the filling is bubbling. Check the pie after about 45-60 minutes and if browning too quickly, tent loosely with foil.

For best results, allow the pie to cool to room temperature before serving. Serve with ice cream if desired. Refrigerate leftovers and enjoy!
Recipe Notes
If using my pie crust recipe, you will most likely have leftover pastry scraps.  You can re-roll the extra pastry and cut into "crust cookies."  Once the pie is done, place the crust pieces on the baking sheet, brush with the remaining egg wash, then sprinkle with sugar and cinnamon for a simple sweet "crust cookie."
Double Crust Pastry
Flaky and buttery, this is a simple and delicious pastry for all your pie recipes. This recipe makes enough dough for a double crust or two single/bottom crusts.
Ingredients
2 1/2

cups

unbleached, all-purpose flour

1

teaspoon

granulated sugar

1

teaspoon

table salt

8

tablespoons

cold, unsalted butter, cut into 1/2-inch pieces

1/3

cup

solid shortening (Crisco)

6-7

tablespoons

ice cold water
Instructions
Combine the flour, sugar and salt in the bowl of a food processor. Pulse to combine. Add the butter and shortening and process (using short bursts/pulses) until the mixture resembles a coarse meal. (There should be some small pea sized pieces of butter visible.) Add 3 tablespoons of the cold water and pulse a few times to combine. Add 3 more tablespoons water and process until the dough until the dough starts to hold together. Don't over process. Add one more tablespoon of water if needed - for a total of 7 at the most.

Gather the dough together and divide in half. Form each half into a flat disc. Wrap each disc with plastic wrap and refrigerate at least 30 minutes or up to 3 days. You may need to let it come to room temperature for 15 minutes for easier rolling if it's too cold.

Place a disc of dough on a lightly floured, clean work surface. Using a rolling pin, start in the middle of the dough and push outward with even pressure. Start again in the middle and press outward but move around like you're hitting all the numbers on the face of a clock. Start at 12 o'clock, move to 2 o'clock, etc. until the dough is in a circle big enough to allow for a 1-inch overhang. Trim excess dough with kitchen shears.

Fill and top with the remaining pastry in your favorite design. Bake according to recipe directions.
Recipe Notes
TIPS:  It is nearly impossible to roll out dough on a hot counter top.  Marble surfaces are popular for rolling dough because they are cool.  You don't need marble but make sure the surface is cool and the inside of your kitchen is not overly hot.  
Run your hand over the dough as you roll it out to check for thick or thin spots.  The dough should be an even thickness.
Never stretch the dough.  Ease it into the pie plate and scoot around if needed to fit properly.  Don't pull it and cause thin spots that will not cook evenly.
Don't forget to PIN for later!
I love the way this pie can be adapted for any holiday, or none at all.  The red and the blue fruit give it a little patriotic flare, and when you add vanilla ice cream and stars you have a great 4th of July dessert.  Do you have a favorite pie?  My family loves them all and were very surprised at this unique combination of nectarines and blueberries.  To me it was a no brainer, these two fruits are great together.  My husband said it almost has a rhubarb taste with the tart undertones.
Here are a few of my favorite "pie tools" you might also like:
The small print: If you decide to purchase something at Amazon after following my affiliate link, I receive a small commission, at no additional cost to you, which I use to pay for web hosting and services for this blog.
If you've found yourself with a few extra nectarines, you might like to try this Grilled Chicken with Nectarine Relish or these luscious Fried Nectarines with Vanilla Mascarpone from She Wears Many Hats.  I may have to run back to the store and get more nectarines to make this gorgeous Habanero Nectarine Jam from The View from Great Island!  And now I'm craving this Iron Skillet Caramel Nectarine Crisp from Melanie Makes – with ice cream on top please!
There you have it – hope you have a terrific weekend.  Thanks so much for stopping by!
Tricia
SaveSave