This post may contain affiliate links. Please read my disclosure policy.
Rich, creamy Vanilla Ice Cream Recipe!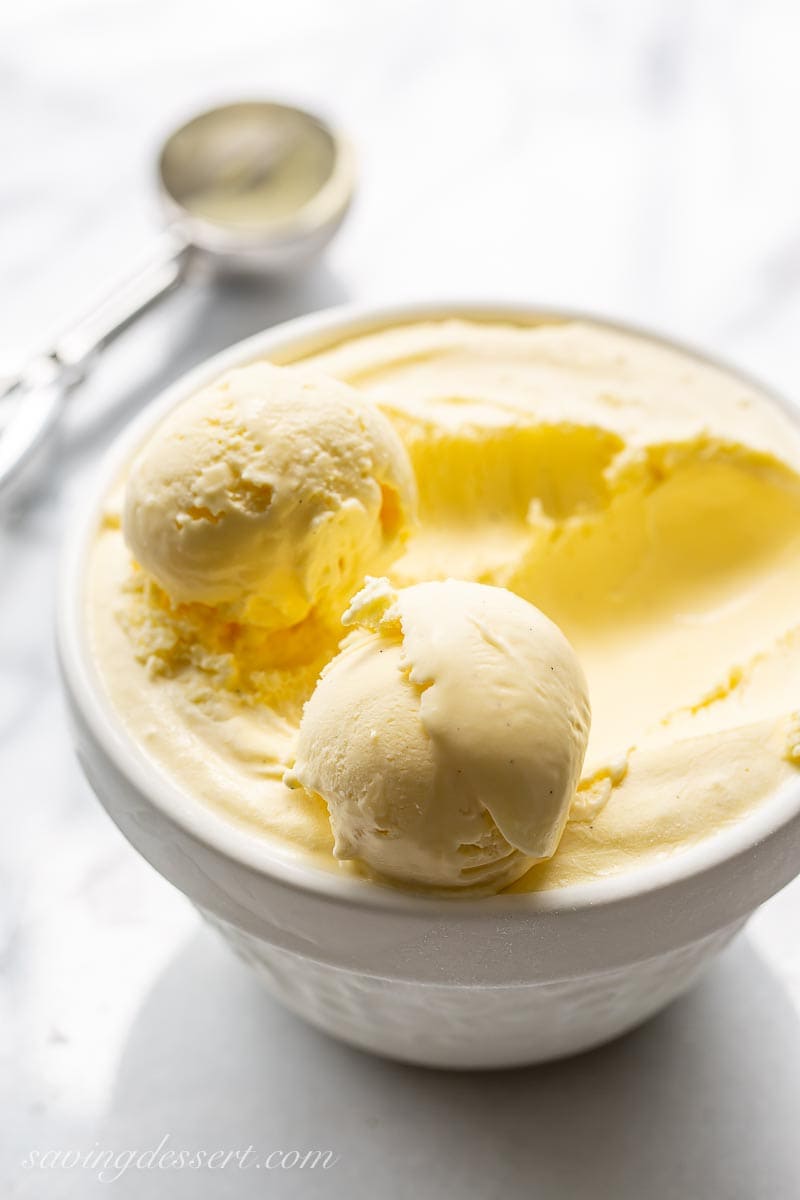 Classic homemade Vanilla Ice Cream made with a rich and creamy custard base loaded with great vanilla flavor.
There's nothing plain or boring about this delicious vanilla ice cream recipe! Did you know vanilla is the world's most popular ice cream flavor? This number one position can change from year to year, but it's safe to say this frozen treat will remain in the top 10, forever!
Vanilla and chocolate ice cream are perfect in their simplicity. Chocolate ice cream satisfies on so many levels. It covers all things sweet, creamy, rich and chocolatey in one simple bite. Vanilla ice cream does the same but has one big advantage: it's the perfect compliment to endless other desserts.
Think Apple Pie, a la mode, or a big bowl of warm Blackberry Cobbler with a melting scoop of creamy vanilla ice cream on top. Pound cake is always a favorite topped with vanilla ice cream and I can't imagine a slice of fresh Peach Pie without it!
Vanilla ice cream is a great jumping off point for milkshakes, ice cream sandwiches, ice cream cakes, and frozen ice cream pies. When in doubt about what's the best dessert to serve, ice cream is always a great solution. Spring, summer, fall or winter, ice cream is delicious year round!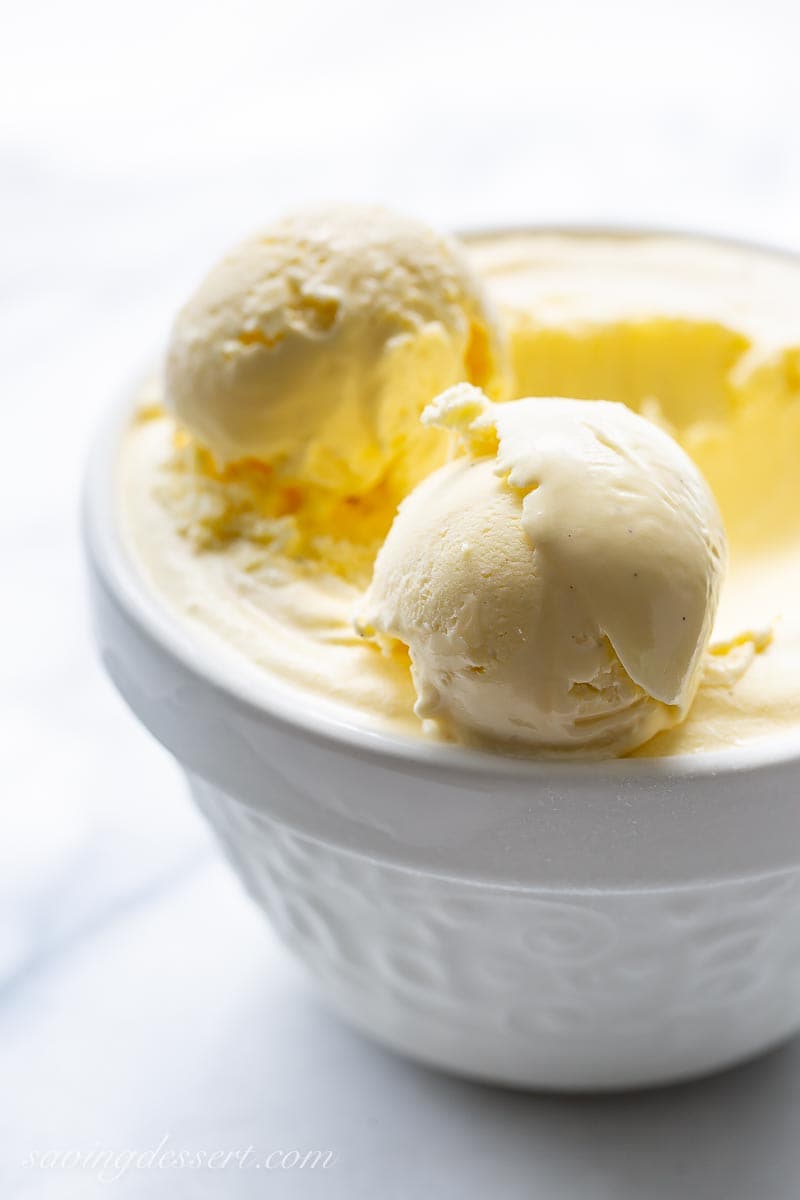 Is this homemade Vanilla Ice Cream recipe easy to make?
Ice cream is not a difficult dessert to master at home. There are a few easy steps, with cooling down, refrigeration and freezing taking up most of the time. The actual cooking of the custard is simple.
Read through the directions a few times before beginning and have all ingredients, bowls and containers at the ready. You've got this!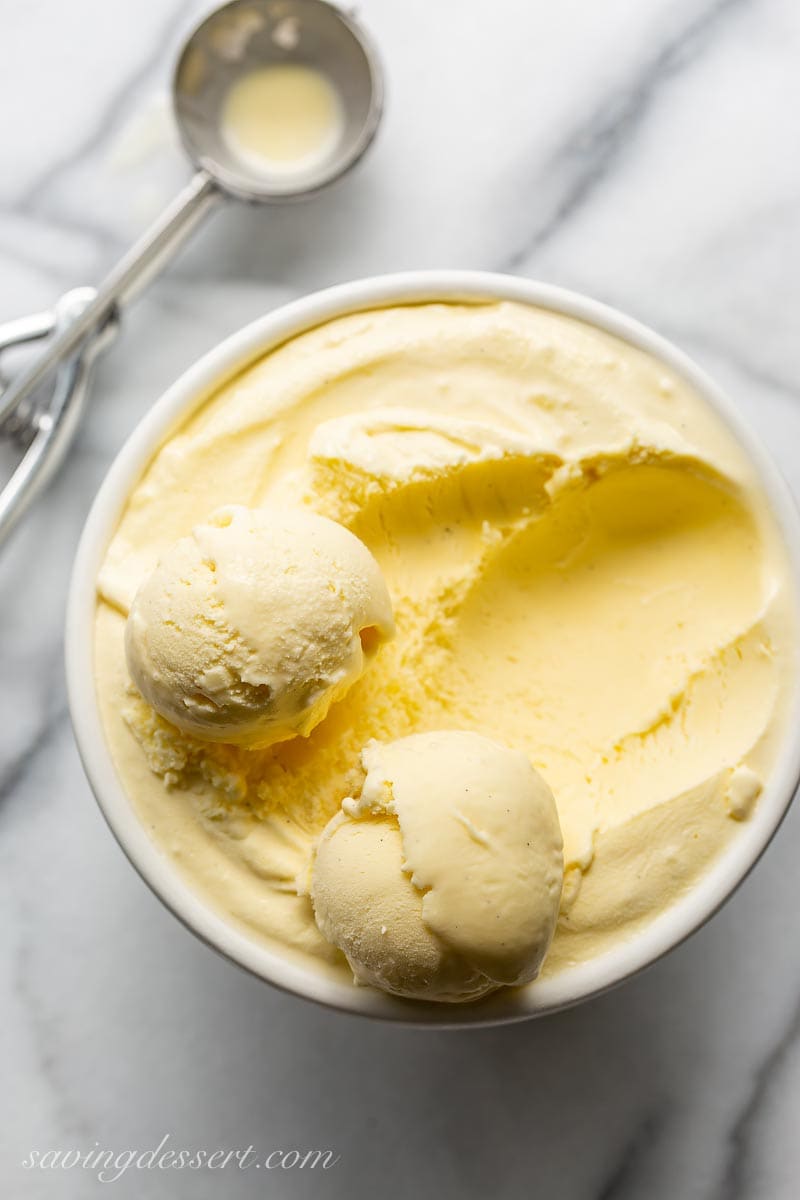 How to make Vanilla Ice Cream
Ingredients needed for this recipe:
heavy whipping cream
granulated sugar
egg yolks
whole milk
salt
cream cheese, room temperature
vanilla extract or vanilla bean paste
To make the ice cream:
1. Start by assembling an ice bath:
Place a large glass or metal bowl inside another, larger bowl filled with ice. Pour the cream into the bowl in the ice bath and place a fine mesh strainer over the top. Set aside while preparing the ice cream base.
2. Eggs and sugar:
In a medium bowl whisk together part of the sugar and the egg yolks. Keep whisking until the mixture is thick and slightly lightened in color. Set aside.
3. Temper the eggs with a hot milk mixture:
Add the milk to a heavy bottom saucepan. Pour in the remaining sugar and salt. Heat the mixture until it comes to a boil. Slowly whisk some of the hot milk mixture into the egg yolks to temper the eggs.
Tempering is a process used to slowly warm the eggs so they don't clump up or scramble when heated.
4. Cook the custard until thick:
The now combined egg and milk mixture is returned to the heat and cooked until it's thick enough to coat the back of a wooden spoon. Remove from the heat and whisk in 2 ounces of soft cream cheese.
5. Add the hot custard to the ice bath:
Pour the custard through the strainer set over the ice bath. Discard any clumps left in the sieve. Stir the ice cream mixture occasionally until completely cooled, about 30 minutes. Add vanilla flavoring then refrigerate for several hours or overnight.
6. Process in an ice cream maker:
Follow the directions for your ice cream maker. Scoop the finished ice cream into an airtight container and put in the freezer until firm.
Do you need special equipment to make vanilla ice cream?
The only appliance you must have is an ice cream maker. If you have an instant-read thermometer on hand, you can use that to make sure the egg custard is full cooked. I find that if the mixture coats the back of a wooden spoon, it's cooked more than enough.
According the the Egg Safety Center, eggs should reach 160F to be fully cooked and safe to eat. I've found that eggy custards easily reach around 190F when cooked on the stove top. So, no worries!
If you don't own an ice cream maker, make no-churn ice cream instead. Heavy cream is whipped until stiff peaks form to replace the air that's incorporated into ice cream when churned. Sugar and flavorings are gently folded into the whipped cream before being frozen.
What kind of flavoring can you use to make this Vanilla Ice Cream recipe?
For the vanilla ice cream pictured here we use vanilla bean paste. This magic elixir imparts great vanilla flavor, along with plenty of tiny vanilla bean specks that are visible in the finished product.
Good quality pure vanilla extract is also a great choice for this recipe. Or, use your own homemade vanilla extract.
If you want to use a whole vanilla bean, please feel free! Split the vanilla pod down the middle and place it in the saucepan with the milk and sugar. Once brought to a boil, remove from the heat, cover and allow the vanilla bean to steep for 30-minutes.
Remove the vanilla pod, scrape out the seeds into the milk mixture and continue on with the remaining steps.
What is custard ice cream?
Basically, custard based ice cream is a frozen dessert that contains egg yolks in addition to sugar and cream. Egg yolks are used to create a richer, thicker base with a smoother texture than some eggless ice creams.
Frozen custard was first introduced to America at the 1933 Chicago World's Fair and has been a favorite ever since.
It's said that frozen custard is a little more dense and stays cold longer, than eggless ice creams. As in this recipe, egg yolks are cooked in a sugar, cream and/or milk mixture before being cooled and processed in an ice cream maker.
One of the most frequently asked questions: Can dogs eat vanilla ice cream?
First, I highly recommend asking a veterinarian if your dog should consume ice cream. Vanilla would obviously be the best choice if you're going to share a frozen dessert with your dog. However, it's good to remember that dogs don't need sugar and dairy in their diet. Your fur baby may be lactose intolerant and have severe stomach issues if allowed to eat ice cream.
Diabetic pets are becoming more and more common. Please ask your vet if feeding ice cream to your dog would increase the risk of health issues. Bottom line: check with the experts and remember to use good judgment and moderation.
Thanks for PINNING!
Let's be cooking friends! When you try our recipe please leave a comment on this post. If you loved this recipe we'd appreciate a 5-star rating. Sharing your experience, variations and insights will help all our readers, and it helps me too.
If you're on Pinterest feel free to leave a comment and photo there if you have one. If you share on INSTAGRAM tag @savingroomfordessert so we can stop by and give your post some love.
FOLLOW Saving Room for Dessert on FACEBOOK| INSTAGRAM| PINTEREST | TWITTER  and subscribe to our YOUTUBE channel for all the latest recipes, videos and updates.
Vanilla Ice Cream Recipe
Total Time:
1

day
35

minutes
Yield:
8
(1/2 cup) servings
A rich and creamy custard loaded with vanilla flavor.
Ingredients
1 ½

cups

heavy whipping cream

(12oz)

¾

cups

granulated sugar

divided (170g)

4

large egg yolks

1 ½

cups

whole milk

(12oz)

¼

teaspoon

salt

2

ounces

cream cheese

room temperature, cut into small pieces

2

teaspoons

vanilla extract

or vanilla bean paste
Instructions
Place a large glass or metal pan inside another larger bowl filled with ice. Add the heavy whipping cream to the bowl set inside the ice bath. Place a fine mesh strainer over the cream. Set aside.

In a medium mixing bowl, combine ¼ cup (57g) of the sugar and the egg yolks. Whisk until the egg mixture is pale and slightly thickened. Set aside.

Pour the milk into a heavy bottomed, medium saucepan. Add the remaining ½ cup (113g) of sugar and the salt. Warm over medium heat, stirring constantly, until the mixture just comes to a boil. Remove from the heat.

Temper the eggs by slowly drizzling a little hot milk into the eggs while whisking constantly. After more than half the hot milk has been added to the eggs, pour the egg/milk mixture back into the saucepan whisking to combine. Cook over medium heat stirring constantly until the custard coats the back of a wooden spoon.

Remove from the heat and add the cream cheese. Emulsify with an immersion / stick blender until smooth (if desired) or smash with a spatula to combine. Pour the base mixture through the sieve into the bowl with the heavy cream set over the ice bath. Discard any clumps left in the strainer. Stir occasionally while cooling, about 30 minutes.

Once cooled, add the vanilla extract and stir until well blended. Cover and refrigerate the mixture for at least 8 hours or overnight.

Process the custard according to the directions for your ice cream maker. Serve immediately as soft serve ice cream or freeze in an airtight container for several hours or overnight for a firm, scoopable consistency.
Recipe Notes
Nutrition information is calculated using an ingredient database and should be considered an estimate. When multiple ingredient alternatives are given, the first listed is calculated for nutrition. Garnishes and optional ingredients are not included.
Nutrition
Calories:
2484
kcal
|
Carbohydrates:
183
g
|
Protein:
34
g
|
Fat:
183
g
|
Saturated Fat:
107
g
|
Polyunsaturated Fat:
9
g
|
Monounsaturated Fat:
54
g
|
Cholesterol:
1369
mg
|
Sodium:
1093
mg
|
Potassium:
923
mg
|
Sugar:
172
g
|
Vitamin A:
7641
IU
|
Vitamin C:
2
mg
|
Calcium:
797
mg
|
Iron:
3
mg
Saving Room for Dessert is a participant in the Amazon Services LLC Associates Program ~ I earn a small commission, at no additional cost to you, which I use to pay for web hosting and services for this blog.