This post may contain affiliate links. Please read my disclosure policy.
Thick, rich Salted Caramel No-Churn Ice Cream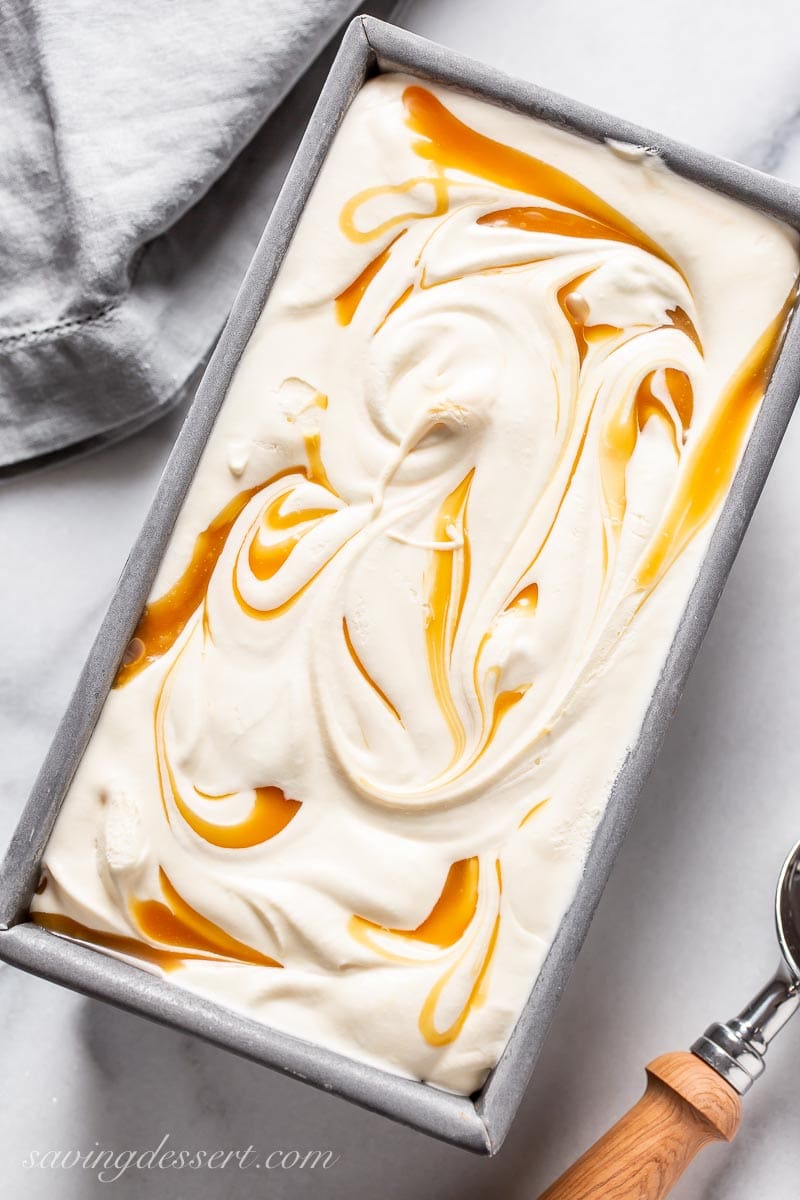 Get out the easy button because we're sharing one of the easiest, most delicious no-churn ice cream recipes, ever!
For years I've experimented with no-churn ice cream recipes. It's a tough job I know, but somebody's got to do it! We've always been smitten with our no-churn Peach Sherbet recipe which is made in a blender with only two ingredients, then frozen. We look forward to peach season every year so we can make it again, and again!
When it comes to no-churn ice cream recipes with a heavy cream base, this is our favorite. This creamy concoction is rich, thick and surprisingly not too sweet. With a light buttery caramel flavor and a savory bite from a little sea salt, this may become your new go-to summer dessert!
What is no-churn ice cream?
Ice cream makers work by slowly churning liquids until frozen, while incorporating air to create a light, creamy, scoopable ice cream. Affordable, non-commercial ice cream makers typically employ a double insulated freezer bowl and a mixing paddle that churns constantly while the mixture freezes.
Without incorporating air, the mixture turns into a solid block of frozen un-scoopable milk. Imagine frozen milk that's rock hard like an ice cube.
So to create a no-churn ice cream you'll need a method for building in air and fluffiness to replace the churning motion of the ice cream maker. For this task we use an electric mixer. As you know, beating heavy cream transforms it from a milky liquid to a fluffy whipped cream. This whipped cream creates the base for our scoopable frozen treat.
How to make No-Churn Ice Cream
Ingredients you'll need for this No-Churn Ice Cream with Salted Caramel recipe:
Heavy cream – well chilled
Sweetened condensed milk – one 14oz can
Caramel Sauce – homemade or store-bought
Vanilla extract or vanilla bean paste
Sea salt, or regular table salt
To make the No-Churn Ice Cream:
Once you've built in plenty of air by whipping the cream to stiff peaks, add a sweetener and flavor.
To sweeten our ice cream we use sweetened condensed milk and a portion of the caramel sauce. Gently fold in the condensed milk, 1/3 cup caramel sauce, vanilla and salt until blended.
Layer one-third of the ice cream in a well-chilled loaf pan. Drizzle some of the caramel over the ice cream. Repeat two more times by layering half the remaining ice cream and half the caramel.
Swirl the caramel gently with a table knife or skewer.
Freeze until set, about 6 hours.
Once set, scoop and serve!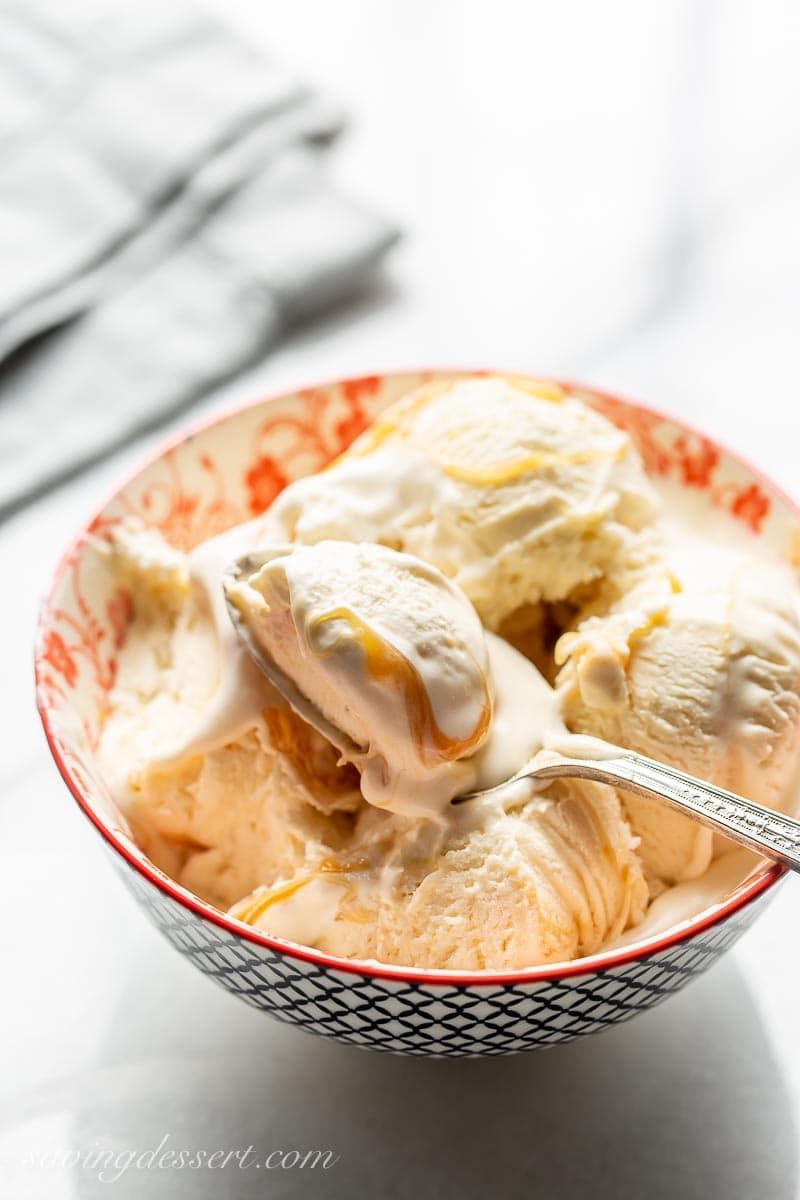 How long does No-Churn Ice Cream keep in the freezer?
If well sealed in an airtight insulated ice cream container, no-churn ice cream will keep for several weeks. If frozen in a loaf pan and covered with plastic wrap, I recommend eating it within about a week or ice crystals will start to form.
Can you make other flavors?
This is a great recipe to use as a base for many other flavor combinations. It's practically sublime with a chocolate fudge sauce in place of the salted caramel.
Omit the caramel sauce and fold in 1 cup of mini-semisweet chocolate chips at the end. Everybody loves a great chocolate chip ice cream!
Go crazy and experiment with peanut butter and cocoa powder and let me know what you come up with 🙂
If you have extra berries this summer, make our simple easy 5-minute berry sauce and drizzle it throughout the ice cream in place of the caramel.
I've been working on a chocolate no-churn ice cream recipe but haven't perfected it, yet. It's a consistency issue. But no worries, I'll keep trying! If you have a no-churn chocolate ice cream recipe you'd like to share with our readers, perhaps we can feature it – let me know!
I'd love to feature more reader recipes, so don't hesitate to reach out.
Which is best: homemade or store-bought caramel sauce?
If looking for delicious with no-effort, I highly recommend this Sea Salt Caramel Sauce from Stonewall Kitchen. We're big fans of their products, and they didn't pay me to write that! While this may not be the cheapest caramel sauce on the market, we believe it's one of the best.
The flavor is buttery, the consistency is perfect and the light salty overtones seal the deal!
Any caramel sauce will work in this ice cream. You can often find jars of caramel near the ice cream cones at your local store.
What about homemade caramel sauce?
If you have the time, or happen to be making caramel sauce for another recipe, I say go for it! This no-churn ice cream would be out-of-this-world fantastic using our homemade Apple Cider Caramel Sauce. Please let me know if you give it a try.
For a good, solid homemade salted caramel sauce, try this recipe from Sally's Baking Addiction.
You can't go wrong with ice cream and caramel!
Thanks for PINNING!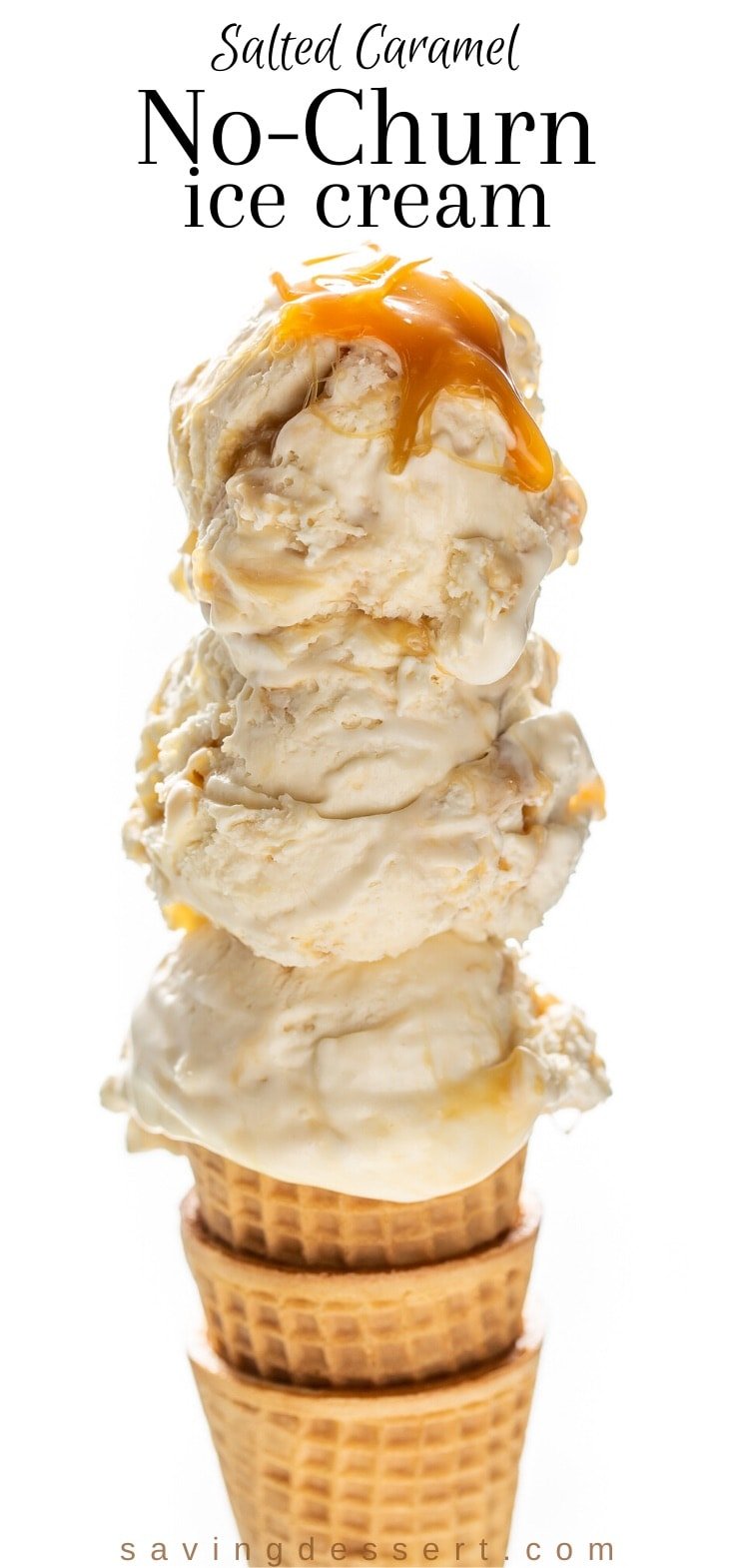 No-Churn Ice Cream with Salted Caramel
Total Time:
6

hours
20

minutes
Course:
Dessert, Frozen dessert, Ice Cream
Get out the easy button! This amazingly simple no-churn ice cream is perfection.
Ingredients
2

cups

heavy cream,

cold

1

(14oz) can sweetened condensed milk

1

cup

caramel sauce,

jarred or homemade, divided

1

teaspoon

vanilla extract

½

teaspoon

flake sea salt
Instructions
Place a loaf pan in your freezer to chill.

Pour heavy cream into a large mixing bowl. Using an electric mixer, beat the cream on low until it starts to thicken. Increase the speed to high and beat the cream until stiff peaks form.

Using a rubber spatula, gently fold in the sweetened condensed milk, ⅓ cup caramel sauce, vanilla and salt.

Scoop one-third of the ice cream mixture into the frozen loaf pan. Next, drizzle one-third of the remaining caramel sauce over the ice cream. Top with half the remaining ice cream, then half the caramel sauce. Finally, layer the last of the ice cream on top, then drizzle with the remaining caramel. Use a table knife to gently swirl the caramel throughout.

Place the ice cream in the freezer, making sure the pan is level. Once frozen, cover in plastic to seal. The ice cream will be firm in about 6 hours.

Serve topped with additional caramel sauce if desired.
Recipe Notes
Nutrition information is calculated using an ingredient database and should be considered an estimate. When multiple ingredient alternatives are given, the first listed is calculated for nutrition. Garnishes and optional ingredients are not included.
Nutrition
Calories:
2226
kcal
|
Carbohydrates:
163
g
|
Protein:
13
g
|
Fat:
176
g
|
Saturated Fat:
110
g
|
Polyunsaturated Fat:
7
g
|
Monounsaturated Fat:
51
g
|
Cholesterol:
655
mg
|
Sodium:
2134
mg
|
Potassium:
557
mg
|
Fiber:
2
g
|
Sugar:
2
g
|
Vitamin A:
7203
IU
|
Vitamin C:
4
mg
|
Calcium:
433
mg
|
Iron:
1
mg