This post may contain affiliate links. Please read my disclosure policy.
Peach Sherbet – a creamy, delicious, velvety smooth fresh peach dessert – made with only two ingredients right in your blender!
Two ingredients … that's it … and no need for an ice cream maker – seriously!  This super simple Peach Sherbet is made in a blender.  Serve immediately as soft-serve or freeze for an ice cream like consistency.  It's as smooth as velvet and tastes like
peach cobbler
.  It's dreamy and creamy and unbelievably delicious.  The key to making it
spectacular
is using super ripe, juicy, fresh fragrant peaches.
Tips for picking the best peaches:
Select peaches that are firm with no shriveled skin;
The peaches should be very fragrant;
The fruit should be slightly soft when gently squeezed;
Check for bruises and avoid damaged fruit;
Color is a good indicator of great fruit, pick those with deep, rich hues;
Large peaches have the most sugar, select medium to large peaches;
Buy local if you can. These peaches have spent less time traveling and more time on the tree to ripen!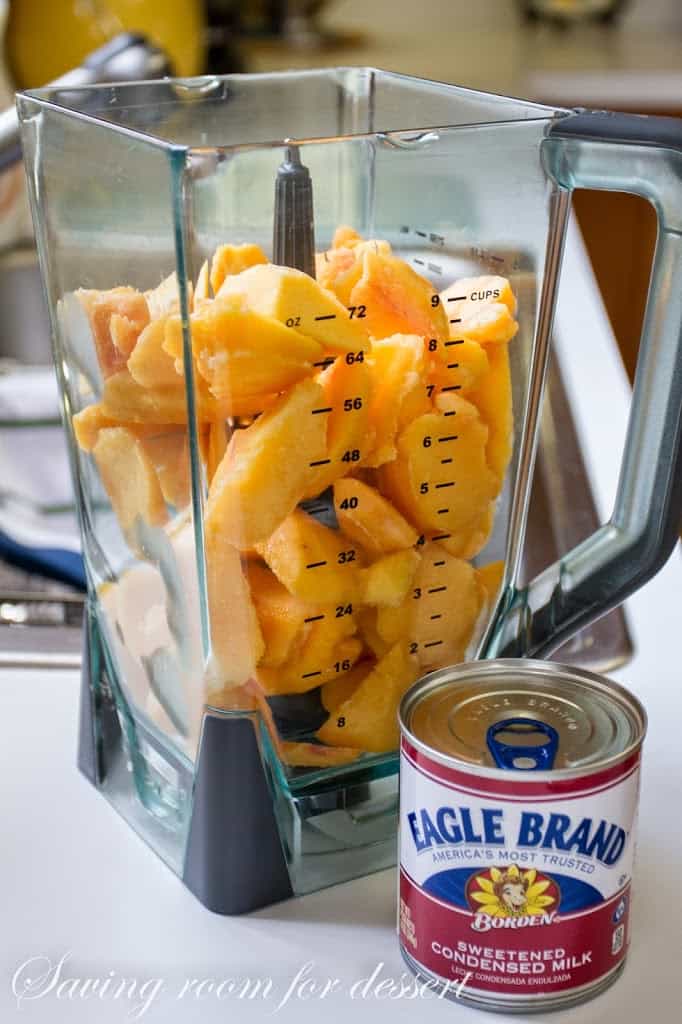 Sherbert, Sherbet or Sorbet?
I'm familiar with the terms sherbert and sorbet, but I never knew there was also sherbet.  After researching the subject I found most agree sherbert and sherbet are the same thing, thus the terms are interchangeable.  Sherbet is just an alternate spelling of sherbert.  But I also found other definitions and descriptions:
Sherbert – a frozen dessert made of fruit juice and sugar, but also containing milk or gelatin.

Sherbet

– an American term for a frozen dessert like sorbet, but containing a small amount of milkfat, generally 1-3%.  Anything more (above 3%) is considered ice cream 

(source).  

(Sounds like sherbert to me!)

Sorbet

– refers to a frozen dessert made from sweetened water with flavoring (typically fruit juice or fruit puree, wine or liqueur), with little or no dairy.  

(source)

Call it sherbert or sherbet – either way it's still a wonderful fruity dessert, perfect on a hot summer day!
No kidding – just two ingredients – frozen sliced peaches and sweetened condensed milk.
That's it! Peel fresh ripe peaches over a bowl or large baking sheet lined with wax paper.  Slice the peaches and 
flash freeze
 the pieces along with any juice that has accumulated. If freezing the peaches for longer than 4 hours, be sure to put them in a freezer bag or sealed container to prevent freezer burn.  To make the sherbet place the frozen peaches in a heavy duty blender and add the sweetened condensed milk.
Sweetened condensed milk adds just the right amount of sugar and milk to create a super creamy consistency.
We have a
Ninja Blender
 that is worth every single penny we paid for it.  We've blown through a new blender about once every two years … until we bought this one.  It has a small blade that fits on single serve cups too – great for morning breakfast smoothies!  Mix, drink and go in one cup.
After just a a few minutes in the blender, we have Peach Sherbet!
Serve immediately or freeze for later.  It's wonderful both ways. Also love my new insulated 1.5 quart 
ice cream storage container
!  No freezer burn – yeah 🙂
We are smitten with this delicious concoction.
It's not overly sweet and the peach flavor is front and center.  I can't image how incredible this would be on top of a peach crisp or cobbler. My husband already started asking me about making this sherbet with other fruits.  I was thinking apricots may be wonderful too.  Blueberries?  Strawberries?  The possibilities are endless!
I don't care what we call it  – sherbet or sherbert –  It's peach velvet to me.
Thanks for PINNING!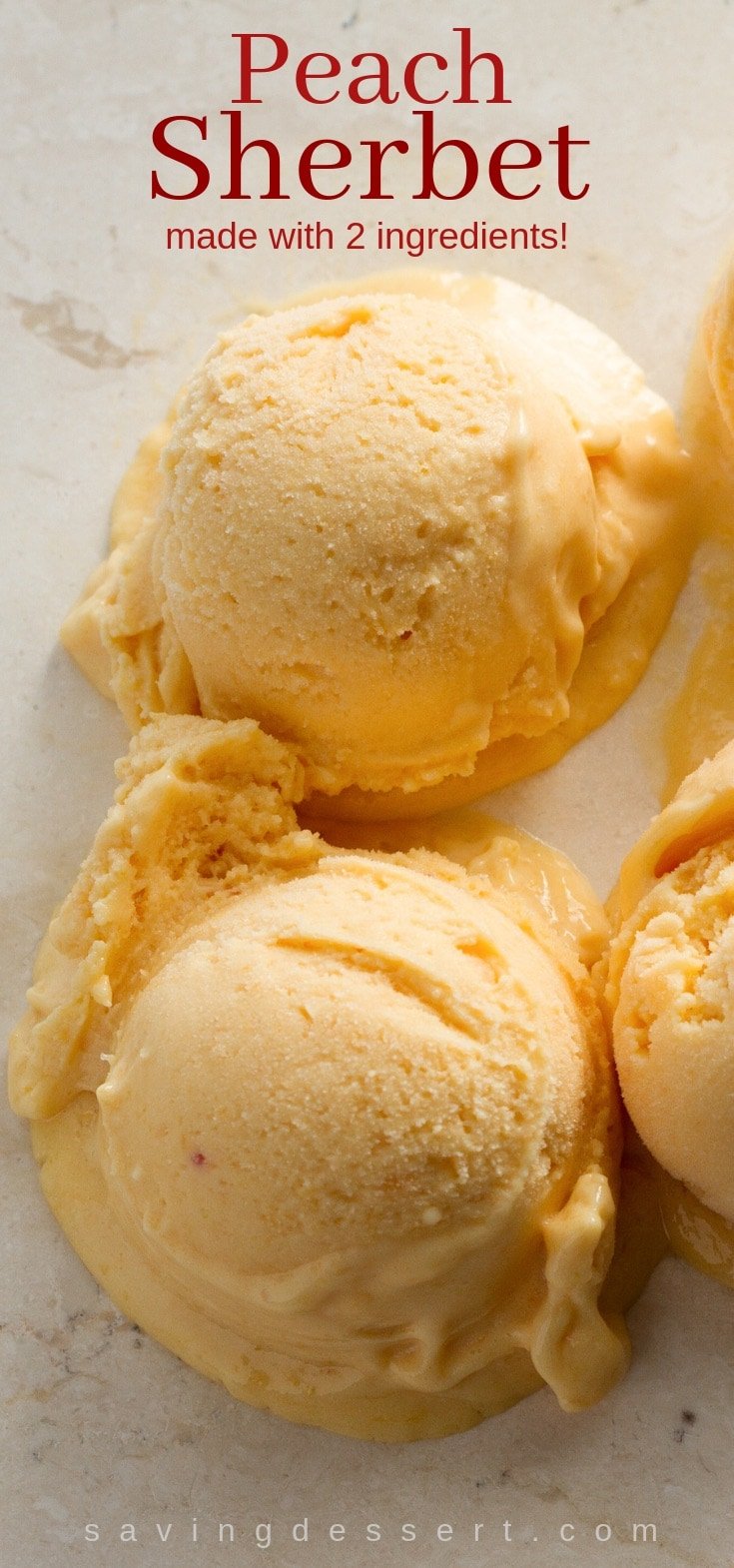 Let's be kitchen friends! If you make our recipe please feel free to leave a comment on this post. I'm sure your experience and insights will help all our readers, and it helps me too. Also, if you're on Pinterest feel free to leave a comment and photo there if you have one! If you share on INSTAGRAM tag @savingroomfordessert so we can stop by and give your post some love. And we'd be very happy if you'd FOLLOW Saving Room for Dessert on FACEBOOK| INSTAGRAM| PINTEREST | TWITTER  and subscribe to our YOUTUBE channel for all the latest recipes, videos and updates. Thank you!!
PRINT THE RECIPE!
Peach velvet - smooth, sweet and creamy - made with only two ingredients!
Ingredients
1

(14-ounce) can sweetened condensed milk

5-6

large to medium ripe peaches
Instructions
Peel fresh peaches over a parchment paper lined baking sheet to catch the juice. Slice the peaches and freeze (and any accumulated juice) in a single layer on the parchment lined baking sheet until frozen, about 4 hours.

Add the peaches and sweetened condensed milk to a blender and puree until the peaches are the consistency of soft serve ice cream. This can be done in batches if needed.

Serve immediately or freeze in an airtight container for an ice cream consistency.
Recipe Notes
Recipe adapted from Martha Stewart
This recipe is only as good as the peaches used to make it. With only two ingredients, the peach flavor will be best with super ripe, juicy peaches. If using store-bought frozen peaches, be sure they have good flavor for best results.
Nutrition information is calculated using an ingredient database and should be considered an estimate. When multiple ingredient alternatives are given, the first listed is calculated for nutrition. Garnishes and optional ingredients are not included.
Nutrition
Calories:
318
kcal
|
Carbohydrates:
76
g
|
Protein:
7
g
|
Fat:
2
g
|
Saturated Fat:
0.2
g
|
Polyunsaturated Fat:
1
g
|
Monounsaturated Fat:
1
g
|
Cholesterol:
0.3
mg
|
Sodium:
99
mg
|
Potassium:
919
mg
|
Fiber:
11
g
|
Sugar:
63
g
|
Vitamin A:
2448
IU
|
Vitamin C:
31
mg
|
Calcium:
33
mg
|
Iron:
3
mg
SRFD recommends:
We've been using our easy scoop and store ice cream container for years. The long, slim design means easy scooping and storing every time. The freezer-safe insulated container holds 1.5 quarts and measures 11" long X 4″ Wide X 4" tall. Made with durable, quality materials, BPA-free polypropylene with a silicone lid that prevents leaking and freezer burn. Dishwasher, Freezer & Microwave safe.
Saving Room for Dessert is a participant in the Amazon Services LLC Associates Program ~ I earn a small commission, at no additional cost to you, which I use to pay for web hosting and services for this blog.
Here are a few more peach recipes you might enjoy: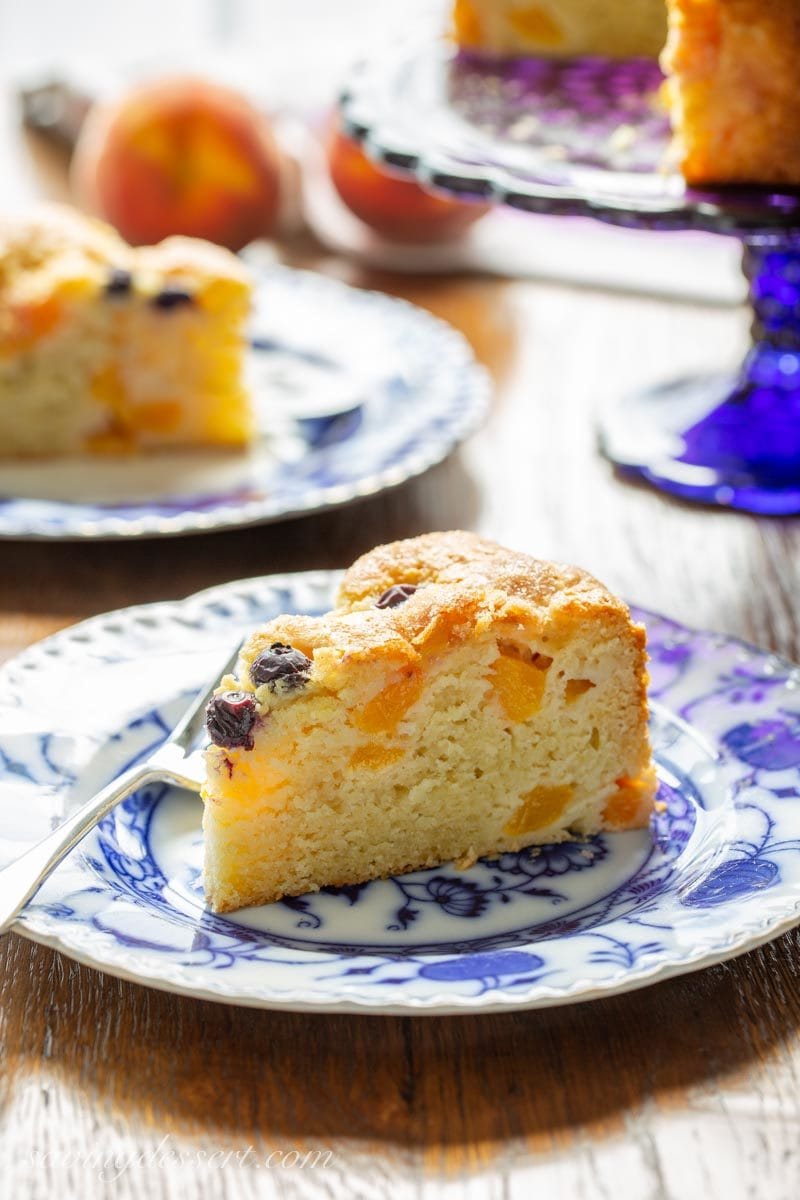 Fresh Peach Breakfast Cake – an easy to make treat with a rich, moist sour cream batter, sweet crispy top and loads of delicious fresh peaches. Perfect for breakfast, brunch or afternoon tea! Click HERE to get the recipe.
Fresh Peach Pie – made with juicy, ripe peaches and a flaky, buttery pastry crust. Don't forget the ice cream or a scoop of this peach sherbet! Click HERE to get the recipe.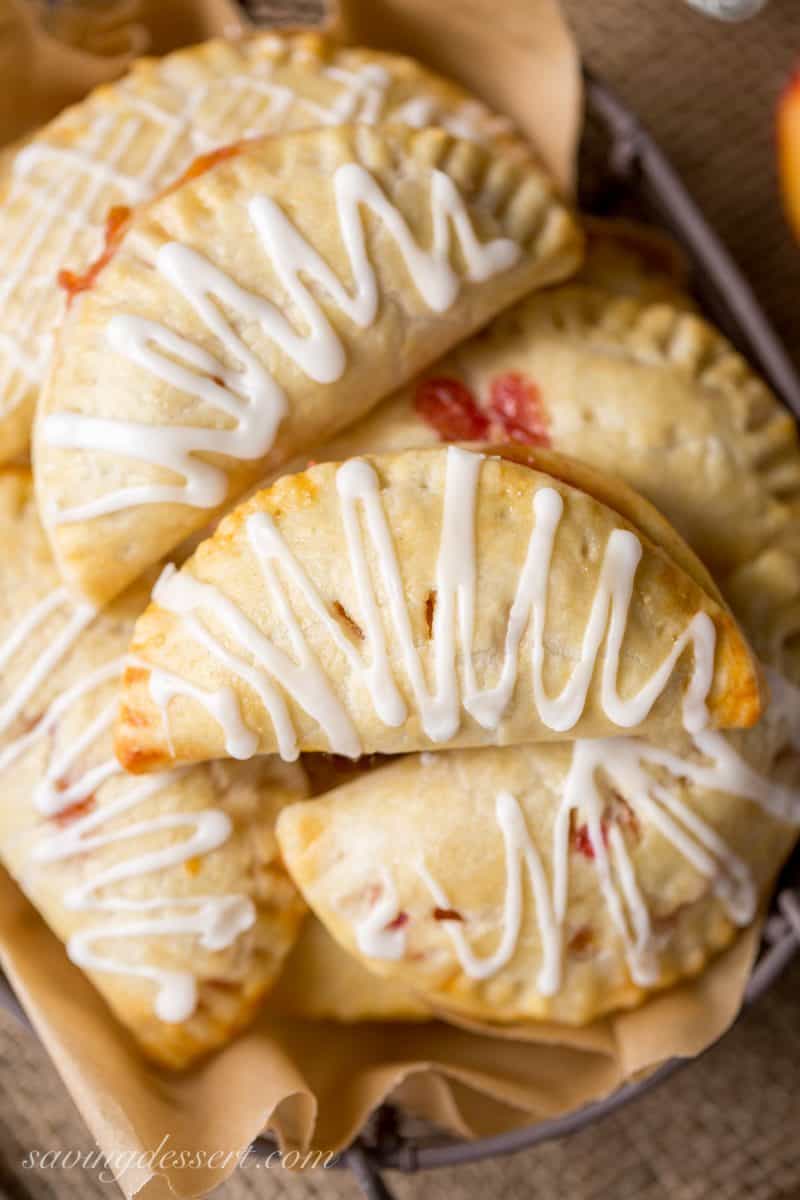 Peach Hand Pies – made with farm fresh sweet, juicy peaches tucked in a soft, flaky crust and a little drizzle of almond flavored icing. Click HERE to get the recipe.
I try not to be too effusive when writing about recipes because not everybody likes the same foods and we all have different tastes.  But trust me on this one, you have to make this sherbet.  It is amazing and you'll feel all peachy and happy inside.  I really think you'll love it as much as we do!
Originally published July 2014, updated July 2019
I hope you have a wonderful week and thanks so much for stopping by! Tricia