This post may contain affiliate links. Please read my disclosure policy.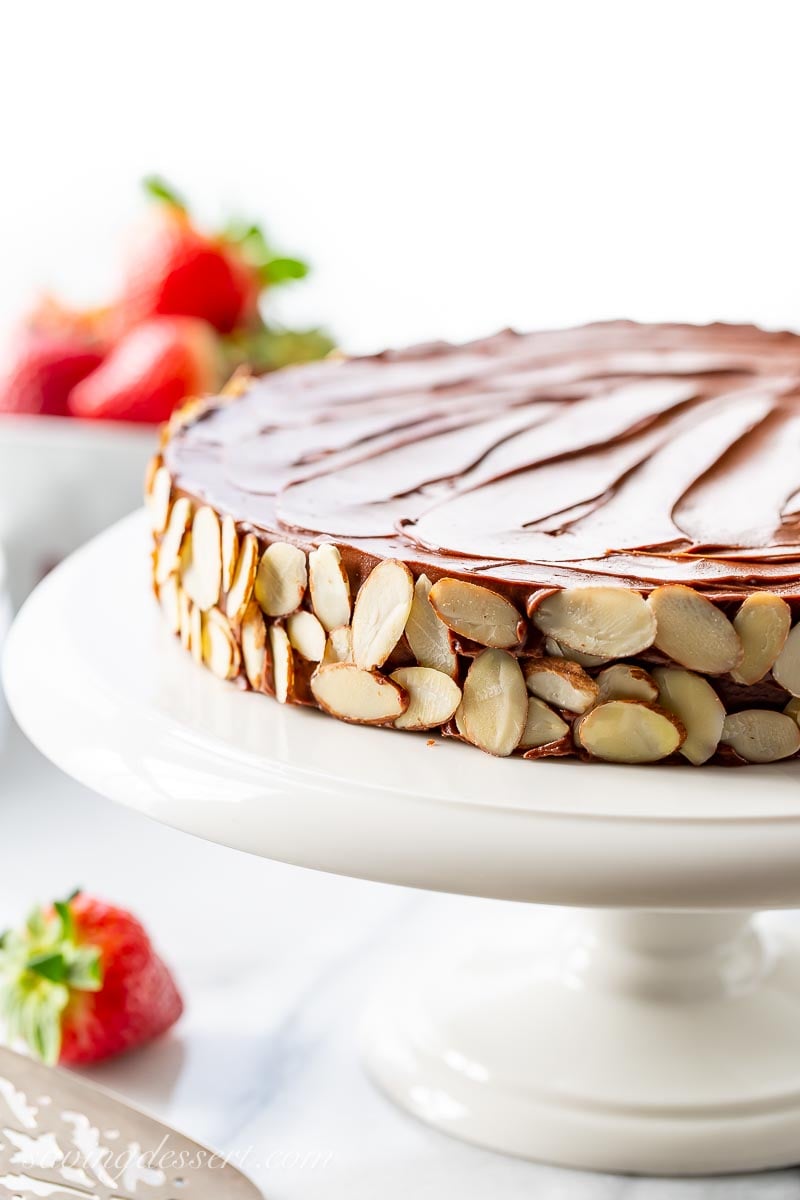 Chocolate Almond Cake (Reine de Saba) – Julia's timeless classic with a rich chocolate-butter icing.
Oh chocolate, how I love you so! I never seem to tire of chocolate desserts, which is a bit of a curse, I know. Chocolate makes any day that much better.
I adapted this terrific recipe from the famed cookbook Mastering the Art of French Cooking by Julia Child, Louisette Bertholle and Simone Beck. This cake is easy to make and keeps well for several days. The classic combination of chocolate, almonds and rum is utterly irresistible and memorable.
As bakers, we owe a lot to Julia Child. She was an award winning author and amazing force of nature. A natural born leader and down-to-earth teacher, Julia was nothing less than "fearless in the kitchen."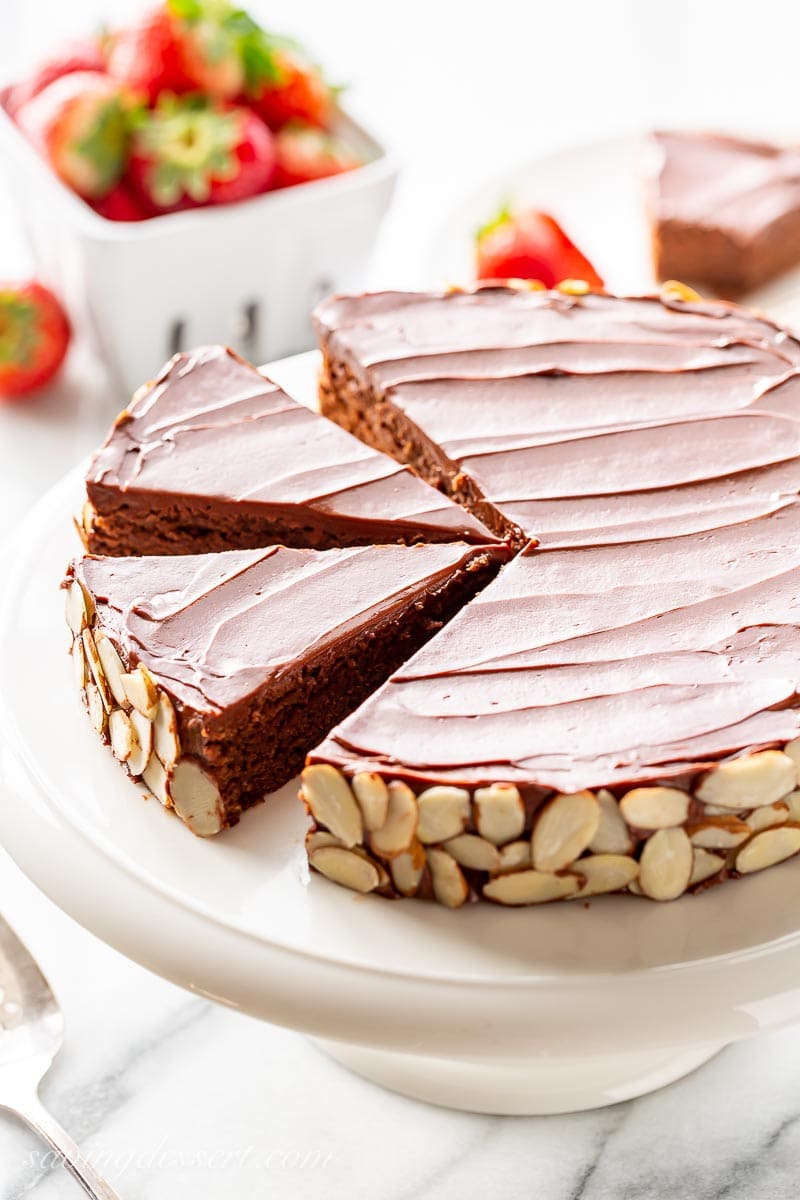 Is this a flourless Chocolate Almond Cake?
No, this chocolate cake is not flourless, but instead uses a combination of ground almonds and 1/2 cup of cake flour. Use sliced almonds for decoration and textural contrast. Press the almonds onto the sides of the cake, or scattered on top.
Do you have to use cake flour in this recipe?
Whenever a recipe calls for cake flour, I always use cake flour. If you don't want to buy a box, you can make your own cake flour at home. Homemade Cake Flour is made with two simple ingredients: all-purpose flour and cornstarch. Sifted together, this homemade hack will help produce super soft, tender baked goods.
Can you use almond flour or meal for this recipe?
Julia's original recipe calls for grinding almonds by hand to make almond flour. However, feel free to use store-bought almond flour for this recipe. You can make your own almond flour in a food processor by pulsing blanched, whole or sliced almonds. Both options work very well in this cake.
If you end up with a bag of almond flour and don't want it to go to waste, try our Almond Tea Cakes with Wild Blueberry Jam or any of our macaron recipes. Almond flour freezes beautifully and will keep for up to a year if well sealed.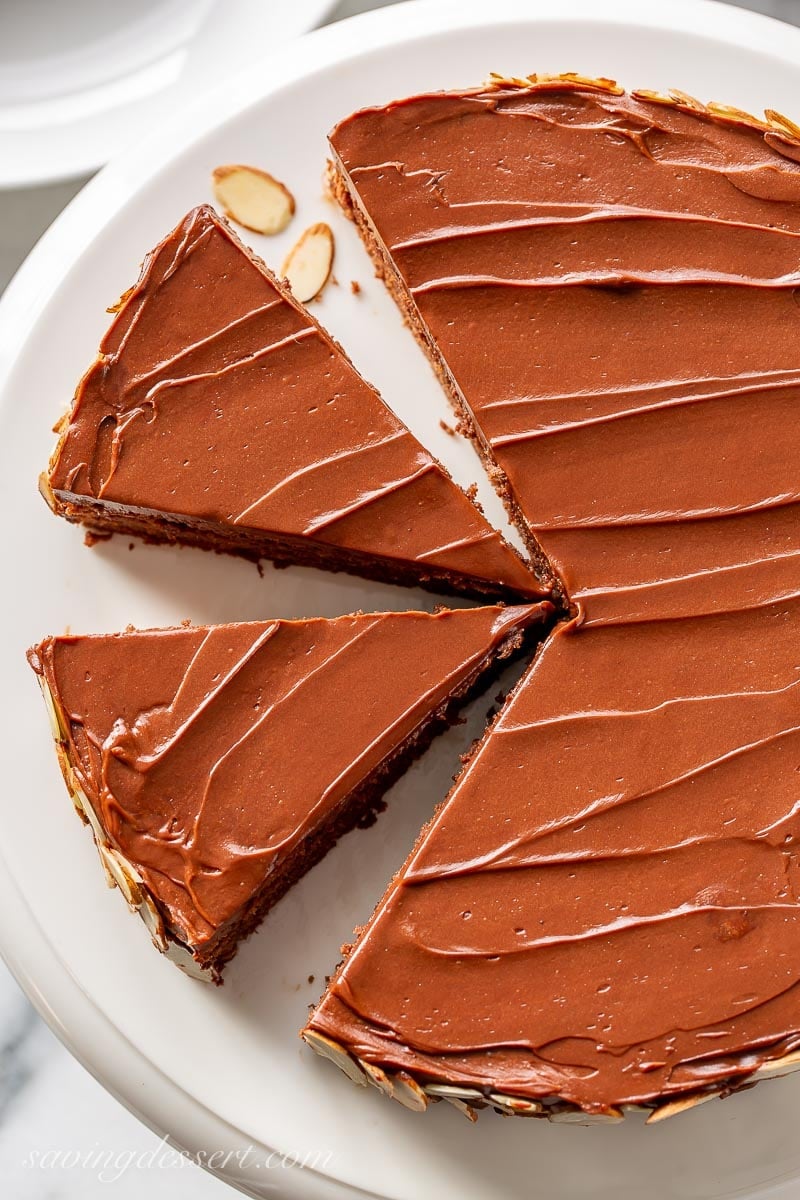 The cake may appear dense, but actually has a light texture that comes from gently folding in whipped egg whites.
This recipe calls for 3 eggs, with the yolks and whites added at different stages. The egg whites are whipped to form stiff peaks then gently folded into the chocolate batter. There are no other leavening agents like baking powder or baking soda in this recipe, so properly whipped egg whites are essential.
Our chocolate almond cake is baked in a springform pan.
If you don't have an 8-inch springform pan, feel free to use a regular 8-inch cake pan lined with parchment.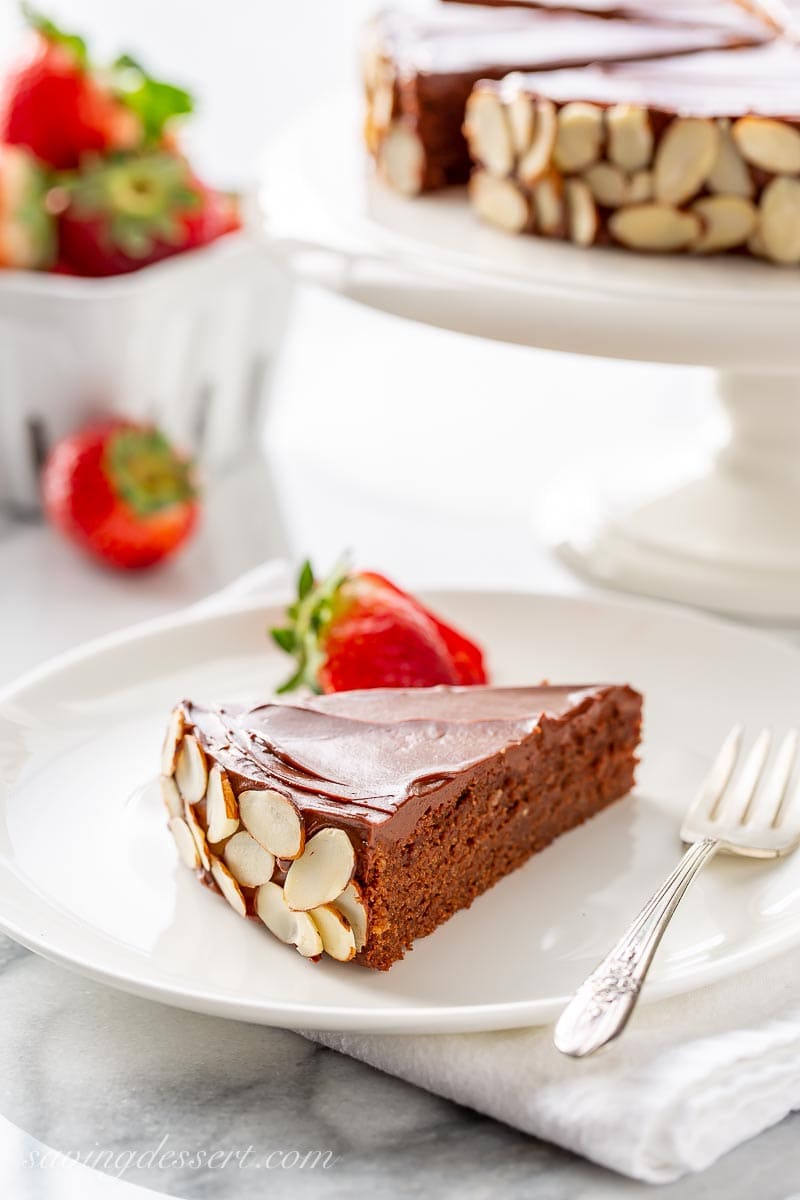 Can you make chocolate almond cake ahead of time?
This cake keeps very well and seems to taste better after sitting for a while. Cool the cake completely before icing, then store in a cool location until needed. Leftovers can be sealed in an airtight container and stored in the refrigerator for up to 3 days. For the best flavor, bring the cake to room temperature for 30 minutes before serving.
If you're planning to serve this cake to company or at a dinner party, I would make it the morning of the event. You can also make it the night before needed, but I would wait to ice it until the day it's served. If making the night before, cool the cake completely then seal in plastic wrap or an airtight container. Cover the cake with the simple chocolate-butter icing the day of the event.
Is this cake freezer-friendly?
You can freeze the unfrosted cake for up to 1 month. Make sure it's well sealed in plastic wrap and stored in an airtight container. Thaw overnight in the refrigerator.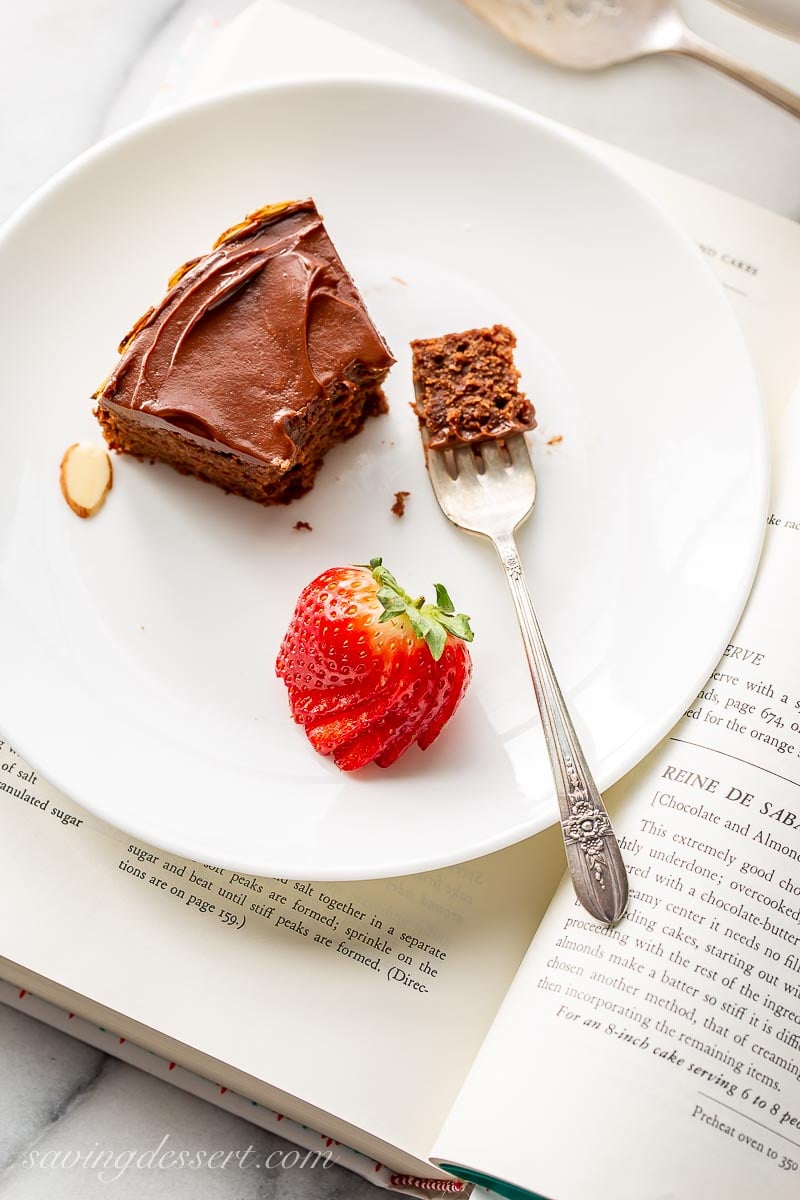 Julia's luscious chocolate-butter icing is made with only 3 ingredients.
For this recipe I use the best quality semi-sweet baking chocolate I can buy, unsalted butter and rum. My favorite baking chocolate is the Scharffen Berger Fine Artisan Chocolate brand. If your store doesn't carry great baking chocolate bars, Amazon does!
If you're not into baking with alcohol, substitute strong coffee for the rum in the cake and frosting. I prefer using dark, non-spiced rum, but clear rum works well, too. The icing has no additional granulated or powdered sugar added. It's only sweetened with semisweet baking chocolate.
The method for making the ganache-like icing is brilliant.
Melt the baking chocolate in the microwave, or over a double boiler. Add the butter one tablespoon at a time while the chocolate is still warm. Once all the butter is melted into the chocolate, the rum or coffee is added. The bowl of warm chocolate-butter icing is set over an ice water bath and whisked until cooled and the perfect spreading consistency. After that, the icing is ready to use. Easy peasy!
You may recognize this cake from the 2009 hit movie Julie & Julia starring Amy Adams and Meryl Streep. I can watch that movie over and over again and never get tired of it. There's a scene in the movie where Julie presents her husband with this chocolate almond cake and he immediately digs in with a fork. It's okay, we love this cake too!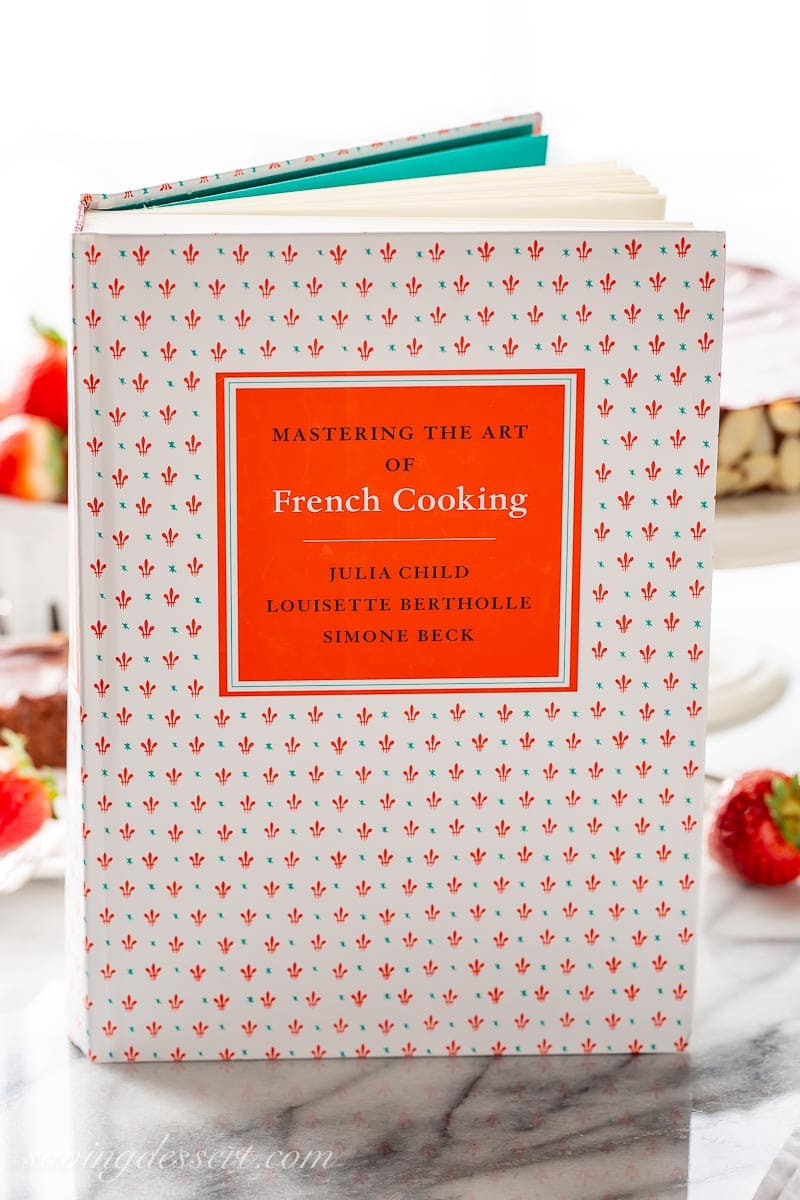 Mastering the Art of French Cooking can be purchased individually by volume, or as a two book set. These cookbooks are unique and fascinating, and the recipes are timeless. Mastering some of these recipes has made me a better cook.
Saving Room for Dessert is a participant in the Amazon Services LLC Associates Program ~ I earn a small commission, at no additional cost to you, which I use to pay for web hosting and services for this blog.
Bon Appetit!
Thanks for PINNING!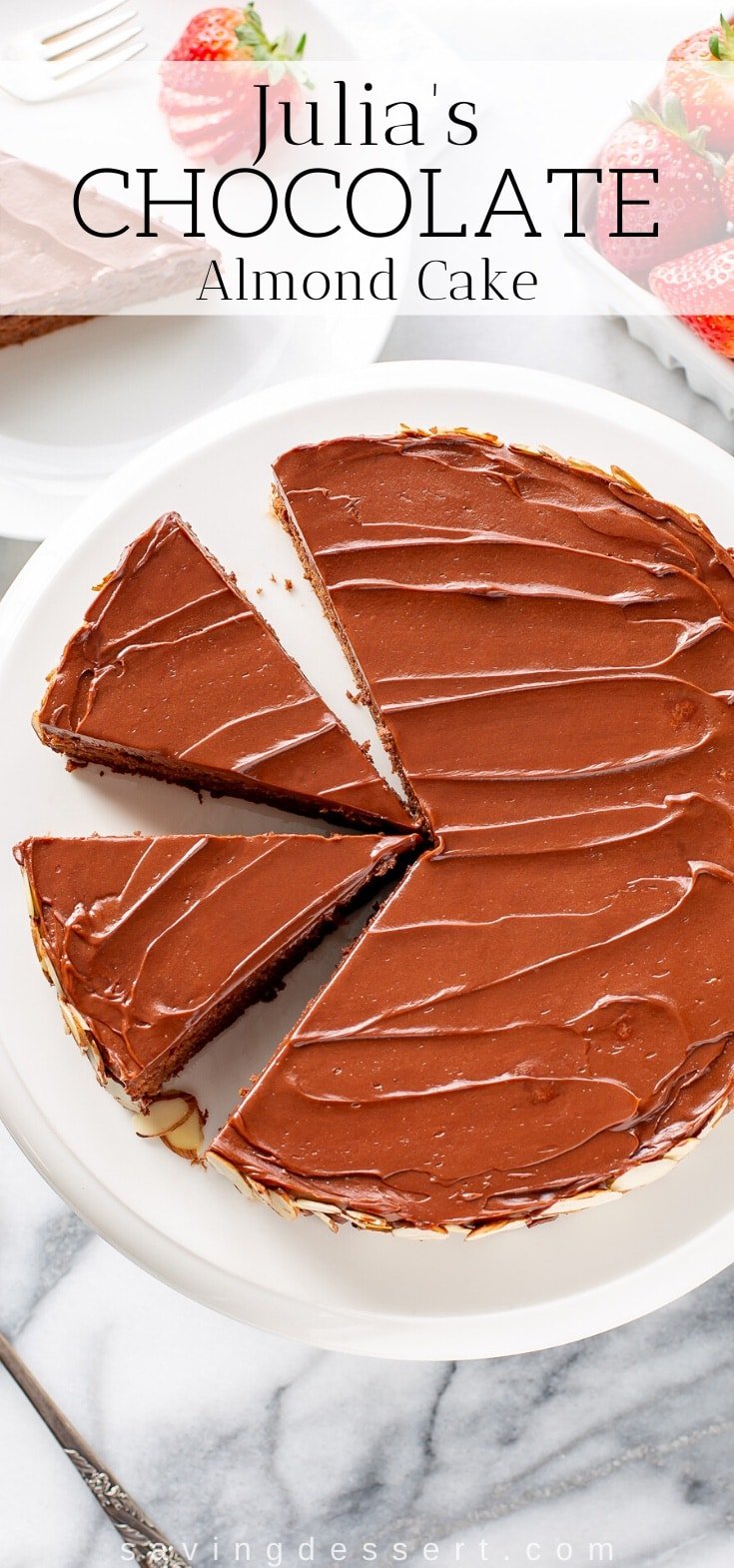 Let's be baking friends! When you try our recipe please feel free to leave a comment on this post. I'm sure your experience and insights will help all our readers, and it helps me too. Also, if you're on Pinterest feel free to leave a comment and photo there if you have one! If you share on INSTAGRAM tag @savingroomfordessert so we can stop by and give your post some love. FOLLOW Saving Room for Dessert on FACEBOOK| INSTAGRAM| PINTEREST | TWITTER  and subscribe to our YOUTUBE channel for all the latest recipes, videos and updates. Thank you!!!
PRINT THE RECIPE!
Chocolate Almond Cake with Chocolate-Butter Icing
Reine de Saba - Julia's timeless classic with a rich chocolate-butter icing.
Ingredients
For the cake:
4

ounces

good quality semi-sweet chocolate,

chopped

½

cup

unsalted butter,

room temperature (4oz or 113g)

⅔

cup

granulated sugar,

(135g) plus 1 tablespoon, separated

3

large eggs,

separated

pinch

of salt

1

tablespoon

rum, or strong coffee

(I use dark - not spiced rum)

⅓

cup

ground almonds,

almond meal or almond flour (36g)

¼

teaspoon

vanilla extract

½

cup

cake flour,

sifted after measuring (53g)
For the icing:
2

ounces

good quality semi-sweet chocolate,

chopped

2

tablespoons

rum,

or strong coffee

6

tablespoons

unsalted butter

(3 ounces)

pinch of salt

⅓

cup

sliced almonds

(25g)
Instructions
To prepare the cake
Preheat oven to 350°F. Grease and flour (or use baking spray with flour) an 8-inch round springform pan, or an 8-inch cake pan with 1½-inch high sides. Line the bottom of the pan with a round of parchment paper.

Place 4 ounces of chocolate in a small microwave safe bowl. Microwave on 50% power for 30-seconds, then stir. Repeat 30-second intervals stirring in between until the chocolate is almost completely melted. Set aside stirring occasionally until the chocolate is smooth.

In a large mixing bowl combine the butter and ⅔ cup sugar. Beat on medium speed until the mixture is fluffy and lightened in color. Scrape down the sides of the bowl and beat again. Add the egg yolks and blend on medium-low until the yolks disappear.

In a separate medium size bowl using clean beaters, beat the egg whites and salt until foamy. With the mixer running on low, gradually add 1 tablespoon sugar. Increase the speed to high and beat until the egg whites are glossy and stiff peaks form.

Pour the melted chocolate into the butter and sugar mixture and stir to combine. Add the rum, almond flour and vanilla extract. Fold in one fourth of the beaten egg whites to lighten the chocolate mixture. Gently fold in one-third of the remaining egg whites and when partially blended, sift one third of the flour into the batter. Repeat by adding ½ the remaining egg whites and ½ the remaining flour. Add all remaining egg whites and flour and fold together to blend until incorporated. DO not over beat.

Gently scoop the batter into the prepared pan. Smooth the top evenly with an offset spatula. Bake in the preheated oven for 25 to 28 minutes. The cake is done when puffed, and set about 3 inches from the sides. A toothpick should come out clean about 2-inches from the side. The center should move slightly if the pan is shaken and a toothpick inserted in the center should come out oily.

Allow the cake to cool in the springform pan for 30 minutes. Run a knife around the outside of the cake, then carefully remove the sides. Slide the cake onto a wire rack and cool completely before icing.

If using a regular cake pan, allow the cake to cool for 10 minutes, then run a knife around the outside edge of the pan. Turn the cake out onto the wire rack. Cool completely before icing.
To prepare the icing:
Once the cake is completely cooled, transfer to a decorative plate or cake stand; set aside.

Place ice cubes in a large mixing bowl enough to cover the bottom. Add cold water to cover the ice; set aside.

Place the chopped chocolate in a microwave safe bowl. Microwave on 50% power for 30-seconds, then stir. Repeat until the chocolate is melted and smooth. Add the butter, one tablespoon at a time, stirring until incorporated before adding the next. Repeat until all butter is blended. Add the rum and salt and stir until incorporated.

Place the bowl with the chocolate frosting in the ice water bath. Whisk until the chocolate mixture cools and comes to spreading consistency. Quickly spread the frosting over the top and sides of the cake. Press sliced almonds around the sides or top of the cake, if desired.

Refrigerate leftovers.
Recipe Notes
Recipe adapted from Mastering the Art of French Cooking by Julia Child, Louisette Bertholle and Simone Beck
DO NOT use chocolate chips for the cake or icing.
Nutrition information is calculated using an ingredient database and should be considered an estimate. When multiple ingredient alternatives are given, the first listed is calculated for nutrition. Garnishes and optional ingredients are not included.
Nutrition
Calories:
513
kcal
|
Carbohydrates:
37
g
|
Protein:
8
g
|
Fat:
37
g
|
Saturated Fat:
18
g
|
Polyunsaturated Fat:
3
g
|
Monounsaturated Fat:
11
g
|
Trans Fat:
1
g
|
Cholesterol:
116
mg
|
Sodium:
29
mg
|
Potassium:
227
mg
|
Fiber:
4
g
|
Sugar:
25
g
|
Vitamin A:
717
IU
|
Calcium:
66
mg
|
Iron:
2
mg
Finally, here are a few more chocolate recipes you might enjoy: