This post may contain affiliate links. Please read my disclosure policy.
Creamy Chocolate Soufflé with Crème Anglaise
Light as air, and melt in your mouth creamy, our Chocolate Soufflé with Bailey's Crème Anglaise tastes luxurious and couldn't be easier to make!
Chocolate and romance go together so well, it's hard to think of making anything else when trying to impress that special someone you love. Don't get me wrong, our recipe for Chocolate Soufflé with Bailey's Crème Anglaise is a great ending for any special meal, not just for anniversaries or Valentine's Day.
This dessert is perfect whenever you want to make a great impression or do something nice for a special friend or family member. Everybody has somebody they feel great affection for, so don't think you have to be attached, married or engaged to make this luscious dessert!
But … if you're planning a romantic evening, these soufflés are the perfect ending to a fantastic meal – not too sweet – and your dinner guest(s) will feel pretty special.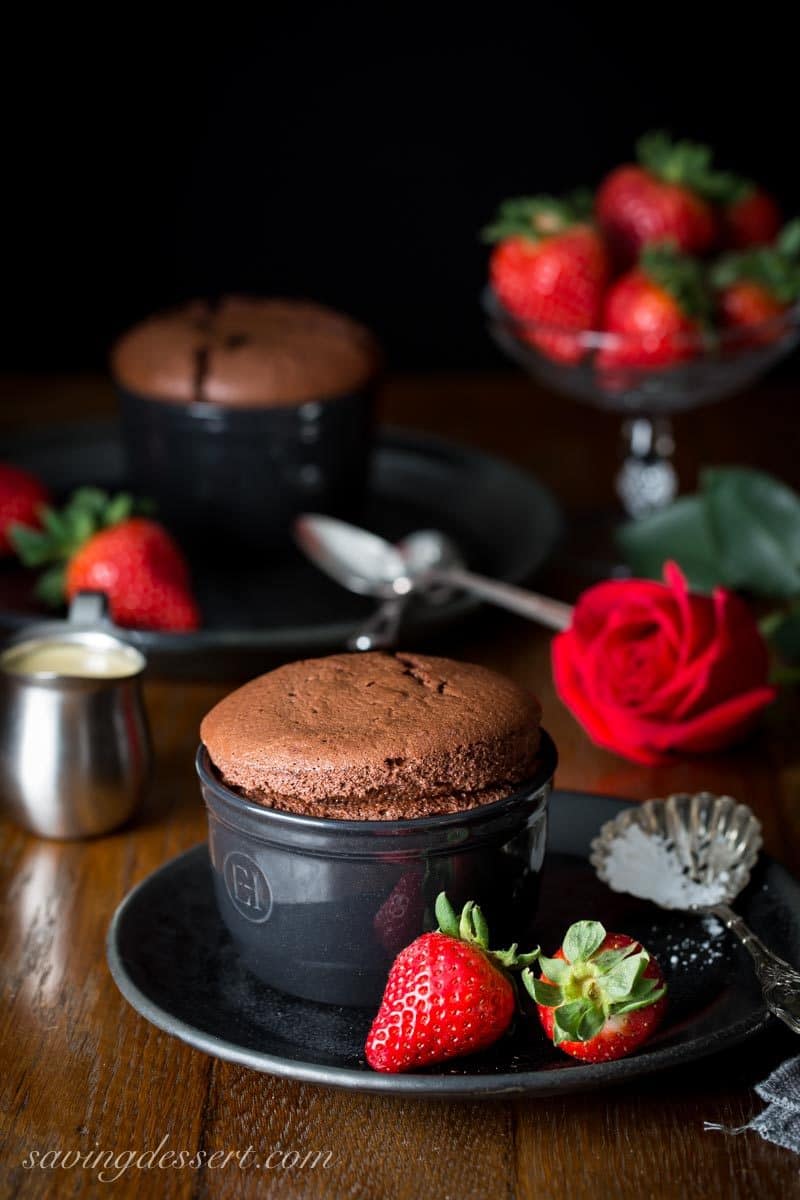 Chocolate Soufflé start to deflate as soon as they come out of the oven.
It's pretty hard to capture the ultimate chocolate soufflé puffiness on camera. As soon as they come out of the oven, they start to deflate. But that doesn't change the incredible texture you'll find when you dig in with a spoon. Soufflés are done when the tops are dry and the centers are still jiggly.
Don't over bake the soufflé or you'll end up with a delicious cake-like brownie. That's not necessarily bad, but not near as good as the creaminess you'll find in a perfectly baked chocolate soufflé.
To serve, dust with powdered sugar or cocoa powder, or a dollop of whipped cream, or our Bailey's Crème Anglaise, which I highly recommend!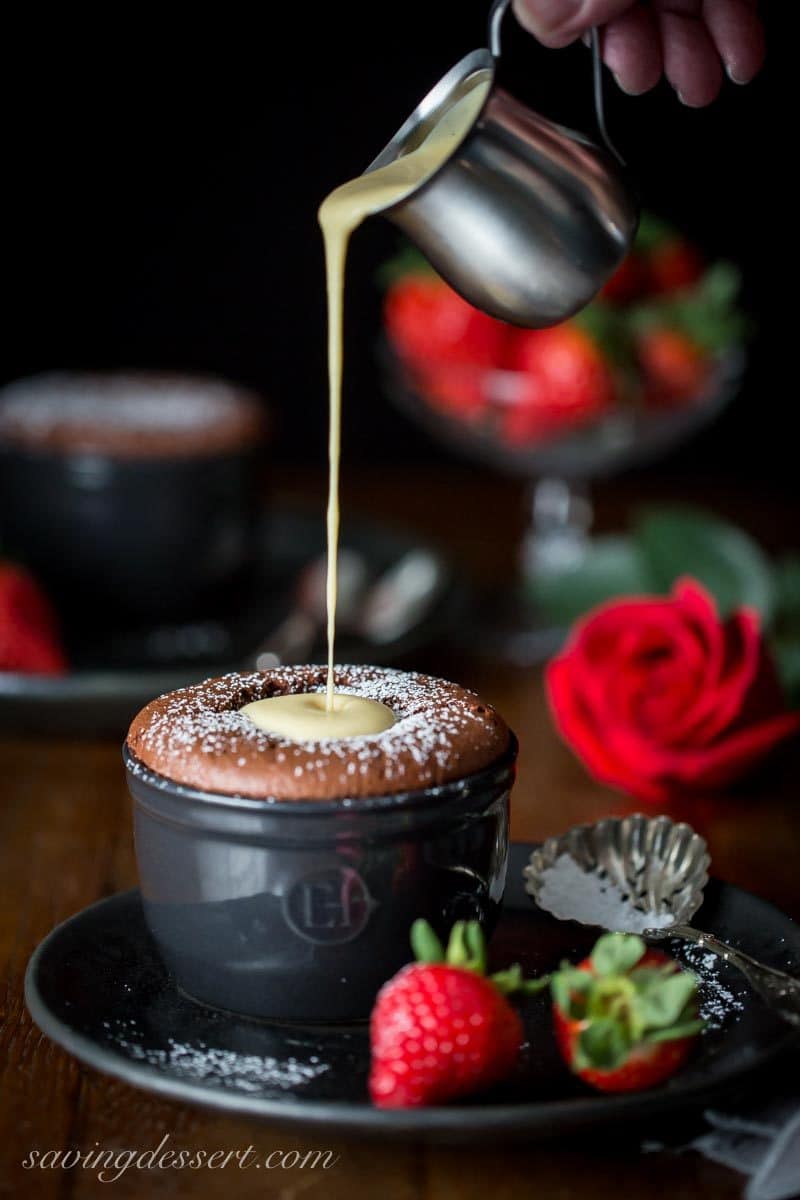 Easily made ahead, our rich and velvety Bailey's Crème Anglaise adds a lovely contrast to the rich, chocolate soufflé.
This is our go-to recipe for a creamy Anglaise sauce. You'll find variations served with our Apple Bread Pudding with Apple Brandy Sauce, and this easy Irish Apple Crumble Cake with Apple Brandy Sauce. You don't have to use Bailey's Irish Cream in this recipe, any Irish cream will do.
We are big fans of Bailey's and highly recommend grabbing a bottle. We have a few more recipes coming up, all with a little Bailey's added into the recipe.
If you're baking along with us, you're going to love having it on hand. This is what happens when I get a bottle of good brandy or Irish cream, the inspiration just keeps coming!
Soufflés originated in France in the early 18th century.
Made with egg yolks and whipped egg whites, soufflés can be either sweet or savory. The French word 'soufflé' roughly means 'to puff' or 'to breathe.'
So even though these lovely desserts may look heavy, they're really super airy and light but with so much flavor it's absolutely hard to resist. For comparison purposes the end result is more like a cross between a light, fluffy pudding and gooey warm lava cake … dreamy I know!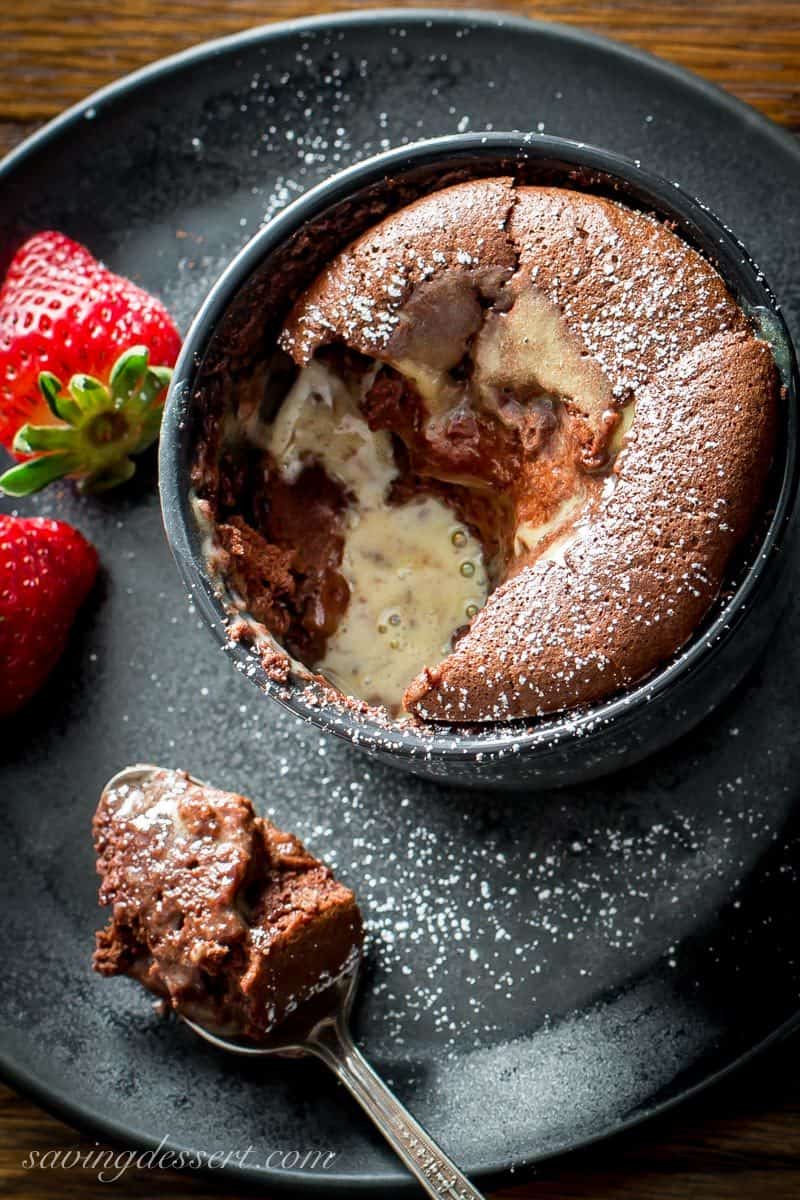 Generously drizzle your chocolate soufflé with the Bailey's Crème Anglaise and dig right in. Moaning is perfectly acceptable while you savor every bite.
Thanks for PINNING!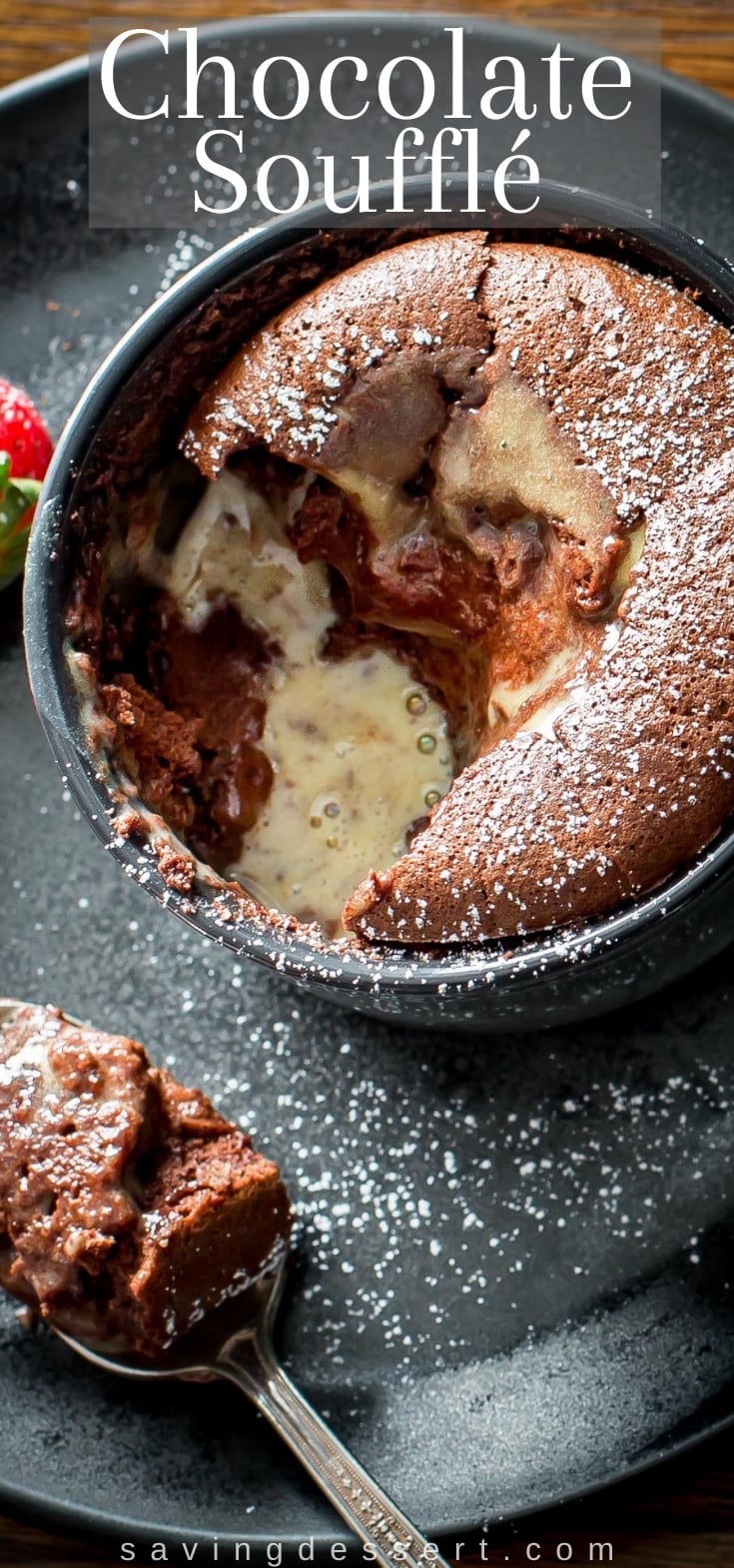 Let's be baking friends! If you make our recipe please feel free to leave a comment on this post. I'm sure your experience and insights will help all our readers, and it helps me too. If you're on Pinterest feel free to leave a comment and photo there if you have one!
If you share on INSTAGRAM tag @savingroomfordessert so we can stop by and give your post some love. FOLLOW Saving Room for Dessert on FACEBOOK| INSTAGRAM| PINTEREST | TWITTER  and subscribe to our YOUTUBE channel for all the latest recipes, videos and updates.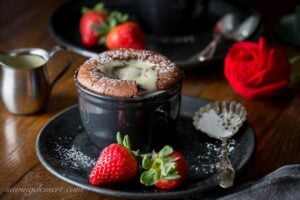 Chocolate Soufflés with Bailey's Crème Anglaise
Light as air, and melt in your mouth creamy, our Chocolate Soufflé tastes luxurious and couldn't be easier to make!
Ingredients
For the Bailey's Crème Anglaise:
2

egg yolks

3

tablespoons

granulated sugar

pinch

salt

½

cup

heavy cream

¼

cup

milk

2

tablespoons

Bailey's Irish Cream liqueur

½

teaspoon

vanilla extract or vanilla bean paste
For the Chocolate Soufflés:
1

tablespoon

unsalted butter softened

plus more for buttering ramekins

3

tablespoons

granulated sugar

divided, plus more for coating ramekins

4

ounces

good quality semi-sweet or bittersweet chocolate

chopped

pinch

salt

½

teaspoon

vanilla

1

tablespoon

cocoa powder

sifted

2

teaspoons

Bailey's Irish Cream Liqueur

2

egg yolks

3

egg whites

⅛

teaspoon

cream of tartar

1

tablespoon

powdered sugar
Instructions
To make the Crème Anglaise:
In a small mixing bowl, whisk together the egg yolks, sugar and salt until slightly thickened and lighter in color. Set aside.

In a medium saucepan, warm the heavy cream and milk over medium heat just until steaming but not boiling. Slowly drizzle / pour half the warm milk mixture into the yolks while whisking continuously. This method of tempering the eggs will keep them from scrambling.

Pour the now-warm yolk mixture back into the saucepan, whisking to combine. Cook over medium heat, stirring constantly with a wooden spoon until the mixture thickens and coats the back of a spoon. This will only take a few minutes.

Place a medium mixing bowl inside a larger bowl filled with ice (an ice bath). Strain the custard through a fine-mesh sieve into the medium bowl. Add the vanilla bean paste and the Bailey's Irish Cream and stir to combine. Occasionally stir the mixture until it cools. Once cool, refrigerate for at least 2 hours before serving.
To make the chocolate soufflés:
Preheat oven to 375°F degrees. Grease three (5 or 6-ounce) or two (8.5-ounce) ramekins lightly with butter. Sprinkle the inside with granulated sugar. Invert and tap ramekins to remove excess sugar; discard. Set ramekins aside.

In large heatproof bowl set over saucepan of hot (not boiling) water, combine 1 tablespoon butter, chopped chocolate, salt and 1 ½ teaspoons water. Stir until the chocolate is melted. Remove from the heat and add the vanilla, cocoa powder and Bailey's Irish Cream. Stir until smooth and well blended. Set aside.

In a separate bowl, beat egg yolks with 2 tablespoons granulated sugar until thick enough to form long ribbons that hold their shape for 2 seconds when beaters are lifted, about 2 minutes. Fold into chocolate mixture.

In separate bowl, beat egg whites (with clean, dry beater attachment) until foamy. Beat in cream of tartar. Add the remaining 1 tablespoon of sugar, a little at a time and then beat until stiff glossy peaks form; stir one-fourth of the egg-white mixture into the chocolate mixture. Fold in remaining egg whites until no streaks remain. Divide the batter between the prepared ramekins, smoothing tops. Run the tip of your thumb around inside edge of ramekins to wipe clean.

Bake on rimmed baking sheet at 375°F until tops are dry and centers are still jiggly, about 12 minutes for the smaller ramekins, and 15-18 minutes for the 8.5-ounce ramekins. Dust tops with powdered sugar or unsweetened cocoa. Serve immediately with the Bailey's crème anglaise.
Recipe Notes
Cooks Notes:
The crème anglaise can be made the day before and refrigerated until needed. Substitute the Bailey's with your favorite liqueur such as Brandy or another Irish Cream if desired.
This recipe make 1 cup of anglaise so you'll probably have leftovers. Drizzle on your favorite cake, scones, waffles or pancakes for a luscious treat.
You can use any size ramekin you have on hand. Just make sure you fill them to about 1/4 to 1/2 inch of the top.
This recipe was designed to use the 8.5-ounce ramekins so the batter fits perfectly. Adjust the cooking time if you use the smaller ramekins, 12 minutes should be about right.
Nutrition information is calculated using an ingredient database and should be considered an estimate. When multiple ingredient alternatives are given, the first listed is calculated for nutrition. Garnishes and optional ingredients are not included.
Nutrition
Calories:
646
kcal
|
Carbohydrates:
54
g
|
Protein:
12
g
|
Fat:
42
g
|
Saturated Fat:
24
g
|
Polyunsaturated Fat:
2
g
|
Monounsaturated Fat:
12
g
|
Trans Fat:
0.2
g
|
Cholesterol:
319
mg
|
Sodium:
85
mg
|
Potassium:
407
mg
|
Fiber:
4
g
|
Sugar:
46
g
|
Vitamin A:
1098
IU
|
Vitamin C:
0.2
mg
|
Calcium:
111
mg
|
Iron:
3
mg
Kitchen Essentials – Emile Henry ramekins

Another wonderful product form Emile Henry. These 8.5-ounce ramekins bake beautifully and come in a variety of colors. Click on the photo for more information or to purchase from Amazon.
Saving Room for Dessert is a participant in the Amazon Services LLC Associates Program ~ I earn a small commission, at no additional cost to you, which I use to pay for web hosting and services for this blog.
Here are a few more chocolate desserts you might like: