This post may contain affiliate links. Please read my disclosure policy.
Homemade Corned Beef Hash Recipe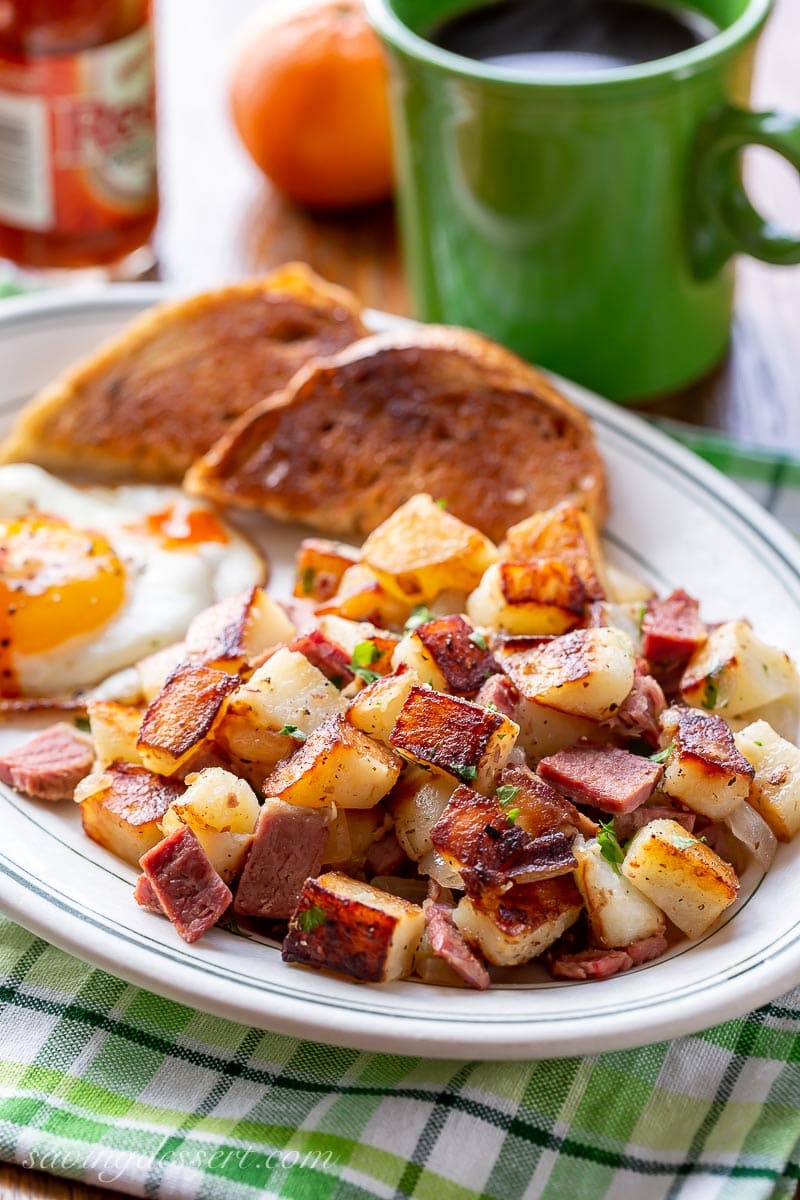 A hearty breakfast is a great way to start the day!
If you're 'lucky' enough to find yourself with a little leftover Corned Beef, be sure to make this simple, flavorful and filling corned beef hash recipe. Combined with a fried egg or two and a nice slice of toasted rye bread with butter, you'll be fueled and ready to face the day 😉
Overview of ingredients
peeled potatoes cut into 3/4-inch pieces
vegetable oil or olive oil
large onion
minced garlic
cooked corned beef, diced
hot sauce
salt and pepper to taste
parsley leaves for garnish
How to make Corned Beef Hash:
First, start with tender, diced corned beef. You can use leftovers from our Slow Cooker Corned Beef recipe, or pick up deli-style corned beef and make this hash any time of the year. The pre-cooked corned beef is added last so it doesn't dry out in the cooking process.
Next, you'll need an onion, a clove of garlic, a little vegetable oil and russet potatoes.
Warm a cast iron skillet over medium heat and add a tablespoon of oil. Sauté the onions until softened and lightly charred. Add the garlic and stir until fragrant.
Remove both to a bowl and keep warm. Add another tablespoon of oil to the now empty skillet.
Once the potatoes are peeled and diced, they're tossed in a little oil and microwaved until tender. Pre-cooking the potatoes in the microwave ensures they'll be cooked all the way through in the short time spent in the skillet. The potatoes come out fluffy, tender and soft on the inside, and crispy on the outside; perfect!
Once pre-cooked, carefully add the potatoes to the skillet in a single layer, if possible. Let the potatoes cook until they develop a beautiful crispy char that we all love in a great plate of home fries. Flip the potatoes and allow them to continue cooking until well browned and cooked through.
Return the onion mixture to the skillet with the potatoes, along with the corned beef. Warm the hash for a few minutes and serve immediately with hot sauce and plenty of fresh ground black pepper.
Do you have to use a cast iron skillet?
No worries if you don't have a cast iron skillet. You can make corned beef hash in any heavy bottomed skillet that will give your potatoes a nice char. We prefer cast iron for the great heat retention and ability to create a crusty browned exterior on the potatoes without sticking or burning.
Use leftover potatoes to make this corned beef hash recipe
If you've recently made corned beef with cabbage and potatoes, feel free to use any of the leftovers to make a hash. Dice leftover cooked potatoes and use them in place of the microwaved russets. You can also add in some chopped leftover cabbage, if desired.
After the potatoes are well browned, add in any of the leftovers and warm over medium heat. Feel free to add a few tablespoons of water to the skillet just to bind it all together.
This dish is not at all like canned corn beef hash.
If you've never tried homemade corned beef hash, you're in for a treat. We used to buy the old canned stuff, way back in the day. This homemade corned beef hash and canned hash are lightyears apart in both flavor and texture, not to mention visual appeal.
Do you have to use corned beef to make a breakfast hash?
Here's a little secret – you can make hash out of any kind of leftover meat. Turkey hash made with Thanksgiving leftovers is also a personal favorite of mine.
Leftover grilled hamburgers make a delicious breakfast hash, perfect for Father's day 😉 Use your imagination and reinvent leftovers into an equally delicious meal of meat and potatoes.
Optional add-ins
This is a great basic recipe but feel free to make it your own. Add some diced bell pepper, Worcestershire sauce, bacon, sausage or even some leftover grilled chicken. Don't forget to serve with a runny egg on the side!
How to reheat leftover corned beef hash
Leftover corned beef hash is delicious rewarmed gently in the microwave. Add a tablespoon or two of water to the hash, and cover the bowl before microwaving. The potatoes won't be as crispy, but the flavor will still be there.
You can also warm leftovers in a skillet, then pour in whisked eggs to be scrambled into the hash. Done and done! Don't forget to pass a little hot sauce with the corned beef hash – so good 😉
Thanks for PINNING!
Made with leftover or deli sliced corned beef, this simple, flavorful and filling hash is a great way to start the day.
Ingredients
1 ½

pounds

potatoes,

peeled and cut into 3/4-inch pieces

3

tablespoons

canola oil,

divided

1

large onion,

chopped

1

clove

garlic minced

2

cups

cooked corned beef,

diced

½

teaspoon

hot sauce mixed with 1 tablespoon water

salt and pepper,

to taste

2

tablespoons

parsley leaves,

chopped
Instructions
Combine the diced potatoes, 1 tablespoon oil and ½ teaspoon salt and ½ teaspoon pepper in a microwave safe bowl. Cover the bowl and microwave on high, stirring occasionally, until the potatoes begin to soften, 5 to 7 minutes. Drain.

Warm a large cast iron skillet over medium heat for a few minutes. Add 1 tablespoon oil and heat until shimmering.

Add the onion and cook until softened and starting to brown. Add the garlic and sauté until fragrant, about 1 minute. Transfer to a bowl and keep warm.

Pour the remaining 1 tablespoon of oil into the skillet. Once shimmering, carefully add the potatoes and spread out to cover the pan. Cook, without stirring, until the potatoes are browned, about 4 to 5 minutes.

Flip about ¼ of the potatoes at a time with a large spatula and gently press into the skillet. Repeat with the remaining potatoes. Cook until the potatoes are crisp on the outside and tender on the inside, about 10 minutes.

Return the onion mixture to the skillet along with the corned beef. Cook until heated through. Add the hot sauce and 1 or 2 tablespoons water to the pan. Toss to combine. Remove from the heat and add fresh parsley, if using. Season with salt and pepper and serve.

Serve with eggs and buttered toast.
Recipe Notes
We use russet potatoes for this recipe, but any potato will do.
A cast iron skillet is great for this recipe, but a large heavy bottomed skillet or Dutch oven will work.
You can also make this recipe with precooked potatoes. If you have leftovers from a previous dinner, feel free to use them in this recipe.
Omit the corned beef and enjoy Home Fries with your breakfast!
Substitute cooked turkey for the corned beef and make turkey hash.
Nutrition information is calculated using an ingredient database and should be considered an estimate. When multiple ingredient alternatives are given, the first listed is calculated for nutrition. Garnishes and optional ingredients are not included.
Nutrition
Calories:
232
kcal
|
Carbohydrates:
22
g
|
Protein:
8
g
|
Fat:
13
g
|
Saturated Fat:
2
g
|
Polyunsaturated Fat:
2
g
|
Monounsaturated Fat:
7
g
|
Trans Fat:
1
g
|
Cholesterol:
20
mg
|
Sodium:
476
mg
|
Potassium:
626
mg
|
Fiber:
3
g
|
Sugar:
2
g
|
Vitamin A:
116
IU
|
Vitamin C:
36
mg
|
Calcium:
23
mg
|
Iron:
2
mg
Here are a few more of our favorite recipes made with corned beef: