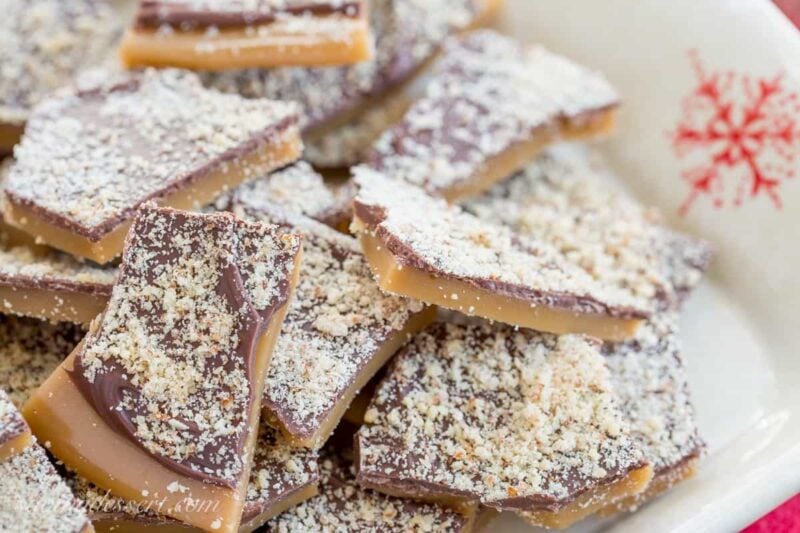 Easy to make and perfect for gifting, Old Fashioned English Toffee dusted with grated almonds – a family favorite for generations!
English Toffee is an absolute hands down favorite of friends and family.  It can become one of your family favorites too!  Don't be afraid to make it because even if it's not perfect, it still tastes great.  If you haven't ever tried making candy, this may be a good recipe to start with.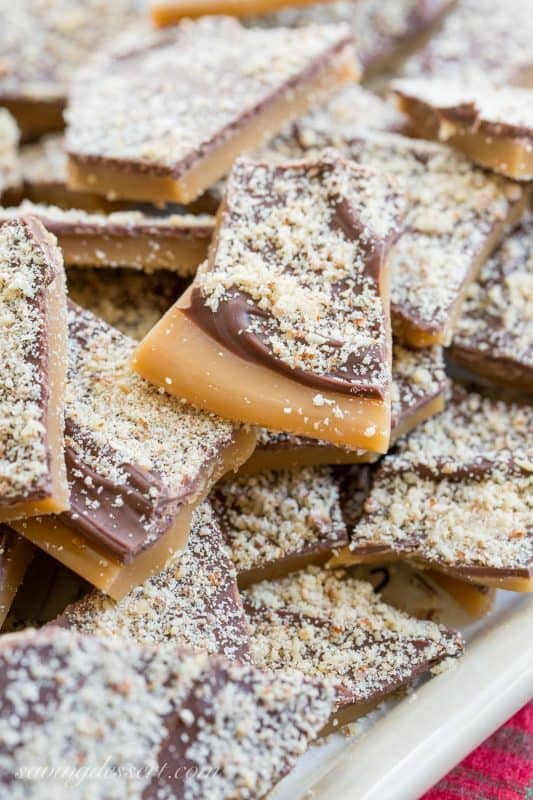 I received this recipe years ago from my friend Gretchen who also was my hairdresser.  We moved 600 miles away so I had to finally break down and find a new friend.   But when I was still able to visit Gretchen for a haircut, she shared a piece of this English Toffee with me.  Gretchen had received it as a gift from another client.  I begged her to get me the recipe and she finally agreed, if I agreed to bring her a small tin each Christmas.  She got it and I made it.  See how well partnerships can work?  That was about 15 years ago and I'm still making this same recipe.  I've seen several similar recipes posted recently on other blogs but I think I'll stick with this one since I've had consistent success.
This is the actual recipe I received with hand written notes all over the place.
Using quality butter and margarine is key to a successful batch of toffee.  I speak from experience when I say not all butter and margarine are created equal.  Please feel free to use whatever brand you prefer – but I wouldn't use anything other than Land-O-Lakes Butter and Parkay Margarine.  Not ever.  Never again.  Nada.  No way.  I'll just say it was gross.  Enough with the product endorsements!  You will need sugar, light Karo Syrup, Parkay Margarine, Land-O-Lakes Butter, Milk Chocolate chips, water, and ground almonds or pecans.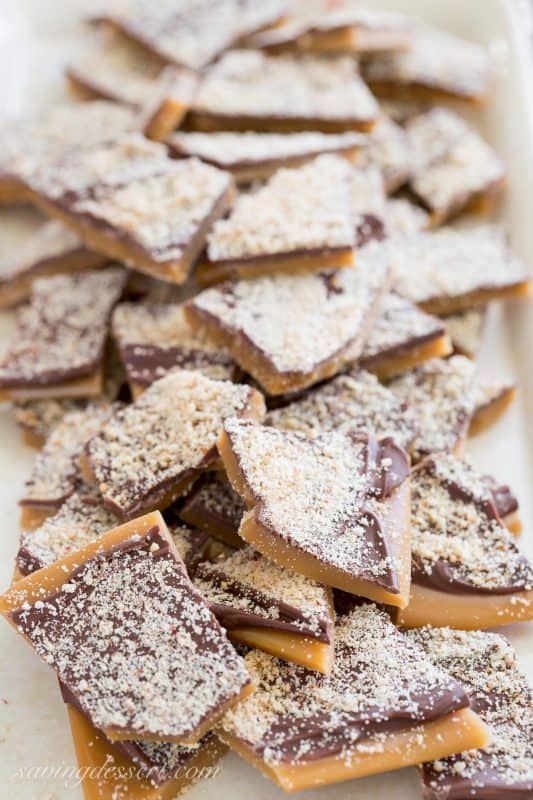 Thanks for PINNING!
English Toffee
A family favorite for generations - classic English Toffee
Ingredients
2 sticks Land-O-Lakes Butter
2 sticks Parkay Margarine
2 cups sugar
2 tablespoons light corn syrup
6 tablespoons water
12 ounce package milk chocolate chips
1 cup ground almonds
Instructions
Melt butter and margarine in a heavy saucepan. Add the sugar, syrup and water.
Cook on medium heat (turn down as the mixture starts to darken) stirring constantly until the mixture reached 320 degrees (hard crack stage).
Once the mixture starts to turn a light caramel color, start turning down the heat to prevent it from scorching or turning dark too fast.
Pour into a lightly buttered pan approximately 10" x 15". Once set but still warm, sprinkle with milk chocolate chips. When the chocolate chips are soft, spread evenly on top of the candy.
Sprinkle with ground almonds. Cool and break into bite size pieces.
Store in an airtight container
Enjoy!  Thanks so much for stopping by!  Tricia
SaveSave
SaveSave