This post may contain affiliate links. Please read my disclosure policy.
Green Pepper Steak with tomatoes and onions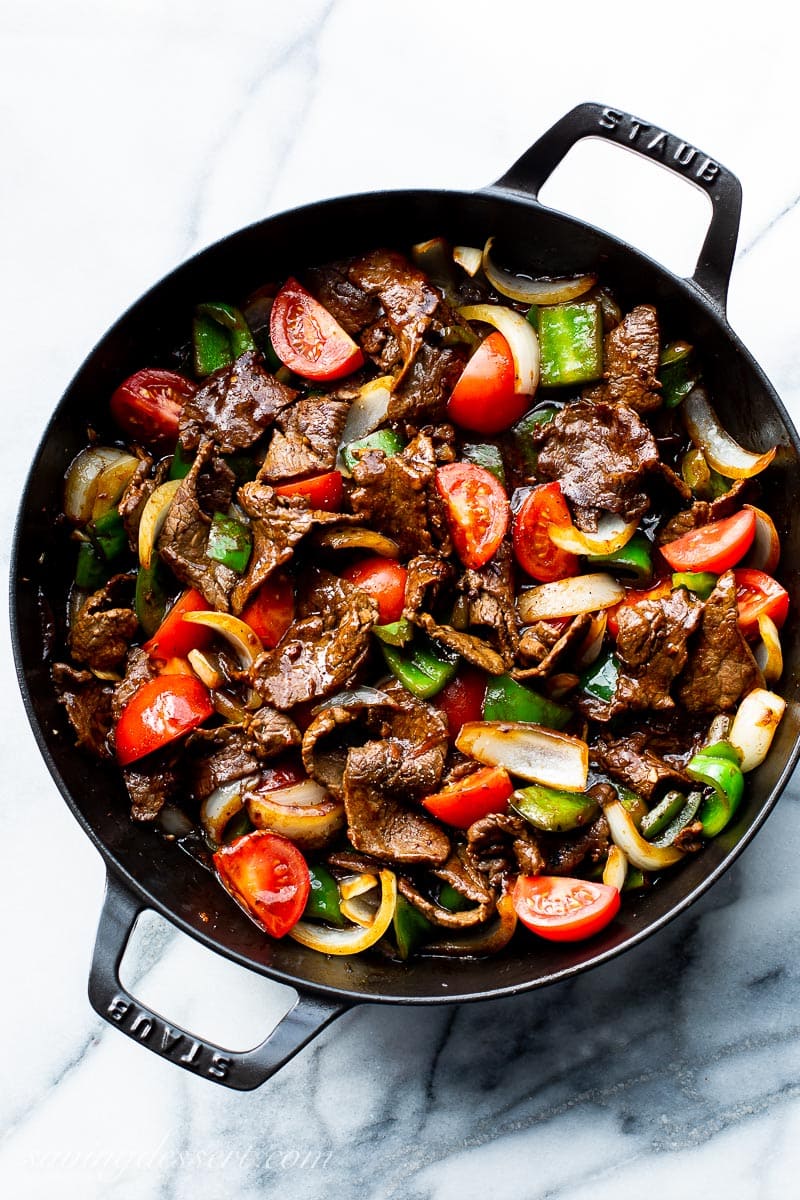 This vibrant and flavorful pepper steak
Our classic Green Pepper Steak stir fry is easy enough for a weeknight, and good enough for company! This flavorful main dish is filled with fresh tomatoes, colorful bell peppers and crisp onions. It's easy to make and once everything is prepped, dinner's on the table in about 30 minutes.
Serve this beef over white rice for a complete meal the whole family will love.
Overview of ingredients:
sirloin or round steak, sliced thin against the grain
soy sauce for the marinade and sauce – if using low-sodium soy sauce you can check the seasoning and add little salt if needed
granulated sugar
cornstarch
low-sodium beef broth or beef stock
vegetable oil or olive oil for stir frying
red or green bell peppers
large sweet onion – or feel free to use a Spanish or even a red onion if desired
fresh ground black pepper
minced garlic or garlic powder can be used in a pinch
fresh ginger minced or grated
crushed red pepper flakes
two large firm tomatoes or several small
cooked rice for serving
additional soy sauce for serving
How to make Pepper Steak at home
Start by slicing the steak thin then marinate in a mixture of soy sauce and granulated sugar while the other ingredients are prepped. For easy slicing, place the steak in the freezer for 15 – 20 minutes to firm up the beef.
1. Prepare the marinade
Mix together soy sauce and sugar and pour over the sliced steak. Marinate the beef for at least 30 minutes or up to 4 hours.
2. Mix together the sauce ingredients
In a small bowl combine the cornstarch beef broth and the remaining 2 tablespoons of soy sauce. Whisk until blended and set aside.
3. Cook the beef
Heat vegetable oil in a large skillet over medium high heat. Add half the beef and cook until browned around the edges. Turn the slices over and continue cooking for a few minutes more. Remove to a clean plate and keep warm covered with foil. Repeat with another tablespoon of oil and more sliced beef until all meat is browned.
Once quick fried, the steak is tender and flavorful with little crispy edges that I adore.
4. Stir fry the vegetables
Next stir-fry the peppers and onions until crisp-tender. Reduce to medium heat and add the garlic, ginger and crushed red pepper flakes and sauté quickly to round out the flavors.
5. Finish the dish
Return the beef to the pan along with any accumulated juices. Add the beef broth mixture and cook until the sauce is thickened. Everything should now be coated in a simple but tasty sauce.
Finally, gently fold in ripe tomatoes at the end and heat slightly, just until warm but not cooked.
Serve over rice and enjoy!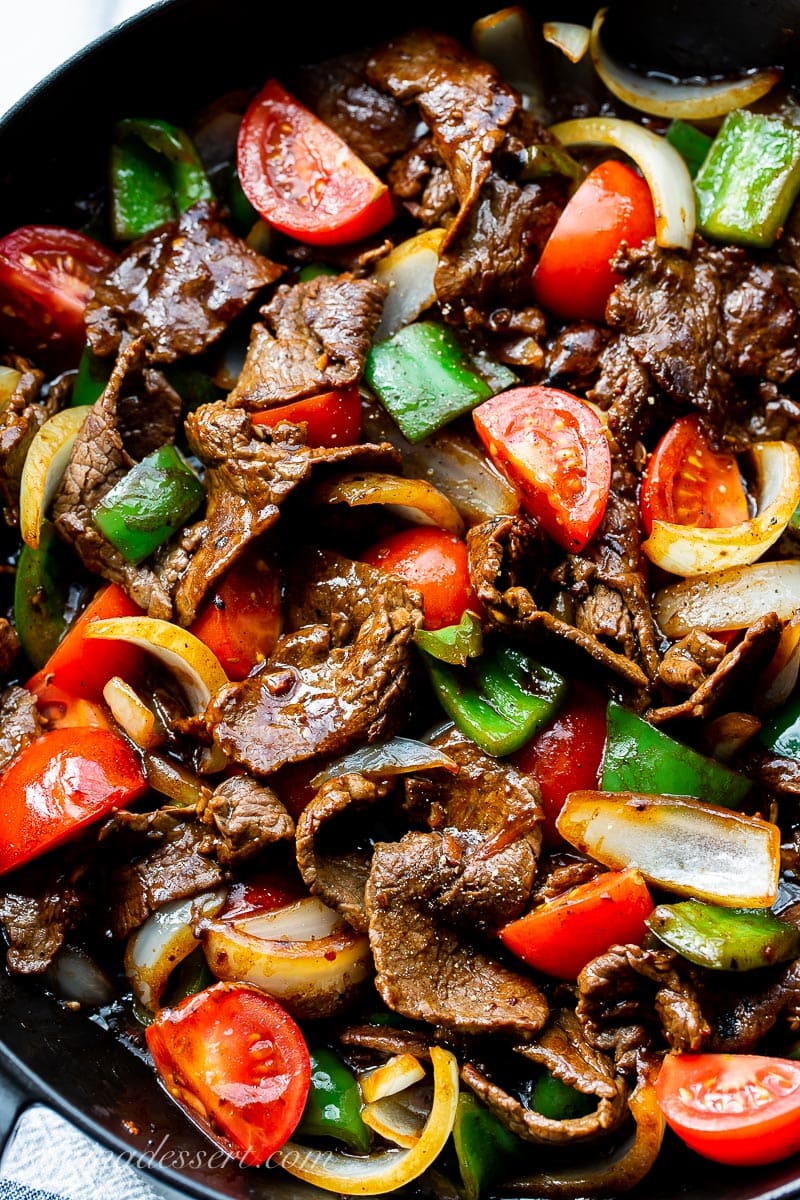 Pepper Steak has been popular in the United States since the early 1950's.
It's not an exaggeration to say that I've eaten this simple pepper recipe for at least 50 years. This was a go-to recipe my mom made on a regular basis feeding our little family of seven.
I have to admit as a kid I picked out all the peppers and tomatoes and just ate the meat. Haha – but not now 🙂 Our son-in-law loves this recipe and even makes it occasionally with sliced boneless chicken breasts or boneless thighs.
I haven't tried this recipe with ground chicken or ground turkey but bet it would still be great!
I've made a few changes to my mom's recipe over the years.
The original recipe called for twice the amount of soy sauce than I use now. I found this pepper steak recipe is better with less, but pass extra soy sauce when serving, for those who want more.
Mom's recipe calls for a slurry made with cornstarch, soy sauce and almost a cup of water. We now use low-sodium beef broth in place of the water for more beefy flavor in the sauce.
Instead of adding garlic and ginger to the skillet before the vegetables, I've switched the order. It takes longer for the vegetables to cook so they go in first. Garlic and ginger only need about 1 minute to become fragrant, which is all they really need to bloom. I found that overcooking garlic and ginger can make the sauce bitter.
And I added onions, because who doesn't love crisp-tender onions!
All these little tweaks have made this a much better dish that's fool-proof and flavorful, every time!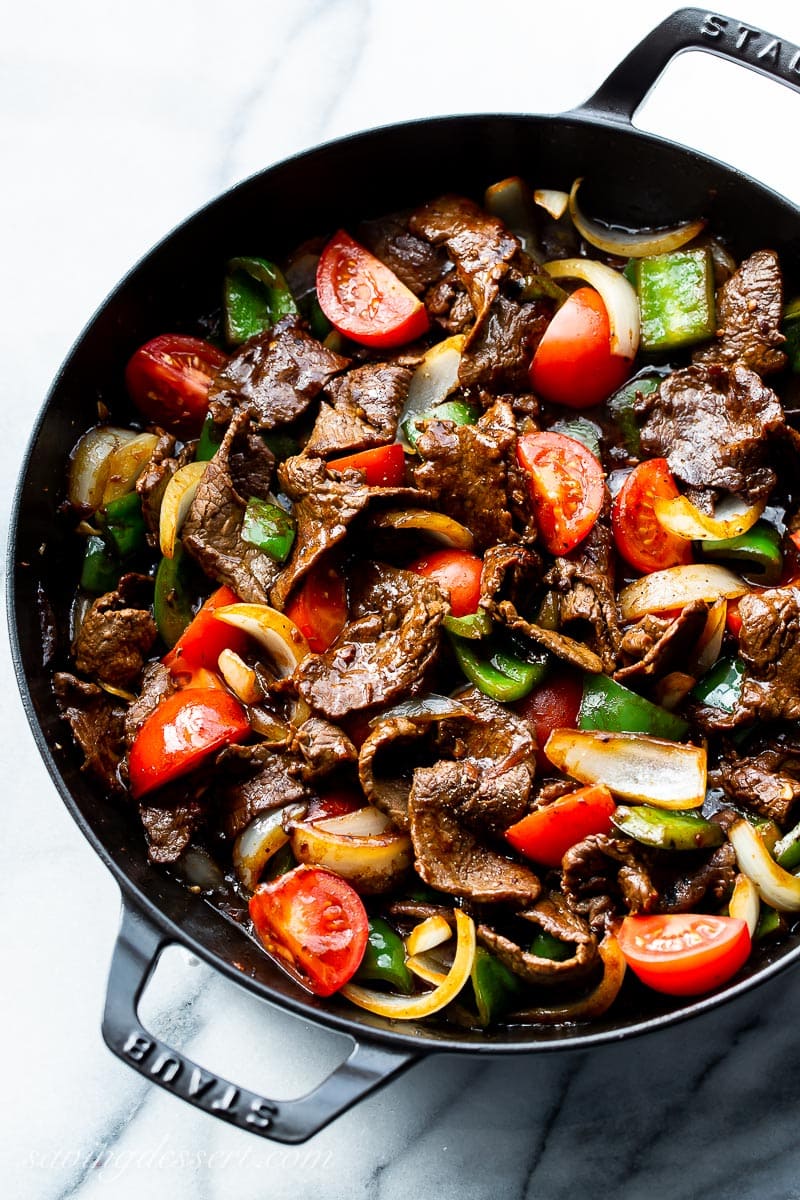 Can you use red peppers instead of green bell peppers for pepper steak?
My mom always used green peppers so that's what I've always done. But please feel free to use red bell peppers, or a combination of green and red. It's all good.
Adding sweet onions and small tomatoes doesn't seem to be as common in similar recipes, but I can't imagine this dish without them!
What are the best kind of tomatoes to use in pepper steak?
For the dish pictured here, I used some beautiful Campari tomatoes found at our local Wegman's grocery store. Campari are larger than a cherry tomato, and have a nice sweet flavor.
Roma tomatoes would also be a great choice here as they hold together well. I love the size and flavor of these smaller tomatoes, especially for pepper steak.
In the summertime I use small garden fresh tomatoes of any kind or variety and cut them into bite sized pieces that fit on a fork. It's all good!
I've also researched pepper steak recipes that include canned tomatoes or tomato sauce added to the sauce at the end. I personally have not tried using canned and think I'd miss the chunks of soft, fresh fleshy tomatoes. The textural contrasts are lovely in this simple, beefy dish!
What's the best cut of beef to use in pepper steak?
We haven't tried every cut of beef for this recipe, but find that sirloin is always a great choice. Back in the day, I used round steak more often, like my mom, which is a little less expensive than sirloin.
Flank steak or ground beef is also a very popular cut for pepper steak. You have several great options here, and only need 1 pound of steak to feed a family of six.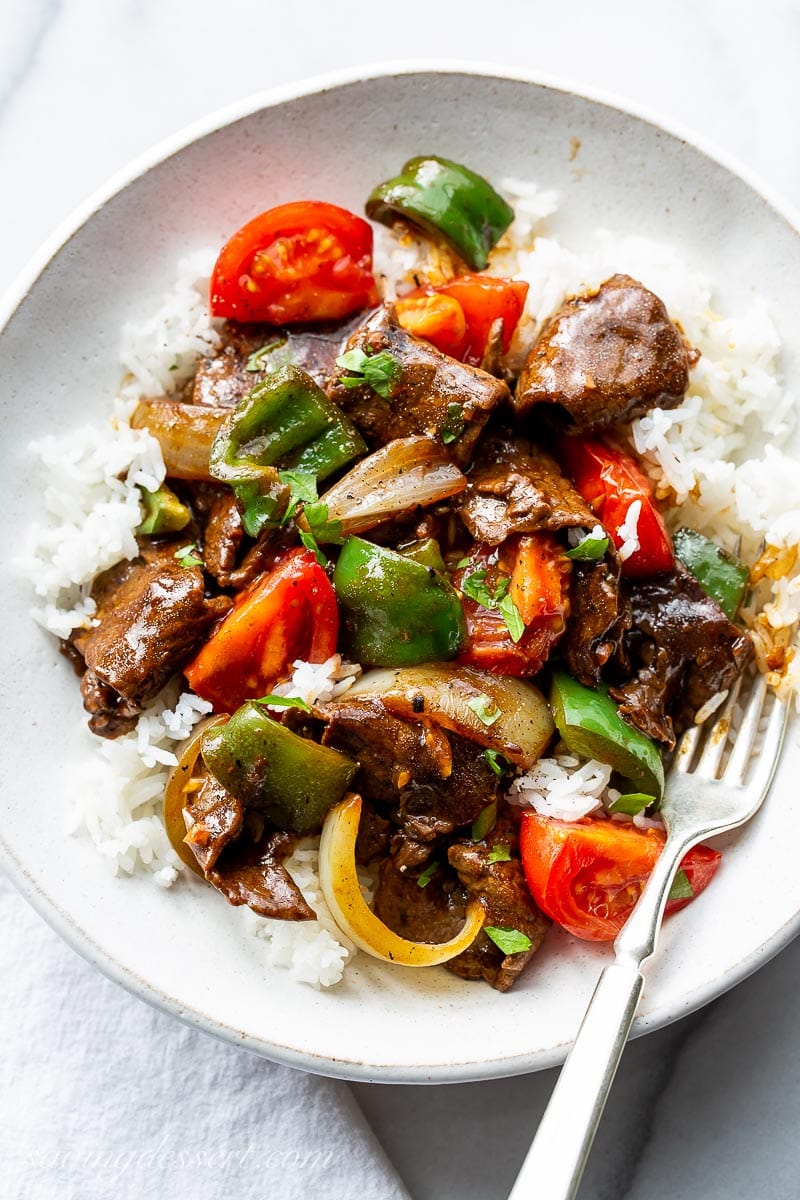 Tips for making great pepper steak:
Have all ingredients prepped and ready to go. Like most stir-fry recipes, it doesn't take long to get this dish on the table.
Make the rice first. Rice takes longer to cook than the beef!
Slice the steak very thin. To make this a little easier, put the whole steak in the freezer for 30 minutes before slicing. It firms up enough to slice easily.
Be sure to marinate the steak for at least 30 minutes or up to 4 hours. This is the first thing I do, then start the rice, then prep the vegetables.
Don't overcook the vegetables. Crisp-tender is best!
Use regular soy sauce, not low sodium, for the best flavor. I'm very sensitive to salty dishes and always use low-sodium soy sauce, except in this dish. The flavor can taste watered down, in my opinion.
Finally, don't really cook the tomatoes. Gently toss them in the warm sauce and serve!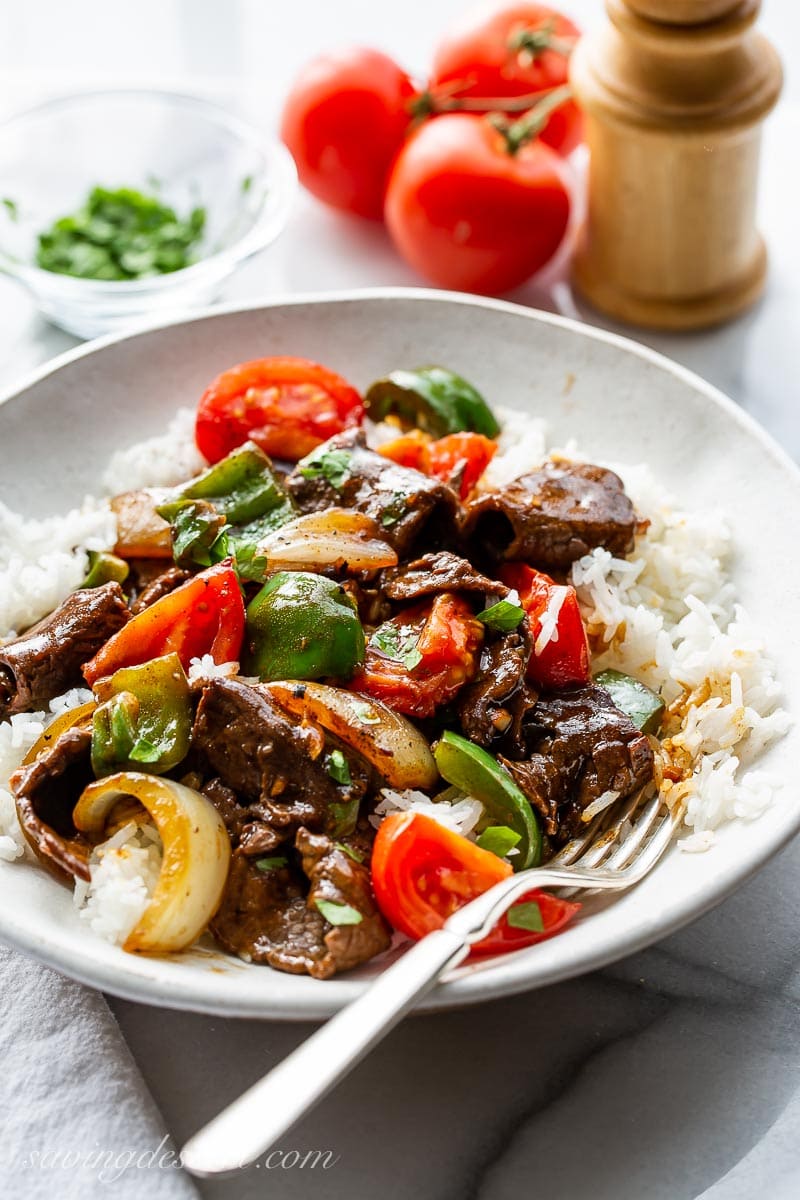 Can pepper steak be made ahead of time?
Yes, this dish is easily made ahead of time, which is great for entertaining. I recommend undercooking the vegetables just a little so they'll be perfectly crisp-tender when rewarmed. Don't add the tomatoes until the dish is hot and you're ready to serve. Done and done!
Thanks for PINNING!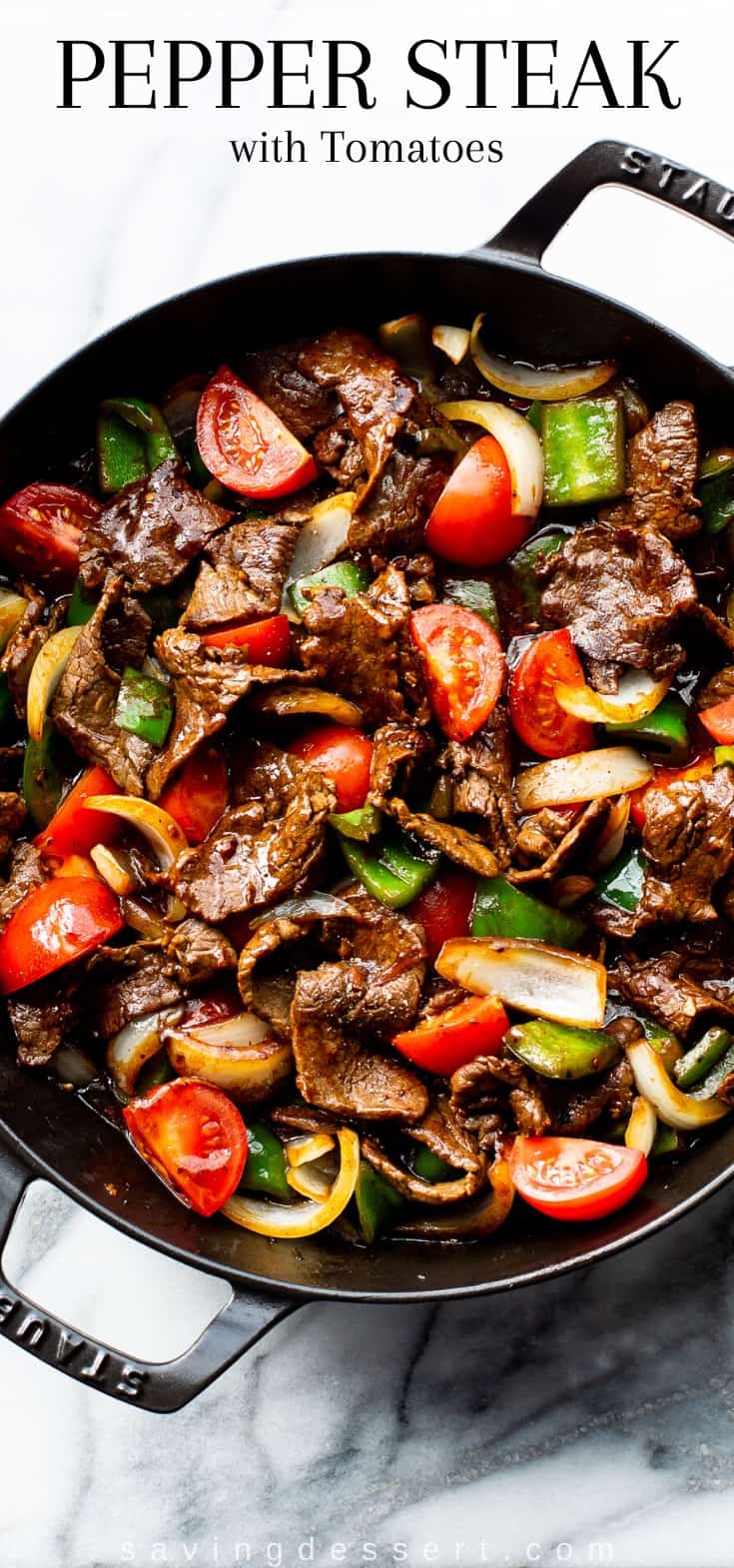 A quick meaty stir fry with steak, peppers and tomatoes, flavored with garlic, soy sauce and ginger.
Ingredients
1

pound

sirloin or round steak,

sliced thin against the grain

¼

cup

soy sauce,

divided

1

tablespoon

granulated sugar

2

tablespoons

cornstarch

1

cup

low-sodium beef broth

4

tablespoons

vegetable oil,

divided

2

large bell peppers,

cubed (red, green, or both)

1

large onion,

sliced into wedges

1

teaspoon

fresh ground black pepper

3

cloves

garlic,

minced

1

tablespoon

fresh ginger,

minced or grated

¼

teaspoon

crushed red pepper flakes

(optional)

2

large tomatoes,

cubed (or several small)

Cooked rice for serving

Soy sauce for serving
Instructions
Pour 2 tablespoons soy sauce and sugar over sliced steak. Marinate at least 30 minutes or up to 4 hours. While the beef is marinating, prep the remaining ingredients.

In a small bowl or 2 cup measure, combine the cornstarch, beef broth, the remaining 2 tablespoons soy sauce. Whisk until blended. Set aside.

Heat 1 tablespoon vegetable oil in large skillet over medium-high.  Add half the beef and cook until browned around the edges. Turn the beef slices over and continue cooking for about 2 minutes more. Remove to a plate and keep warm. Repeat with another tablespoon of oil and more sliced beef until all meat is browned.

Pour the last tablespoon of oil into the pan. Add the bell pepper, onions and black pepper. Sauté until the vegetables are crisp tender and slightly charred, about 5 to 8 minutes.

Reduce the heat to medium. Add the in the garlic, ginger and crushed red pepper flakes, if using. Sauté, stirring constantly until the garlic is fragrant, about 1 minute.

Return the cooked beef to the pan, along with any accumulated juices, and the beef broth mixture. Cook until the sauce thickens, about 3 to 5 minutes. Gently fold in the tomatoes and stir to coat. Remove from the heat and serve immediately.

Garnish with additional black pepper and parsley.

Serve over hot cooked rice. Pass additional soy sauce for serving.
Recipe Notes
Recipe adapted from my Mom
Nutrition information is calculated using an ingredient database and should be considered an estimate. When multiple ingredient alternatives are given, the first listed is calculated for nutrition. Garnishes and optional ingredients are not included.
Nutrition
Calories:
159
kcal
|
Carbohydrates:
11
g
|
Protein:
19
g
|
Fat:
4
g
|
Saturated Fat:
1
g
|
Polyunsaturated Fat:
1
g
|
Monounsaturated Fat:
1
g
|
Cholesterol:
46
mg
|
Sodium:
663
mg
|
Potassium:
580
mg
|
Fiber:
2
g
|
Sugar:
6
g
|
Vitamin A:
1611
IU
|
Vitamin C:
58
mg
|
Calcium:
39
mg
|
Iron:
2
mg
Classic Green Pepper Steak
Enjoy this quick and meaty stir fry made right on the stove top. No need to heat up the oven!
You're going to love the thin sliced steak, bell peppers and fresh firm tomatoes in a wonderful sauce flavored with garlic, soy sauce and ginger.
This dish is terrific served over white or brown rice and even quinoa. Serve with a nice side dish like a fresh green salad or roasted veggies or with cauliflower rice for a nice low-carb option.