This post may contain affiliate links. Please read my disclosure policy.
Better than takeout Mongolian Beef!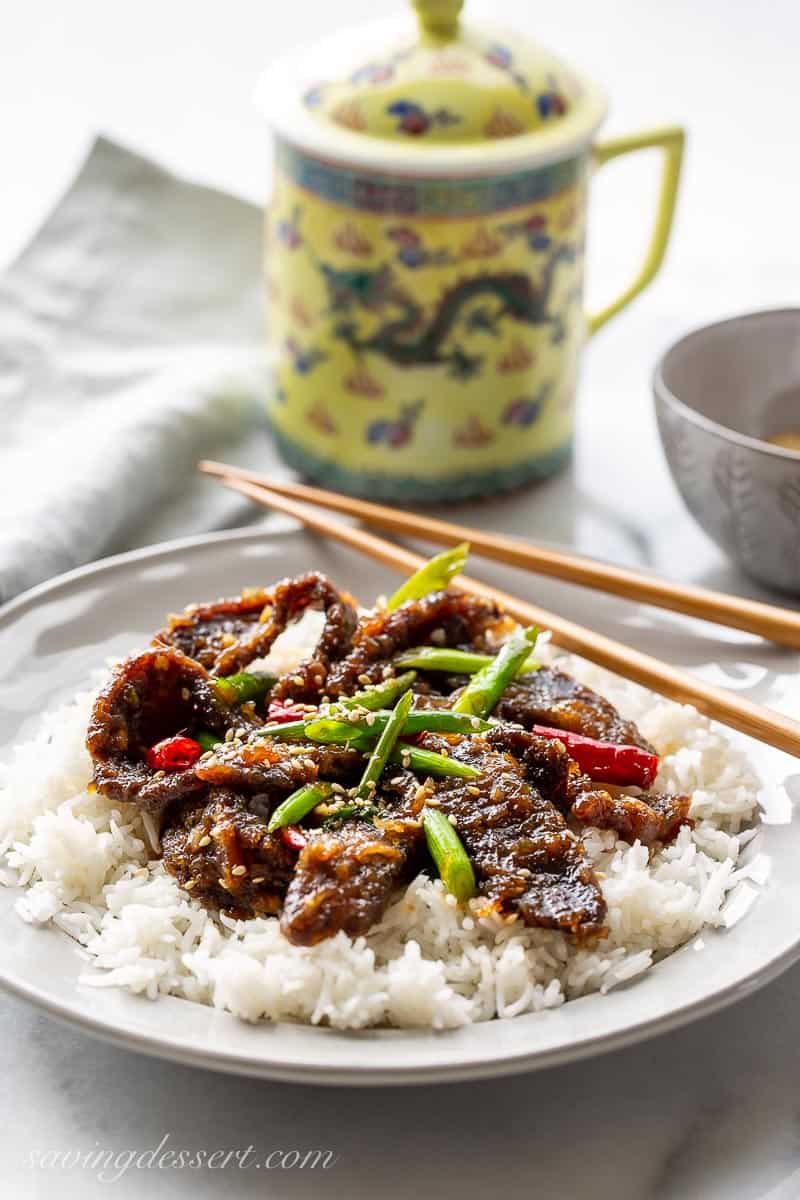 Tender flank steak coated in a well balanced sticky sweet glaze.
We're smitten with this Asian inspired Mongolian Beef recipe! We love the sweet heat and the tender, sticky glazed steak with hints of ginger and sesame.

Created to mimic PF Chang's Mongolian Beef, this recipe is a terrific copycat, only better because it's made at home and you control the heat!
What is Mongolian Beef?
This restaurant style Mongolian Beef is a simple stir-fry recipe popular in many Chinese restaurants. It's made with a sweet, soy based sauce, plenty of sliced green onions, fresh garlic and ginger, and arbol or Asian chiles.
Some like it spicy hot, while others just enjoy the salty sweetness that comes from the brown sugar sauce. Personally we love the balance of sweet and hot… sweet heat!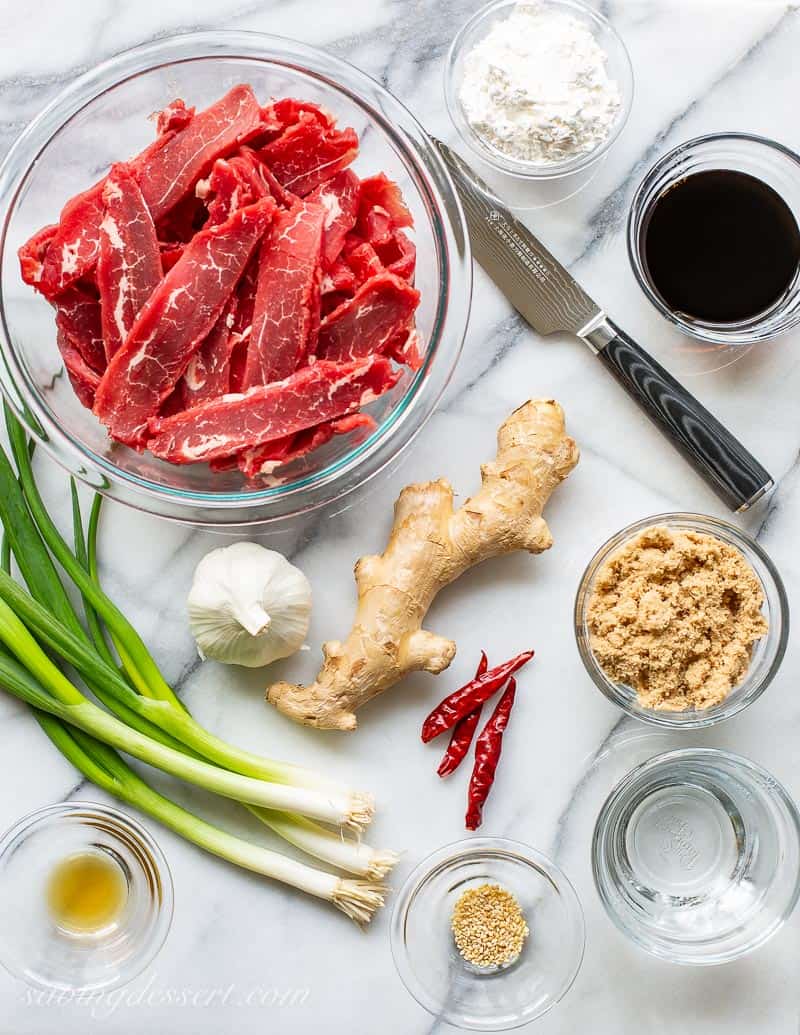 Ingredients needed to make Mongolian Beef
flank steak, or sirloin works well too. The slightly frozen beef should be sliced thin, across the grain.
chicken broth or water.
light brown sugar – dark brown sugar will also be fine.
low sodium soy sauce is our preference but use regular soy sauce if desired.
a little toasted sesame oil to add flavor.
cornstarch for coating the sliced beef before frying. This method of tenderizing chicken and beef is called velveting. The cornstarch gives the sliced beef a nice crispy edge once fried and helps thicken the sauce at the end.
peanut or vegetable oil for frying the beef. We don't sauté the beef for this recipe but instead fry it in about an inch of oil. Make sure the oil is at least 350-375 degrees before adding the beef in stages. Use an instant-read or other kitchen thermometer to ensure the oil stays hot throughout cooking.
scallions a/k/a green onions with the green and white portions separated.
dried arbol chiles – this is a very common dried chile found in the Mexican food section of your local grocery store. You can also substitute small dried Asian chiles, crushed red pepper flakes or Sriracha sauce in this dish. If you don't care for that little bit of heat, simply leave the chiles out!
fresh garlic cloves, minced
fresh grated ginger – always use fresh for great ginger flavor!
toasted sesame seeds for garnish
hot cooked rice for serving
Equipment needed to make this stir-fry:
For this recipe you'll need a deep cast iron skillet or Dutch oven for frying the beef.
Have a good kitchen thermometer on hand to ensure the oil is hot enough to cook the beef.
You'll also need a wok or large non-stick skillet for preparing the stir-fry and sauce.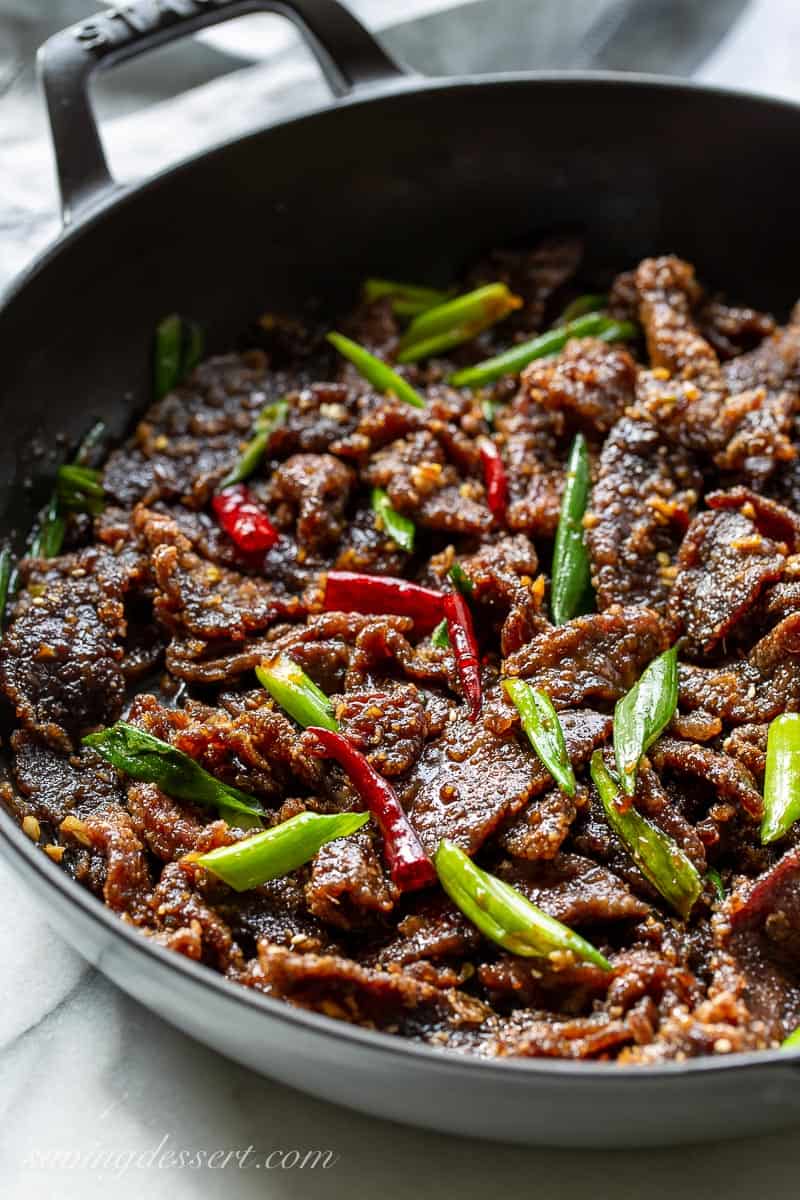 How to make Mongolian Beef
First place the beef in the freezer for about 30 minutes to make it easier to slice.
Slice the beef against the grain to about 1/8th inch thick.
Coat the thin sliced beef in cornstarch and fry until crispy.
Drain the beef on a rack or paper towel lined baking sheet and set aside while preparing the quick sauce.
Next stir-fry the scallion whites, grated ginger, arbol chiles and minced garlic in a little oil until fragrant. Add the broth (or water), brown sugar, soy sauce and sesame oil. Simmer until thickened slightly and a little syrupy.
Toss the cooked beef in the sticky sauce until all pieces are well coated.
Add the scallion greens to the pan and stir until combined. Cook the beef mixture for a few minutes more until thickened and heated through.
Serve immediately spooned over hot cooked rice and garnish with toasted sesame seeds.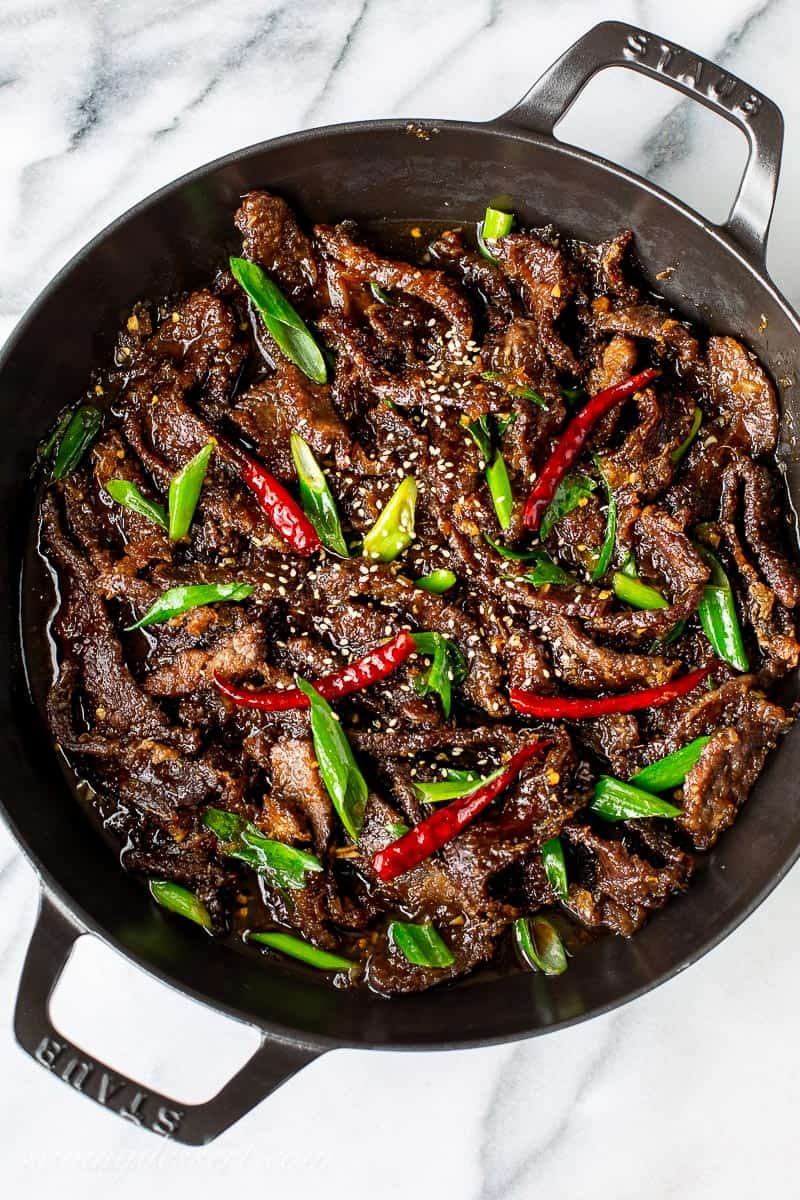 Is Mongolian Beef spicy?
Yes and no. You don't have to add arbol chiles or red pepper flakes to enjoy this dish. However, if you like a sweet slightly spicy saucy Asian inspired recipe, this is for you!
My husband and I prefer our Mongolian Beef a little on the spicy side. To add a little heat to your Mongolian Beef, slice the chiles in half so the seeds cook out into the sauce. The chile seeds create the warmth that balances out the sweet and saltiness of the dish.
My husband practically begs me to make this dish crazy hot, so I often use 6 arbol chiles. That's a little hotter than most folks would like, but for him it seems about right.
If you're going to make this dish crazy hot, you can balance the extra heat with more brown sugar. Increase the brown sugar to 1 cup and enjoy!
I believe Mongolian Beef is best served a little spicy with warm heat. So we recommend using at least 2 arbol chiles, 1/2 teaspoon crushed red pepper flakes or a tablespoon of Sriracha in this dish. It won't burn your lips or mouth, but will have a nice warm glow.
This dish is truly incredible and so delicious! We love that you can dial the heat up or down as desired. If you have a mixed group, pass a bowl of crushed red pepper flakes or a bottle of Sriracha for those that want more.
This recipe is extremely versatile and easy to make, and we know your family's going to love it, too!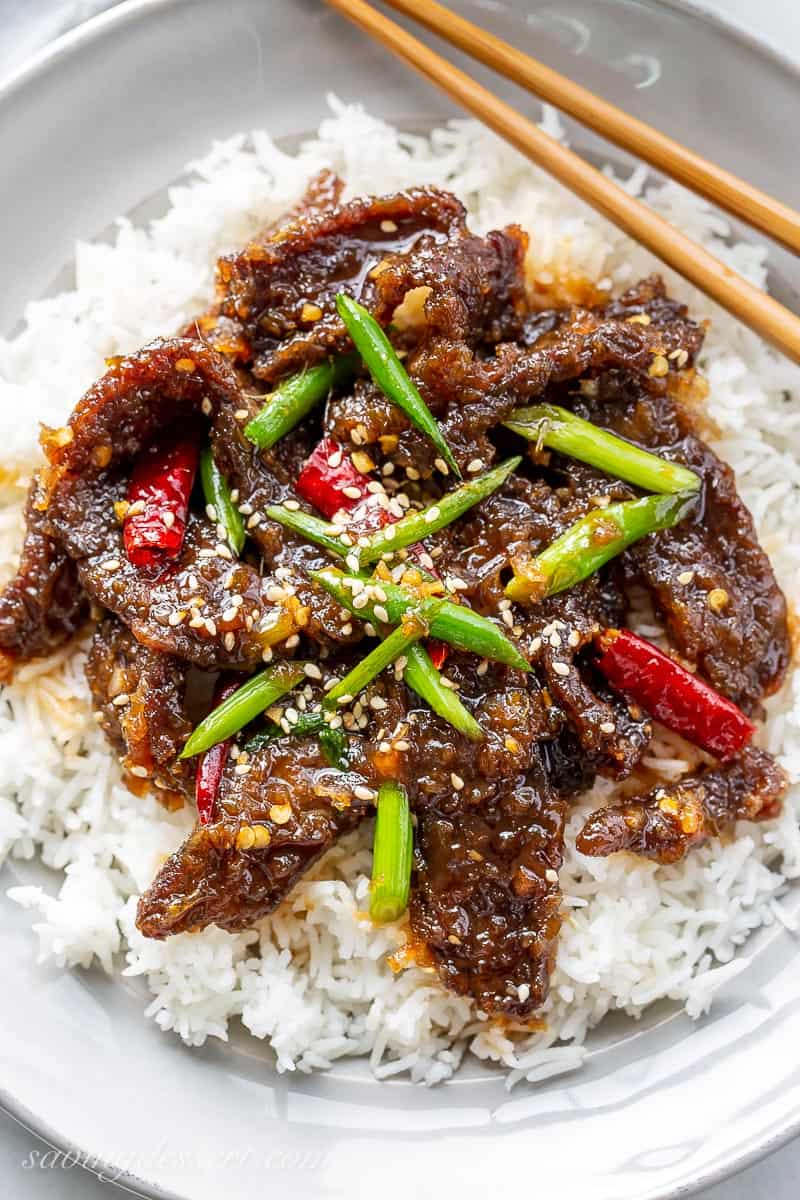 What to serve with Mongolian Beef
This dish is best served over white or brown rice to soak up all the sticky sauce. A nice crisp green salad is terrific served on the side, too.
Any steamed or oven roasted vegetable makes a good side for Mongolian Beef. Our favorites include green beans and asparagus.
Can you add vegetables directly to this stir-fry?
Feel free to add broccoli florets, green or red bell pepper, sweet onion wedges, matchstick carrots, bok choy or snow peas. I recommend stir-frying the vegetables first, then add the aromatics, then the sauce.
Alternatively, you can steam the vegetables first, then fold them into the dish at the end. There won't be a lot of extra sauce, but the flavor will be there.
Garnish with extra sliced green onions, if desired, and a healthy sprinkling of toasted sesame seeds.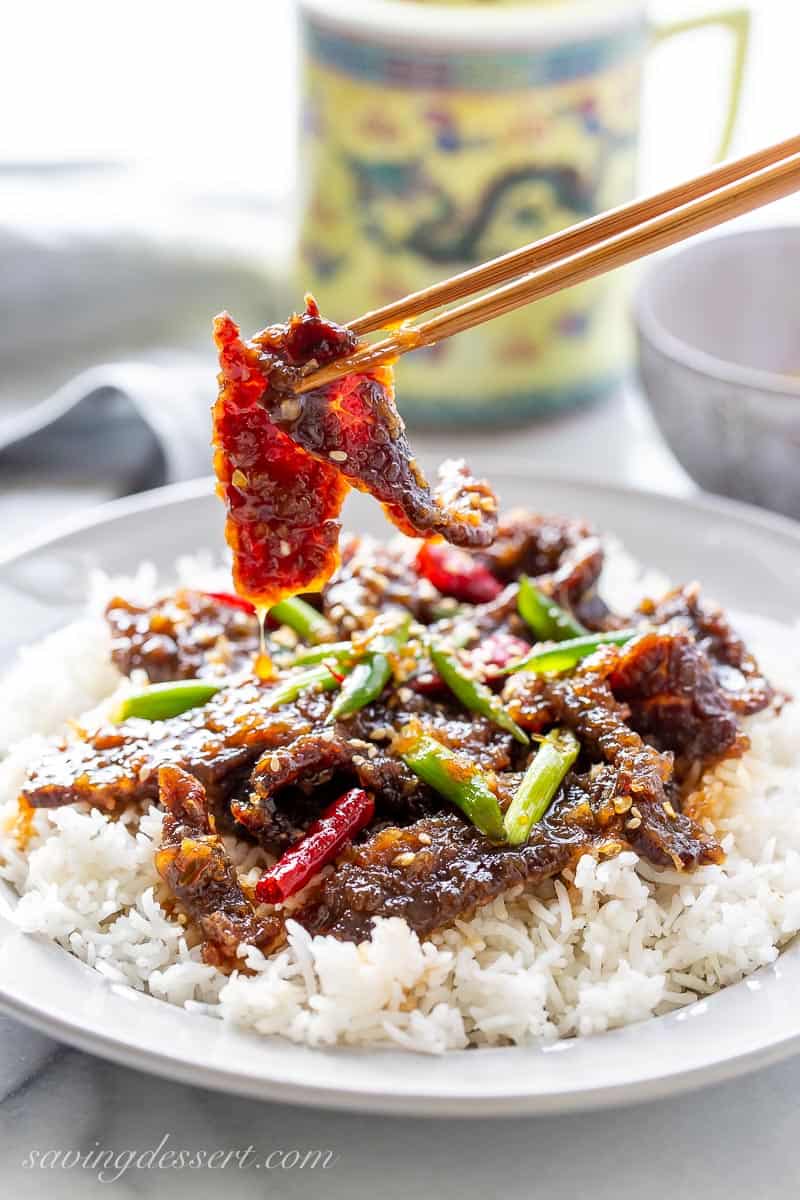 Can you reheat leftover Mongolian Beef?
Just like many leftover Chinese dishes, it's pretty good eaten cold the next day. It also rewarms nicely in the microwave. If the sauce needs thinned a little, add a splash of soy sauce or water, heat and serve.
Store leftovers well sealed and refrigerated for up to 3 days. You can also freeze Mongolian Beef for up to 3 months.
If you love this recipe, I bet you'll enjoy our Beef and Broccoli Stir-Fry. Finally, these Spicy Dan Dan Noodles, Honey Cashew Chicken and Spicy Basil Chicken recipes are all better than takeout, too!
Where does Mongolian Beef come from?
Fun fact: In spite of the name, Mongolian Beef did not originate in Mongolia. The non-spicy version of this dish was first served in Taiwan where Chinese restaurants first appeared.
Enjoy!
Thanks for PINNING!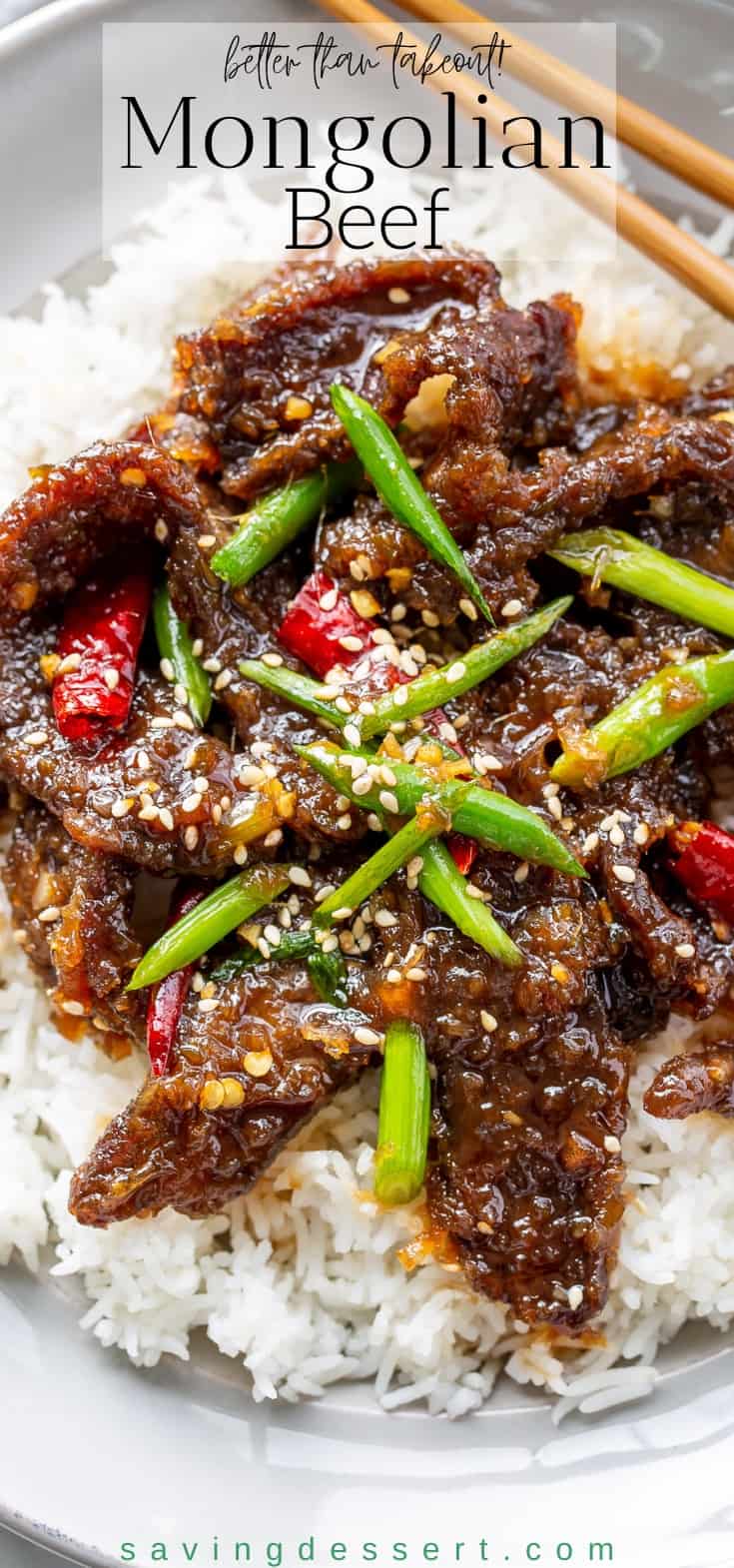 Let's be cooking friends! When you try our recipe please leave a comment on this post. If you loved this recipe we'd appreciate a 5-star rating! Sharing your experience, variations and insights will help all our readers, and it helps me too.
If you're on Pinterest feel free to leave a comment and photo there if you have one. If you share on INSTAGRAM tag @savingroomfordessert so we can stop by and give your post some love.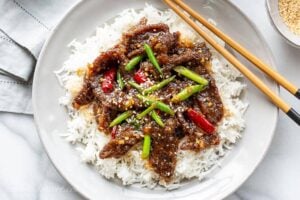 Mongolian Beef
Total Time:
1

hour
10

minutes
Tender flank steak coated in a well-balanced sweet and salty glaze with a little warm heat from the arbol chiles.
Ingredients
1 ½

pounds

flank steak

1

cup

chicken broth,

or water

¾

cup

light brown sugar,

packed

⅔

cup

low sodium soy sauce

1

teaspoon

toasted sesame oil

⅓

cup

cornstarch

1

cup

vegetable oil for frying

4

scallions,

white parts minced, green parts cut into 1-inch pieces

3

dried arbol chiles,

stemmed and halved crosswise (plus more for hotter sauce)

4

cloves

garlic,

minced

1 ½

tablespoons

fresh ginger,

grated

sesame seeds,

for garnish

cooked rice,

for serving
Instructions
Place the steak in the freezer for 20 to 30 minutes. This step helps make the beef firm enough to slice thin.

In a small bowl combine the broth (or water), brown sugar, soy sauce and sesame oil. Whisk and set aside.

Pat the beef dry with paper towels. Cut the beef against the grain into ⅛ inch thick slices. Add the beef to a bowl and toss with the cornstarch. Set aside.

Line a baking sheet with a few paper towels or a wire rack to drain the beef. Set aside.

Heat the oil in a large Dutch oven or deep cast iron skillet over medium-high until it reaches 375°F. Add one-fourth of the beef slices and fry until crispy around the edges, about 5 minutes. Stir occasionally to prevent the beef slices from sticking together. Monitor the temperature and adjust the burner as needed to maintain a minimum of 350°F to 375°F. Using a slotted spoon remove the beef to the prepared baking pan to drain. Repeat until all beef is cooked.

Transfer 1 tablespoon of the frying oil to a large nonstick skillet or wok. Heat on medium-high until shimmering. Add the white parts of the scallions, chiles, garlic and ginger. Cook, stirring constantly until fragrant, about 1 minute. Carefully add the sugar and soy sauce mixture and bring to a boil. Reduce the heat and simmer, stirring occasionally, until the sauce is slightly thickened and syrupy, about 5-7 minutes.

Add the beef and cook tossing constantly until the sauce coats each slice. Add the scallion greens and stir to combine. Continue to cook for 4-5 minutes.

Remove from the heat and serve immediately over cooked rice. Garnish with extra scallion greens and a few toasted sesame seeds if desired.
Recipe Notes
Substitute small dried Asian chiles or 3/4 teaspoon crushed red pepper flakes for the arbol chiles. If preferred, substitute 1 tablespoon Sriracha sauce for the peppers.

Arbol chiles can be found in the Mexican food section of your local grocery store.

Feel free to stir-fry add-in vegetables before the aromatics. Broccoli, carrots, and bok choy are all delicious in this recipe.

Our Mongolian Beef was inspired by many recipes including Cook's Country, and Food and Wine
Nutrition information is calculated using an ingredient database and should be considered an estimate. When multiple ingredient alternatives are given, the first listed is calculated for nutrition. Garnishes and optional ingredients are not included.
Nutrition
Calories:
635
kcal
|
Carbohydrates:
38
g
|
Protein:
27
g
|
Fat:
43
g
|
Saturated Fat:
32
g
|
Cholesterol:
68
mg
|
Sodium:
1027
mg
|
Potassium:
550
mg
|
Fiber:
1
g
|
Sugar:
28
g
|
Vitamin A:
146
IU
|
Vitamin C:
2
mg
|
Calcium:
63
mg
|
Iron:
3
mg