This post may contain affiliate links. Please read my disclosure policy.
How to make the Best Deviled Eggs with a few easy steps!
 We've collected all the tips and tricks you need to make beautiful and delicious deviled eggs.
Picnics, pot lucks, BBQ's and parties won't be the same without a plate of these little gems!
Many cooks have a back-pocket go-to recipe that they're known for. You can always count on them to bring it to the party and it usually disappears quickly. Besides being known for making pies, deviled eggs are my standard go-to recipe.
I've been making my best deviled eggs since my kids were little, and that's been a long time. These deviled eggs appear at almost every family holiday gathering, and to tell you the truth, I've probably made more deviled eggs in my life than any other single recipe.
I've tinkered with this basic recipe over the years, tried various adaptations, scooped and pipped the filling, made them by hand and in the food processor too. It seems like I've tried all the methods. Finally, I wrote down my best basic recipe along with all my tips for making the Best Deviled Eggs!
Deviled eggs are an inexpensive, easy to make appetizer, and a welcome addition to any breakfast, brunch or Sunday supper!
This recipe is easily adapted to your family's favorite flavor combinations. Not crazy about sweet pickle relish? Try making these with dill relish or just add a small amount of pickle juice instead. You can even use plain or seasoned vinegar to add a little tang. For a real treat, trying using our Homemade Sweet Pickle Relish in this recipe – so good!
A light dusting of cayenne is one of my favorite garnishes, but paprika is the overall winner in our family. When it comes to making deviled eggs, you're only limited by your imagination. Sprinkle your eggs with thin sliced green onions, chopped chives or crumbled bacon for a nice pop of flavor.
Substitute Dijon for the yellow mustard if you prefer, and for a special treat, top the eggs with a few small pieces of smoked salmon and some fresh dill.
Tips for making the Best Deviled Eggs
Use semi-fresh eggs whenever possible.
If you're not sure if your eggs are fresh, place them in a single layer in a large saucepan and cover with cold water by about 1-inch. If the eggs stay on the bottom of the pan, they're fresh and you're good to go for all your recipes. Please note however, super fresh eggs are a little harder to peel.
If one end of the egg rises to the top and they kind of 'stand-up' then they're getting a little old but are still great to eat. In fact, semi-fresh eggs like these are actually easier to peel after cooked. If the whole egg rises to the top of the water and floats, it's no longer good to eat and you should discard the egg.
Have you ever made hard-cooked or hard-boiled eggs and noticed a dark green ring around the yolk?
This happens when the eggs are overcooked. Pay close attention the cooking time in this recipe and, to be sure, set a timer. In addition to the ugly green ring around the yolk, overcooked eggs will be rubbery instead of tender.
How do you get the egg yolk to stay in the middle of the egg?
It can be frustrating when the yolk cooks up against the side of the egg and the whole thing looks awful when you slice it in half. To help your yolks cook in the middle of the whites, start with cold tap water. Then, gently stir the eggs a few times while the water heats to a boil.
Once the water comes to a boil, give the eggs one more stir, reduce the heat to the lowest temperature possible and cover the pan.
We've all had hard-boiled eggs that are hard to peel.
No matter how hard you try, you'll probably get one that doesn't peel as well as the others. I always make one more egg than I need in case things get ugly when I try to peel the shell. To help avoid this problem, use semi-fresh eggs, and be sure to rinse the eggs in ice cold water immediately after the cooking phase.
Discard the hot water, fill the pan with cold tap water, then drain and repeat. Stir the eggs around and allow them to sit for at least a minute or two. The hard-cooked eggs will shrink and practically pop out of their shell!
The easiest way to peel an egg
Tap the hard-boiled egg a few times on the side of the sink or another hard surface. Place the egg between the palms of your hands and roll applying gentle pressure. The egg shell will often come off in one piece, but if not, gently peel under cool running water. If you have trouble peeling the egg, place the opening of the shell directly under the trickling water.
The water will usually seep in between the shell and the egg and help loosen it from the sides.
Make sure the eggs are dry before slicing.
Once the shells are removed, place the eggs on a paper towel lined plate to dry while peeling the remaining eggs.
Use a large, thin, sharp knife to slice the eggs in half. 
Don't let the eggs sit around too long. They are best cut while still slightly warm. Use a sharp knife!
For a wonderfully smooth filling:
Blend the yolks and the other ingredients (except relish) in a food processor. Using a fork to smash the yolks works fine too – but a food processor makes a super smooth filling. Stir the relish in by hand at the end.
We use these tips and methods whenever making hard-cooked, or hard-boiled eggs for use in recipes like our Easy English Pea Salad and our Traditional Creamy Potato Salad. We also love hard-boiled eggs for breakfast too!
Thanks for PINNING!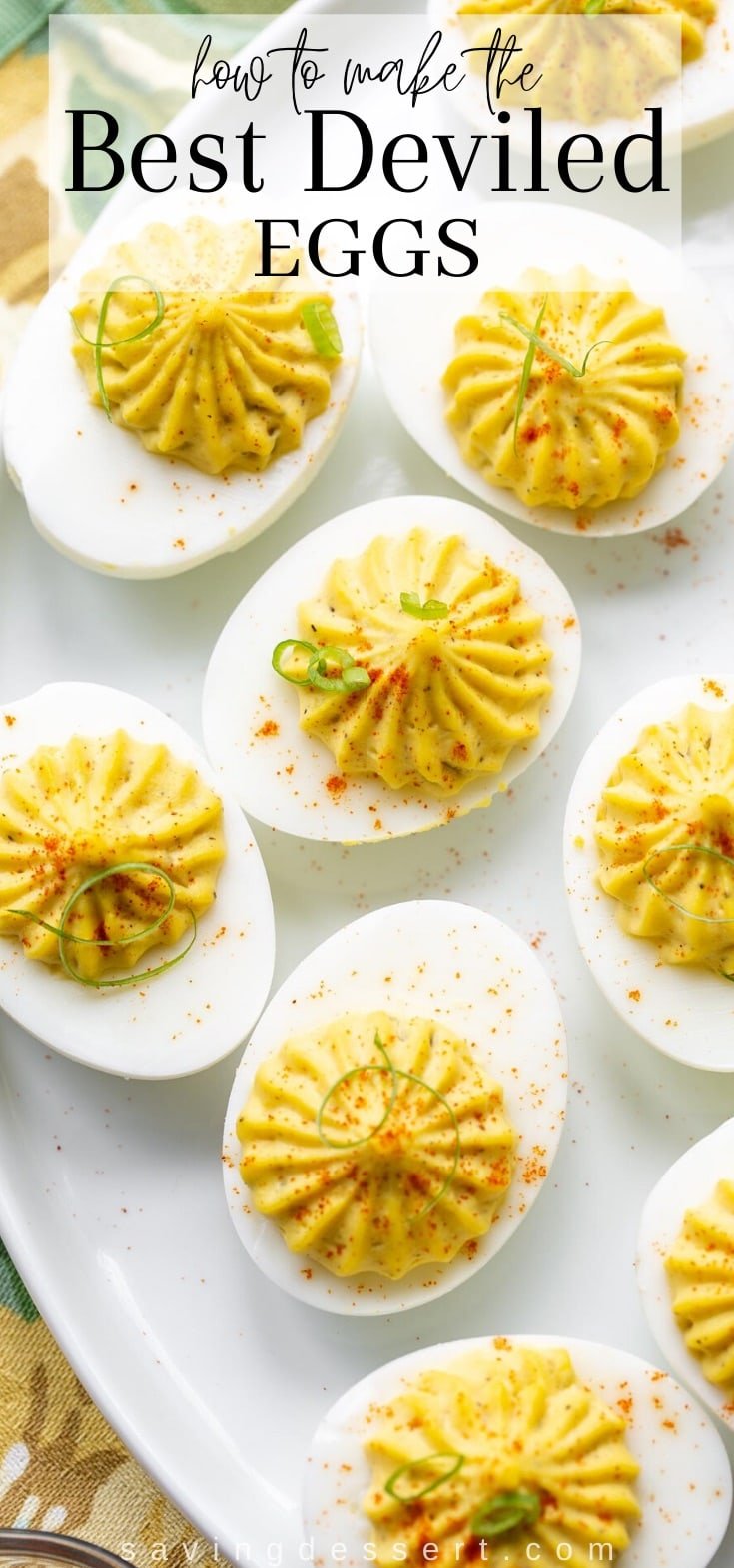 Let's be cooking friends! When you try our recipe please leave a comment on this post. If you loved this recipe we'd appreciate a 5-star rating. Sharing your experience, variations and insights will help all our readers, and it helps me too. If you're on Pinterest feel free to leave a comment and photo there if you have one. If you share on INSTAGRAM tag @savingroomfordessert so we can stop by and give your post some love.
FOLLOW Saving Room for Dessert on FACEBOOK| INSTAGRAM| PINTEREST | TWITTER  and subscribe to our YOUTUBE channel for all the latest recipes, videos and updates.
PRINT THE RECIPE!
Picnics, pot lucks, BBQ's and parties won't be the same without a plate of these little gems!
Ingredients
12-13

large eggs

1

tablespoon

prepared yellow mustard

⅔

cup

mayonnaise

¼

teaspoon

salt

½

teaspoon

ground black pepper

¼

cup

sweet pickle relish
Instructions
Place the eggs in a large saucepan (with a tight fitting lid) in a single layer. Add cold tap water to cover by one inch. Heat on high until the water comes to a boil. While the water is heating, gently stir the eggs a few times to redistribute. Once the water comes to a boil, stir the eggs one more time, reduce the heat to LOW, cover the pan and cook for 13 minutes.

Remove the pan from the heat, and carefully drain the hot water. Cover the cooked eggs with cold water and stir. Drain then fill again with cold water. Allow the eggs to sit for 2-3 minutes.

Peel the eggs under cool water and place on a paper towel lined plate to dry. Slice each egg in half, and remove the yolk to the bowl of a food processor (if using. If not see NOTE) Place the now empty egg whites on a serving plate or in a container for storage. Set aside.

Add the mustard, mayonnaise, salt and pepper to the food processor with the egg yolks and pulse until smooth and blended. Remove the mixture to a small bowl and add the relish. Stir until blended. Check the seasoning and add more salt or pepper if needed. For an extra smooth filling add mayonnaise, one tablespoon at a time, until you reach the desired consistency.

Pipe or spoon the filling into the prepared egg whites. Garnish with paprika, cayenne or more black pepper if desired. Serve immediately or refrigerate until needed.
Recipe Notes
If you don't have a food processor, smash the warm egg yolks with the tines of a fork until smooth. Add the remaining ingredients and stir until blended.
Store deviled eggs in an airtight container in the refrigerator for up to 3 days.
Nutrition information is calculated using an ingredient database and should be considered an estimate. When multiple ingredient alternatives are given, the first listed is calculated for nutrition. Garnishes and optional ingredients are not included.
Nutrition
Calories:
155
kcal
|
Carbohydrates:
2
g
|
Protein:
6
g
|
Fat:
14
g
|
Saturated Fat:
3
g
|
Polyunsaturated Fat:
6
g
|
Monounsaturated Fat:
4
g
|
Trans Fat:
0.04
g
|
Cholesterol:
169
mg
|
Sodium:
245
mg
|
Potassium:
67
mg
|
Fiber:
0.1
g
|
Sugar:
2
g
|
Vitamin A:
309
IU
|
Vitamin C:
0.1
mg
|
Calcium:
27
mg
|
Iron:
1
mg
 Here are a few of our favorite kitchen tools used to make these eggs:
If you decide to purchase something at Amazon after following my affiliate link, I receive a small commission, at no additional cost to you, which I use to pay for web hosting and services for this blog. Thanks for supporting SRFD!
Looking for more egg recipes? How about this Classic Egg Salad and a fantastic Egg Salad BLT Sandwich. Finally, check out these unique Scotch Eggs made in a pressure cooker or Instant Pot – breakfast just got sorted 🙂