This post may contain affiliate links. Please read my disclosure policy.
Hearty and delicious Hungarian Style Beef Goulash
Looking for something new and delicious the whole family will love?
Enjoy this rich and flavorful Hungarian Goulash featuring tender, slow cooked beef, potatoes, onions and a beefy broth packed with roasted red peppers, tomatoes and plenty of sweet paprika.
While this might not be an authentic, old-world Goulash recipe like those eaten in the 9th century by Hungarian shepherds, it comes pretty close to the stew we enjoyed in Budapest.
While traveling in Hungary we devoured several bowls of real-deal Goulash, and each was delicious in their own way. Some bowls of beef Goulash were more like soup while others were thick and meaty like our version here.
For months I've obsessed over with finding an authentic recipe to make at home. Ultimately I ended up creating this humble and delicious goulash by cobbling together several recipes. What I came up with is a truly fantastic, hearty bowl of amazing flavor.
Ingredients needed to make Hungarian Goulash:
boneless chuck roast – trimmed of excess fat
salt and pepper or your favorite seasoned salt
sweet paprika (not hot or smoky)
jarred roasted red peppers packed in water
tomato paste
red wine vinegar
vegetable oil
small mushrooms –  any variety will do, just pick up whatever looks fresh
onions
garlic
fresh thyme leaves
canned diced tomatoes
low-sodium beef broth
potatoes
carrots (optional)
cornstarch for thickening the gravy if desired
sour cream for topping individual bowls or stirred in at the end, both optional
fresh parsley leaves for serving
Hungarian Goulash recipes are a lot like American stews or chili in that each one is a little different.
While Goulash is basically a simple beef stew, it has a completely different flavor from American style beef stews. And, don't confuse this with American Goulash, which is an elbow macaroni loaded ground beef recipe with cheddar cheese that looks more like Hamburger Helper.
Hungarian Goulash is a simple dish typically made with just meat and potatoes cooked in a rich broth well seasoned with plenty of sweet paprika. I stuck with the authentic plan and skipped the carrots sometimes found in American stews.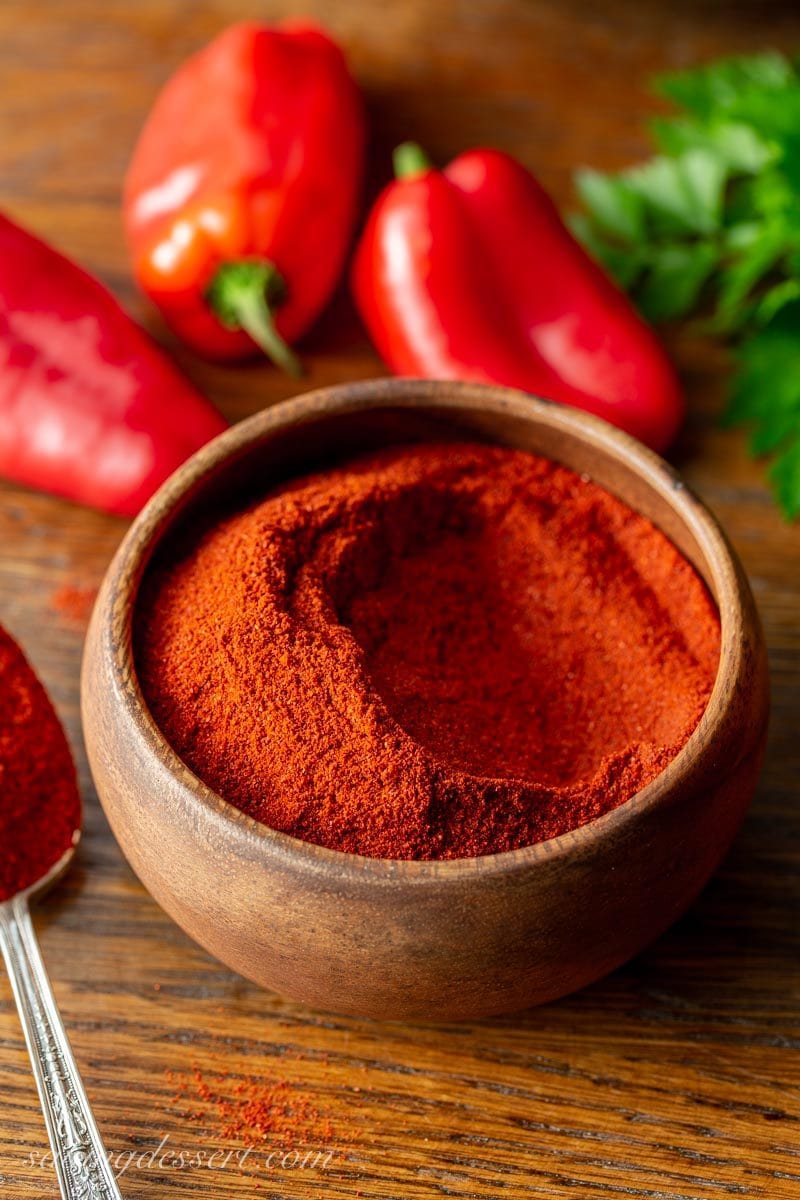 Featured spice – Paprika
Paprika can be found in sweet, smoky and hot flavors, with a few other variations somewhere in between. This recipe uses a robust 1/4 cup of sweet Hungarian paprika giving the Goulash plenty of rich flavor and a gorgeous red hue. The Spice House is a good online resource for buying paprika.
Their classic Hungarian sweet paprika remains their top seller, and was voted best in the country by Cooks Illustrated. We bought our sweet Hungarian paprika at the Great Market Hall in Budapest but will purchase in bulk from The Spice House when our current supply runs out.
That may be sooner rather than later, given our obsession with this beef Goulash.
How to make Hungarian Style Beef Goulash:
First make a paste with the paprika, red peppers, tomato paste and vinegar. Blend in a food processor and set aside.
Next brown the mushrooms in a Dutch oven over medium high heat. Pour in the onions and cook until soft. Add the garlic and thyme and sauté until fragrant. Stir in the paprika mixture and diced tomatoes. Finally, add the beef cubes and beef broth.
Cover the pot and transfer to the oven. Cook until the beef is almost tender, about 2 hours.
Add the potatoes and carrots, if using. Add an additional cup or two of beef broth, enough to cover. Cover and return to the oven and cook for another hour.
Remove from the oven and place on the stovetop over medium heat. Skim and remove any fat pooled on top.
Make a slurry with the cornstarch and beef broth. Add to the pot and heat until slightly thickened. Off-heat add the remaining vinegar and season with salt and pepper to taste.
Serve immediately with a dollop of sour cream, if desired.
Can this dish be made in a slow cooker?
Yes you can use a slow cooker instead of the oven to make Hungarian Goulash. Simply follow the directions and instead of placing the mixture in the oven, pour everything into the slow cooker. Cook on high for 4 hours or low for 7 or 8.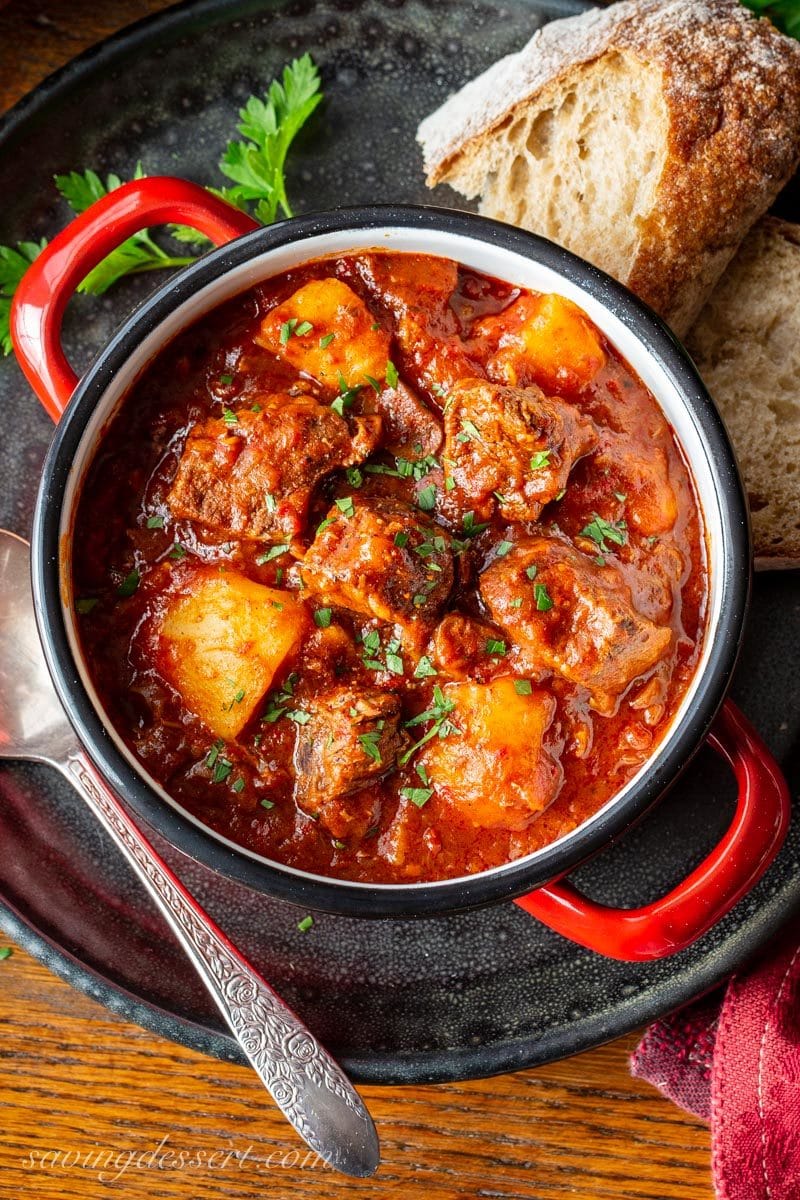 Our Beef Goulash is pretty fantastic as is, but I've noted some suggestions to vary your stew if desired:
Feel free to add carrots at the same time as the potatoes. We didn't use them here but usually do.
I've noted a wide range of beef broth for this recipe, from 3 to 4 cups. Depending on the size of your roast, how many potatoes you use, whether or not you add carrots, etc. you may only need 3 to 3 1/2 cups of broth. However if you need additional broth or if you prefer a soupier stew, add the full 4 cups.
Beer or beef broth?
While researching Hungarian Goulash, I found several recipes that use beer in place of some of the beef broth. Replace part of the beef broth with a bottle of beer, if desired.
Our beef Goulash is lightly thickened at the end with 2 tablespoons cornstarch mixed with cold water or beef broth. This is not necessary but I think it adds a little something extra to the consistency. The stew is fine without the cornstarch so you can skip that step without affecting flavor.
Purchase the best small chuck roast you can find; preferably one without a lot of fat. You'll need to remove as much visible fat as you can before adding the meat to the pot. If that's impossible, be sure to skim the fat off the top when you remove the finished Goulash from the oven.
We added mushrooms to our stew, but just like carrots, it's not a traditional component of authentic Hungarian Goulash. However, we adore the earthy flavor mushrooms impart and think you will too.
The recipe calls for 3 large onions diced very small. We use sweet onions which are perfect with the paprika. Don't skimp on the onions!
Don't skip the roasted red peppers.
Cook's Illustrated published an interesting recipe for Hungarian Goulash. While I don't use their recipe, I do glean one step I think is genius. The recipe calls for a jar of roasted red peppers packed in water. The drained peppers are blended with the paprika, tomato paste and a little red wine vinegar.
This beautiful paste-like puree is added to the pot with the canned tomatoes and beef cubes. By mixing the paprika with the roasted red peppers you will avoid any grittiness you may find when using large amounts of the spice.
You can also make your own roasted sweet red bell peppers instead of using jarred.
Many recipes found during my research called for sour cream to be added to the stew, off heat, just before serving. I don't add sour cream to my pot of Goulash but instead serve each bowl with a dollop. Sour cream is a very nice addition as a garnish so be sure to give it a try!
Always check the seasonings to ensure you have enough salt and pepper.
Make ahead and refrigerate the Goulash until needed.
Our Hungarian style beef Goulash keeps well for several days in the fridge. In fact, you can make this ahead and refrigerate until needed. Refrigerating the stew makes it easy to skim off any fat that has pooled on the top.
If planning to serve later, undercook the stew by about 15 minutes so the potatoes don't break apart. Rewarm gently adding a little beef broth if needed to thin. This is a great stew to serve to company during the holidays or at a fun Hungarian themed dinner party!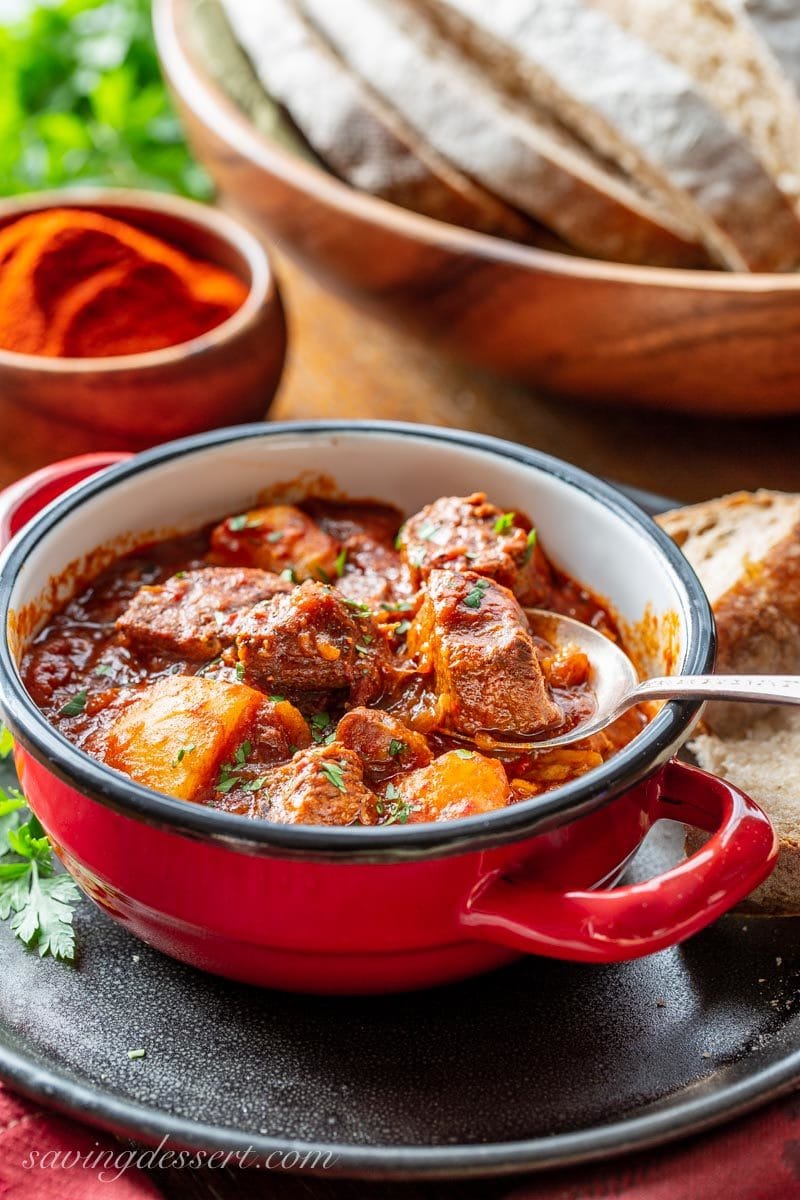 You're going to love the tender chunks of beef and the hearty rich flavor of our beef Goulash.
Be sure to serve the Goulash in big bowls with plenty of bread for dipping – just like they do in Hungary!
For another famous Hungarian dish try this Chicken Paprikash. This recipe also calls for sweet paprika along with tomatoes and chicken. Chicken Paprikash is the national dish of Hungary so I know you're going to love it.
Thanks for PINNING!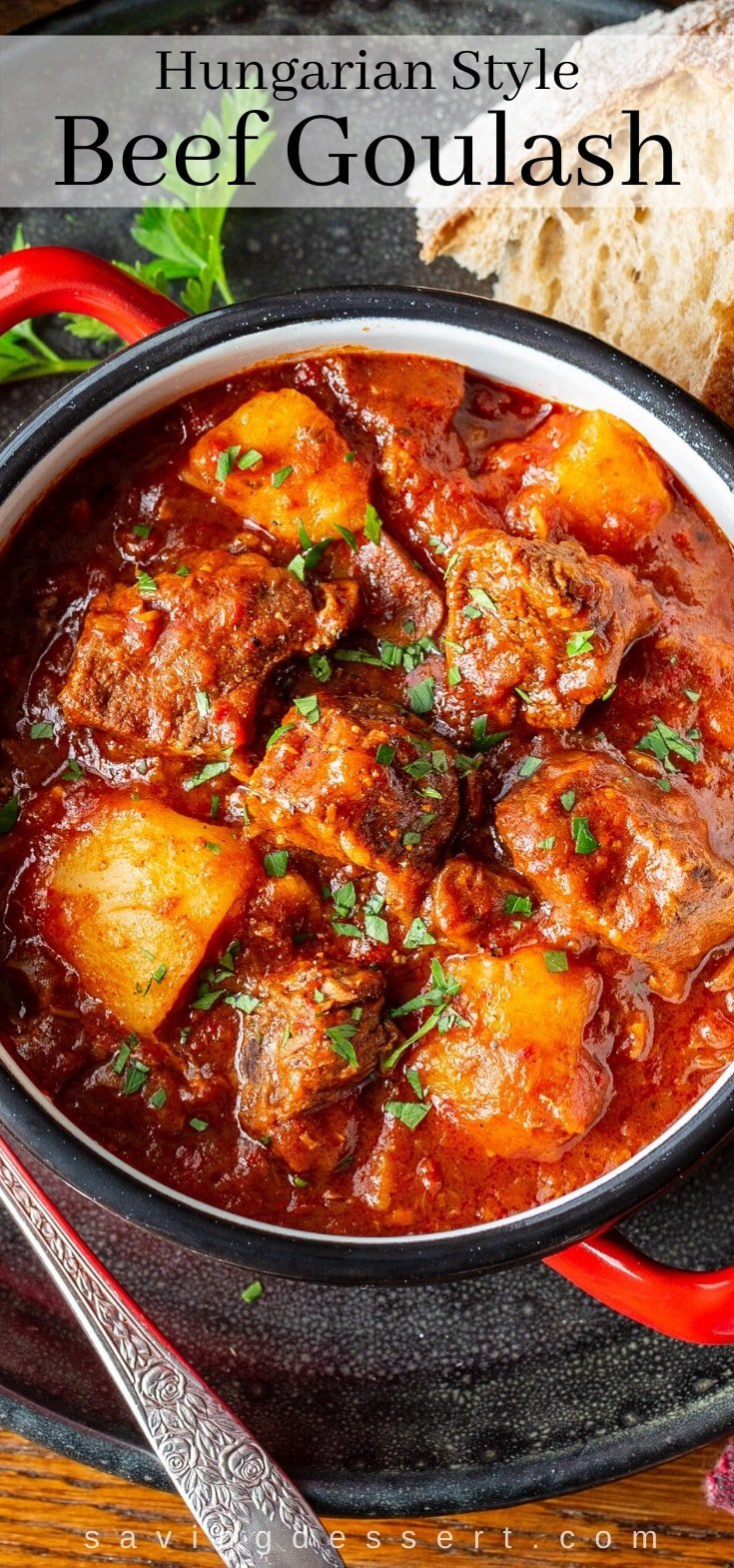 Let's be cooking friends! If you make our recipe please feel free to leave a comment on this post. I'm sure your experience and insights will help all our readers, and it helps me too. If you're on Pinterest feel free to leave a comment and photo there if you have one!
If you share on INSTAGRAM tag @savingroomfordessert so we can stop by and give your post some love. FOLLOW Saving Room for Dessert on FACEBOOK| INSTAGRAM| PINTEREST | TWITTER  and subscribe to our YOUTUBE channel for all the latest recipes, videos and updates.
Hungarian Style Beef Goulash
Cook Time:
3

hours
20

minutes
Total Time:
4

hours
20

minutes
Slow cooked, tender chunks of beef simmered in a rich and flavorful sauce.
Ingredients
3-4

pounds

boneless chuck roast

trimmed of excess fat and cut into 1 ½ inch cubes

Kosher salt and fresh ground black pepper

¼

cup

sweet paprika

(do not use hot or smoky paprika)

12

ounces

jarred roasted red peppers

(packed in water) drained and rinsed

3

tablespoons

low or no salt tomato paste

3

teaspoons

red wine vinegar

divided

2

tablespoons

vegetable oil

7

ounces

small mushrooms

cleaned and sliced

3

large onions

diced small

3

garlic cloves

minced

1

tablespoon

fresh thyme leaves

or 4 fresh thyme sprigs

14

ounces

canned low-salt diced tomatoes

do not drain

3

cups

low-sodium beef broth

divided (up to 4 cups if needed)

4

medium potatoes

peeled and halved or quartered

4

large carrots

cut into 2-inch pieces (optional)

2

tablespoons

cornstarch

(optional for thickening if desired)

¼

cup

sour cream

(optional - may be stirred in at the end or dolloped on individual bowls when serving)

salt and pepper to taste

fresh parsley leaves

chopped for garnish
Instructions
Adjust oven rack to the lower-middle position. Preheat oven to 325°F. Season the beef cubes generously with salt and pepper and set aside at room temperature.

In a small food processor, combine the paprika, drained red peppers, tomato paste, and 2 teaspoons vinegar. Process until smooth. Set aside.

Pour the vegetable oil into a large Dutch oven set over medium heat on the stovetop. Add the mushrooms and cook, undisturbed, until browned on one side. Stir then add the onions and 1 teaspoon salt. Cover and cook, stirring occasionally until the onions are soft but not browned, about 8 to 10 minutes.

Remove the lid and add the garlic and thyme. Sauté until fragrant. Add the paprika mixture and cook for about 2 minutes, stirring constantly. Add the diced tomatoes with juice, the beef cubes, and 2 cups of the beef broth. Stir well to combine. Cover the pot and transfer to the oven. Cook until the meat is almost tender, about 2 hours, stirring half way through.

Add the potatoes and carrots if using. Add 1 cup (2 cups if needed to cover) of the remaining beef broth to the pot. Cover and return to the oven and cook for about 60 minutes, stirring halfway through until the beef and potatoes are tender. Remove from the oven.

Place the Dutch oven on the stovetop and heat on medium. Allow the stew to settle a minute then skim off and discard any fat that pools on top. Remove the thyme sprigs and discard. Mix the cornstarch with ¼ cup of the remaining beef broth. (SEE NOTES) Drizzle the slurry into the stew while stirring gently to combine. Heat for about 2 minutes or until slightly thickened. Off heat, stir in remaining 1 teaspoon vinegar. Check seasoning and add salt and pepper to taste.

Stir in the sour cream, if using, or serve each bowl garnished with a dollop of sour cream, parsley and fresh ground black pepper.
Recipe Notes
You may only need about 3 1/4 cups of beef broth for the entire stew. However, if you add carrots and if you started with a larger roast, you may need the extra 3/4 cup of broth.
If you only purchased 3 cups of beef broth, mix the cornstarch slurry with 1/4 cup of cold water. No worries. Let me know if that does not make sense.
Nutrition information is calculated using an ingredient database and should be considered an estimate. When multiple ingredient alternatives are given, the first listed is calculated for nutrition. Garnishes and optional ingredients are not included.
Nutrition
Calories:
666
kcal
|
Carbohydrates:
47
g
|
Protein:
52
g
|
Fat:
32
g
|
Saturated Fat:
12
g
|
Polyunsaturated Fat:
5
g
|
Monounsaturated Fat:
14
g
|
Trans Fat:
2
g
|
Cholesterol:
156
mg
|
Sodium:
1382
mg
|
Potassium:
2311
mg
|
Fiber:
9
g
|
Sugar:
9
g
|
Vitamin A:
9593
IU
|
Vitamin C:
72
mg
|
Calcium:
147
mg
|
Iron:
9
mg
Here are a few more recipes for hearty soups and stew you might enjoy: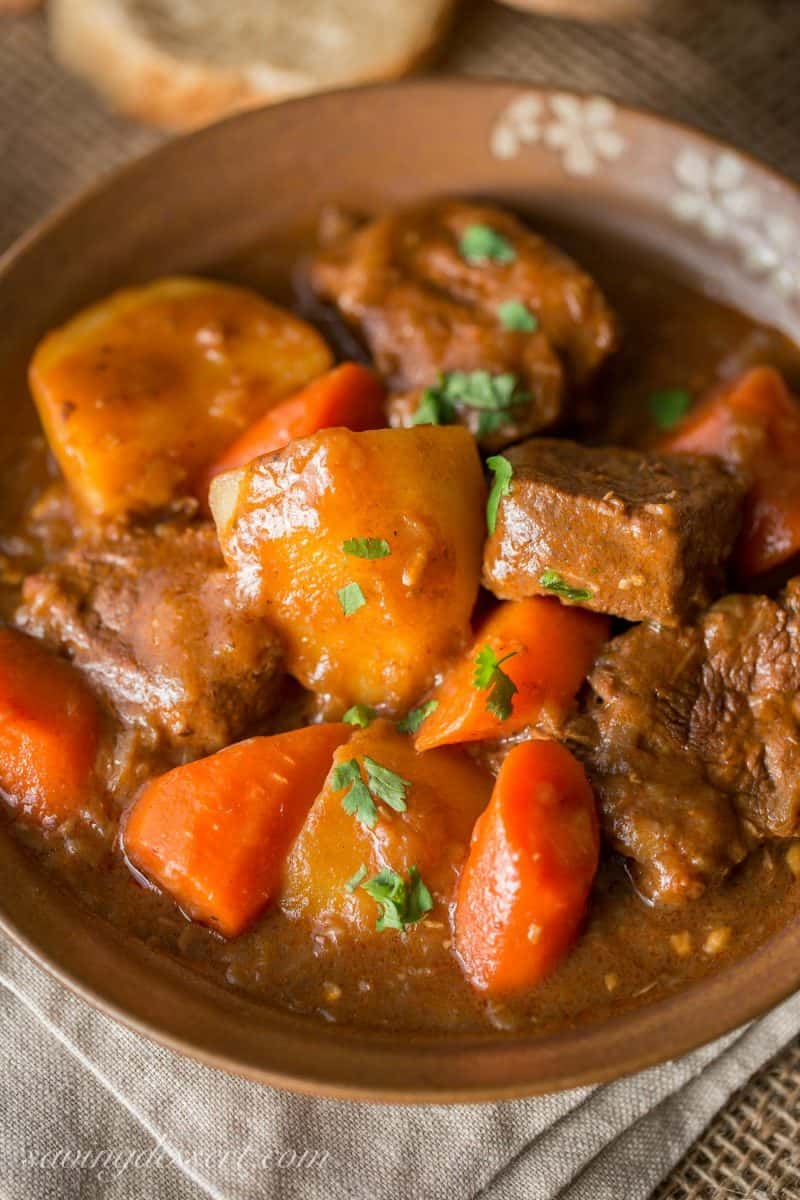 Guinness Beef Stew Recipe – don't wait for St. Patrick's Day to enjoy this amazing stew. You'll love the tender chunks of beef cooked in a rich, thick and flavorful gravy with carrots and potatoes.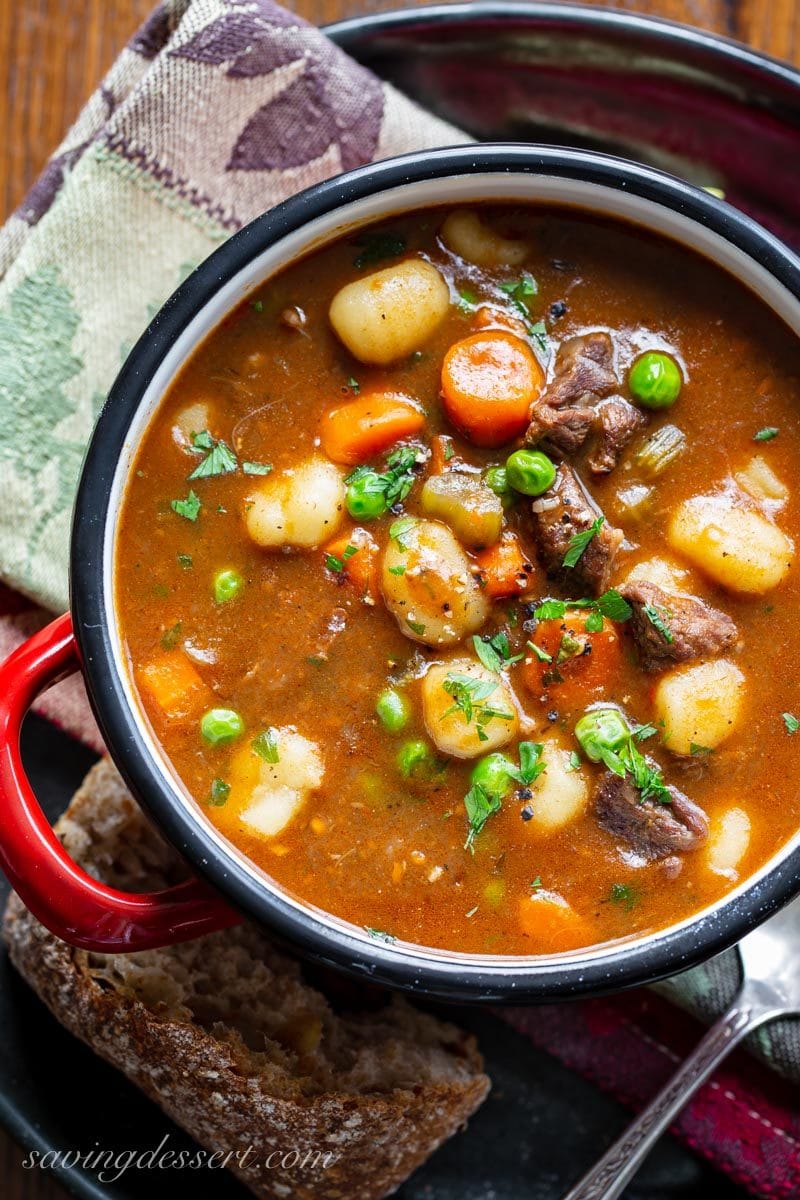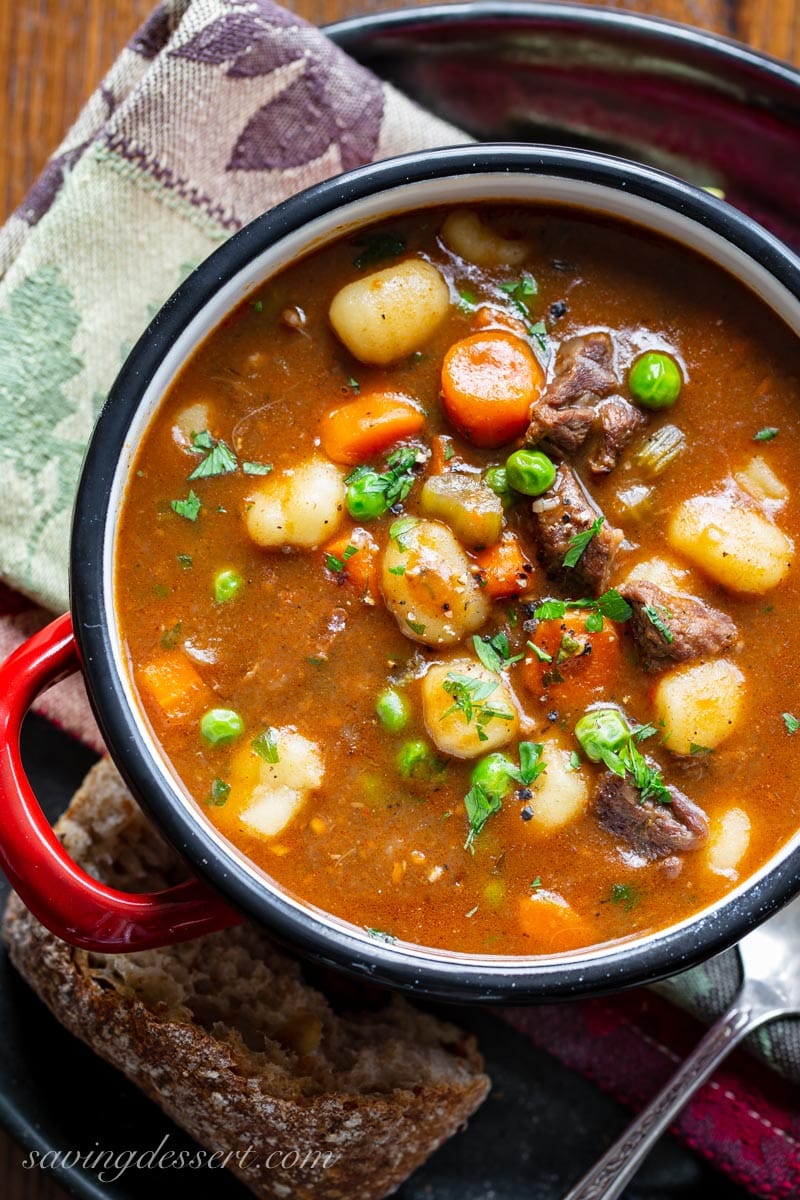 Hearty Beef and Gnocchi Soup Recipe – a warming and delicious chunky soup worthy of an entire meal. Serve with crusty bread to sop up all the delicious broth.
Chunky Vegetable Soup with Smoked Paprika – Fresh hearty vegetables and healthy beans are the stars of this flavorful soup finished with a splash of balsamic vinegar and smoked paprika.
Featured Kitchen Tool: the enameled cast iron Dutch Oven

For sauces, stews, soups, and sometimes even bread, we love to use our enameled cast iron 6 quart round Dutch oven casserole. We own two of the Martha Stewart brand Dutch ovens and have been very happy with their performance. Less expensive than the big name brands, we highly recommend this essential kitchen tool. It cooks evenly, has a tight fitting lid and cleans up beautifully.
Saving Room for Dessert is a participant in the Amazon Services LLC Associates Program ~ I earn a small commission, at no additional cost to you, which I use to pay for web hosting and services for this blog.