This post may contain affiliate links. Please read my disclosure policy.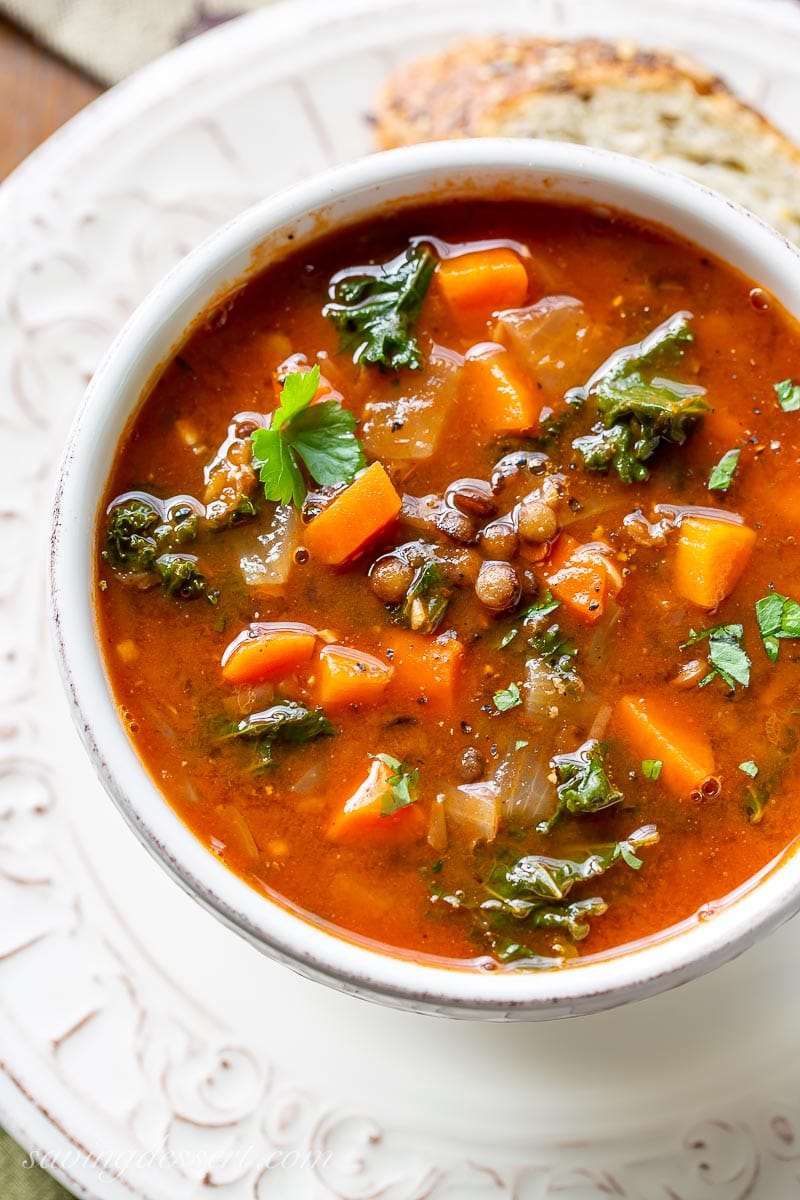 Our quick and easy Lentil Soup Recipe with Kale is healthy and delicious with a surprisingly robust flavor.
This simple lentil soup has been a staple in our house since 2012. It's one of those recipes that surprises me every time I make it. The amount of flavor you get from a few fresh vegetables, tomato paste, vegetable broth and lentils is truly amazing.
For years this has been my go-to recipe when my husband is traveling for work. I can make a pot of this lentil soup recipe and enjoy it all week long, and never get tired of it! Since this is a vegan soup, it will keep in the refrigerator for days and still taste fresh. I really love this soup, and it makes me feel better about the cookies I ate over the weekend 🙂  It's all in the balance – right?
My husband also adores this soup and wishes I'd make it more often, when he's home. It's perfect for lunches too… think meal prep for the entire week!
Are lentils really that good for you?
Lentils are from the legume family and boast a respectable amount of vitamins, dietary fiber, minerals and protein. They're filling, easy to make and inexpensive, so that makes them great for adding to salads, casseroles, soups and stews. Health Magazine named them one of the five healthiest foods in the world. Let's eat more lentils!
How do you store lentils?
Dried lentils will keep for several years if stored in an airtight container in a cool, dark location. Once cooked, lentils should be refrigerated and will stay edible for 5 to 7 days. Cooked lentils freeze well for up to 6 months. As with any dried bean, be sure to wash and pick over the lentils removing debris before cooking.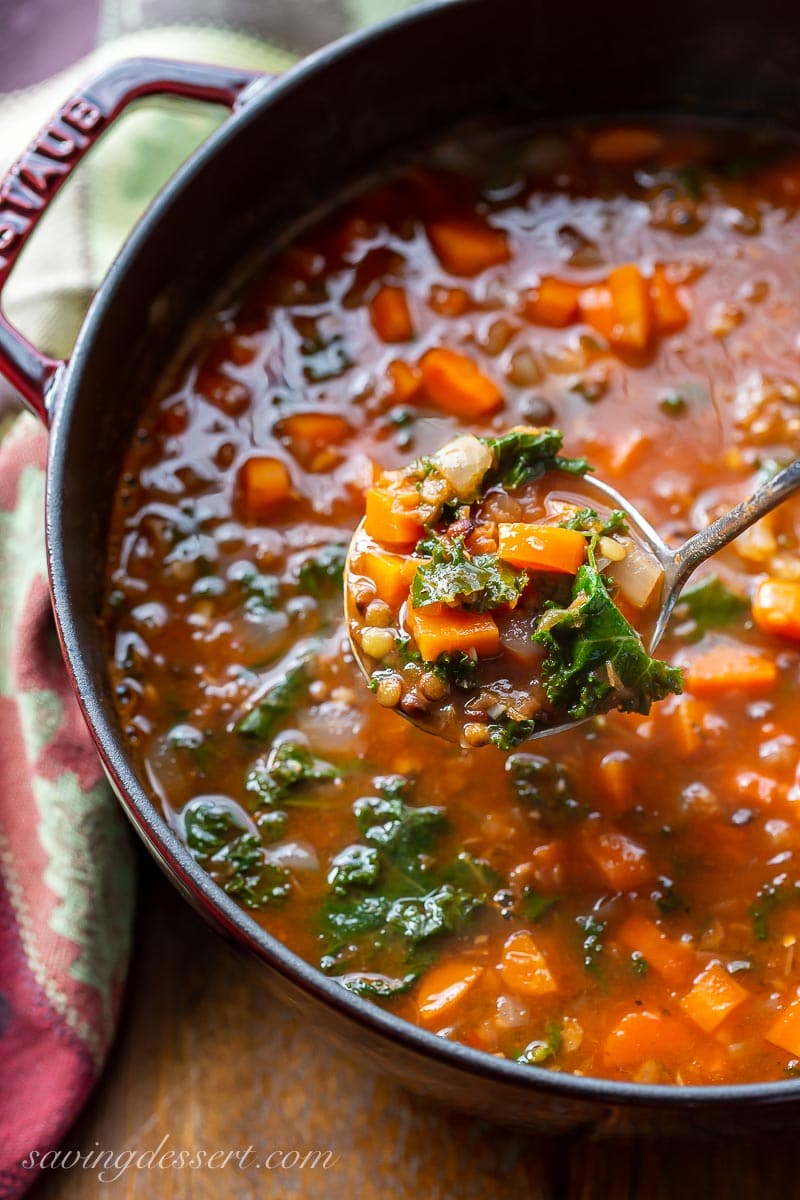 For this lentil soup recipe, we use two varieties of dried lentils.
For our lentil soup recipe we use a combination of red lentils and an equal amount of green, or Puy lentils.
Red lentils
cook quickly, break down easily and have a nice sweet, nutty flavor. Even though red lentils are not the most nutritious powerhouse variety, I love to cook with them anyway. When added to soups and stews they add a delicate texture and flavor we really love.
Puy Lentils
come from the Le Puy region in France and are similar to green lentils, only smaller. Try finding them online if they're not available in your local stores.
This lentil soup with kale is quick and easy to make:
First, sauté the carrots, onion and garlic in a little olive oil.
Add red pepper flakes and fresh thyme leaves and sauté until fragrant.
Pour in the vegetable broth and add the rinsed lentils. Cover and simmer for 30 minutes.
Stir in the remaining ingredients: tomato paste, brown sugar, vinegar, garam masala, black pepper and the chopped kale.
Simmer 10 minutes more or until the kale is wilted.
Serve with a slice of hearty bread and enjoy 🙂
For an easy shortcut, buy pre-washed, chopped kale leaves. You can even use a combination of hearty greens like Swiss Chard, baby kale leaves and/or spinach.  This soup just makes you feel better when you eat it. Try it and see!
Can you freeze this lentil soup recipe?
Our lentil soup freezes very well. I like to portion the soup out into individual size containers and thaw only what's needed overnight in the refrigerator. Rewarm the soup gently in the microwave and serve.
You can also make this lentil soup ahead of time and add kale just before serving. Kale is very sturdy and holds up better than spinach or other leafy greens, making it great for freezing.
A big pot of this healthy soup is like wearing a comfortable old sweater. You know … the one your family threatens to throw away if they ever get their hands on it. Yes, I have an ugly sweater that I love. My family makes fun of me every time I wear it. But they sure do love this soup!
Thanks for PINNING!
Let's be cooking friends! When you try our recipe please feel free to leave a comment on this post. I'm sure your experience and insights will help all our readers, and it helps me too. Also, if you're on Pinterest feel free to leave a comment and photo there if you have one! If you share on INSTAGRAM tag @savingroomfordessert so we can stop by and give your post some love. And we'd be very happy if you'd FOLLOW Saving Room for Dessert on FACEBOOK| INSTAGRAM| PINTEREST | TWITTER  and subscribe to our YOUTUBE channel for all the latest recipes, videos and updates. Thank you!!!
PRINT THE RECIPE!
Lentil Soup Recipe with Kale
Course:
Meatless Main, Soup
Hearty, healthy and loaded with flavor. Freezable too!
Ingredients
1

tablespoon

olive oil

4

medium

carrots, peeled and chopped

(about 1 ½ cups)

1

large sweet onion,

chopped

2

cloves

garlic, minced

¼

teaspoon

crushed red pepper flakes

(more or less to taste)

2

teaspoons

fresh thyme leaves

(or ½ teaspoon dried)

4

cups

vegetable broth

1

cup

water

⅓

cup

dry red lentils,

rinsed

⅓

cup

dry green or Puy lentils,

rinsed

1

(6-ounce) can tomato paste

1

tablespoon

brown sugar

1

tablespoon

white vinegar

½

teaspoon

garam masala

1

teaspoon

fresh ground black pepper

3

cups

kale leaves,

stems removed, cut into bite size pieces

2

tablespoons

minced fresh parsley
Instructions
Pour the olive oil in a large Dutch oven or soup pot. Heat on medium-high until the oil is shimmering. Add the carrots and onion. Sauté for 5 minutes, or until the vegetables are crisp-tender. Add the garlic, crushed red pepper and thyme leaves. Sauté until the garlic is fragrant, about 1 minute.

Add the vegetable broth, water and lentils to the pot. Bring to a boil. Reduce the heat, cover and simmer for 25 to 30 minutes.

Add all remaining ingredients: tomato paste, brown sugar, vinegar, garam masala, pepper, kale and parsley. Return the soup to a boil, then reduce the heat and cook, uncovered, for 10 minutes or until the kale is wilted.

Serve with a dash of hot sauce, if desired. Garnish with parsley.
Recipe Notes
We like the spark of heat from the crushed red pepper. If you don't care for the warmth, start with 1/8 teaspoon or omit.
Use low-sodium vegetable broth, if desired. Also you can use salt-free or low-sodium tomato paste in this recipe. Check the seasoning to ensure you don't need a little salt.
Nutrition information is calculated using an ingredient database and should be considered an estimate. When multiple ingredient alternatives are given, the first listed is calculated for nutrition. Garnishes and optional ingredients are not included.
Nutrition
Calories:
152
kcal
|
Carbohydrates:
25
g
|
Protein:
7
g
|
Fat:
3
g
|
Saturated Fat:
1
g
|
Sodium:
676
mg
|
Potassium:
520
mg
|
Fiber:
8
g
|
Sugar:
6
g
|
Vitamin A:
10643
IU
|
Vitamin C:
48
mg
|
Calcium:
85
mg
|
Iron:
2
mg
Here are a few more of our favorite lentil based recipes: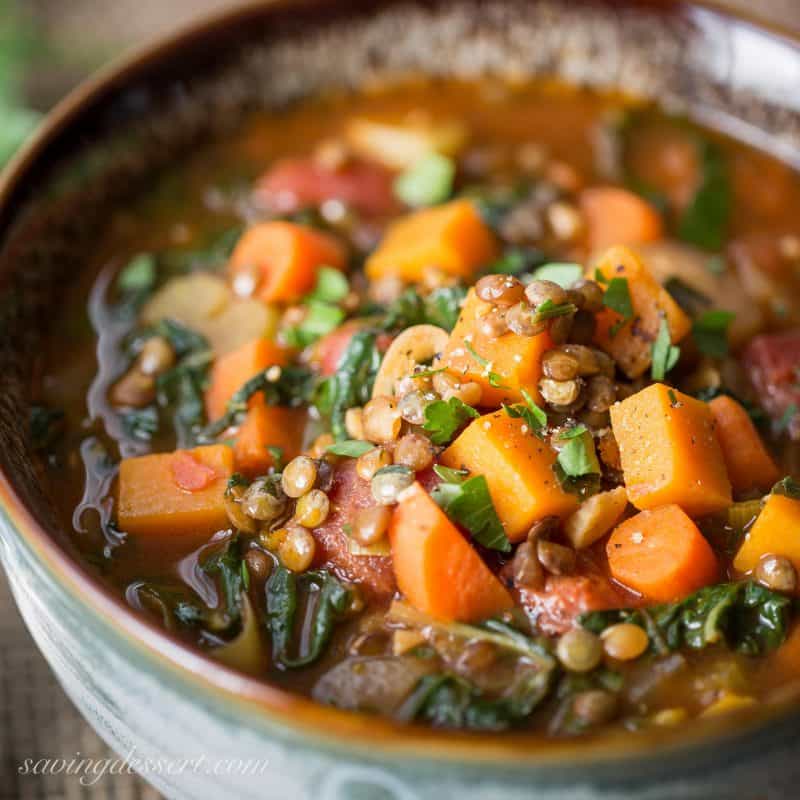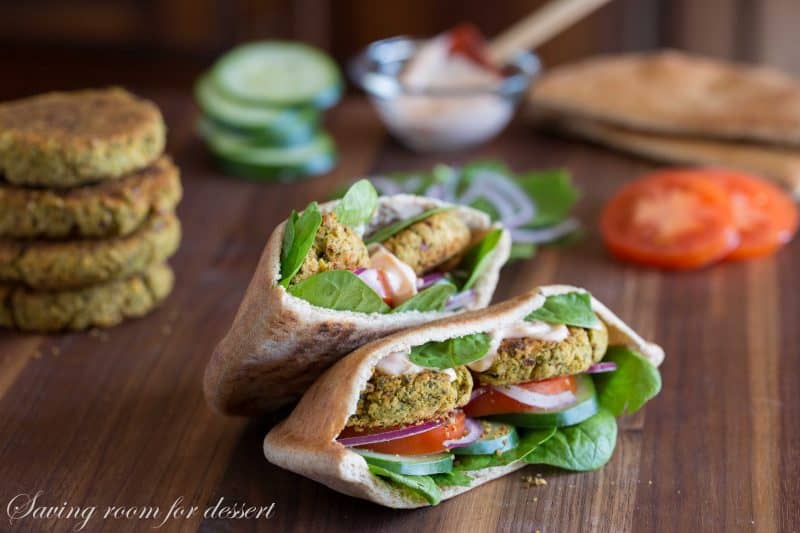 Originally published October 2012, updated March 2020
SaveSave