This post may contain affiliate links. Please read my disclosure policy.
While perusing some of my favorite blogs, I came across a post for a
Lime, Cilantro, Yogurt Sauce
at
The Slow Roasted Italian.
  I was immediately on the path to fajita or taco heaven.  Sometimes the best recipes start with what you have in the fridge.  I had lime, cilantro, sugar and salt, and I always have plain Greek Yogurt so I went on the hunt to find a great turkey taco recipe.  We're still doing the gluten free thing for a few more months (the plan is a six month experiment) so I wanted something made from corn with some delicious crunch and that perfect salty fix.  I picked up our favorite
Food Should Taste Good Multigrain Chips
 and was on my way.
I mixed up the easy cilantro lime sauce and gave it a taste or two, just to make sure.
Yup it's good stuff.
I made a half recipe since it's just the two of us.  It was gone by the next day.  Next time I'll make the whole thing!
For the turkey taco filling chop one jalapeno, cilantro, garlic and half a large red onion.  Add chili powder, cumin, salt and pepper and saute the vegetables and spices together in vegetable oil on medium-low heat until tender.  Add canned tomatoes and the stir in the ground turkey and chicken broth.   I've always used those package spice mixes but I'm here to tell you this smells heavenly!
Gather up some toppings or scoopable vegetables and grate some cheese.  Dinner's done.  Don't forget the cilantro, lime yogurt sauce!  Crazy yummy!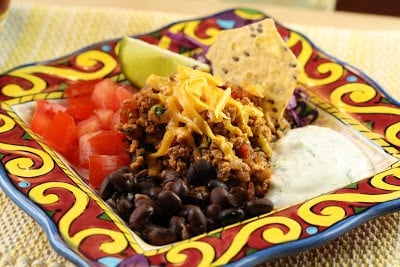 3 tablespoons canola oil
1 medium red onion, chopped
2 cloves garlic, minced
1 jalapeno pepper, seeded and stem removed, minced
1 1/2 tablespoon chili powder
1 teaspoon ground cumin
Sea salt
Freshly ground pepper
3/4 cup chopped canned tomatoes (with juice – about 1/2 14.5 ounce can)
1 pound ground turkey breast
1/3 cup hot water combined with 1/2 teaspoon Better than Bouillon chicken flavor
1/4 cup fresh cilantro, chopped
Add the oil, garlic, onions, jalapeno, and spices to a medium skillet.  Season with salt and cook over medium-low heat stirring occasionally until tender.  Increase heat to medium-high, add the tomatoes and boil to thicken for a few minutes.  Stir in the turkey and chicken bouillon.  Reduce the heat to simmer and cook until thickened but not dry.  Add the cilantro and season with salt and pepper.  Serve on burrito or taco shells or with chips as nachos.
~~~~~~~~~~~~~
Another easy dinner recipe!  Woohoo!  I'm just happy it turned out good.  I've had some pretty big failures in the kitchen lately.  Makes it hard to blog great recipes when you don't have one!  But trust me on this – it's a very flavorful, spicy, delicious taco recipe and that's coming from a girl who has spent years using the "package seasonings."  Well duh, no wonder I love it!  Fresh and made with real ingredients.  What does that mean anyway?  Sorta scary.
Well I'm off to do something constructive and necessary.  Hope you have a wonderful day!  Please come back again and thanks so much for stopping by!