This post may contain affiliate links. Please read my disclosure policy.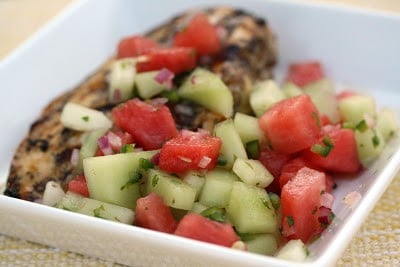 You're going to need this next week.   Really – I wouldn't just say that.  Melon salsa?  Why do I think you'll need melon salsa?  Because the 4th of July is almost here and I know you have a watermelon chilling in the fridge.  And, I know you have at least one extra cup of sweet watermelon you can set aside for this terrific summer salsa.  Watermelon salsa?  Yes, no kidding.  This stuff is amazing!  Fantastic, sweet, refreshing, complex, tangy and perfect served with chips or as a topping for grilled chicken.  I am so pleased with this simple, healthy and delicious recipe.  You gotta give it a try!
Start with basic salsa ingredients:  chopped cilantro, freshly squeezed lime juice, minced onion, a seeded and chopped jalapeno, salt and pepper and mix it up with a little honey, sweetie 🙂  Whisk until blended.  Set aside.
Choose your melon.  Make it a sweet one of course.  Then pick another variety such as cantaloupe,  or honeydew, or both.  I used a lemondrop melon (more about that on Monday.)
Cube the melons and put them in a large mixing bowl.
Toss the melon with the honey lime mixture and serve.  So easy and delicious!
It sounded weird but turned out great.  Don't you love when that happens?
1 cup seedless watermelon, cubed
1 cup lemondrop melon, cubed
   (or cantaloupe, or honeydew, or both)
1/4 cup diced red onion
1 jalapeno pepper, seeded and diced
1 heaping tablespoon minced fresh cilantro
1 tablespoon honey
Juice of one lime (about 1 tablespoon)
dash of salt and pepper
In a small bowl combine the lime juice and honey.  Whisk until blended.  Add the onion, jalapeno, cilantro, salt and pepper.  Mix and set aside.  Combine the watermelon and other melon in a large mixing bowl.  Pour the lime honey mixture into the bowl and fold to combine.  Serve with chips, or grilled chicken or as a fruit salad.
~~~~~~~~~~
Thanks so much for stopping by!