This post may contain affiliate links. Please read my disclosure policy.
The 
American Pie Council
 is a professional organization dedicated solely to "preserving America's Pie heritage and promoting America's love affair with pies."  Anyone who loves pie can be a member.  As a lifetime member you gain access to recipes, marketing and research.  The APC also hosts the national pie championship in which amateur, professional and commercial bakers compete for the best pies in the country.  While I have never entered their annual championship, I am a member of the organization.  I once won a Blue Ribbon for an apple pie in a local county fair so I often dream about competing again.
A few weeks ago I received an email from The American Pie Council reminding me that National Pie Day is coming up on January 23, 2014.  They "encouraged members and pie lovers everywhere to teach someone to make a pie in honor of this special day.  Passing on the tradition of pie making in an important part of our culture and a mission of The American Pie Council."
Inspired by the American Pie Council's great suggestion, I talked my daughter Allie into letting me teach her to make a pie.  To be honest she is not a big pie lover but will eat chocolate pecan once a year.  I've always loved to bake pies, as I guess you know, so it meant a lot to me that she said yes!
Have you ever read the book, or seen the movie, 
The Help
?  Allie and I loved the movie and I devoured the book too.  The ending hinges on a secret involving a maid named Minny and her famous chocolate pie.  I won't ruin the plot so if you haven't seen it or read the book, you really should!  It's a lovely story.  During the filming in Greenwood, Mississippi a local newspaper columnist, Lee Ann Flemming, baked 53 chocolate pies that were used in the movie.  This is Ms. Flemming's recipe as published in 
Food & Wine
.
Allie made her first pie crust!  Getting used to a rolling pin does take a little practice – but she nailed it!
Once rolled and trimmed, you can fold the dough in half and then in half again.  This is an easy way to get the dough into the pie plate without tearing or stretching the dough.
Once in the pie plate, unfold the dough …
… and unfold again until it is hanging over on all sides.  Ease the dough into the bottom and sides of the pie plate taking care not to pull and stretch the dough.
Next trim the excess dough using kitchen shears.
Fold the dough under around the rim of the pie plate.  Press gently.
Create a decorative edge by pinching the dough between your fingers or use fork tines to create a flat edge.
This is a pre-baked pie crust or blind baked (baked before filling) so Allie used a fork to prick the crust.  Making small holes in the crust keeps it from bubbling up.
Perfect!
Line the pastry with foil or parchment paper and fill with pie weights or dried beans.  Bake for 15 minutes or until set.  Remove the beans or weights and bake another 5 minutes or until the crust is dry but not brown.
While the crust is baking Allie mixed up the filling.  This is a great first pie using normal pantry ingredients all in one bowl.  (Did I also mention it's delicious?)
Whisk together the sugar, cocoa, butter, eggs, evaporated milk, vanilla and salt.
Look at that whisk action!
Pour the filling into the pre-baked crust and bake 45 minutes.  Cover the edges of the crust with foil to prevent over-browning.
With my daughter over for a nice long visit (pie extravaganza) that also means I get to spend a few wonderful hours with my grandson Isaac.  He kept reaching for the fruit bowl so I put it on the floor for him.
Isaac's just starting to talk and learned to say "apple."  He is so proud to be holding an apple and telling us what it is.   It sounds more like APP-PA instead of apple but he'll get it.  And he loves to eat apples – that's the best part!
App-pa, app-pa, app-pa.  I almost forgot what a miracle it is to watch them learn and grow right before your eyes.  So special!
Congratulations Allie on your first pie!  It's lovely and you did it all by yourself 🙂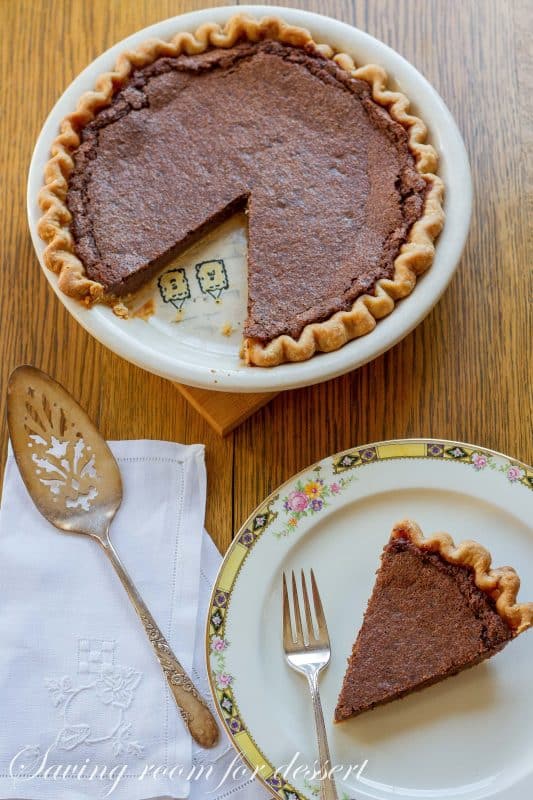 This fudgy pie was a big hit, just like in the movie.  Everybody loved the flaky crust and creamy sweet middle.  I can tell this will be a family favorite for years to come.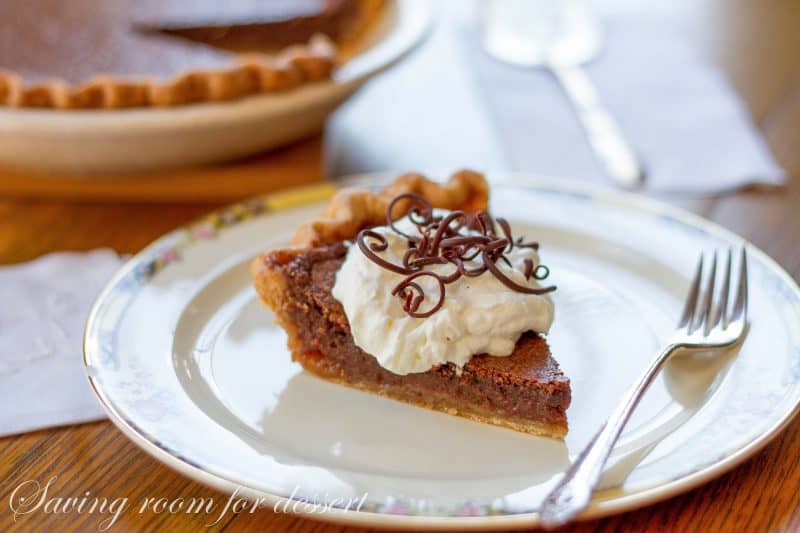 Served with a little sweetened cream and chocolate curls, this classic chocolate pie won't last long in her house.  I know her husband won't mind if she makes it again.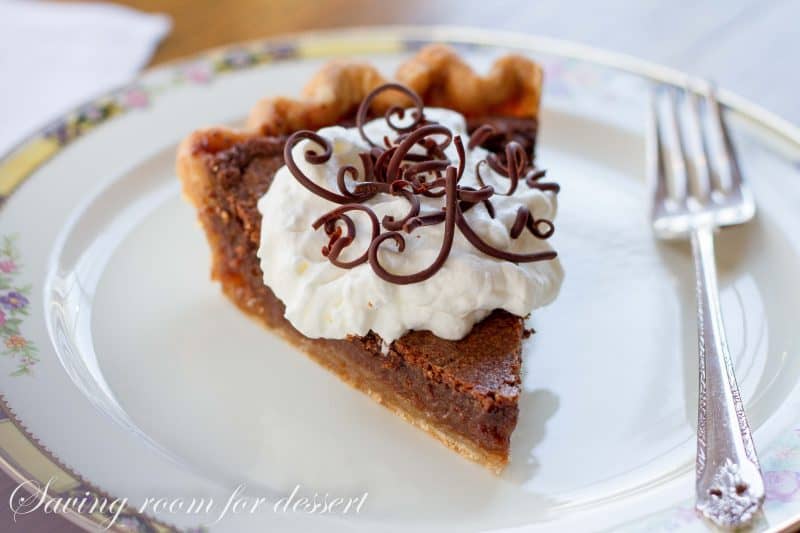 And I feel pretty happy that I was able to share my pie-ability with my favorite daughter.  Thanks for baking with me Allie – I love you lots!
Thanks for PINNING!

Minny's Chocolate Pie
Total Time:
1

hour
5

minutes
"That" famous chocolate pie from the movie "The Help"
Ingredients
1

recipe for Perfect Pie Crust

(see notes for link)

1 ½

cups

granulated sugar

3

tablespoons

unsweetened cocoa powder

4

tablespoons

unsalted butter,

melted

2

large eggs,

beaten

¾

cup

evaporated milk

1

teaspoon

pure vanilla extract

¼

teaspoon

salt

Whipped cream for serving
Instructions
Preheat oven to 350°F. Place the prepared pie dough on a lightly floured work surface. Roll out to fit your pie pan. Crimp the edges and prick the dough with a fork. Refrigerate for 30 minutes.

Line the pie crust with foil or parchment paper. Add dried beans or pie weights to the pie and bake for 15 minutes. Remove the foil and beans and bake for 5 minutes longer, until the crust is dry but not browned.

While the crust is baking, prepare the filling. In a large mixing bowl whisk together the sugar, cocoa powder, butter, eggs, evaporated milk, vanilla and salt until smooth.

Pour the filling into the pre-baked pie shell and bake for 45 minutes, or until the filling is set around the edges but a little jiggly in the center. Cover the crust with strips of foil halfway through baking to prevent over-browning. Cool the pie on a rack before cutting. Serve with whipped cream.
Recipe Notes
Click HERE to get the recipe for our Perfect Pie Crust in 3 easy steps (with VIDEO)
Nutrition information is calculated using an ingredient database and should be considered an estimate. When multiple ingredient alternatives are given, the first listed is calculated for nutrition. Garnishes and optional ingredients are not included.
Nutrition
Calories:
346
kcal
|
Carbohydrates:
51
g
|
Protein:
5
g
|
Fat:
14
g
|
Saturated Fat:
7
g
|
Polyunsaturated Fat:
1
g
|
Monounsaturated Fat:
5
g
|
Trans Fat:
1
g
|
Cholesterol:
63
mg
|
Sodium:
202
mg
|
Potassium:
140
mg
|
Fiber:
1
g
|
Sugar:
40
g
|
Vitamin A:
292
IU
|
Vitamin C:
1
mg
|
Calcium:
77
mg
|
Iron:
1
mg
(Recipe adapted from Food & Wine by Lee Ann Flemming)
What's your favorite pie?  Sweet or savory?  I don't know if I could pick one favorite but anything with fruit would have to be at the top of my list.  Chocolate pies in any form are wonderful too and Lemon pies are pretty phenomenal.  So many pies, so many recipes!  Have a wonderful week and thanks so much for stopping by!
SaveSave