This post may contain affiliate links. Please read my disclosure policy.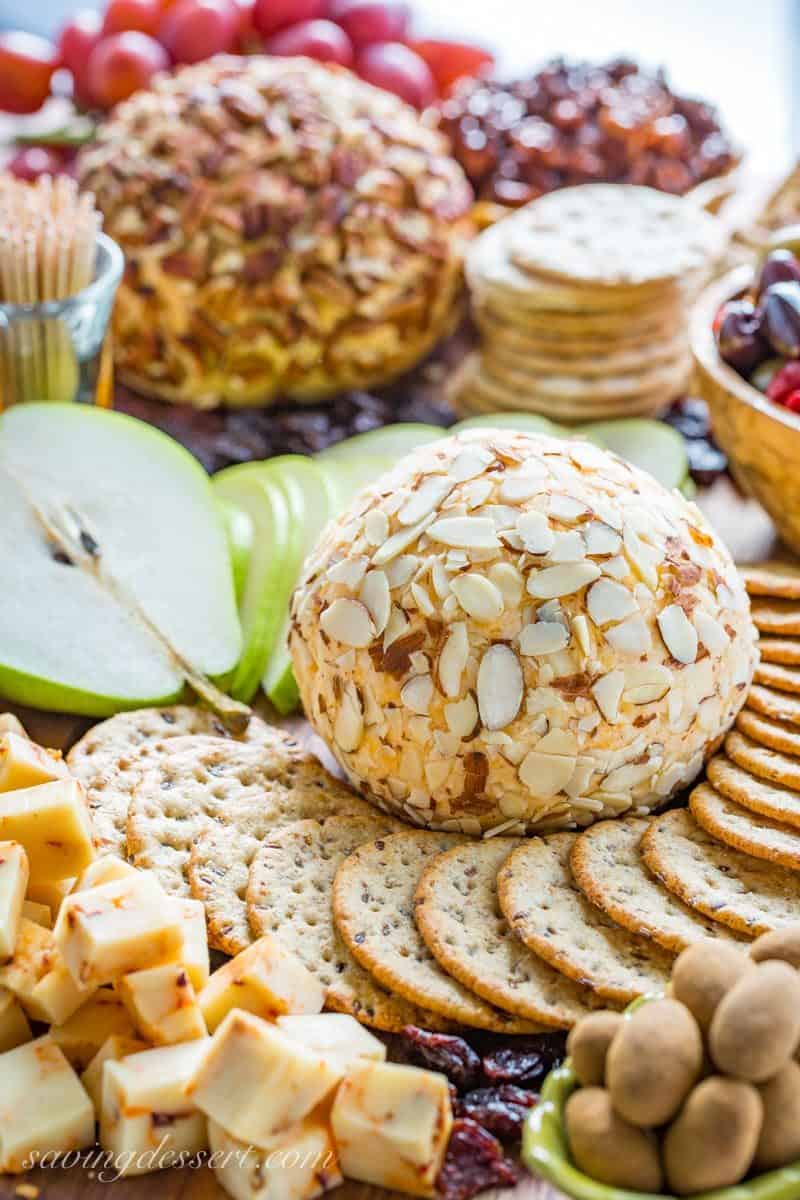 Mom's Party Cheeseball ~ every party needs an easy and delicious cheese ball!
There's nothing like the combination of mild, medium and sharp cheddar cheeses, all blended together with cream cheese and a few seasonings to please a hungry snacking crowd! This easy make-ahead appetizer holds up wonderfully for hours and is perfect served with crackers, bread, fruit and nuts.  And, if you're lucky enough to have leftovers, just try it on a grilled cheese sandwich – oh my!
Growing up in the TV dinner generation.
I'm a wonderful "middle" child with four siblings – two older, and two younger. We all grew up in the TV dinner generation. If you don't know what a TV dinner is, then never mind, I feel old.  The last 50 years has witnessed tremendous change in they way we all live, work, play and eat. Electronic everything.  But, I digress.
Way back when I was young, it was a real treat for us to pick out our favorite TV dinner and eat it in our rooms while mom and dad entertained.  People don't have parties like they used to.  My mom must have been some sort of Wonder Woman to be able to raise 5 kids, do laundry, clean, make school lunches, cook dinner every night, and host some pretty extravagant dinner parties for our dad's clients and co-workers.  She used the good china, made all the food (without instant Google help), and dressed up in floor length dresses, some she even made herself on her sewing machine.   When mom and dad entertained we all had to stay in our bedrooms, and could only come out to use the bathroom. Do people still dress up and have grownup parties anymore?
This party cheese ball is perfect for parties, luncheons, holidays, tailgating and weekend get togethers.
At all these lovely parties, events and family gatherings, mom always made her easy-peasy cheese ball to serve to her guests.  She's been gone 25 years but I still have her hand written recipe card with the "little of this, little of that" style of writing when it came to seasonings.  I don't think my readers would be happy if I left the instructions vague when it comes to measurements, so I researched similar recipes (on the internet and in cookbooks) and came up with a winner that would make mom proud!
Roll you party cheese ball is your favorite toppings.
Mom's original recipe suggests rolling the cheese ball in chili powder, nuts or parsley.  I love the colors the chili powder and parsley give the cheese balls, but since I had nuts on hand, that's what I used.  This recipe makes 2 small or 1 large cheese ball, but the small cheese balls are still pretty big. You can easily cut this recipe in half or divide the cheese mixture into three 8-inch logs each rolled in a different topping for a beautiful display. Grab a couple of packages of good tasty crackers, a sliced baguette, candied nuts, and an assortment of fresh and dried fruits for a complete and hearty party platter!
Thanks for PINNING!
Let's be cooking friends! When you try our recipe please leave a comment on this post. If you loved this recipe we'd appreciate a 5-star rating! Sharing your experience, variations and insights will help all our readers, and it helps me too. If you're on Pinterest feel free to leave a comment and photo there if you have one. If you share on INSTAGRAM tag @savingroomfordessert so we can stop by and give your post some love. And we'd be very happy if you'd FOLLOW Saving Room for Dessert on FACEBOOK| INSTAGRAM| PINTEREST | TWITTER  and subscribe to our YOUTUBE channel for all the latest recipes, videos and updates. Thank you!!!
PRINT THE RECIPE!
a deliciously easy cheesball that keeps well and easily made ahead
Ingredients
1

(8-ounce)

package cream cheese, room temperature

1

(8-ounce)

package sharp or intense (white)cheddar cheese, shredded

1

tablespoon

Worcestershire Sauce

½

teaspoon

granulated garlic (or garlic salt)

dash of cayenne pepper

2

tablespoons

mayonnaise

1

(8-ounce)

package medium cheddar cheese, shredded

1

(8-ounce)

package mild cheddar cheese, shredded

1

cup

toasted, chopped nuts for rolling
Instructions
Combine the cream cheese and 8-ounces of the cheddar cheese in the bowl of a food processor, or stand mixer fitted with the paddle attachment. Add the Worcestershire Sauce, garlic, cayenne and mayonnaise. Process until well blended. Add another 8-ounces of the cheddar cheese and process again until mixed well. Remove the cheese mixture to a large bowl and add the remaining 8-ounces of shredded cheddar. Blend using a wooden spoon until combined. Divide the cheese ball in half and wrap each in a large sheet of plastic wrap. Twist the extra plastic wrap together at the top, forming the cheese into a ball. Refrigerate until firm, about 2 hours.

When ready to serve, roll the cheese ball in chopped toasted pecans, sliced almonds, chopped parsley, or chili powder.
Recipe Notes
Cheese balls can be made up to two days in advance.  Roll in toasted nuts just before serving.  
Cheese balls may be rolled in toasted nuts, chili powder or chopped parsley.
Allow the chilled cheese ball to come to room temperature (about 1 hour) before serving.
Serving Suggestions:  Crackers, pickles, olives, grapes, toasted nuts, candied nuts, toasted baguette slices, pickled peppers, or dried fruit
We love making this recipe in our workhorse of a food processor – click on the photo for more information:
If you decide to purchase something at Amazon after following my affiliate link, I receive a small commission, at no additional cost to you, which I use to pay for web hosting and services for this blog.
If you're looking for more deliciously easy ways to entertain, try our Buffalo Chicken Roll Up Appetizers or this recipe for Mini Cheese Quiche for simple make-ahead finger-friendly appetizers. Parties need plenty of cheese so check out this great roundup of drool-worthy Baked Brie Recipes from The View from Great Island. I love these pretty Spring Herb Cream Cheese Appetizer Cups from Rachel Cooks, and if you're looking for something a little sweet, don't miss this Caramel Apple Cream Cheese Spread Recipe from She Wears Many Hats.
Thanks so much for stopping by!
Tricia