This post may contain affiliate links. Please read my disclosure policy.
Soft in the middle and chewy on the edges

Old-Fashioned Iced Oatmeal Cookies – a walk down memory lane!
These delicious Old-Fashioned Ice Oatmeal Cookies are so much better than the cookies of my childhood. They're soft in the middle, chewy around the edges, they're not overly sweet and have notes of cinnamon and nutmeg. This is a really terrific cookie!
Do you remember Iced Oatmeal Cookies from your childhood?
I was thinking about when I was a kid and how it was a special treat to get a store bought cookie, cake, or candy bar. We started getting Little Debbie
Oatmeal Cream Pies
in our lunches in later years. But being one of 5 kids, hand-me-downs were the norm and we didn't waste money on things we didn't need.
I also remember 
Mother's Iced Oatmeal Cookies
 that came in the bright blue and red package and each cookie was perfectly shaped, crisp and delicious. It's interesting that home-made is now the 'special treat' and store-bought anything is the norm.
As I'm from the baby-boomer generation, I still remember when we installed our first push button telephone. (I was a very, very, very young girl.) I was so young that I didn't really have any friends to call at the time. We just jumped on our bicycles and road over to their house if we had something to discuss. But I wanted to call people just to use the new phone with the raised plastic numbers and lighted background.
We often regale our grown children with stories of what life used to be like without microwaves, Internet, cable, email, Facetime or hands-free anything. Technology is amazing and the pace with which it's being developed is nothing less than astonishing.
Overview of ingredients
For the cookie dough:
rolled or old-fashioned oats
all-purpose flour
baking powder
baking soda
salt
cinnamon
nutmeg
unsalted butter
light brown sugar
eggs
vanilla extract
For the icing:
milk, cream or water as needed for the desired consistency
powdered sugar
Overview: How to make our Iced Oatmeal Cookies recipe
First, prepare the cookie dough:
Pulse the oats in a food processor to achieve a variety of textures. Combine the oats with the flour, baking powder, baking soda, salt, cinnamon and nutmeg. Set aside.
In a separate bowl beat the butter until creamy, then add the sugars. Beat until light and fluffy. Add the eggs one at a time, then pour in the vanilla.
Blend in the dry ingredients.
Form into dough balls and bake.
Next prepare the icing:
Mix the ingredients together until you have a thick, but pourable icing. Dip the tops of each cooled cookies into the icing just enough to give them a glaze. Let the excess drip off and place on a wire rack until set.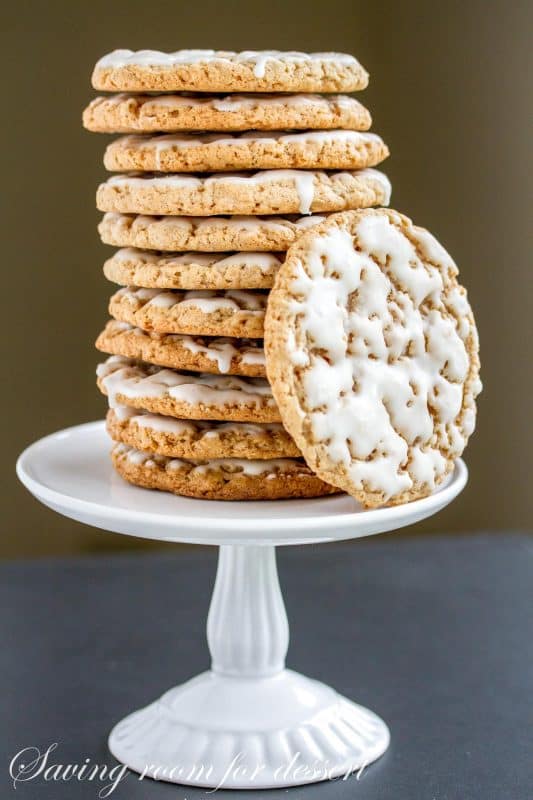 The reviews are in! Old-Fashioned Iced Oatmeal Cookies are everybody's favorite.
These homemade Iced Oatmeal Cookies are so much better than store-bought. They have the perfect texture and just the right amount of icing.
The craggy top has great visual appeal, too. These cookies don't last long!
We love the craggy top for great visual appeal
Dipping the tops of the cookies in icing gives them that authentic old-fashioned iced oatmeal cookie signature look. The thick icing doesn't seep to the cracks and crevasses, and looks amazing!
Can you freeze Iced Oatmeal Cookies?
These cookies freeze beautifully and will keep well sealed in an airtight container for up to 3 months. You can freeze them with or without the icing.
Place sheets of wax paper or parchment between the layers and make sure the icing is set. Pop them in the freezer and enjoy! Make-ahead cookies perfect for any occasion,
Thanks for PINNING!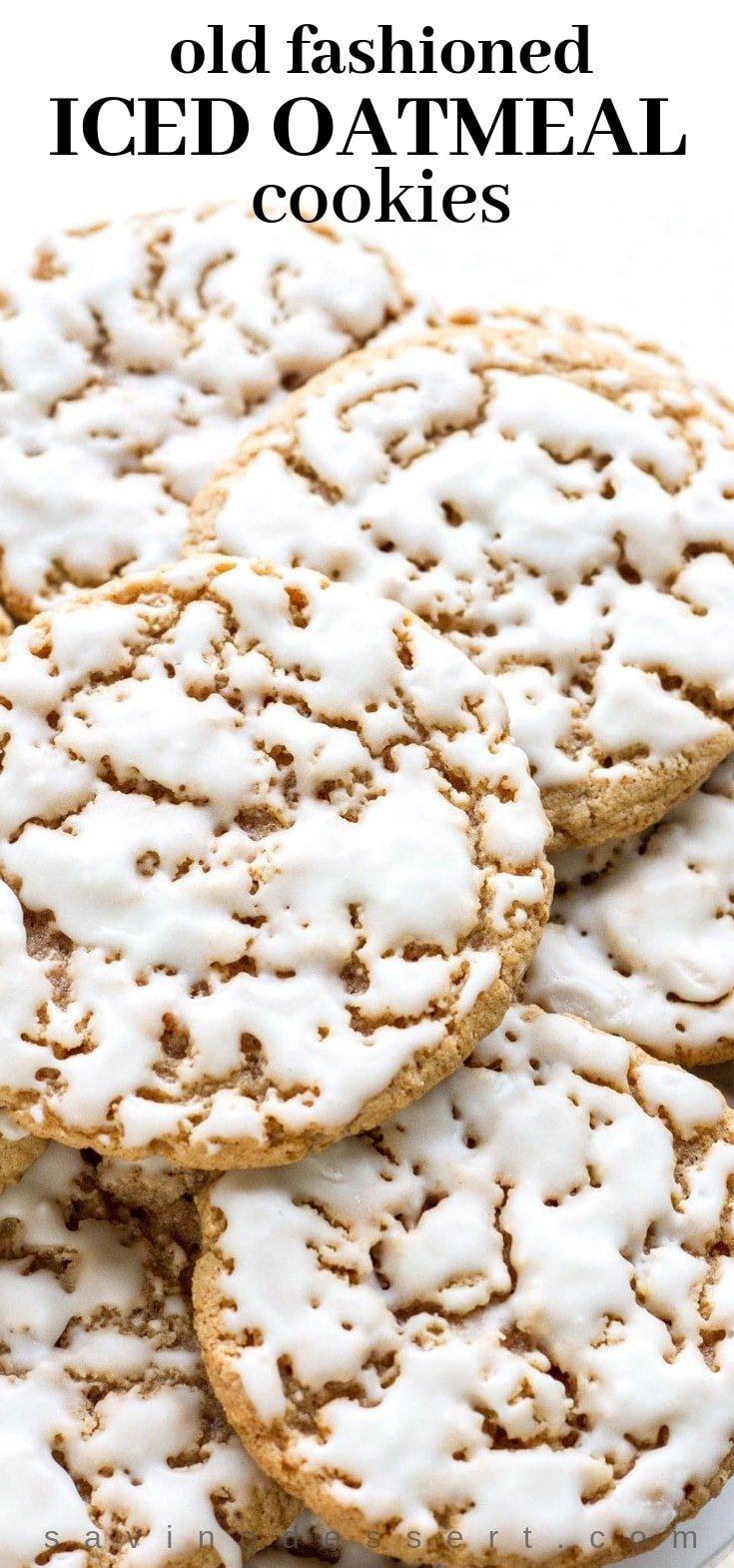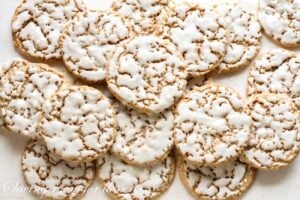 Old-Fashioned Iced Oatmeal Cookies
The classic cookie with great flavor and textures
Ingredients
For the cookie dough:
2

cups

old-fashioned rolled oats *

(160g)

2

cups

all-purpose flour

(252g)

1

tablespoon

baking powder

½

teaspoon

baking soda

½

teaspoon

salt

2

teaspoons

cinnamon

½

teaspoon

ground nutmeg

1

cup

unsalted butter

room temperature (16 tablespoons or 226g)

1

cup

light brown sugar

packed (226g)

½

cup

granulated sugar

(110g)

2

large eggs

room temperature

1

teaspoon

vanilla extract
For the icing:
2

tablespoons

milk

cream or water (more or less as needed for desired consistency)

2

cups

powdered sugar

(230g)
Instructions
Preheat oven to 350°F. Prepare 2 baking sheets lined with parchment paper.
To prepare the cookie dough:
Add the rolled oats to a food processor and pulse 10 times. Don't over process because you want a variety of textures not just a ground oat flour. In a large mixing bowl combine the oats, flour, baking powder, soda, salt, cinnamon and nutmeg. Whisk or stir to combine. Set aside.

In the bowl of a stand mixer beat the butter on medium-high about 30 seconds. Add the brown and granulated sugars and mix on medium-high until the batter lightens and becomes fluffy. Add the eggs, one at a time, beating just until the yolk disappears into the batter. Lightly beat in the vanilla. Add about ⅓ of the oat and flour mixture to the butter and egg mixture, mixing on a low speed just until blended. Continue adding the flour mixture until fully incorporated.

Using a 2 tablespoon size ice cream or cookie scoop (not heaping - leveled straight across the top of the scoop), roll the dough into balls and place on the prepared baking sheet at least 2-inches apart. Bake for 10-12 minutes or until the bottoms just begin to brown. Do not over-bake.

Remove the pan from the oven and let the cookies rest for 5 minutes before removing to a rack to cool completely.
To prepare the icing:
Combine the powdered sugar with the milk. Whisk until the sugar is dissolved and the icing is somewhat thick. Place the icing in a shallow dish or container, about 4x4 inches. Quickly dip the tops of the cooled cookies into the icing and let the excess drip off. Set the dipped cookie on the rack until the icing has set.

Store the cookies in an airtight container at room temperature or in the refrigerator.
Recipe Notes
*NOTE: This recipe has only been tested using Old-Fashioned Rolled Oats processed in a food processor for the combination of textures that appear above. Do not substitute quick oats or oat bran for the rolled oats.
IMPORTANT: I've had many comments that the cookies did not spread and create the cracks like those in the photos. Be careful not to over-process the oats. Pulse quickly, do not make oat flour. The texture is created by having chunkier oats not powdery oats.
Tips for the icing: due to varied humidity and seasonal changes, you may need more or less milk or powdered sugar. The icing should stick but not runny when you dip the cookie. If it's too thick it will not adhere to the cookie at all. 
You can use water in the icing if preferred, but it looks thin and not as white. 
Adapted from a recipe posted on Mother Thyme
Nutrition
Calories:
183
kcal
|
Carbohydrates:
29
g
|
Protein:
2
g
|
Fat:
7
g
|
Saturated Fat:
4
g
|
Polyunsaturated Fat:
1
g
|
Monounsaturated Fat:
2
g
|
Trans Fat:
1
g
|
Cholesterol:
27
mg
|
Sodium:
108
mg
|
Potassium:
47
mg
|
Fiber:
1
g
|
Sugar:
18
g
|
Vitamin A:
207
IU
|
Vitamin C:
1
mg
|
Calcium:
40
mg
|
Iron:
1
mg
Finally, here are a few more oatmeal cookie recipes you might also enjoy:
Finally … I was wondering … what's the very first 'cool technology' thing you remember?
If you say an iPhone I'm going to feel old! A few of the other things I remember coming along were fax machines, Federal Express, memory and correcting typewriters.
I actually had one of the early cell phones. You know the giant ones that mounted in your car? I also remember it was $.25 a minute and there were no usage plans!
Back in the day we relied heavily on our pagers and used cell phones to check messages. If I needed to return a call, I would run to a pay phone instead of racking up the cell phone bill.
Sheesh – it's so much easier now.