I love the idea of making a cookie recipe that's been around for hundreds of years.   According to what I've read, Linzer Cookies were based on the "
Linzertorte
 one of the oldest known tarts with a recipe discovered in an Austrian abbey around 1653."  This recipe can be made with almond flour, hazelnut flour or pecan meal and the filling can be anything from raspberry jam, apricot jam, or even chocolate praline.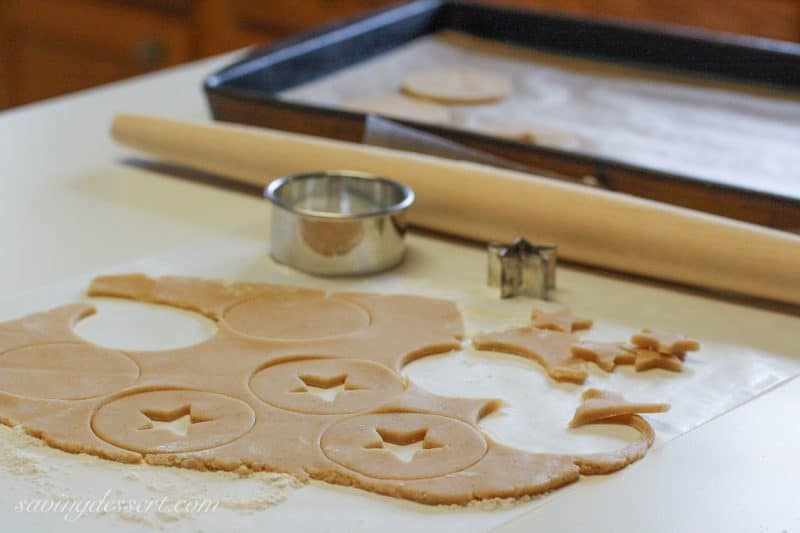 Roll the dough on a floured piece of waxed paper.  Cut half the cookies with with a design in the center and the other half plain.
Bake at 375 degrees for about 8 minutes.
Once cool spread jam on the solid cookies.
Lightly dust the cookies with the cut out centers with confectioners' sugar.  "Lightly" is a relative term and I didn't pay much attention to it.  I think my light dusting of snow turned into a blizzard.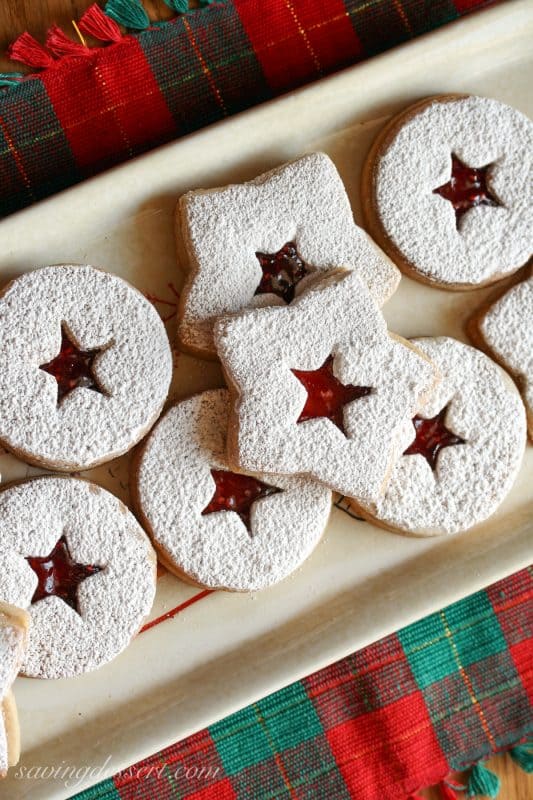 OK I do have a few snow drifts as I was carried away with the sugar dusting.  You don't need this much but it didn't affect the taste – they were still delicious!
When I make these again some day I will make a thinner cookie, use more jam for the filling (I accidentally picked up preserves) and LIGHTLY dust the cut out tops with confectioners' sugar.  These cookies were even better after they had a chance to sit overnight.  The slight hint of cinnamon and the sweetness of the jam/preserves was wonderful!
Old World Linzer Cookies
A lovely butter cookie with hints of cinnamon and lightly sweetened with jam
Ingredients
1 cup unsalted butter, room temperature
½ cup granulated sugar
1 cup confectioners' sugar
1 teaspoon baking powder
½ teaspoon salt
1 teaspoon ground cinnamon
2 teaspoons vanilla extract
1 cup almond flour
2¼ cup unbleached all-purpose flour
1 large egg
1 cup seedless raspberry or apricot jam (maybe Nutella?)
confectioners' sugar for dusting (lightly)
Instructions
In a large mixing bowl, beat the butter, sugars, baking powder, salt, cinnamon and vanilla until blended.  Mix in the almond flour, flour and egg.  Mix just until all ingredients are incorporated.
Divide the dough in half and wrap in plastic wrap.  Refrigerate at least 1 hour or overnight.
To bake, preheat oven to 375 degrees.  Roll the dough on a lightly floured piece of wax paper to ⅛" thick. Cut the dough into shapes with linzer cookie cutters.  Use a small cutter to cut a design out of the center of half the cookies.  Bake the cookies on a parchment lined baking sheet for 8-10 minutes, or until lightly browned around the edges.  Cook completely on a wire rack.
Spread the solid cookies with jam.  Lightly sift confectioners' sugar on the cookies with the cutout centers.  Place the cutout cookie on top of each filled cookie.  Let them stand for several or until the filling is set.
Store in an airtight container.
(Adapted from a recipe by King Arthur Flour)
I just realized it's been a long time since we had a grandson update!  Isaac is almost 10 months old and growing like a weed.  He is still a very happy boy and a joy to be around.  Isaac sat at the grown up table for Thanksgiving and is ready for his very first Christmas.
And since my Traveling husband is the photo instructor in our house, we took a field trip / training session to shoot some decorations last night.  Night shooting is very different from cookie photos so the expert instruction was greatly appreciated.  Our son Patrick and his new bride Callie also brought their cameras for tips from our master teacher.  The newlyweds are doing great!
I think Traveling Husband needs to do another photo tip post!  He did a pretty great job on this photo and boy was it cold!  Winter has arrived in Virginia – now all we need is snow.
Hope you had a wonderful Thanksgiving and may all your gifts be on sale!  Thanks so much for stopping by.