This post may contain affiliate links. Please read my disclosure policy.
Peanut Butter Fudge Ripple Ice Cream – a luscious vanilla ice cream base with a thick peanut butter fudge ripple throughout.
I'll make this quick; I need to go lay down.  We spent the entire day working in the garden – weeding, planting, and using muscles that have been dormant since last fall.  I had NO idea I was this out of shape.  I workout occasionally on the treadmill and walk the neighborhood with our dogs, but apparently I haven't used gardening muscles in a long, long time.   By the time you read this, I may have gone back to bed, or just stayed there because I can't move.
All that yard work deserves a big scoop of ice cream … yes?  Yes!
A scoop of rich vanilla with a ribbon of peanut butter fudge ganache completely heals sore muscles.  Not really, but I can dream.  This recipe was inspired by a failed recipe for Samoa girl scout cookies.  I had left over chocolate ganache and didn't want to throw it out.  I wondered how it would do in the freezer so I drizzled the cooled chocolate into an almost empty container of vanilla ice cream.  An idea was born and this ice cream delivered.  I decided to add peanut butter to the chocolate ganache to ensure a good creamy, frozen consistency in the ripple. The peanut butter is optional so you can leave it out and still have a fabulous fudge ripple ice cream.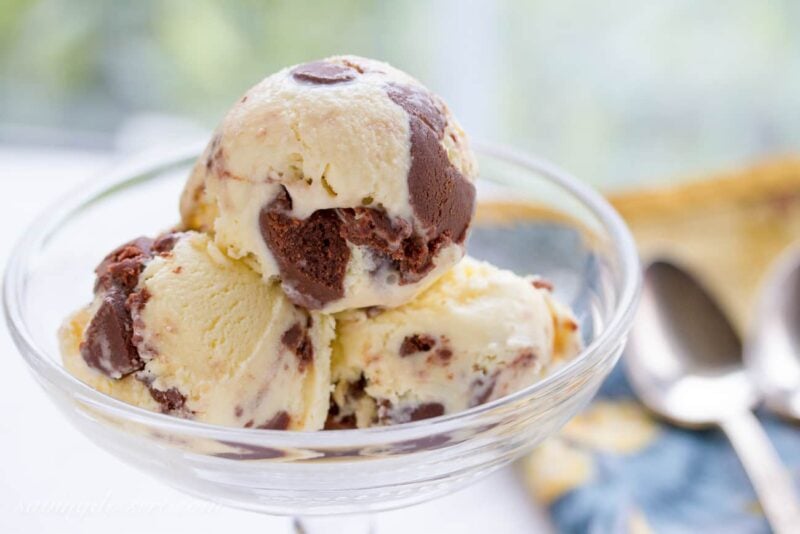 Did I mention we picked asparagus this morning?  What a thrill because you can only harvest in the second year and the years thereafter.  With the winter we've had I was worried it didn't survive.  We lost our rosemary bush but it was too big anyway.  Today I planted red onions, Texas sweet onions, kale, edamame, two kinds of peppers, some flowers and numerous herbs.  Our oregano, curly parsley and thyme survived the winter weather along with a couple of rows of carrots.  We have other vegetables to plant like tomatoes, cucumbers, lettuce, squash and zucchini, but I'll save that for another day.  Right now I'm going to take an Aleve or two – but don't forget to try this ice cream – you'll be so happy you did!
Thanks for PINNING!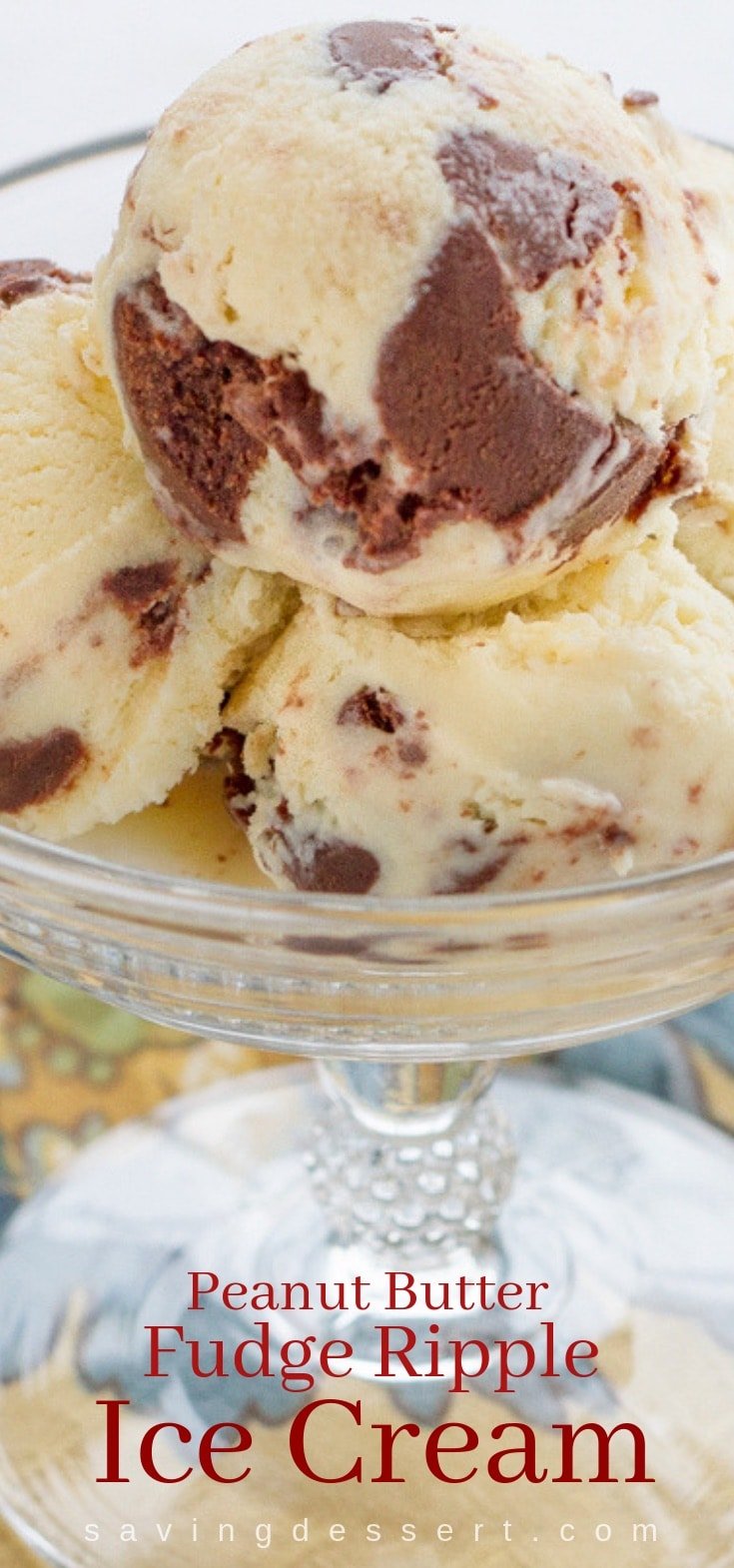 Let's be kitchen friends! If you make our recipe please feel free to leave a comment on this post. I'm sure your experience and insights will help all our readers, and it helps me too. Also, if you're on Pinterest feel free to leave a comment and photo there if you have one! If you share on INSTAGRAM tag @savingroomfordessert so we can stop by and give your post some love. And we'd be very happy if you'd FOLLOW Saving Room for Dessert on FACEBOOK| INSTAGRAM| PINTEREST | TWITTER  and subscribe to our YOUTUBE channel for all the latest recipes, videos and updates. Thank you!!
PRINT THE RECIPE!
Peanut Butter Fudge Ripple Ice Cream Recipe
Course:
Dessert, Ice Cream
A creamy vanilla ice cream with a thick peanut butter fudge ripple throughout.
Ingredients
For the ice cream:
1

cup

whole milk

2

cups

half-and-half

1

cup

heavy cream

8

large egg yolks

9

ounces

vanilla sugar,

or regular granulated sugar - about 1 ⅛ cups

2

teaspoons

pure vanilla extract
For the peanut butter fudge ripple
6

ounces

semisweet chocolate chips

½

cup

heavy cream

¼

cup

peanut butter
Instructions
To make the ice cream pour the milk, half-and-half and heavy cream into a medium saucepan, over medium heat.  Bring the milk mixture just to a simmer while stirring occasionally.  Remove from the heat.

In a medium mixing bowl whisk the egg yolks until they have lightened in color.  Gradually add the sugar and whisk to combine.  Temper the warm cream mixture into the eggs by drizzle spoonfuls into the egg yolks while whisking until at least half the cream is incorporated.  Add the egg mixture into the remaining cream and place over low heat.  Cook stirring constantly until the custard reaches 175°F on an instant read thermometer.  Pour the custard into a glass or stainless steel bowl placed over an ice bath.  Stir occasionally until the mixture cools, about 30 minutes.  Cover and refrigerate the custard overnight or at least 8 hours.   (About an hour before freezing the ice cream make the peanut butter fudge ripple and set aside to cool.  See instructions below.)   Process in your ice cream make according to the manufacturer instructions.

To make the peanut butter fudge ripple, combine all ingredients into a small saucepan and place over low heat.  Stir constantly until all the chocolate and peanut butter are melted and you have a smooth ganache.  Remove the pan from the heat and set aside to cool.  Stir occasionally while cooling.

Once the ice cream is frozen and the fudge ripple cooled, Scoop about ⅓ of the frozen ice cream into a container.  Drizzle spoonfuls of the fudge ripple on top, then repeat with more ice cream, more fudge ripple, etc.  Take a large dull knife and swirl the two together with just a few strokes.  Cover and freeze until the ice cream is frozen.

Makes 1 ½ quarts of ice cream, plus 1 cup of fudge ripple.
Recipe Notes
(Vanilla ice cream recipe adapted from Alton Brown via foodnetwork.com)
Nutrition information is calculated using an ingredient database and should be considered an estimate. When multiple ingredient alternatives are given, the first listed is calculated for nutrition. Garnishes and optional ingredients are not included.
Nutrition
Calories:
4848
kcal
|
Carbohydrates:
406
g
|
Protein:
79
g
|
Fat:
332
g
|
Saturated Fat:
179
g
|
Polyunsaturated Fat:
25
g
|
Monounsaturated Fat:
108
g
|
Trans Fat:
1
g
|
Cholesterol:
2265
mg
|
Sodium:
824
mg
|
Potassium:
2776
mg
|
Fiber:
17
g
|
Sugar:
338
g
|
Vitamin A:
9518
IU
|
Vitamin C:
7
mg
|
Calcium:
1338
mg
|
Iron:
17
mg
Finally, here are a few more of our favorite ice cream recipes you might enjoy:
This summer churn up a batch of our homemade fresh Cherry Ice Cream with dark chocolate! Click HERE to get the recipe.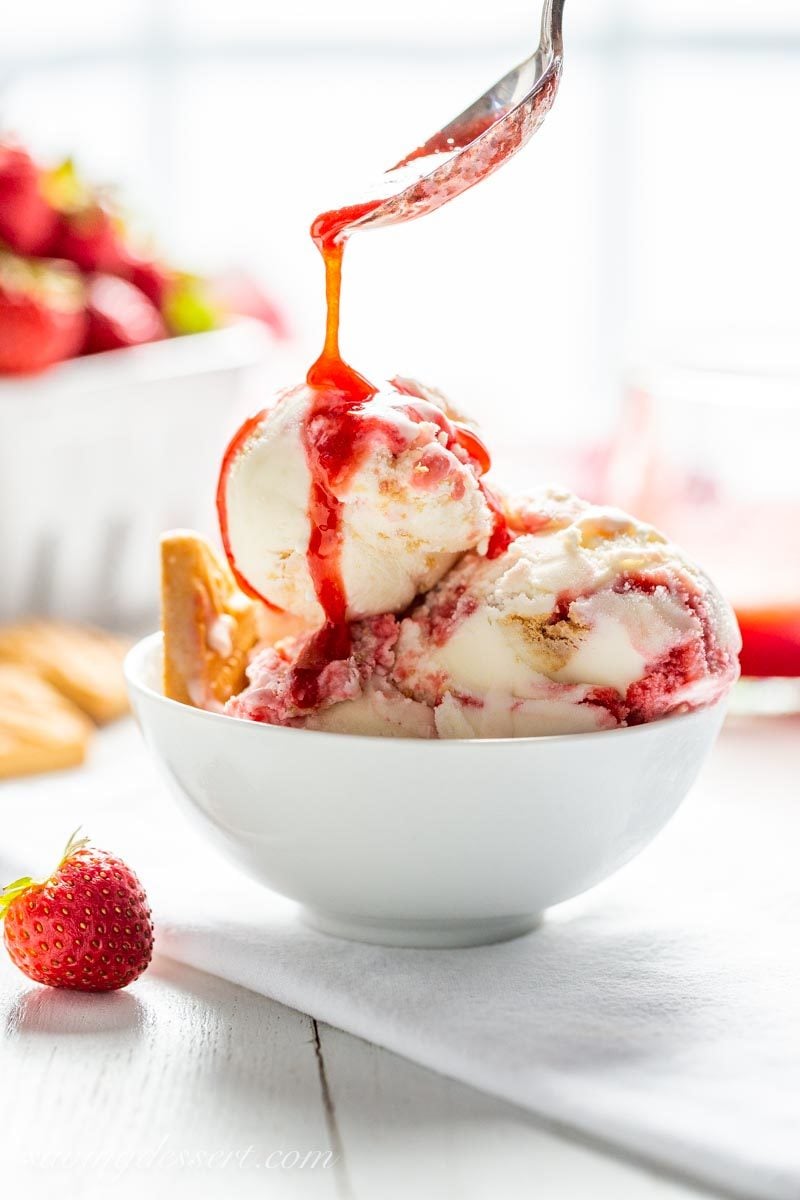 Strawberry Shortcake Ice Cream – don't let summer pass you by without making this luscious, rich vanilla ice cream with ribbons of fresh strawberry sauce and crushed shortbread cookies throughout. Click HERE to get the recipe.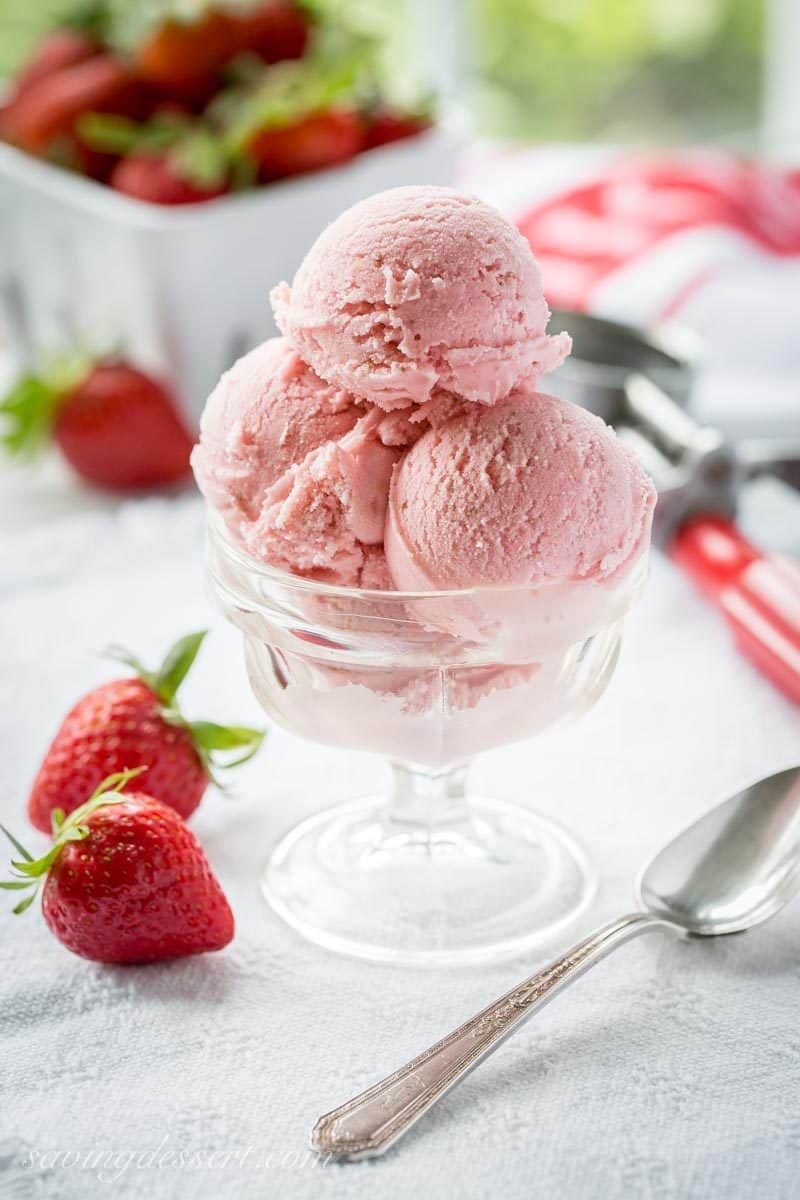 Fresh Strawberry Ice Cream ~ creamy and smooth, with tart undertones that you'd expect from a good ripe strawberry.  Add in a touch of Grand Marnier, buttermilk and mascarpone cheese, the richness shines through in this eggless, dreamy, frozen treat! Click HERE to get the recipe.
Stay tuned as we revive our 'Garden-to-Table' posts this summer.  I can't wait for tomatoes … how about you?  Do you have a garden, and if so what do you usually plant?  Feel free to post a link in the comments for your favorite fresh vegetable or herb recipe.  If all goes well I'm going to need some new recipes.
Thanks so much for stopping by! Tricia