This post may contain affiliate links. Please read my disclosure policy.
Strawberry Shortcake Ice Cream with ribbons of fresh strawberry sauce and crushed shortbread cookies throughout.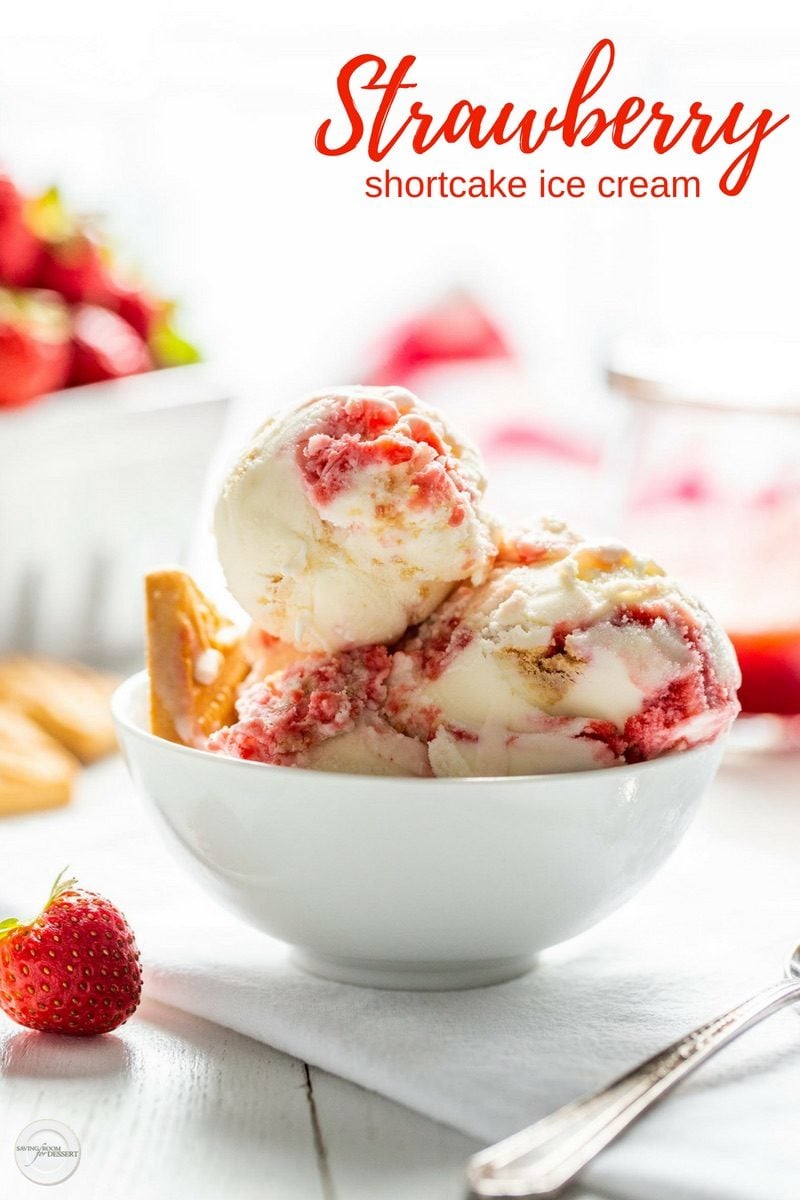 All the flavors that you love in fresh strawberry shortcake in a luscious, rich, creamy bowl of ice cream!
Is it hot where you live? We've had super hot, humid weather with heat indexes as high as 112F. Our poor garden may never recover this year. First we had flooding rains, then scorching heat. Crazy weather for sure!
When it's this hot my thoughts turn to cool treats like this delicious ice cream. I love making ice cream, especially since it keeps much longer than other desserts, and everyone loves it. Making homemade ice cream is not at all hard. A lot of us grew up with those labor intensive hand-cranked, take forever, rock salt required, ice cream churns. But those days are gone.
We've had the same electric ice cream maker for many years now, and it's still going strong. Cuisinart makes an inexpensive, dependable and easy-to-use model that we highly recommend. See the Amazon link at the bottom of the post for more information.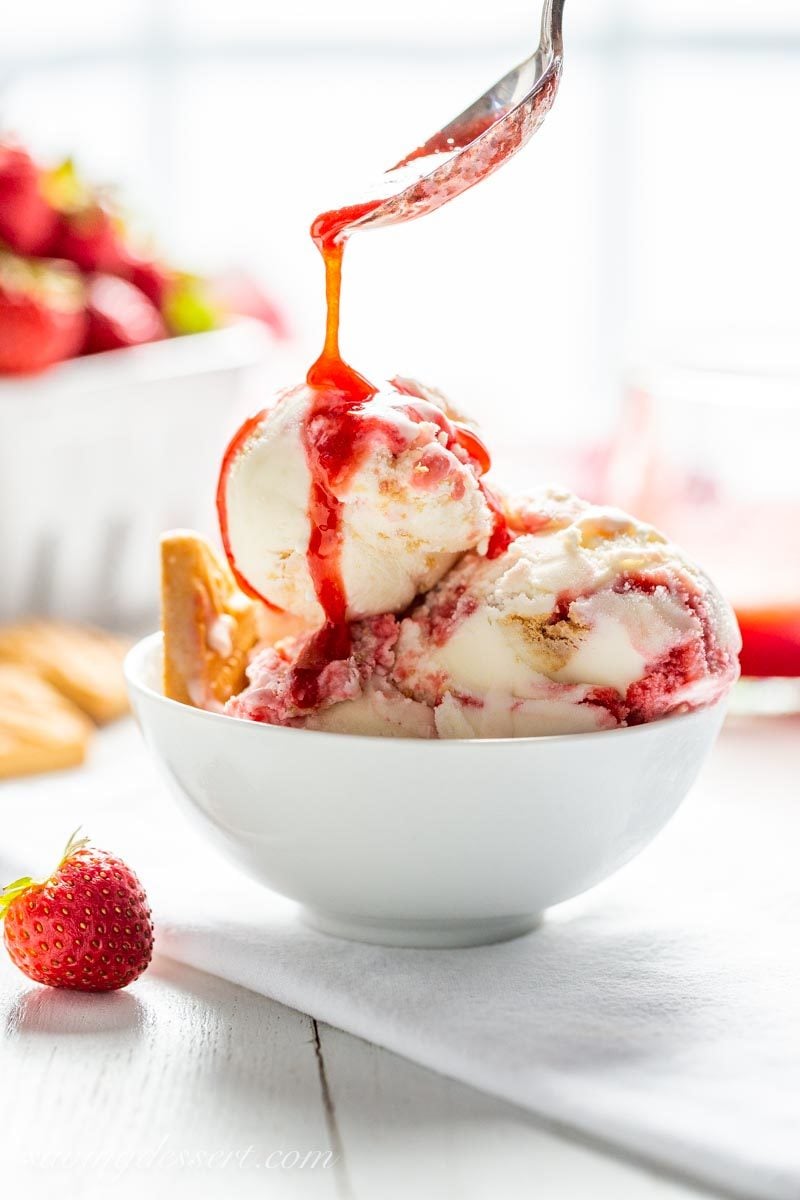 Layer vanilla ice cream with crushed shortbread cookies and spoonfuls of a simple strawberry sauce.
After making the strawberry sauce, I set aside 1/4 cup to drizzle over individual servings. The sauce is tangy and sweet and blends beautifully with the not-too-sweet shortbread cookies. This ice cream is the perfect combination of flavors and textures.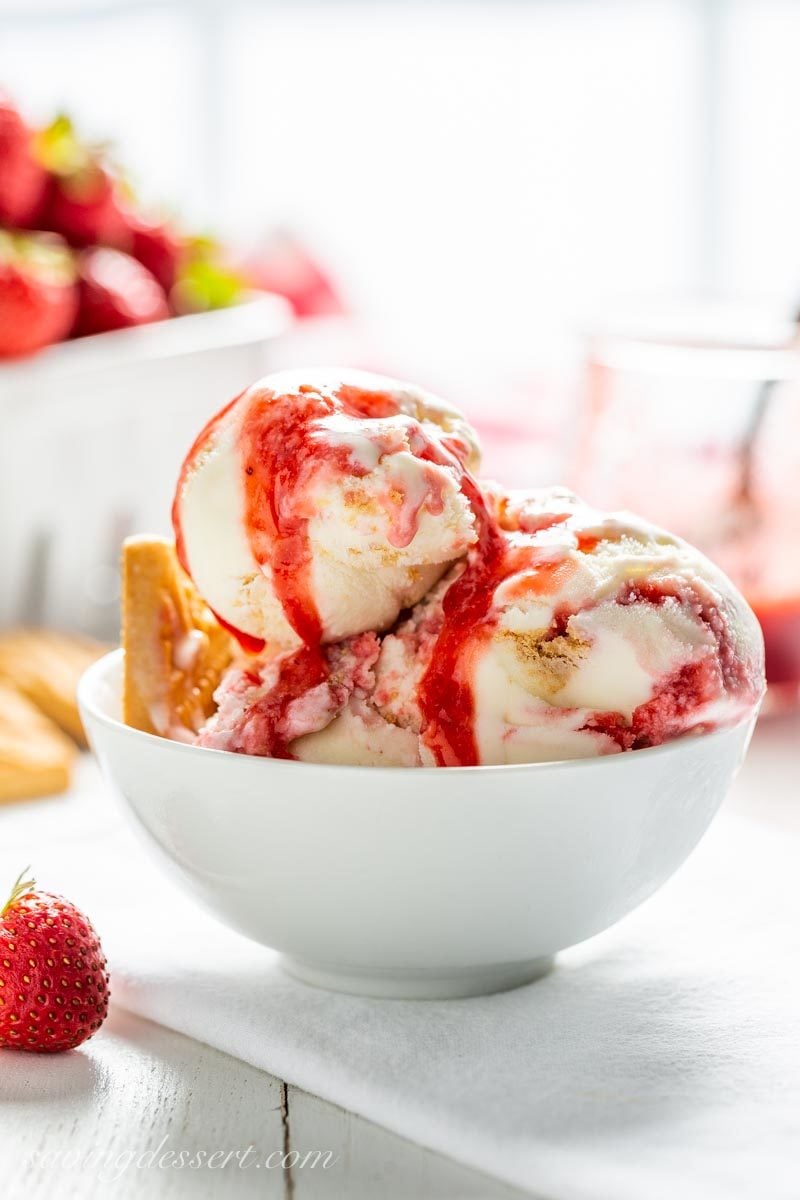 We still have plenty of strawberries in the grocery store so hopefully you do too.
I haven't tested this recipe using frozen strawberries, but believe they would work fine too! For this recipe you will need 3 cups of strawberries.
Here are a few tips for picking the best strawberries:
Sometimes grocery store strawberries can be hit or miss.  Here are a few tips for finding the best of the best:
Look for strawberries with light colored seeds. If the seeds are dark brown and dried up, the strawberry probably is too.
Buy local strawberries if at all possible. Less time traveling to your kitchen will yield fresher strawberries, thus better flavor. If you're buying strawberries from another country, they may have been picked before they were fully ripe to survive the long commute.
Look for strawberries that are red all the way to the top. If the top is white, the middle of the strawberry will be too.
Visit your local farmers market during peak season for the best strawberries.
Finally, if you can pick your own strawberries at a local farm – go for it!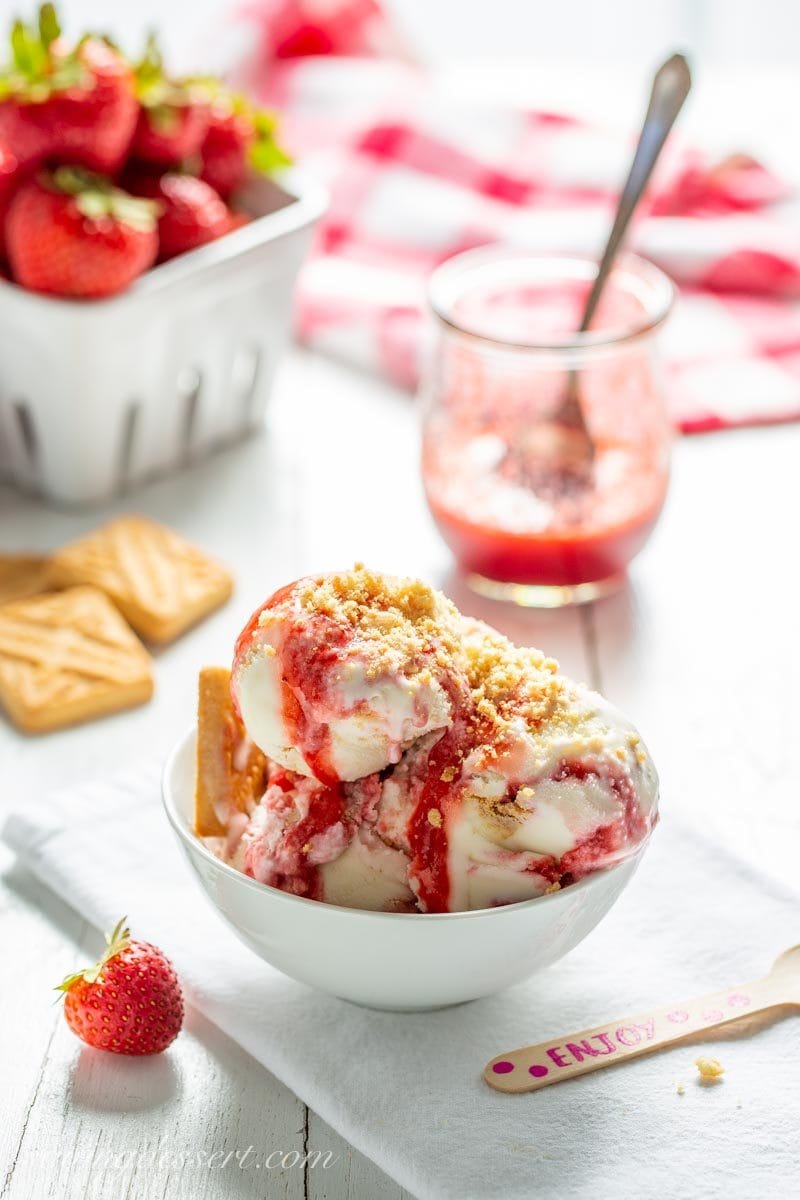 How to make strawberry shortcake ice cream
Start with a luscious vanilla based ice cream. For this recipe you will need:
whole milk
cornstarch
cream cheese
heavy cream
salt
granulated sugar
light corn syrup
vanilla extract
The base ice cream is layered in a freezer container between cookies and strawberry sauce. For the layers you will need:
shortbread cookies
strawberries
granulated sugar
Special equipment needed for this recipe:
You will need an ice cream maker for this recipe. If you don't own one, watch for summer sales at major department stores, and on Amazon. Check the link at the bottom for more information.
I couldn't let summer get by without sharing this recipe with you. This Strawberry Shortcake Ice Cream is truly amazing, I kid you not! Everyone will love it. I hope you'll give it a try soon 😉
Thanks for PINNING!
Let's be cooking friends! When you try our recipe please leave a comment on this post. If you loved this recipe we'd appreciate a 5-star rating! Sharing your experience, variations and insights will help all our readers, and it helps me too. If you're on Pinterest feel free to leave a comment and photo there if you have one. If you share on INSTAGRAM tag @savingroomfordessert so we can stop by and give your post some love. And we'd be very happy if you'd FOLLOW Saving Room for Dessert on FACEBOOK| INSTAGRAM| PINTEREST | TWITTER  and subscribe to our YOUTUBE channel for all the latest recipes, videos and updates. Thank you!!!
PRINT THE RECIPE!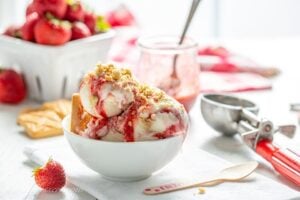 A luscious, rich vanilla ice cream with a ribbon of fresh strawberry sauce and crushed shortbread cookies throughout.
Ingredients
For the strawberry sauce:
3

cups

diced strawberries

½

cup

granulated sugar
For the ice cream base:
2

cups

whole milk,

plus 2 tablespoons divided

1

heaping tablespoon cornstarch

2

ounces

cream cheese

softened, cut into small pieces

pinch

of salt

1 ½

cups

heavy cream

⅔

cup

granulated sugar

2

tablespoons

light corn syrup

1

teaspoon

vanilla extract

1

cup

shortbread cookies,

crushed
Instructions
To make the strawberry sauce:
Combine 3 cups of strawberries and ½ cup granulated sugar in a deep, heavy bottom saucepan. Bring the mixture to a boil over medium heat. Cook until the berries start to break down. Smash the berries with a large spoon or spatula while cooking. Simmer until the sauce reduces a little and thickens, about 10 minutes. Remove from the heat and strain through a fine mesh sieve. Discard any seeds and pulp. Store in the refrigerator until ready to use.
To make the ice cream:
Prepare an ice bath. Fill a large bowl with ice and place a smaller bowl on top of the ice. Add the heavy cream and vanilla to the bowl and set aside.

In a small bowl, mix 2 tablespoons of milk with the cornstarch until smooth.

Pour the remaining 2 cups of milk, sugar and corn syrup in a medium saucepan. Bring to a rolling boil over medium heat. Don't leave the stove! Be sure to watch that the milk doesn't boil over. Simmer the mixture for 3-4 minutes. Remove from the heat and whisk in the cornstarch mixture.

Return the saucepan to the heat and bring to a boil. Cook, stirring constantly with a wooden spoon until slightly thickened, about 1 minute. Remove from the heat and add the softened cream cheese and salt to the hot mixture. Stir until the cream cheese is blended into the milk and cornstarch mixture.

Pour the hot ice cream base into the bowl with the cream and vanilla. Stir until well blended. Continue to stir every few minutes until the mixture is cooled. Remove the bowl from the ice bath and dry the bottom of the bowl. Cover the bowl and refrigerate for 4-8 hours.

Process the ice cream according to your ice cream maker directions.

Once the ice cream is frozen, spoon ⅓ of the vanilla ice cream in an air-tight freezer safe container. Spoon ⅓ of the strawberry sauce on top and sprinkle with ⅓¼ of the crushed cookies. Repeat twice more with a layer of ice cream, then strawberry sauce, and finally the cookies. Freeze the ice cream at least 4 hours or overnight before serving.

Serve with additional cookies if desired.
Recipe Notes
(I reserved about 1/4 cup of the sauce to spoon over the top of each serving)
I used Lorna Doone Shortbread Cookies for this recipe.
The base ice cream was adapted from Jeni's Splendid Ice Creams At Home
Here are a few more homemade ice cream recipes you might enjoy:
Lemon Ice Cream with a Blackberry Swirl ~ bright, tart lemon ice cream with a sweet blackberry swirl – this is a pretty terrific bowl of deliciousness!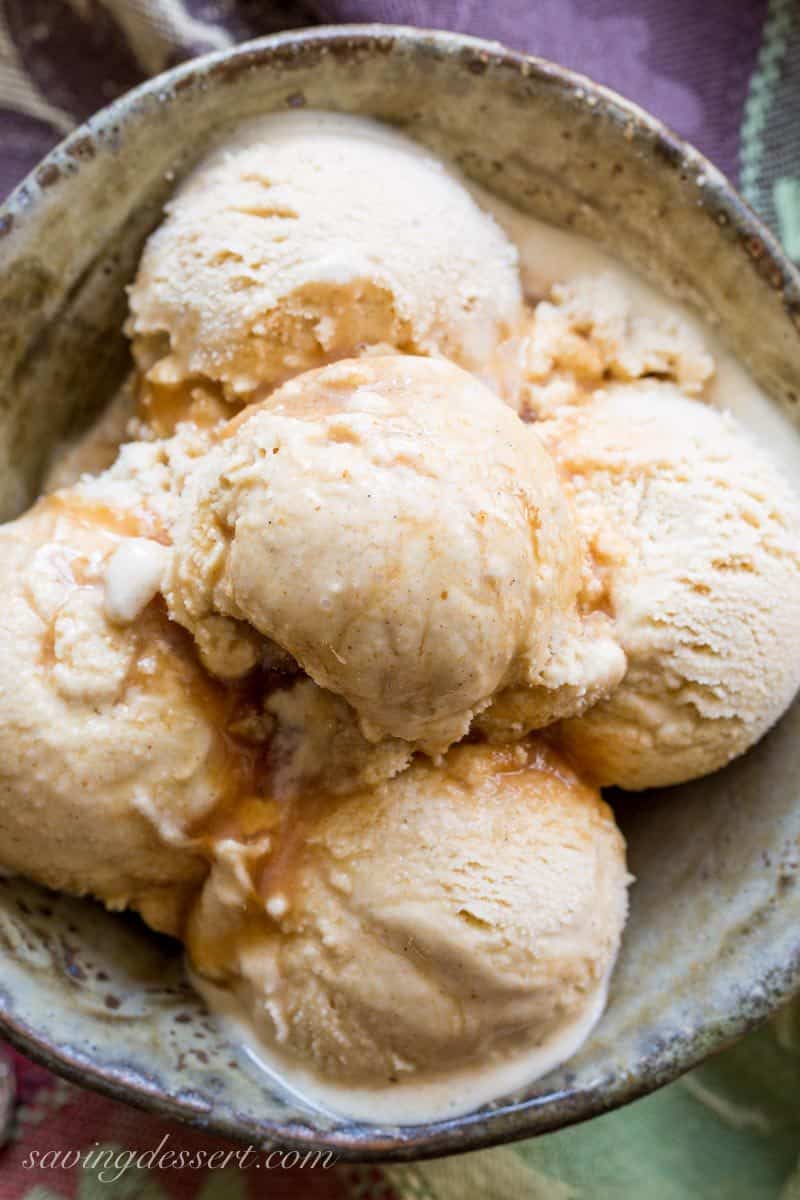 Apple Cider Ice Cream with Cinnamon ~ pucker up peeps!  If you love a tart apple, and sweet dreamy ice cream, you've come to the right place!
Chocolate Chocolate-Chunk Raspberry Swirl Ice Cream – A deliciously rich chocolate ice cream layered with a ribbon of fresh raspberry coulis.
Here's a link to our favorite ice cream maker, storage container and ice cream cookbook! Click on the photos for more information:
If you decide to purchase something at Amazon after following my affiliate link, I receive a small commission, at no additional cost to you, which I use to pay for web hosting and services for this blog. Thanks for supporting SRFD!
My mom always made ice cream for the summer holidays. She enjoyed making it, and we enjoyed eating it! Now I do the same for my family.
Here are a few more sweet frozen treats to try from some of my favorite bloggers! Pina Colada Ice Cream from Mary at Barefeet in the Kitchen. No ice cream maker – no worries! Try this Ballymaloe No Churn Vanilla Ice Cream from Sue at The View from Great Island.  And finally, don't miss these easy Strawberries and Cream Popsicles from Cathy at the Noble Pig.