This post may contain affiliate links. Please read my disclosure policy.
23 brilliant, creative, delicious recipes using canned pumpkin puree!

Canned pumpkin is a great add-in to all kinds of recipes.
Oh canned pumpkin puree, how we love you so! It's such a wonderful add-in to all your fall baked goods, savory dinners, breakfast favorites, soups and desserts. Canned pumpkin is pretty amazing stuff, so we put it in just about everything.
Libby's 100% Pure Pumpkin is our favorite brand of canned pumpkin, and is free from artificial ingredients and preservatives. Year after year it never fails to exceed our expectations. Just read the back of the label …. Ingredient: Pumpkin, that's it! If you're into making your own homemade pumpkin puree, then I say go for it! Either way, these amazing recipes will be delicious additions to your fall menu.
In addition to being healthy, canned pumpkin is a great baking substitute.
You can easily switch out 1/3 cup of pumpkin puree for one egg, in most recipes. That little recipe trick alone opens up so many recipes for pumpkin-inspiration. And, if you're still looking for more, I've gathered all our best loved pumpkin recipes HERE for your to peruse. Don't forget to follow our Pumpkin Recipe Board on Pinterest. We've gone pumpkin crazy!
Pretty Pumpkin Spice Latte Cake
The best Pumpkin Cheesecake with Turtle Topping
Tender Pumpkin Cupcakes with Cream Cheese Frosting 
Spiced Pumpkin Oatmeal Cookies
5 Ingredient Pumpkin Alfredo Recipe 
My sister-in-laws Pumpkin Chocolate Chip Cookies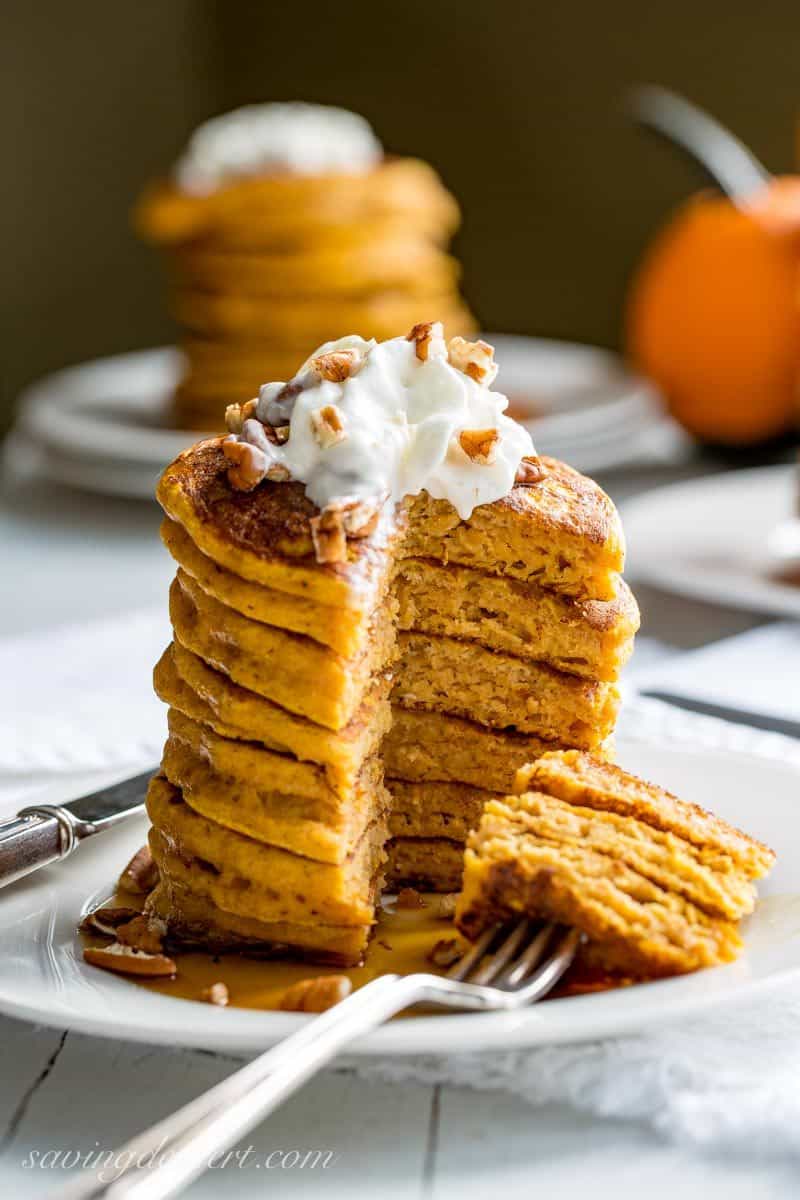 No Churn Pumpkin Spice Ice Cream
White Chocolate Pumpkin Scones with Espresso Glaze
Tangy Pumpkin Maple Vinaigrette
Soft and tender Pumpkin Breakfast Cake
Delicious Pumpkin Churro French Toast Sticks
Thanks for PINNING!
Let's be cooking friends! When you try our recipe please leave a comment on this post. If you loved this recipe we'd appreciate a 5-star rating! Sharing your experience, variations and insights will help all our readers, and it helps me too. If you're on Pinterest feel free to leave a comment and photo there if you have one. If you share on INSTAGRAM tag @savingroomfordessert so we can stop by and give your post some love. And we'd be very happy if you'd FOLLOW Saving Room for Dessert on FACEBOOK| INSTAGRAM| PINTEREST | TWITTER  and subscribe to our YOUTUBE channel for all the latest recipes, videos and updates. Thank you!!!
Finally, can you tell we really love pumpkin?! We hope you do too 🙂 If you find yourself with an open can of pumpkin, I hope you'll give some of these recipes a try. Thanks so much for stopping by!
Tricia
SaveSaveSaveSaveSaveSaveSaveSaveSaveSave
SaveSaveSaveSaveSaveSave
SaveSave
SaveSave
SaveSave
SaveSave
SaveSaveSaveSave
SaveSave
SaveSave
SaveSave
SaveSave
SaveSave
SaveSave