This post may contain affiliate links. Please read my disclosure policy.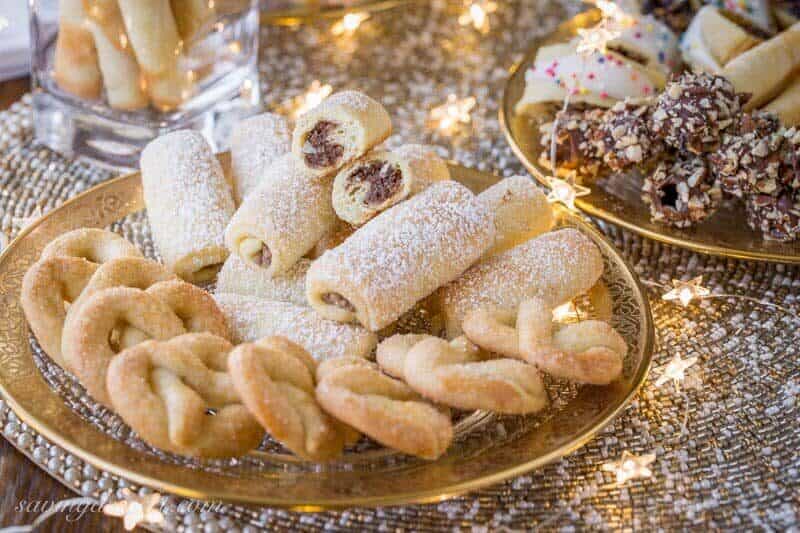 Roczki Cookies (Kolacky) are made with a tender, yeasted dough rolled up in a cigar shape with a simple, lemony, ground nut filling.  Typical of older recipes, these cookies are not terribly sweet but have a wonderful, unique and simple flavor.
This amazing recipe came to me from 93 year old Annie Roy of Chicago, Illinois.  Annie is the first daughter of Slovak immigrants and a lifelong resident of the Chicago area.  Annie's daughter, Rita, is my husband's sister-in-law and our favorite adventure travel-mate!
While growing up, Annie worked in the family grocery store and started baking and cooking for the family as a teenager.  Annie learned to make Roczki Cookies (Kolacky) while helping her mother and has been making these cookies every Christmas since.  Annie got married, started a family and continued baking and sharing Roczki cookies with family and friends (although war rationing curtailed sugar and butter availability.)  These cookies are the favorite Christmas treat among the entire extended family.
Knowing Annie is a blessing
Annie is an amazing woman.  She still drives herself to work two days a week, where she answers the phone and performs light office duties for a non-profit organization dedicated to helping handicapped adults gain independence in group homes.  Annie is a constant source of inspiration for everyone she meets.  If you visit Annie at home, you will most likely leave with a lovely gift of home baked goods, rich chocolate or something equally delicious.  I've only met Annie once many years ago but remember her well.  Annie is the family matriarch and still attends the same church that her father and grandfather helped build.  Thank you for sharing your recipe with me Annie!
This has been a very fun project for me.  Who can resist making a legendary recipe like these Roczki Cookies (Kolacky)!?
Of all the cookies pictured here, the Roczki Cookies, also known as Kolacky, are the most unique and fascinating I've ever attempted.  It's not that they are difficult to make, but they are time consuming.  It's a reminder that back in the old days people had more time to dedicate to baking and other large projects.  Cell phones, social media, and the constant barrage of all things electronic has robbed us of a few of life's simpler joys.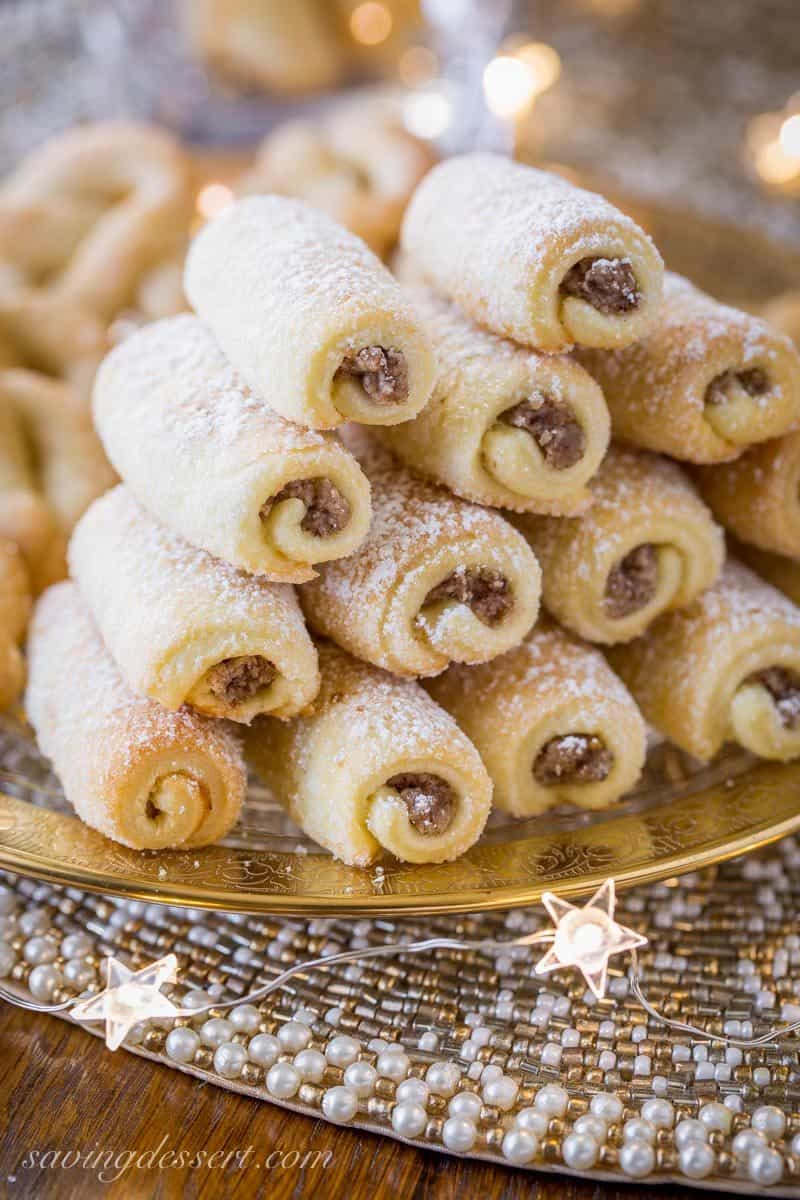 Many Central European countries have their own recipe variations for Roczki Cookies (Kolacky).
You may have come across a few with cream cheese in the dough and the cookies cut into little bow ties with apricot filling.  This nut filled version is a lesser known treat, but is the hands-down favorite of the entire Roy family.  One of the most fascinating steps in this recipe is rolling out the dough on a granulated sugar dusted work surface. There is no added sugar in the dough and very little in the filling.  I was intrigued by this process and loved the end result.
Nailing down the original recipe for Roczki Cookies (Kolacky)
In recent years, one of Annie's family members sat down with her and typed up the recipe so it can be preserved, shared and handed down for years to come.  As written, I had lots, and lots of questions so Annie and I had several conversations by phone, where we discussed the method, ingredients, and history of the recipe.  I've made modifications to the recipe based on my experience so these cookies may be slightly different than Annie's.  Please refer to the notes on the recipe card for my changes.
Tips you need to know before you start baking:
One last note before you being baking.  I highly recommend you cut the recipe in half.  Even if you have to throw away half an egg, and half an egg yolk, it will be worth it (save them for breakfast!)  According to my calculations, this recipe makes over 200 (2-inch) cookies.  The dough is rolled out into nine 10×10-inch squares and each square is cut into 2×2-inch pieces.
Each cookie gets a teaspoon of filling, then is rolled into a cigar shape.  Most people don't have the time to spend an entire day in the kitchen baking – but I did and don't regret it for one minute.  These cookies (or the unbaked dough) freezes amazingly well.  I FEDEX'd a box of cookies to Annie and her family to enjoy during the Thanksgiving holiday and they made it to Chicago with no issues.  Rita and her mom said they arrived in great shape and they were all very pleased that my cookies turned out well.  Everyone said they were delicious and that I successfully passed the test.  I'm now an honorary Slovak woman!  That feels pretty amazing 🙂
Annie Roy – Thanksgiving 2016 – holding a few of the Roczki Cookies (Kolacky) I shared from her recipe.  Thanks again Annie!  It was a joy to bake with you 🙂
Cookies pictured above:  Top left – Tuile Cigar Cookies (Pirouettes) dipped in white chocolate and crushed peppermint, and milk chocolate with toasted nuts.  Top right:  Italian Fig Cookies (Cucidati)   Bottom Left:  Annie's Roczki Cookies (Kolacky) and Vanilla Pretzel Cookies.
Thanks for PINNING!

Let's be baking friends! When you try our recipe please leave a comment on this post. If you loved this recipe we'd appreciate a 5-star rating! Sharing your experience, variations and insights will help all our readers, and it helps me too. If you're on Pinterest feel free to leave a comment and photo there if you have one. If you share on INSTAGRAM tag @savingroomfordessert so we can stop by and give your post some love. And we'd be very happy if you'd FOLLOW Saving Room for Dessert on FACEBOOK| INSTAGRAM| PINTEREST | TWITTER  and subscribe to our YOUTUBE channel for all the latest recipes, videos and updates. Thank you!!!
PRINT THE RECIPE!
Roczki (Kolacky)
Total Time:
10

hours
45

minutes
Made with a tender, yeasted dough rolled up in a cigar shape with a simple, lemony, ground nut filling.
Ingredients
For the dough:
2

packages active dry yeast,

(two ¼ ounce packages or 4 ½ teaspoons total)

1

teaspoon

vanilla extract

1

cup

heavy cream

6 ½ to 7

cups

unbleached all-purpose flour

½

teaspoon

salt

1

pound

unsalted butter,

cut into 1-inch pieces

1

large egg

3

egg yolks
For the nut filling:
1

pound

pecans,

ground fine

1 ½

teaspoons

pure vanilla extract

zest of 1 lemon

½

cup

fresh squeezed lemon juice

1

cup

granulated sugar

3

egg whites
For rolling out the dough:
2

+/- additional cups of granulated sugar to roll out the dough

3

egg whites lightly beaten,

mixed with 1 teaspoon water for brushing on top of the cookies before baking.
Instructions
Line an 8x8-inch baking pan with parchment or wax paper. Make sure the paper hangs over the sides of the pan.

To make the dough:
Dissolve the yeast in ½ cup warm water.

In the bowl of a stand mixer fitted with the paddle attachment, add the flour, salt, and chunks of butter. Mix until crumbly.

In a small bowl, whisk together the egg, egg yolks, cream and vanilla. Make a well in the center of the flour mixture and add yeast, and the cream and eggs. Fit the dough hook on the stand mixer and blend until the dough comes together and is smooth.

Press the dough into the prepared pan and cut it into 9 equal sized pieces. Cover and refrigerate the dough for at least 8 hours or overnight.
To make the filling:
In a medium mixing bowl, combine the ground nuts, lemon juice, vanilla, and lemon zest. In a separate clean bowl with clean beaters, whip the egg whites until soft peaks form. Alternate adding the sugar and egg whites to the nut mixture until all is incorporated. Add more sugar or lemon juice if needed to taste. Do not over mix. Set aside.

To make the cookies:
Preheat oven to 350°F. Line a baking sheet with parchment paper and set aside.

Fill a small, flat bowl with ½ cup granulated sugar. This will be used for rolling the cookies.

Remove one square of the chilled dough, leaving the rest in the refrigerator. Dust a clean work surface with granulated sugar. Roll out the dough to a 10x10 inch square. Using a rolling pastry cutter, cut the dough evenly into 2x2 inch squares.

Spread about 1 teaspoon of the nut filling onto each square leaving one end clean (about ⅓ of the dough square). Roll into a cigar shape. Using your finger or a small brush, spread a little of the egg white wash mixture down the clean side of the dough, press to seal. Brush the outside of the cookie with additional egg white and then lightly roll in granulated sugar. Place seem side down on the prepared baking sheet. Continue rolling until you fill the pan.

Bake the cookies for 12 to 15 minutes or until light brown. Dust cooled cookies with powdered sugar just before serving. Store in an airtight container.
Recipe Notes
I recommend cutting the recipe in half unless you need 225 cookies.
Changes from the original recipe I received:
1. Annie's original recipe calls for one package of yeast instead of the two that was typed on my copy. After trying my cookies, Annie preferred the puffier dough so much, they're going to make Roczki with two packages of yeast next time. Yeah! A happy accident.
2. Vanilla has been added to the dough and filling not originally on my recipe copy.
3. The original recipe called for half butter and half margarine. I tested with all butter.
4. I tested making apricot bowties but due to the added yeast in my dough, they would not stay together and puffed up bigger than they should. I only tested one batch with the apricot filling (Solo brand) and didn't take photos.
5. Annie brushes melted butter on top of her cookies before baking. I tested this method and also tried brushed on egg whites. In addition I tested baking the cookies without either. My preference is a lightly brushed on egg white wash. The cookie bakes up with a nice thin crust and soft puffy middle.
6. The original recipe I received called for the (9) dough pieces to be rolled into 10x14-inch rectangles, then cut into 2x2-inch squares. I found the dough to be too thin, and at those calculations, the recipe will make 315 cookies. I rolled the dough into 10x10-inch squares and ended up with 225 cookies.
7. The prepared unbaked dough may be frozen or stored in the refrigerator for up to a week before baking. Or you may bake a few batches at a time as needed or when time allows.
Nutrition information is calculated using an ingredient database and should be considered an estimate. When multiple ingredient alternatives are given, the first listed is calculated for nutrition. Garnishes and optional ingredients are not included.
Nutrition
Calories:
50
kcal
|
Carbohydrates:
4
g
|
Protein:
1
g
|
Fat:
4
g
|
Saturated Fat:
1
g
|
Polyunsaturated Fat:
1
g
|
Monounsaturated Fat:
1
g
|
Trans Fat:
0.1
g
|
Cholesterol:
9
mg
|
Sodium:
7
mg
|
Potassium:
16
mg
|
Fiber:
0.3
g
|
Sugar:
1
g
|
Vitamin A:
72
IU
|
Vitamin C:
0.2
mg
|
Calcium:
4
mg
|
Iron:
0.2
mg
Here are a few more cookie recipes you might enjoy:
I meant to share this amazing zester with you ever since I received it from the wonderful people at Deiss Kitchenware.
If you're in the market for a very affordable, lightweight, perfectly wonderful microplane zester – this may be the one you need!  I LOVE mine 🙂  Thanks Deiss!
The small print: If you decide to purchase something at Amazon after following my affiliate link, I receive a small commission, at no additional cost to you, which I use to pay for web hosting and services for this blog.
Thanks so much for stopping by!  As always, please let me know if you have any questions or need additional information on a recipe.  I love hearing from you all – happy baking!
Tricia
SaveSave
SaveSave