This post may contain affiliate links. Please read my disclosure policy.
Juicy, tender and flavorful Slow-Cooker Ribs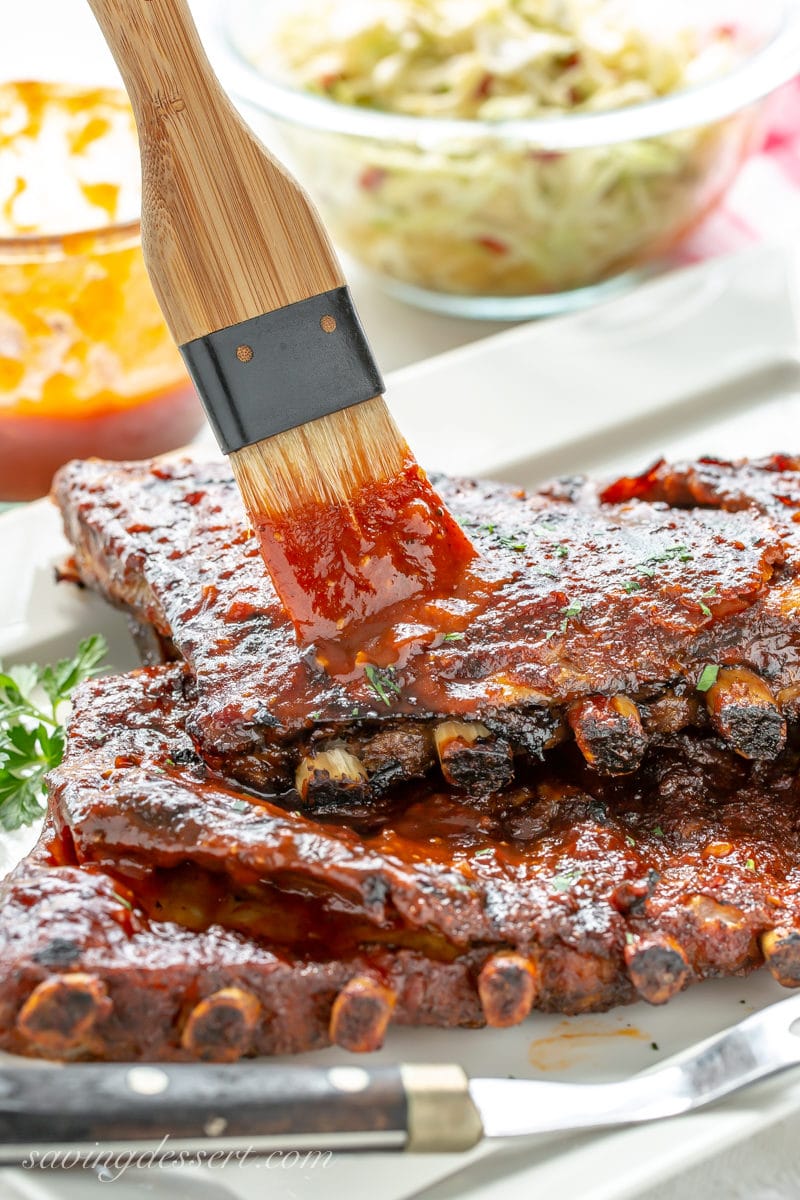 Slow-Cooker Ribs – juicy, tender and flavorful St. Louis-style pork spareribs slow-cooked then grilled or broiled for the perfect char.
Who knew you could make amazing Slow-Cooker Ribs at home that rival those from your favorite BBQ joint?
My husband and I are the first to admit that we're rib-snobs. Personally, I never, ever order ribs in a regular chain restaurant. All we want is the real deal from a smokehouse BBQ joint or specialty food truck. We adore BBQ and have had plenty of moan-worthy meaty ribs in our days.
However, as much as we LOVE barbecue, we've never moved into the land of home-smokers. I have enough to do without learning a new craft and my traveling husband doesn't have the time to babysit a smoker for 12-20 hours.
I don't blame him, there's always so much to do and real deal smoking meats is an art that should be saved for those with amazing passion. We're just passionate about eating ribs, not smoking them 🙂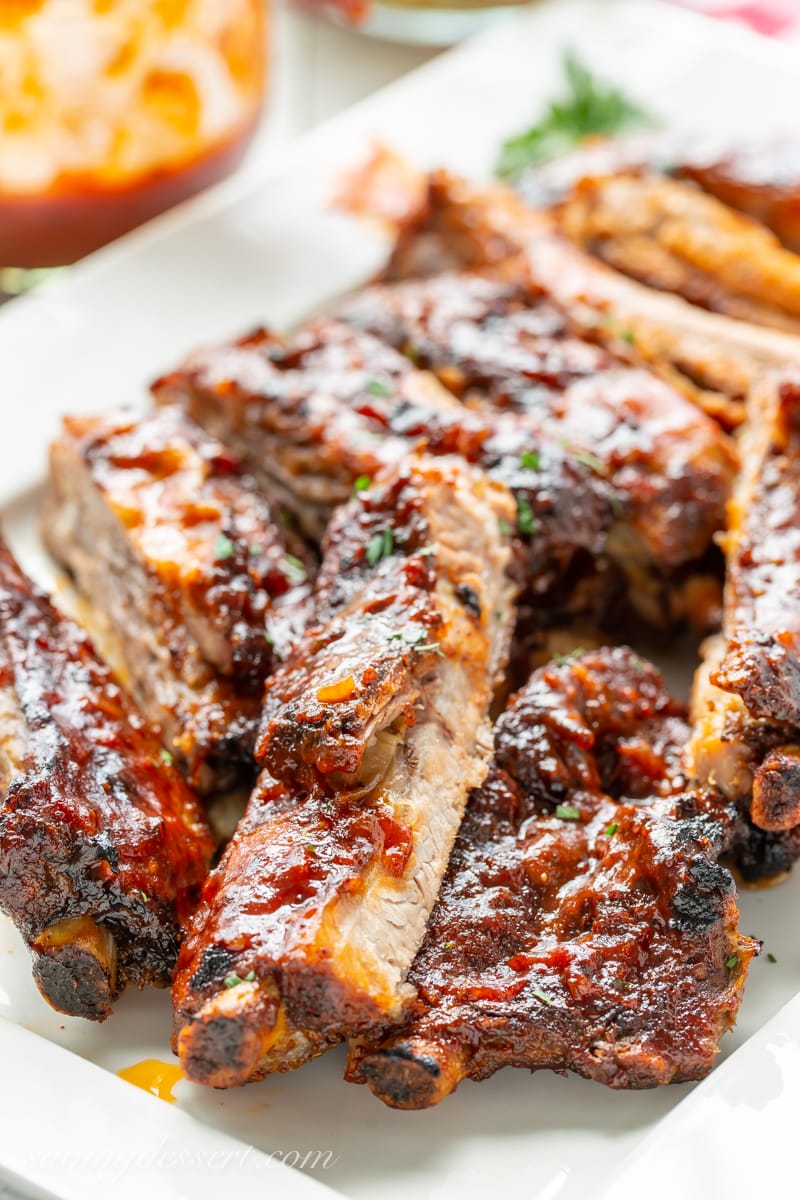 Even though we don't have a smoker, we still want to enjoy amazing, tender, juicy ribs at home.
I've been wondering for a long time if you really can get delicious ribs out of a slow-cooker. It makes perfect sense to me. Slow cooking works wonders on fatty meats, especially well marbled pork. I finally came across a slow-cooker rib recipe that sounded completely doable without boiling the ribs in broth or juice.
Cook's Country published a recipe for the cooking method I've used here as part of their Slow-Cooker Memphis-Style Wet Ribs.
The St. Louis-style ribs are cut in half crosswise, coated in a spice rub then arranged vertically inside the slow-cooker. With the thick ends pointing down and the meaty side against the interior wall of the slow cooker insert, the ribs cook perfectly!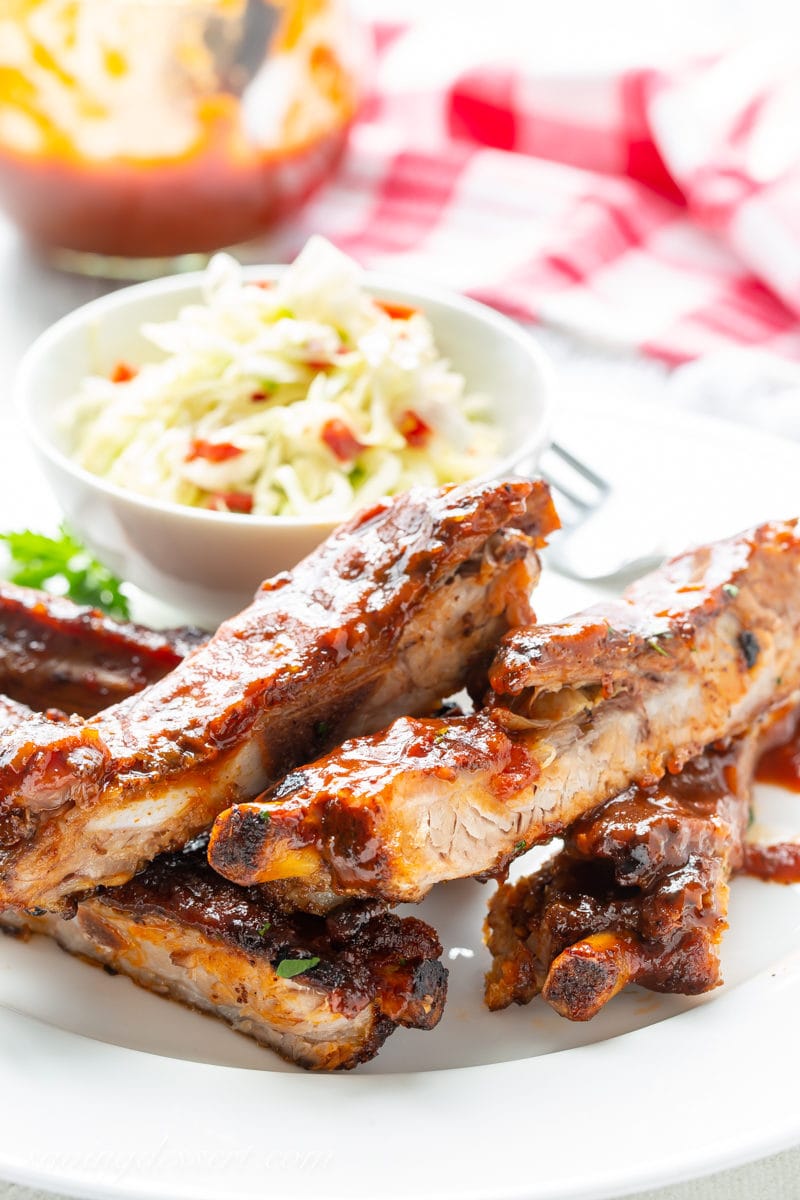 Once the slow-cooker ribs are tender, they're brushed with barbecue sauce and broiled or grilled until charred.
After removing from the slow cooker, let the ribs rest for 10-15 minutes before placing on a hot, preheated grill for about 10 minutes. We carefully turn the ribs twice on the grill, adding more sauce to ensure we have plenty of flavor and gobs of shiny, sticky, finger lickin' appeal.
Once charred to your liking, remove from the grill, slather with more sauce, tent with foil and wait a tortuous 10-15 minutes before cutting into individual ribs. Done and done!
This also works well using the broiler element in your oven. So if it's raining, snowing or you ran out of bottled gas or forgot to start the charcoal, no worries! Broiling gives these ribs plenty of char-loving flavor and crispiness without going outside.
Homemade spice rub for Slow-Cooker Ribs
We made these ribs with our own homemade spice rub (printable recipe below.) For a complete meal serve these Slow-Cooker Ribs with our no mayo coleslaw recipe and our Easy Honey BBQ Sauce. Bet you're going to LOVE it all!
Thanks for PINNING!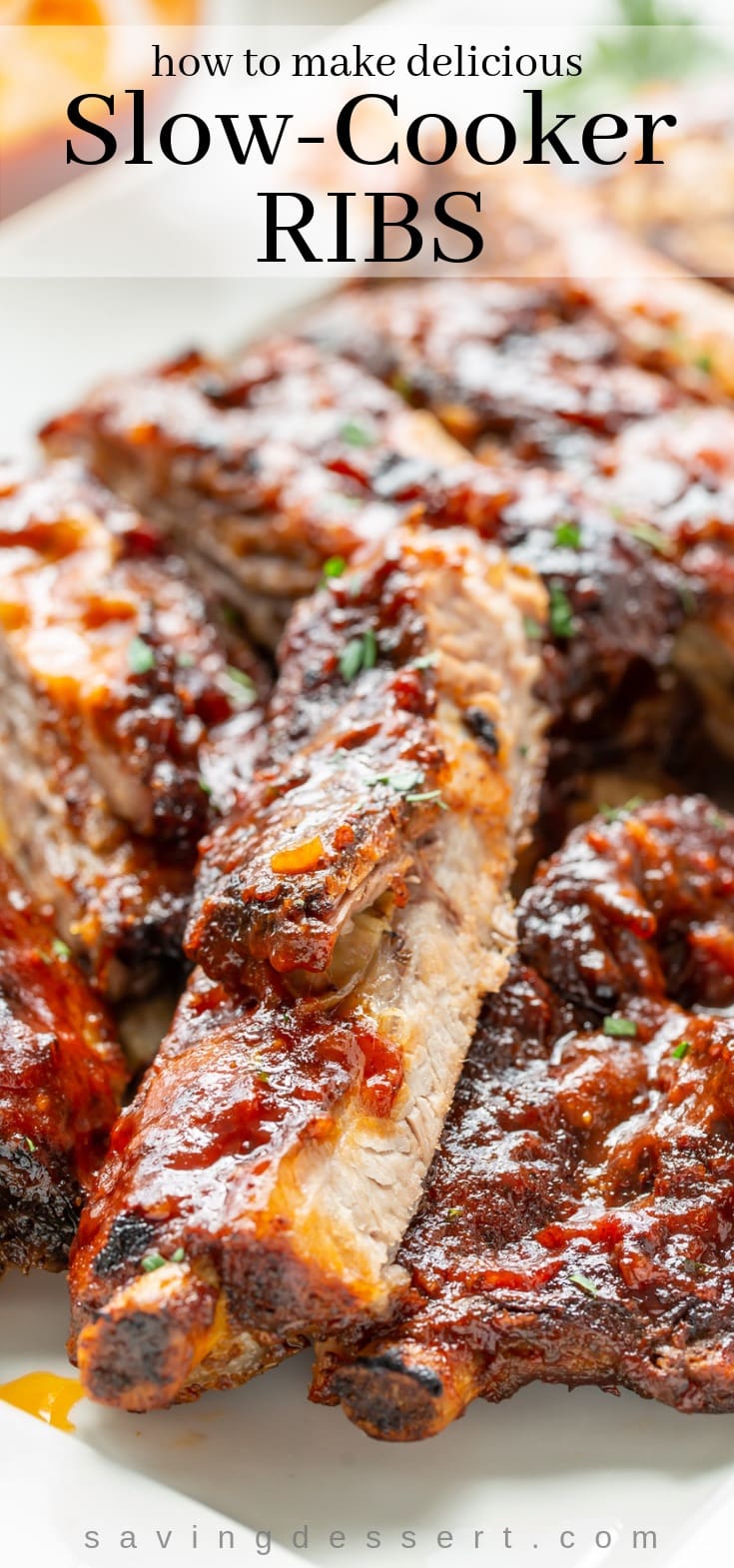 Let's be grilling friends! When you try our recipe please leave a comment on this post. If you loved this recipe we'd appreciate a 5-star rating! Sharing your experience, variations and insights will help all our readers, and it helps me too.
If you're on Pinterest feel free to leave a comment and photo there if you have one. If you share on INSTAGRAM tag @savingroomfordessert so we can stop by and give your post some love.
FOLLOW Saving Room for Dessert on FACEBOOK| INSTAGRAM| PINTEREST | TWITTER  and subscribe to our YOUTUBE channel for all the latest recipes, videos and updates.
Slow-Cooker Ribs
Total Time:
7

hours
20

minutes
Course:
Dinner, Main Dish
Juicy, tender, flavorful ribs slow-cooked then grilled or broiled for the perfect char.
Ingredients
For the spice rub:
1

tablespoon

light brown sugar

1

tablespoon

chili powder

½

teaspoon

ground cumin

1

teaspoon

salt

½

teaspoon

granulated garlic

1

teaspoon

fresh ground black pepper

¼

teaspoon

cayenne pepper

(optional)
For the ribs:
4

pounds

pork spareribs

St. Louis-style, trimmed (two small racks are best to fit in the slow-cooker)

1

cup

barbecue sauce

(see link in notes for recipe)
Instructions
Combine all the spice rub ingredients together in a small bowl. Using paper towels, pat the ribs dry and then cover both sides with the spice rub. Be sure to massage the spices into the meaty side of the ribs. Cut the rack(s) in half and place them in the slow-cooker vertically with the thick ends pointing down and the meaty side against the interior wall of the slow-cooker. If the ribs are too tall to fit against the wall, tilt them toward the sides of the slow-cooker. Ribs may overlap, this is okay. Cover and cook until ribs are just tender and the meat is pulling away from the bones, about 5 or 6 hours on high or 6 or 7 hours on low.

Using two sets of tongs carefully remove the ribs to a baking sheet (meaty side up) and allow them to rest about ten minutes.
To grill the ribs:
While the ribs are resting, preheat the grill on high. Using two sets of tongs transfer ribs to the grill with the meaty side facing up. While the bottom of the ribs char, cover the top meaty part with the barbecue sauce. After five minutes, carefully turn the ribs with the sauce side facing down. Brush sauce on the other side. Grill the ribs, turning one more time adding more sauce until the ribs are well charred and the sauce is caramelized, about 10 - 15 minutes. Remove from the grill, tent with foil and allow ribs to rest for 15 minutes. Cut ribs in between the bones to separate. Serve with remaining sauce.
To broil the ribs:
Line a rimmed baking sheet with aluminum foil and place a wire rack inside the baking sheet. Adjust the oven rack 3 inches from the broiler element and heat on high. Place the ribs on the rack, meaty side up. Brush the ribs with barbecue sauce and broil until the sauce is bubbling and starting to char, about 5 minutes. Remove the ribs from the oven and brush with additional sauce. Tent with foil and let rest for 15 minutes. Cut ribs in between the bones to separate. Serve.
Recipe Notes
If you can find smaller racks it's much easier to fit them in the slow-cooker. Larger racks will be too tall to rest straight up vertically in the slow-cooker. Tilt the large racks until they fit and you're able to cover the cooker with a lid. They'll cook fine tilted so no worries.
Try our homemade Easy Honey BBQ Sauce recipe
Serve with our favorite no-mayo Super Cole Slaw Recipe
Cooking method adapted from Cook's Country.
Nutrition information is calculated using an ingredient database and should be considered an estimate. When multiple ingredient alternatives are given, the first listed is calculated for nutrition. Garnishes and optional ingredients are not included.
Nutrition
Calories:
933
kcal
|
Carbohydrates:
23
g
|
Protein:
47
g
|
Fat:
71
g
|
Saturated Fat:
23
g
|
Polyunsaturated Fat:
12
g
|
Monounsaturated Fat:
26
g
|
Trans Fat:
1
g
|
Cholesterol:
242
mg
|
Sodium:
1145
mg
|
Potassium:
882
mg
|
Fiber:
1
g
|
Sugar:
18
g
|
Vitamin A:
506
IU
|
Vitamin C:
1
mg
|
Calcium:
71
mg
|
Iron:
3
mg
Here are a few more recipes you might enjoy:
Easy Honey BBQ Sauce – great as a marinade or for basting and slathering on grilled chicken, pork or beef. Try this sauce on our slow-cooker ribs.
BBQ Brisket Recipe – making delicious, tender and juicy beef brisket is easier than you think! This easy, fool-proof method is a wonderful way to get exceptional results with very little effort.
All you need is a grill and an oven, a good spicy dry rub and some seriously delicious sauce, and I can help you with the rub and sauce!
Enjoy this mayo-free simple Super Coleslaw with a nice bite from the cider vinegar and plenty of flavor from pimentos, onion and chopped green pepper.
Looking for a few more slow-cooker recipes to entice your hungry family to the table?
Check out this roundup of the Best Ever Slow Cooker Dinner Recipes. So many wonderful recipes to drool over.
Who can pass up a fool-proof recipe for Slow-Cooker Pork Carnitas?
This juicy Slow Cooked Lamb Shawarma recipe is going to the top of my must-make list!
And finally, I can't wait to try this Crock Pot Honey Garlic Chicken recipe. Juicy and flavorful recipes really speak to me!