This post may contain affiliate links. Please read my disclosure policy.
Dark Chocolate Cake with Strawberry Frosting
A delicious match made in heaven!
Everyone is nuts for this fantastic flavor combination. Even my non-chocolate loving husband can't get enough of this luscious cake. Our son-in-law proclaimed that he wants this Chocolate Sheet Cake with Strawberry Frosting  every year for his birthday. And all the little ones in the family said "nom, nom, nom!"
Developing the perfect Strawberry Frosting was a test of wills!
I researched a lot strawberry frosting recipes but found many don't have the right consistency and often "break" and appear curdled. I tried frosting a three layer cake using one of my early versions only to watch the icing slide down the sides of the cake and pool around the bottom. Sheesh. I've never seen that happen before!
Back to the drawing board. Then I remembered our recipe for Strawberry Mousse which is made with a strawberry syrup reduction.
Fresh strawberries are chopped in a food processor, lightly sweetened then left for an hour to macerate. The juice is strained, the pulp is pressed through the sieve and the syrup is boiled down into pure, intense strawberry flavor.
This step adds a little work, but it's so worth it! The reduction was the answer to perfect strawberry frosting! Now we have a recipe for real strawberry icing, with tons of strawberry flavor, and great consistency.
We use half cream cheese and half butter for the base of this Strawberry Frosting.
Cream cheese and strawberries pair perfectly, so it was a great starting point for this frosting. I love the slightly sour flavor of cream cheese, especially when blended with sweet strawberries. We use half butter and half cream cheese to ensure great consistency and spreadability!
TIP: Make sure your cream cheese and butter are at room temperature for proper blending. Don't warm your cream cheese as a shortcut – it won't combine well with the other ingredients.
This Dark Chocolate Sheet Cake is loaded with real chocolate and plenty of Dutch-process cocoa powder.
The base cake recipe comes from Cook's Illustrated but I made a few small modifications. We wanted a super dark chocolate cake with plenty of chocolate flavor and no bitterness or weird after-taste. I substituted part of the Dutch-process cocoa powder with Black Cocoa Powder from King Arthur Flour.
You can order black cocoa powder online or use all regular Dutch-process cocoa powder in this recipe.
The recipe also calls for 8-ounces of good quality chocolate so don't be tempted to substitute chocolate chips here. Chocolate chips have additives like cocoa butter and are often sweeter and waxier than good quality baking bar chocolate. Great ingredients make all the difference in this recipe!
Use vine-ripened strawberries for the best flavor.
When you cut into a strawberry and see that gorgeous red color all the way through, you know this is going to be one delicious berry! If you see lots of white in the middle and only pink around the outside, your strawberries will still be good to eat, but may not be as sweet as a vine-ripened berry.
Grocery store strawberries can be hit and miss so here are a few tips for finding the best:
Look for strawberries with light colored seeds. If the seeds on the outside are dark brown and dried up, the strawberry probably is too.
Buy local strawberries if at all possible. Less time traveling to your kitchen will yield fresher strawberries, thus better flavor. If you're buying strawberries from another country they may have been picked before they were fully ripe to survive the long distance commute.
Look for strawberries that are red all the way to the top. If the top is white, the middle of the strawberry will be too. White strawberry tops yield less flavor.
Finally, if you can pick your own strawberries at a local farm – go for it!
Enjoy this fudgy, moist chocolate cake for all your potlucks, birthdays, picnics and parties.
We love spooning fresh chopped strawberries on top just before serving for the full berry experience. You won't regret trying this recipe!
Thanks for PINNING!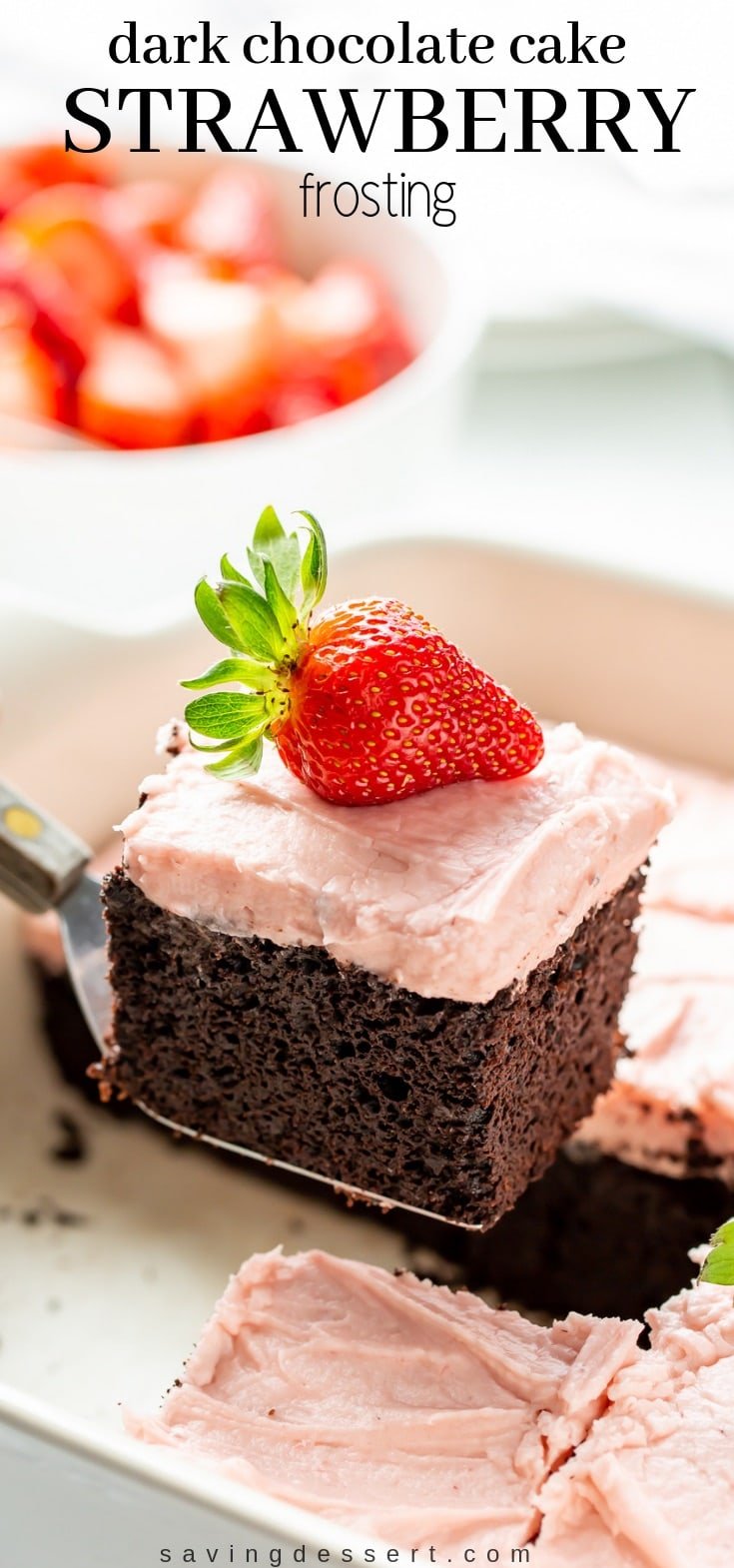 Dark Chocolate Sheet Cake with Strawberry Frosting
Total Time:
1

hour
10

minutes
We love this rich Dark Chocolate Sheet Cake slathered with fresh Strawberry Frosting –  a delicious match made in heaven!
Ingredients
For the strawberry syrup:
1

pound

fresh strawberries,

cleaned with hulls removed

2

tablespoons

granulated sugar
For the cake:
1

cup

whole milk

8

ounces

good quality semisweet chocolate,

chopped fine (not chocolate chips)

½

cup

Dutch-processed cocoa powder

¼

cup

black Dutch-processed cocoa powder

(see notes)

1 ¼

cups

all-purpose flour

1 ½

cups

granulated sugar

½

teaspoon

baking soda

½

teaspoon

salt

⅔

cup

vegetable oil

4

large eggs,

room temperature

1

teaspoon

vanilla extract

1

teaspoon

coffee extract

(see notes) or ¼ teaspoon espresso powder
For the frosting:
8

tablespoons

unsalted butter,

softened

4

ounces

cream cheese,

softened

2

teaspoons

vanilla extract

strawberry syrup

3

cups

powdered sugar

pinch

of salt

2

tablespoons

heavy cream

or milk, more or less as needed for desired consistency
For garnish and serving:
whole strawberries

sliced strawberries
Instructions
To prepare the strawberry syrup:
Clean 1-pound of fresh, ripe strawberries and remove the hulls. Process the strawberries in a food processor until most pieces are ¼ to ½ inch thick. Be careful not to over-process the strawberries.

Place the processed strawberries in a medium mixing bowl and toss with 2 tablespoons granulated sugar. Cover and allow the strawberries to rest at room temperature for 1 hour, stirring occasionally.

Strain the strawberries through a fine-mesh sieve into a small saucepan. Using the back of a spoon, gently press the strawberries to extract all the juice. You should have about ½ cup of juice. Discard the strawberry pulp and seeds. Heat the strawberry juice on medium-high heat, stirring constantly and cook until the juice is reduced to about ¼ cup, about 10 minutes. Cool completely then cover and refrigerate until needed.
To prepare the chocolate cake:
Preheat oven to 325°F. Lightly coat a 13x9-inch baking pan with vegetable cooking spray and set aside.

In a medium saucepan combine the milk, chocolate and cocoa powders. Heat on low and cook, stirring frequently until all the chocolate is melted and the mixture is smooth. Remove from the heat and allow the mixture to cool for 5 minutes.

In a large mixing bowl whisk together the flour, sugar, baking soda and salt.

Add the oil, eggs, vanilla and coffee extract to the cooled chocolate mixture and whisk until smooth and homogeneous. Pour the chocolate mixture into the bowl with the flour and sugar. Using a stiff spatula or wooden spoon, stir until combined.

Pour the prepared batter into the baking pan. Bake for 30-32 minutes or until the center is firm when lightly pressed and a toothpick inserted in the middle comes out with a few crumbs attached.

Cool completely before frosting.
To prepare the frosting:
In a large mixing bowl combine the butter and cream cheese. Beat with an electric mixer (or whisk attachment of stand mixer) until the mixture is blended and lightened. Add the vanilla, prepared strawberry syrup and salt. Beat until combined. Add the powdered sugar 1-cup at a time blending until smooth. Add 1 tablespoon of milk or cream and blend. Add a little more powdered sugar or milk until you reach the desired consistency. Spread over the cooled cake. Garnish with a few whole strawberries, if desired. Top with fresh sliced strawberries when served.

Store leftover cake well covered at room temperature or for longer storage it may be refrigerated. Cake will keep 3-4 days.
Recipe Notes
Black Dutch-processed cocoa is optional. If you don't have it on hand, use all (3/4 cup) regular Dutch-processed Cocoa Powder in this recipe. 
Click HERE to get information and a recipe for Coffee Extract. 
Cake recipe adapted from Cook's Illustrated
Nutrition information is calculated using an ingredient database and should be considered an estimate. When multiple ingredient alternatives are given, the first listed is calculated for nutrition. Garnishes and optional ingredients are not included.
Nutrition
Calories:
546
kcal
|
Carbohydrates:
84
g
|
Protein:
7
g
|
Fat:
22
g
|
Saturated Fat:
13
g
|
Polyunsaturated Fat:
1
g
|
Monounsaturated Fat:
6
g
|
Trans Fat:
1
g
|
Cholesterol:
92
mg
|
Sodium:
209
mg
|
Potassium:
328
mg
|
Fiber:
4
g
|
Sugar:
67
g
|
Vitamin A:
523
IU
|
Vitamin C:
22
mg
|
Calcium:
72
mg
|
Iron:
3
mg
We have a big variety of strawberry recipes in the archives for you to try. Here are just a few of our favorite recipes:
Our Easy Strawberry Buckle is made with just a few pantry ingredients and loads of fresh strawberries. This tasty custardy-cake comes together in just minutes. Our recipe for this Strawberry Buckle was featured in Farmhouse Style Magazine!
These Strawberry Cheesecake Bars are creamy, refreshing, and lightly sweet with an intense strawberry flavor. Always a favorite, these bars are deliciously crave-able and perfect for all your summer dessert opportunities!
You'll get rave reviews for this beautiful Strawberry Mascarpone Cake. Made with a simple lemon scented cake filled with mascarpone cream and topped with Grand Marnier soaked strawberries. A stunning and delicious dessert.