This post may contain affiliate links. Please read my disclosure policy.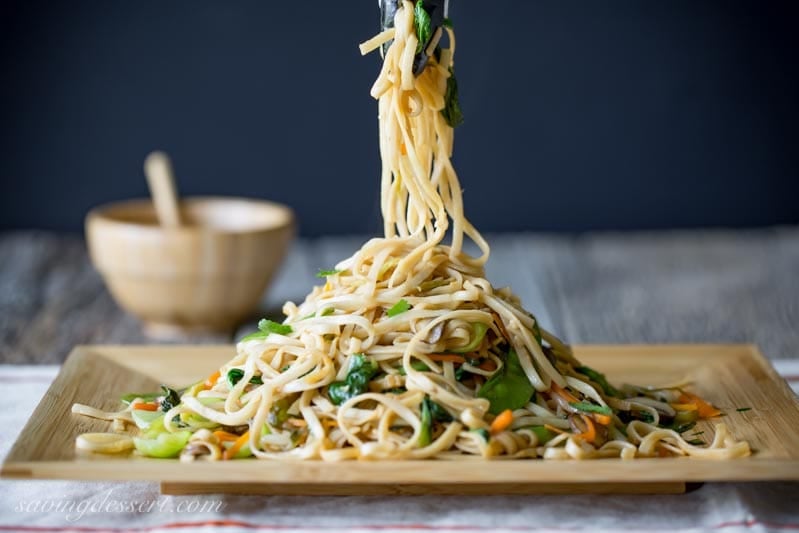 A light and flavorful Vegetable Lo Mein perfect for a Meatless Monday meal, and it's so much better than take-out! Easily adaptable for your favorite vegetables or whatever you have on hand.
I haven't eaten a lot of vegetable lo mein in my life but now that I've made it with a light sauce and loads of vegetables I'll probably eat it more often.  Nobody wants a soggy dinner floating in an oily sauce and I've seen some take-out that pretty much fit that mold.  When making homemade you have the ability to adapt the recipe to what you have in the fridge.  Need a quick meatless Monday meal?  Try adding a bag of asian slaw instead of slicing your own vegetables.  My traveling husband said it tastes authentic, light, full of flavor and he can't wait to have more!
Once all the prep work is done, this recipe comes together in minutes.  Cook the lo mein noodles according to the package directions and drain.  Toss with a little sesame oil and set aside.  Quickly sauté garlic, grated ginger and the white ends of 3 scallions.  Add the carrots, mushrooms and the green ends of the scallions.
Throw in the bean sprouts, a handful of snow peas and some Boy Choy.  Stir fry for a few minutes and toss in the noddles and the sauce.  Done, done and done!
Garnish with a little Cilantro and serve!
Serve with your favorite hot sauce (Sriracha!) and enjoy.  This light dish is great left over too 🙂
Thanks for PINNING!
We'd love to connect with you on social media. If you try our recipe, please use the hashtag #savingroomfordessert on INSTAGRAM so we can come give your post some love! And be sure to FOLLOW Saving Room for Dessert on FACEBOOK | INSTAGRAM| PINTEREST | TWITTER for all the latest recipes and updates.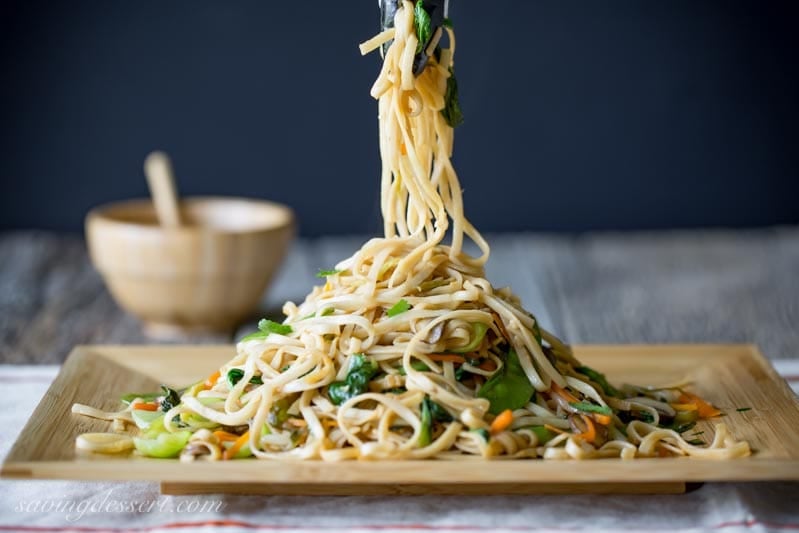 A light and flavorful vegetable lo mein perfect for your meatless Monday meal. So much better than take-out!
Ingredients
3/4

lb

lo mein noodles

4

tablespoons

soy sauce

2

teaspoons

sesame oil,

divided

2

teaspoons

granulated sugar,

dissolved in 2 teaspoons hot water

2

tablespoons

canola oil

2

cloves

garlic,

minced

1

cup

sliced mushrooms

3

tablespoons

chopped fresh cilantro

3/4

cup

fresh bean sprouts

1

medium carrot,

julienned

3

scallions,

split and cut on the bias in 2" lengths

1

tablespoon

grated fresh ginger

1

cup

snow peas,

trimmed

2

small Bok Choy,

rough chopped

1

tablespoon

dry white wine

1/4

teaspoon

Sriracha Spicy Seasoning or cayenne

optional
Instructions
Cook lo mein noodles according to package directions. Drain and toss with 1/2 teaspoon sesame oil to prevent sticking. Set aside.

In a small bowl combine the soy sauce, remaining 1 1/2 teaspoons sesame oil, Srirach seasoning, and dissolved sugar. Set aside.

Heat canola oil in a wok over high heat. Add the ginger, garlic and the white parts of the scallions and sauté quickly until they release their aroma.

Add the carrots, remaining pieces of scallion and mushrooms. Cook another 2-3 minutes then add the wine.

Stir fry for another minute and add the bean sprouts , snow peas and Bok Choy. Saute until the Bok Choy is wilted.

Make sure the cooked noodles are not stuck together and add them to the wok.

Pour the sauce over the lo mein and throw in the chopped cilantro. Stir fry until all the noodles are covered in the sauce. Use two large spatulas or spoons to lift and scoop the noodles making sure all ingredients are combined and distributed.

Serve garnished with chopped cilantro
Recipe Notes
Adapted from the Woks of Life
Did you have a fun weekend?  Do anything special?  It was actually cold this past weekend which could have been our dogwood winter.  We had to turn the heat on again!  I have another lovely fruit filled dessert featuring lemon curd to post this week.  My senior taste tester said it was fantastic.  Yeah!!!  Thanks so much for stopping by and for your comments and support!
Tricia