This post may contain affiliate links. Please read my disclosure policy.
Chewy, soft and buttery, Apple Cider Caramels
This this Apple Cider Caramels recipe for caramels that are melt-in-your-mouth delicious!
Make a batch of these Apple Cider Caramels and you'll find yourself with a whole new group of friends! If you haven't tried Apple Cider Caramels before, don't wait another minute.
They're easy to make and all you need is a candy thermometer to insure the perfect consistency. These caramels don't taste overly sweet and have a buttery bite of intense, tangy apple flavor. They're chewy, and soft, and completely delicious!
Sprinkle flaked sea salt on top for salted caramels
If you love a good salted caramel, sprinkle the cooled caramels with a little flaked sea salt just before wrapping.
The cinnamon and nutmeg really shine in each bite adding a warm layer to the already delicious apple flavor.
Feel free to cut the caramels into any size you like. I went with about a 1 1/2-inch by 1/2-inch size but 1-inch square pieces are very popular too. I recommend cutting the caramels and wrapping them in parchment or wax paper for easy eating and sharing.
If you cut part of the caramels and leave the remaining pieces in the pan, they may spread a little if not refrigerated. This batch makes about 96 candies so there's plenty to share.
If stored in a cool location, the Apple Cider Caramels should keep for 7-10 days. Beyond that, the caramels will become a little grainy and not as smooth and creamy.
OVERVIEW Ingredients
fresh apple cider or boiled cider
heavy cream
light corn syrup
granulated sugar
unsalted butter
salt
cinnamon
nutmeg
flaked sea salt for garnish
Overview: how to make Apple Cider Caramels
1. First boil the apple cider
Cook fresh apple cider in a deep saucepan until it's reduced to 1/2 cup. This can be done ahead of time and refrigerated until needed.
2. Next make the caramels
In a deep heavy bottomed saucepan combine the cream, corn syrup, sugar, butter and reduced cider. Bring to a boil and cook over medium high heat until the mixture reaches 250 degrees F on a candy or instant read thermometer.
Remove from the heat and add the salt, cinnamon and nutmeg. Pour the mixture into the prepared pan and cool to room temperature. Allow it to set overnight.
Cut the caramel into pieces and wrap each in parchment squares.
This recipe makes a soft caramel that's easy to chew.
Enjoy!
Apple Cider Caramels are a favorite Autumn treat and are great for gifting too.
Wrap up a fun little package for each of your favorite trick-or-treaters this Halloween. Or send a few home with each of your Thanksgiving guests for a memorable treat.
All our taste-testers love the caramels and were surprised by the intense, tart apple flavor. Caramel and apples are perfect together so you know these Apple Cider Caramels are going to be great!
Thanks for PINNING!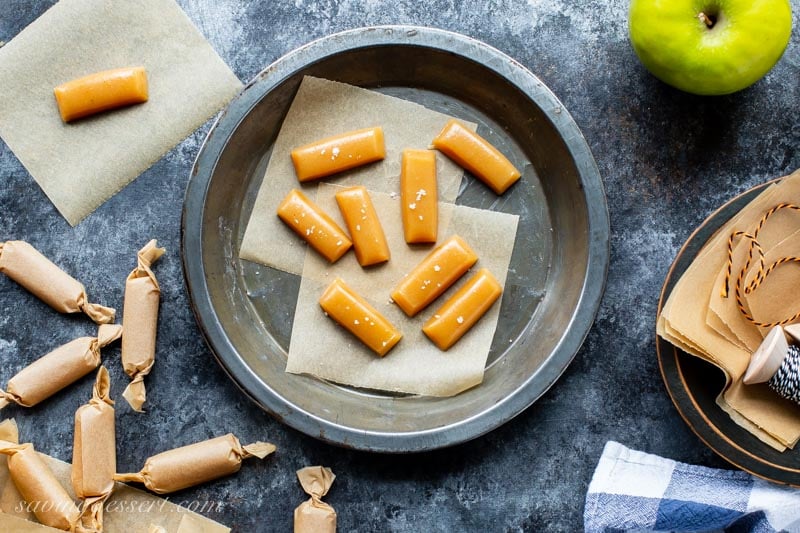 Apple Cider Caramels
Total Time:
1

hour
20

minutes
Chewy, sweet and buttery caramels with a bite from the reduced apple cider.
Ingredients
4

cups

apple cider

(or ½ cup boiled cider)

2

cups

heavy cream

1

cup

light corn syrup

2

cups

granulated sugar

6

tablespoons

unsalted butter

½

teaspoon

salt

½

teaspoon

cinnamon

¼

teaspoon

nutmeg

flaked sea salt for garnish

(optional)
Instructions
Lightly grease an 8x8-inch baking pan. Line with parchment paper leaving plenty of overhang on opposite sides to create a sling. Set aside.
To make the boiled cider:
Pour the apple cider into a large, heavy-bottom deep saucepan. Cook over medium-high heat and bring to a boil. Watch the saucepan carefully to make sure it doesn't boil over. The apple cider bubbles up quickly but will settle down after about 5 minutes of boiling. Boil until the cider is reduced to ½ cup. May be made ahead of time and refrigerated until needed.
To make the caramels:
In a large, heavy-bottom, deep saucepan, combine the heavy cream, corn syrup, sugar, butter, and reduced cider. Heat on high, stirring constantly, until the mixture comes to a boil and the sugar is dissolved. Reduce the heat to medium-high and cook, without stirring, until the caramel reaches 250°F on a candy thermometer. This can take between 20 to 30 minutes.

Remove from the heat and add the salt, cinnamon and nutmeg. Stir well to combine then carefully pour into the prepared pan. Allow the caramel to set overnight, or at least 12 to 18 hours. Cut into 1 ½-inch by ½-inch pieces. If using, sprinkle the caramels with a few granules of sea salt before wrapping in individual pieces.

To wrap individually, cut parchment or wax paper into 4 ½-inch squares. Once cut the caramels will need to be wrapped or they will spread a little. These are semi-soft caramels when cooked to 248° - 250°F. To prevent spreading in the pan, refrigerate the mixture once cut, especially if not wrapping each caramel.
Recipe Notes
Nutrition information is calculated using an ingredient database and should be considered an estimate. When multiple ingredient alternatives are given, the first listed is calculated for nutrition. Garnishes and optional ingredients are not included.
Nutrition
Calories:
54
kcal
|
Carbohydrates:
8
g
|
Protein:
0.2
g
|
Fat:
3
g
|
Saturated Fat:
2
g
|
Polyunsaturated Fat:
0.1
g
|
Monounsaturated Fat:
1
g
|
Trans Fat:
0.03
g
|
Cholesterol:
7
mg
|
Sodium:
16
mg
|
Potassium:
15
mg
|
Fiber:
0.03
g
|
Sugar:
8
g
|
Vitamin A:
95
IU
|
Vitamin C:
0.1
mg
|
Calcium:
5
mg
|
Iron:
0.02
mg
Here are a few more apple cider recipes you might enjoy:
Apple Cider Ice Cream with Cinnamon ~ pucker up peeps!  If you love a tart apple, and sweet dreamy ice cream, you've come to the right place!
Baked Apple Cider Doughnuts – These light and spongy cinnamon sugar coated Apple Cider Doughnuts are so delicious, bet you can't eat just one!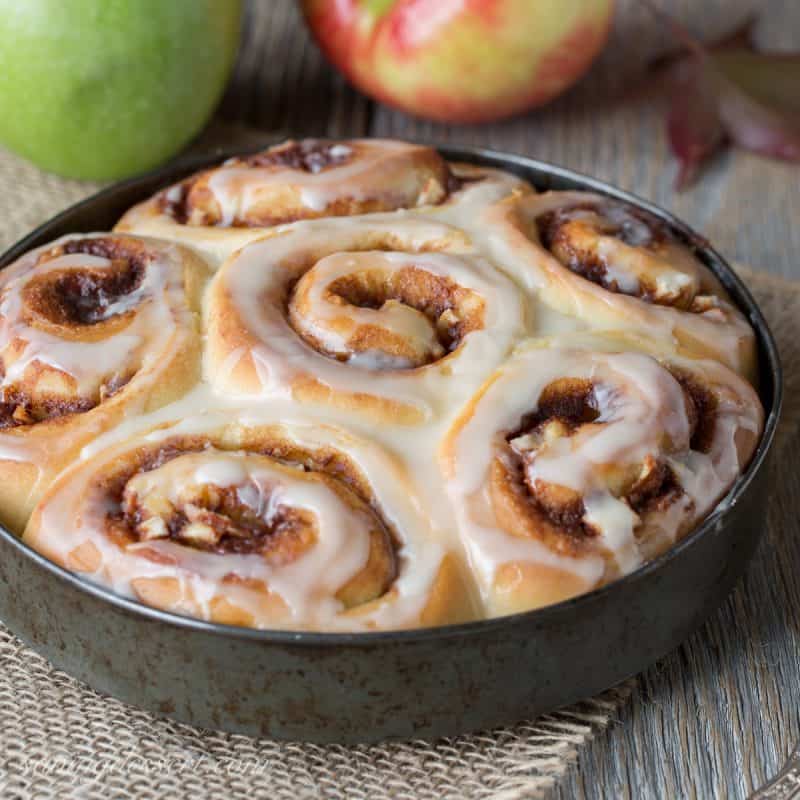 Apple Cinnamon Rolls with Apple Cider Glaze – A lightly sweet cinnamon roll with chunks of fresh apple and a simple apple cider glaze.