This post may contain affiliate links. Please read my disclosure policy.
Apple Cider Ice Cream with Cinnamon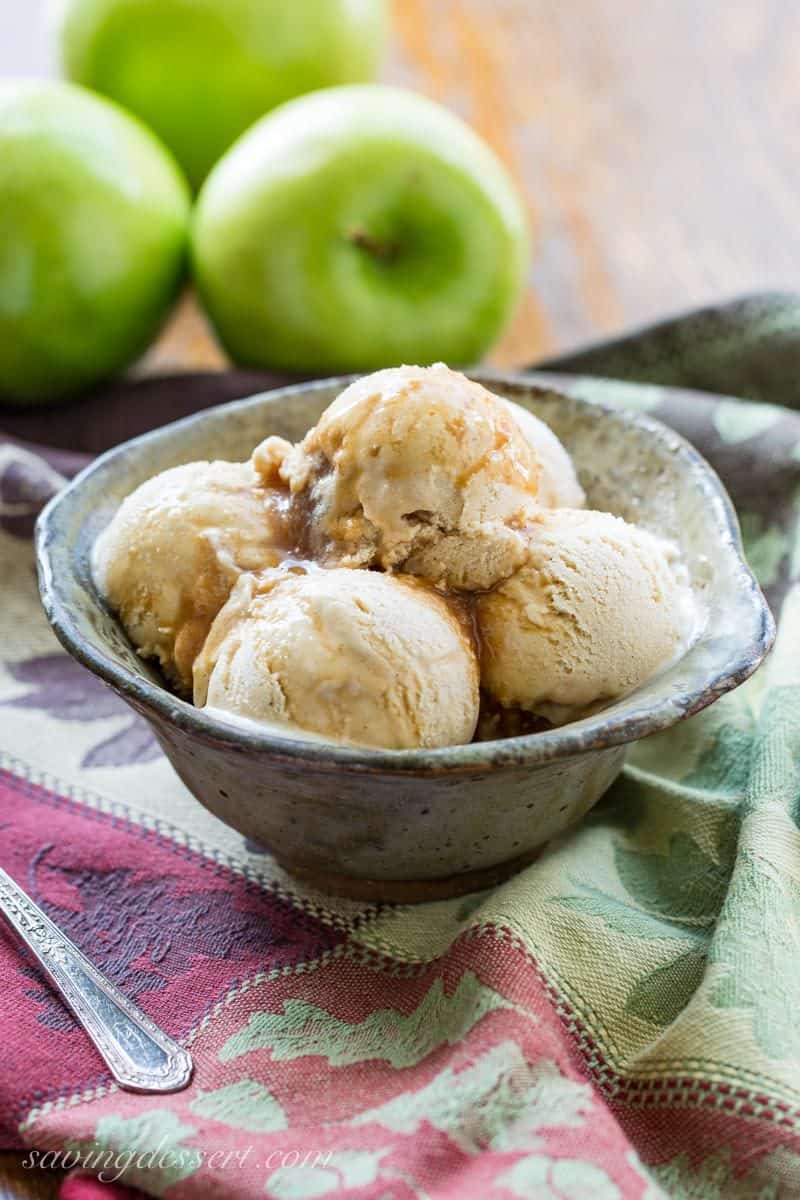 Pucker up peeps! If you love a tart apple, and sweet dreamy ice cream, you've come to the right place!
There are no hard and fast rules about eating ice cream during the fall and winter months, at least not in my house! In fact, apple cider ice cream is the perfect fall treat, especially one that tastes like warm cinnamon and baked apples with a zing from the boiled apple cider syrup.
Boiled apple cider should not be confused with apple cider vinegar. They have a completely different taste, one is sweet and the other taste like vinegar of course.
Quick view of the ingredients for Apple Cider Ice Cream:
fresh, unpasteurized, unsweetened apple cider or purchase boiled cider syrup from a retailer like King Arthur Baking
heavy cream
vanilla bean paste or vanilla extract
whole milk
granulated sugar
salt
ground cinnamon
egg yolks
Overview: How to make Apple Cider Ice Cream
First, boil the apple cider into a thick syrup. Cool until needed.
Next pour the milk into a saucepan and add 1/2 cup of sugar, salt and cinnamon. Warm over medium heat until the sugar dissolves and the mixture just starts to boil.
In a separate bowl whisk together the remaining sugar and the egg yolks. Temper the eggs by drizzling some of the hot mixture into the eggs and sugar. Pour the hot tempered egg mixture back into the saucepan and continue to heat until it reaches 175 degrees F on an instant-read thermometer.
Remove from the heat and add the boiled cider. Pour the mixture into a bowl set over an ice bath. Add the cream and stir to combine. Leave the ice cream base in the ice bath stirring occasionally until cooled. Refrigerate 8 hours or overnight.
Process the ice cream according to the manufacturer directions for your ice cream maker.
Scoop into a freezer safe container layering the ice cream with the remaining apple cider syrup. Freeze until firm then serve.
All natural apple cider is made by pressing the juice from fresh apples.
Nothing more is added to apple cider because the juice is already a perfect blend of naturally sweet and tart flavors.
Have you ever wondered about the differences between apple cider and apple juice?
Cider is raw apple juice that has not been cooked or filtered so it will appear cloudy because it still contains some pulp.
Apple juice is sometimes sweetened, typically filtered and pasteurized, and will keep much longer on the grocery store shelves. Both have their place in the kitchen and pantry, but today we are using fresh unpasteurized apple cider to make this delightful ice cream.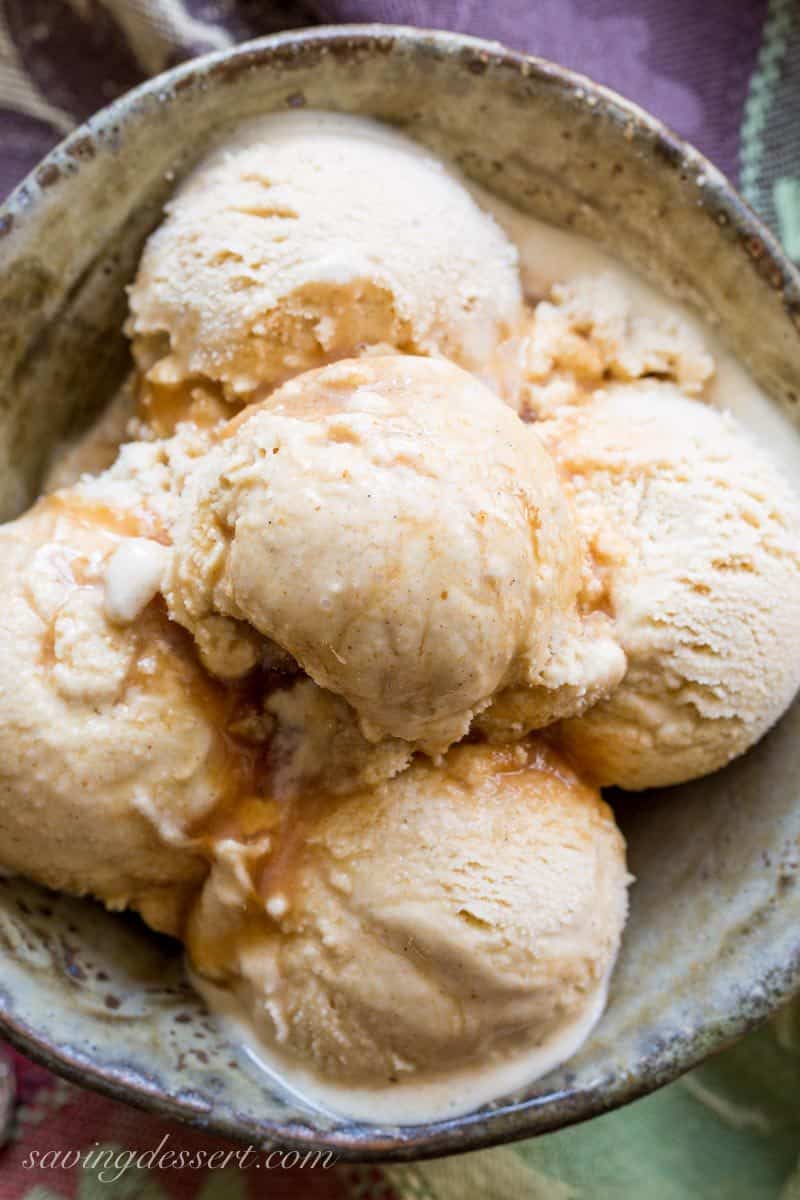 Fresh apple cider is boiled down into a syrup then added to the ice cream base.
Boiled apple cider is delicious, intense, sweet, thick like maple syrup, and crazy good on just about anything. Drizzle it on cornbread, waffles, pancakes, a bowl of ice cream, even a slice of apple pie or a spoon.
Or, make this ice cream and scoop it on top of my Classic Apple Pie for an incredible full on apple experience.
Because boiled apple cider is pretty sweet on it's own, this ice cream is naturally on the sweeter side. I decided (at the insistence of my taste testing husband) that we would drizzle and swirl half the apple cider syrup into the finished ice cream, creating a caramel like layer.
The ribbon of apple cider syrup is deliciously intense. It's similar to lemon curd which is sweet and tart at the same time with loads of lemon flavor. Apple cider syrup has the greatest apple flavor ever experienced.
However, if you think it'll be too much tanginess for your apple loving crowd, I recommend adding half the syrup to the ice cream as directed. Then save the remaining syrup to pass when serving. Your guests can drizzle to their hearts delight!
Thanks for PINNING!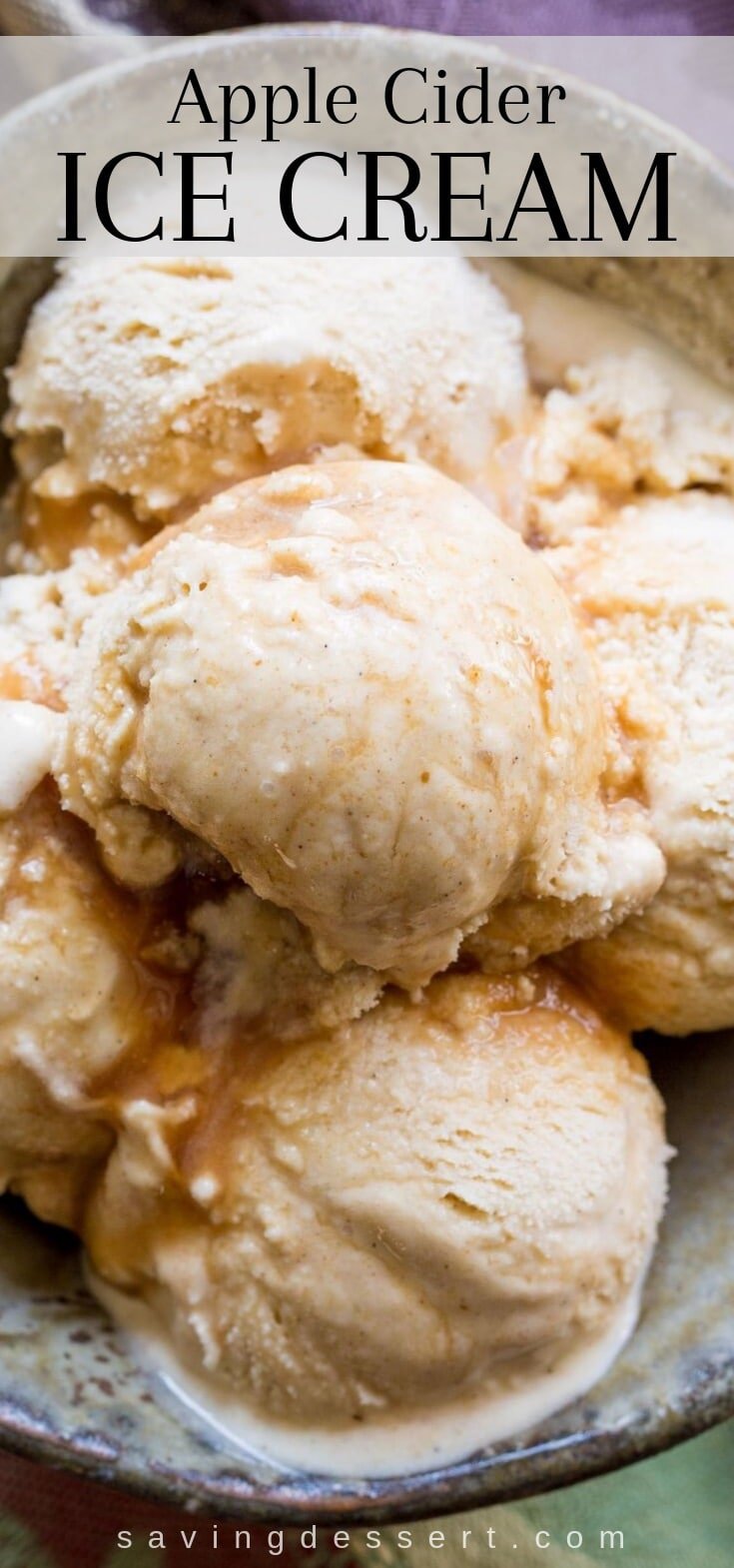 Apple Cider Ice Cream with Cinnamon
Total Time:
1

day
40

minutes
Pucker up peeps! If you love a tart apple and sweet dreamy ice cream, this recipe is for you!
Ingredients
8

cups

apple cider

unpasteurized and unsweetened

1 ½

cups

heavy cream

1 ½

teaspoons

vanilla bean paste

or pure vanilla extract

1

cup

whole milk

¾

cup

granulated sugar

divided

pinch

of salt

1

teaspoon

ground cinnamon

5

egg yolks
Instructions
To make the boiled cider:
Measure 1 ¼ cups of the cider and pour into a large, heavy bottom stockpot. Take a ruler or chopstick and place it in the pan to measure the depth of the cider. Make a mark on the chopstick so you'll know when the cider reduces to the exact amount.

Now add ALL remaining cider to the pan and bring to a boil over medium-high heat, stirring occasionally with a wooden spoon. Reduce the heat to medium-low and cook, uncovered, for 3-4 hours, stirring occasionally, or until the cider has reduced to a little less than 1 ¼ cups of syrup.

Make sure you don't ignore the cider. I recommend you check and stir it frequently. Set a timer to remind yourself to stir the cider every 15-20 minutes in the beginning. Once it gets thick, stay close by to stir frequently to prevent scorching. The boiled cider is done when it coats the back of a wooden spoon and measures slightly under 1 ¼ cups of syrup. It should have the texture of maple syrup.

Cool until needed for the ice cream. However, it can be added to the ice cream mixture while still warm or even hot.
To make the ice cream:
Place a large glass or metal pan inside another larger bowl filled with ice. Add the whipping cream and vanilla bean paste to the bowl set inside the ice bath. Set aside.

Pour the milk into a heavy bottom, medium saucepan. Add ½ cup of sugar, salt and cinnamon. Warm over medium heat, stirring to dissolve the sugar, until the mixture almost comes to a boil.

While the milk is warming, combine the remaining ¼ cup of sugar with the egg yolks in a medium mixing bowl. Whisk vigorously until the mixture is pale and slightly thickened. Set aside.

Temper the egg mixture by slowly drizzling a little of the hot milk mixture into the eggs while whisking constantly. Continue adding the hot milk to the egg yolks, a little at a time, until combined. Once most of the hot milk has been added to the eggs, pour the egg/milk mixture back into the saucepan. Heat on medium, stirring constantly, until the mixture coats the back of a wooden spoon or reaches 175°F on an instant-read thermometer.

Remove from the heat and add ⅔ cup of the boiled cider. Stir until combined. Pour the cider custard into the cream set over the ice bath. Stir occasionally (about every 5 minutes) while cooling, about 30 minutes. Cover and refrigerate the custard for at least 8 hours or overnight before processing.

Process the ice cream according to the manufacturer directions for your ice cream maker. Once frozen scoop the ice cream into a freezer safe container, layering the ice cream with the remaining apple cider syrup. Another option is to freeze the ice cream without layering with syrup, but serve with a drizzle of syrup to taste. Freeze the container for several hours or overnight before serving.
Recipe Notes
Tempering eggs is a method used to slowly increase the temperature of the eggs, so you can prevent them from scrambling while cooking the mixture to a safe temperature.
This recipe makes 1 quart of ice cream. You'll need an ice cream maker for this recipe.
The boiled cider recipe can easily be doubled if desired.
Boiled cider can be refrigerated indefinitely and is delicious served on pancakes, corn bread, and can be used to sweeten mashed sweet potatoes, winter squash or carrots. Stir some into BBQ sauce for a wonderful treat. And of course, it is phenomenal drizzled over ice cream!
Boiled cider recipe adapted from The Washington Post.
Nutrition information is calculated using an ingredient database and should be considered an estimate. When multiple ingredient alternatives are given, the first listed is calculated for nutrition. Garnishes and optional ingredients are not included.
Nutrition
Calories:
316
kcal
|
Carbohydrates:
39
g
|
Protein:
3
g
|
Fat:
17
g
|
Saturated Fat:
10
g
|
Polyunsaturated Fat:
1
g
|
Monounsaturated Fat:
5
g
|
Cholesterol:
149
mg
|
Sodium:
36
mg
|
Potassium:
261
mg
|
Fiber:
1
g
|
Sugar:
35
g
|
Vitamin A:
697
IU
|
Vitamin C:
2
mg
|
Calcium:
80
mg
|
Iron:
1
mg
Here are some more terrific ways to use apple cider during apple season:
Don't miss this drool-worthy Apple Cider Doughnut Cake. This cake is easy to make and so delicious!
Hot Spiced Apple Cider Recipe is what the holidays taste like! Terrific served warm or cold and loaded with the warm flavors of cinnamon, cloves, allspice, and the fresh citrusy zing of lemon and orange.
Apple Cider Caramel Sauce is so luscious and delicious, you may find yourself buying extra apple cider as an excuse to make more!
Sweet and chewy, soft and buttery, Apple Cider Caramels are melt-in-your-mouth delicious. Make a batch and you may find yourself with a whole new group of friends.
And finally, be sure to try one of our all time favorite breakfast treats, baked Apple Cider Doughnuts.
SaveSave
SaveSave
SaveSave
SaveSave
SaveSave
SaveSave
SaveSave
SaveSave
SaveSave