This post may contain affiliate links. Please read my disclosure policy.
Baked Apple Cider Doughnuts – I can't wait for you to try this recipe! Our light and spongy cinnamon sugar coated Apple Cider Doughnuts are so delicious, bet you can't eat just one!
Apple cider is pretty amazing stuff. Whether adding to sweet or savory recipes, it's a must have for fall cooking and baking. During apple season, most grocery stores carry fresh apple cider so be on the lookout for this magic elixir in the produce section. When you boil down the cider for this recipe, your house will smell amazing! Be sure to watch it closely as you don't want it to boil over onto your stove.
I'm not a fan of yeasty, fried doughnuts and am grateful there's something in this world I don't like to eat!
However, I do love a good baked doughnut and these Apple Cider Doughnuts are some of the best I've ever had. Each year we take a quick trip to Charlottesville Virginia, which is about an hour away, to pick apples at Carter Mountain Orchard. They have pre-picked or pick-your-own apples in several varieties. They also have a restaurant, a hard cider cellar, country store and bakery where they sell jams, cider, pies, ice cream, and the unbelievably popular fried apple cider doughnuts. My son and daughter-in-law never leave the mountain without a box of their doughnuts. Since I don't care for fried doughnuts, I've never actually had one but I do like a bottle of hard cider, after I've picked apples of course. They host special events and are extremely busy during apple season. If you live in the area and want to visit, check their Facebook page before heading out to see if they're closed due to overcrowding.
The popularity of their doughnuts prompted me to come up with my own recipe for a baked version of these treats.
I passed along a box of these homemade baked apple cider doughnuts to my son and daughter-in-law (center) and received a big thumbs up from his whole family. I bet they'll still buy doughnuts from Carter Mountain, but that's okay. Whenever we can't make the trip to the mountain, we an always have my delicious homemade fresh Apple Cider Doughnuts!
Tips for delicious Apple Cider Doughnuts:
In a pinch you can use plain, unreduced apple cider in this recipe but the flavor will not be as intense. I would not substitute apple juice as it has added sugar which is not needed in this recipe.
You can drizzle icing on the doughnuts instead of coating in cinnamon and sugar if preferred. Skip brushing the apple cider on the warm doughnuts and allow them to cool. Whisk together a tablespoon of cider with 1/2 cup of powdered sugar and drizzle on the cooled doughnuts.
I use a 6-well doughnut pan so I bake in three batches. If reusing the pan as I have done, wipe it out with a paper towel and re-coat with vegetable cooking spray between bakes.
If you don't have a doughnut pan and don't want to buy one, make muffins instead! You should get 12 muffins from this recipe. Bake about 23-25 minutes or until a toothpick inserted in the center of a muffin comes out clean.
These doughnuts have a deliciously light and spongy texture and nice bite from the apple cider. They are terrific warm, or room temperature and are best eaten the day they're made. They become a little moist, but not wet, from the sugar coating after sitting overnight but are still delicious to eat.
Donut or Doughnut? Check out this fun and interesting article from Huffington Post about the spelling debate and a possible history behind the origin of the word donut.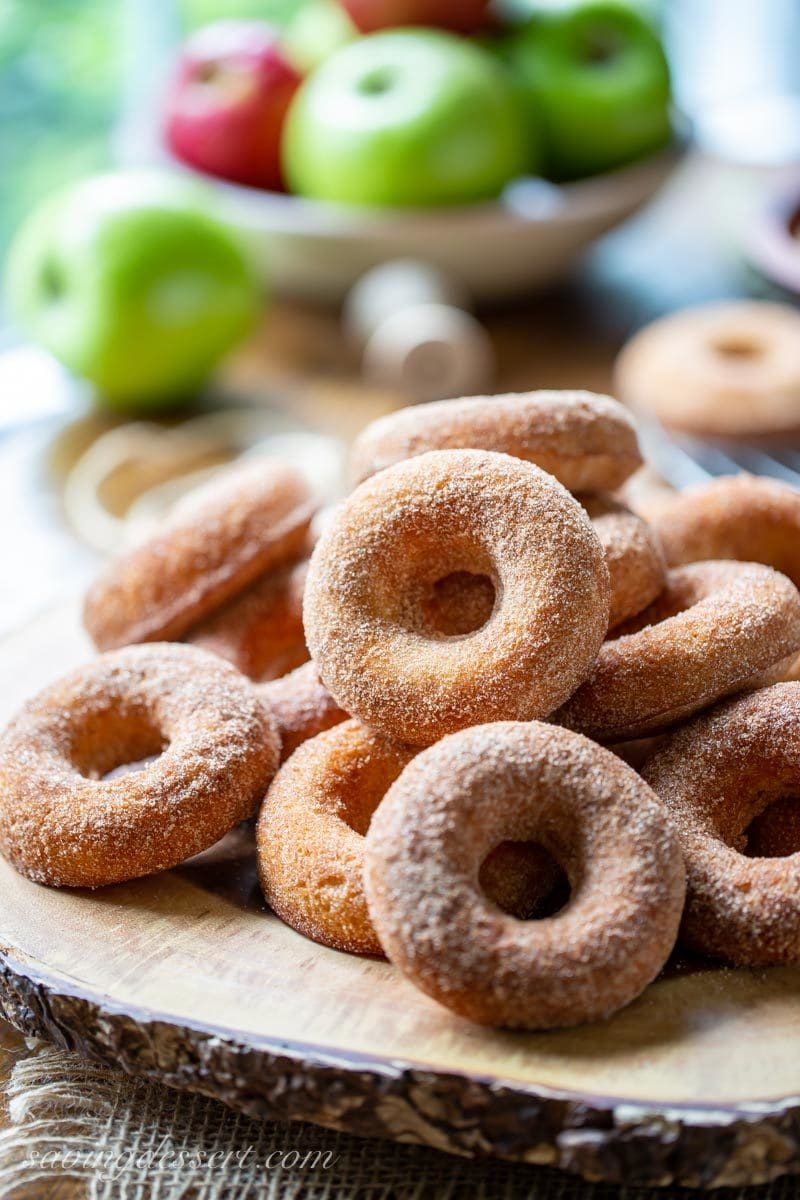 Apple cider is not the same as apple juice.
Natural cider is typically raw, unprocessed, unfiltered and unsweetened juice made from just apples.
Good Apple cider is made by grinding and seriously pressing the apples to extract the juice and some of the pulp. The apple pulp (almost like apple sauce) is then strained and the remaining juice/cider is bottled. That's the simple, abbreviated version of the process but of course there are a few more steps I might have skipped.
When cider is boiled and reduced, it produces an intense apple flavor you will enjoy! Boiled cider is typically made by reducing apple cider to one fourth it's original volume. You can boil four cups of cider down to one cup to achieve this ratio. For this recipe we boiled the cider to only half it's original amount. The more you reduce the cider the more intense the flavor will become. It also thickens to a syrup or molasses consistency.
Apple cider is a non-alcoholic beverage not to be confused with hard cider.
Hard cider is pretty great, but probably not for baking doughnuts. Some apple ciders are pasteurized which will extend the shelf life but also mildly affects the sweetness of the cider. Pasteurized cider will work fine in this recipe because we're cooking it down anyway – no worries.
Thanks for PINNING!
Let's be baking friends! If you try our recipe please feel free to leave a comment on this post. I'm sure your experience and insights will help all our readers, and me too. Also, if you're on Pinterest feel free to leave a comment and photo there if you have one! If you share on INSTAGRAM use the hashtag #savingroomfordessert so we can stop by and give your post some love. And we'd be very happy if you'd FOLLOW Saving Room for Dessert on FACEBOOK| INSTAGRAM| PINTEREST | TWITTER  and subscribe to our YOUTUBE channel for all the latest recipes, videos and updates. Thank you!!!
PRINT THE RECIPE!
Bet you can't eat just one of these light and spongy cinnamon and sugar coated Apple Cider Doughnuts!
Ingredients
For the apple cider reduction:
For the doughnuts:
½

teaspoon

ground cinnamon

½

teaspoon

salt

1 ½

teaspoons

baking powder

2

cups

all-purpose flour

½

cup

vegetable oil

3

large eggs

1

cup

granulated sugar

1

cup

unsweetened apple sauce

½

cup

reduced apple cider

(see notes)

½

teaspoon

vanilla extract
For cinnamon sugar topping:
1

tablespoon

ground cinnamon

⅓

cup

granulated sugar

½

cup

reduced apple cider

for brushing on warm doughnuts
Instructions
To make the apple cider reduction for this recipe:
Place 2 cups apple cider in a deep saucepan and bring to a boil over medium-high heat. Adjust the temperature to medium and continue cooking until the cider is reduced by half, to one cup, about 20 minutes. Don't walk away, you'll want to keep an eye on the cider so it doesn't boil over. Set aside to cool. Can be made the day before and refrigerated until needed. Half the reduced cider will be added to the batter, the other half will be used to brush on the doughnuts when they come out of the oven. (See NOTES below for tips)
To make the doughnuts:
Lightly grease a donut pan with vegetable cooking spray. Set aside. Place a cooling rack over a piece of parchment, wax paper or set it inside a large baking sheet.

In a small bowl whisk together the cinnamon, salt, baking powder and flour.

In a medium mixing bowl combine the oil, eggs, sugar, apple sauce, ½ cup of the reduced apple cider and vanilla. Whisk until smooth and well blended. Add the flour mixture and blend with a spatula until smooth, with a few small lumps, do not over-beat.

Fill each doughnut pan well with ¼ cup of batter. They should be almost full. Bake for 14-16 minutes. While the doughnuts are baking, mix together the cinnamon and sugar for the topping in a small bowl.

Check for doneness by inserting a toothpick into the center. It should come out clean. Allow the donuts to rest in the pan for 2-3 minutes then remove to a wire rack. Brush the warm donuts with the remaining ½ cup of reduced cider, then toss in the cinnamon sugar mixture to coat. Return the doughnuts to the wire rack to set, or eat warm and enjoy!

Before baking the next batch of doughnuts, wipe out and respray the pan for easy removal.
Recipe Notes
Be sure to re-spray your doughnut pan in between batches for easy removal.
PRO TIP: Here's an easy tip for knowing when the apple cider is reduced to one cup. Pour 1-cup of the cider into the saucepan. Place a wooden skewer straight down into the pan and mark how far up the skewer the cider comes. Add the remaining cider to the saucepan and cook as directed. Once reduced you can test by placing the wooden skewer into the pan. If it comes to the same level as marked on the skewer, it's reduced enough for this recipe. If reduced too much, it's okay, just add more fresh apple cider to make one cup.
To make muffins instead of doughnuts, fill each muffin well until about 3/4 full and bake for 23-24 minutes or until a toothpick comes out clean. Makes 18 doughnuts.
Nutrition information is calculated using an ingredient database and should be considered an estimate. When multiple ingredient alternatives are given, the first listed is calculated for nutrition. Garnishes and optional ingredients are not included.
Nutrition
Calories:
197
kcal
|
Carbohydrates:
32
g
|
Protein:
2
g
|
Fat:
7
g
|
Saturated Fat:
1
g
|
Polyunsaturated Fat:
4
g
|
Monounsaturated Fat:
2
g
|
Trans Fat:
0.04
g
|
Cholesterol:
27
mg
|
Sodium:
113
mg
|
Potassium:
77
mg
|
Fiber:
1
g
|
Sugar:
20
g
|
Vitamin A:
45
IU
|
Vitamin C:
1
mg
|
Calcium:
35
mg
|
Iron:
1
mg
Here are a few more of our favorite doughnut recipes you might also like:
Chocolate Doughnuts – If by chance you really need a chocolate donut, these will absolutely, without a doubt, completely and totally satisfy your craving!  They are like mini-baked cakes with all the trimmings.  Nope … these donuts are not good breakfast food.  Stick with your oatmeal or protein packed smoothie and save these for dessert!   Click HERE to get the recipe for Chocolate Doughnuts.
I hope you'll try these lovely baked Pumpkin Doughnuts with Caramel Icing & Toasted Pecans. They have a wonderful texture and terrific flavor. Topped with caramel icing and toasted chopped pecans – they're easy to make but hard to stop eating! Click HERE to get the recipe for Baked Pumpkin Doughnuts.
FEATURED KITCHEN TOOL:

Click on the photo for more information about this inexpensive and durable nonstick doughnut pan
*Saving Room for Dessert is a participant in the Amazon Services LLC Associates Program ~ I earn a small commission, at no additional cost to you, which I use to pay for web hosting and services for this blog. Thanks for supporting SRFD!
Thanks so much for stopping by! Tricia