This post may contain affiliate links. Please read my disclosure policy.
Bet you'll love these light and spongy baked Apple Cider Doughnuts with plenty of intense apple cider flavor and loads of warm cinnamon spice inside and out. They're the perfect fall treat!
Our favorite Apple Cider Doughnuts
Without a doubt, I prefer our baked doughnuts to frying. The end results is a more cake like doughnut that's light and taste great without being greasy or heavy. And of course it's so much easier than making a big mess frying in the kitchen. For our recipe you don't even need a mixer!
However, you will need a donut pan (affiliate link) to achieve that perfect donut shape. If you don't want to buy one feel free to make these into regular size muffins or mini-muffins to look like donut holes.
We participate in the Amazon Services LLC Associates Program, an affiliate advertising program designed to provide a means for us to earn fees by linking to Amazon.com and affiliated sites
Ingredients Overview
For the doughnuts

:
ground cinnamon
salt
baking powder
all-purpose flour
vegetable oil
large eggs at room temperature
granulated sugar (or half granulated and half brown sugar)
unsweetened applesauce
reduced apple cider
vanilla extract
Cinnamon sugar topping

:
ground cinnamon
granulated sugar
reduced apple cider for brushing on warm doughnuts
How to make our Apple Cider Donut Recipe
1.
First make the apple cider reduction
Place the apple cider in a deep saucepan and bring to a boil. Reduce the heat and simmer until the cider is reduced to half its original volume. Boiled cider can be made a day or two ahead of time then refrigerated until needed.
2.
Next make the doughnuts
Preheat the oven and lightly grease a donut pan.
In a small bowl whisk together the dry ingredients: cinnamon, salt, baking powder and flour.
In a medium bowl combine the wet ingredients: oil, eggs, sugar, applesauce, one-half cup of the reduced cider and vanilla. Add the flour mixture and stir until just combined.
Fill each doughnut well with one-fourth cup of batter. Bake for 14 to 16 minutes. While the doughnuts are baking mix together the cinnamon and sugar coating.
3.
Coat the doughnuts
Brush the warm doughnuts with the remaining half of reduced cider then toss in the cinnamon sugar mixture to coat. Place on a wire rack to set or eat warm and enjoy!
Tips for delicious Apple Cider Donuts:
In a pinch you can use plain, unreduced apple cider in this recipe but the flavor will not be as intense. Do not substitute apple juice for the cider as it has added sugar which is not needed in this recipe.
Drizzle icing on the doughnuts instead of coating in cinnamon and sugar if preferred. Skip brushing the apple cider on the warm doughnuts and allow them to cool. Whisk together a tablespoon of cider with 1/2 cup of powdered sugar and drizzle on the cooled doughnuts.
I own a 6-well doughnut pan so I bake in three batches. If reusing the pan as I have done, wipe it out with a paper towel and re-coat with vegetable cooking spray between bakes.
If you don't have a doughnut pan and don't want to buy one, make muffins instead! You should get 12 muffins from this recipe. Bake about 23-25 minutes or until a toothpick inserted in the center of a muffin comes out clean.
These doughnuts have a deliciously light and spongy texture and nice bite from the apple cider and are terrific served warm or room temperature. However, they are best eaten the day they're made. They become a little moist, but not wet, from the sugar coating after sitting overnight but are still delicious to eat.
Donut or Doughnut? Check out this fun and interesting article about the spelling debate and a possible history behind the origin of the word donut.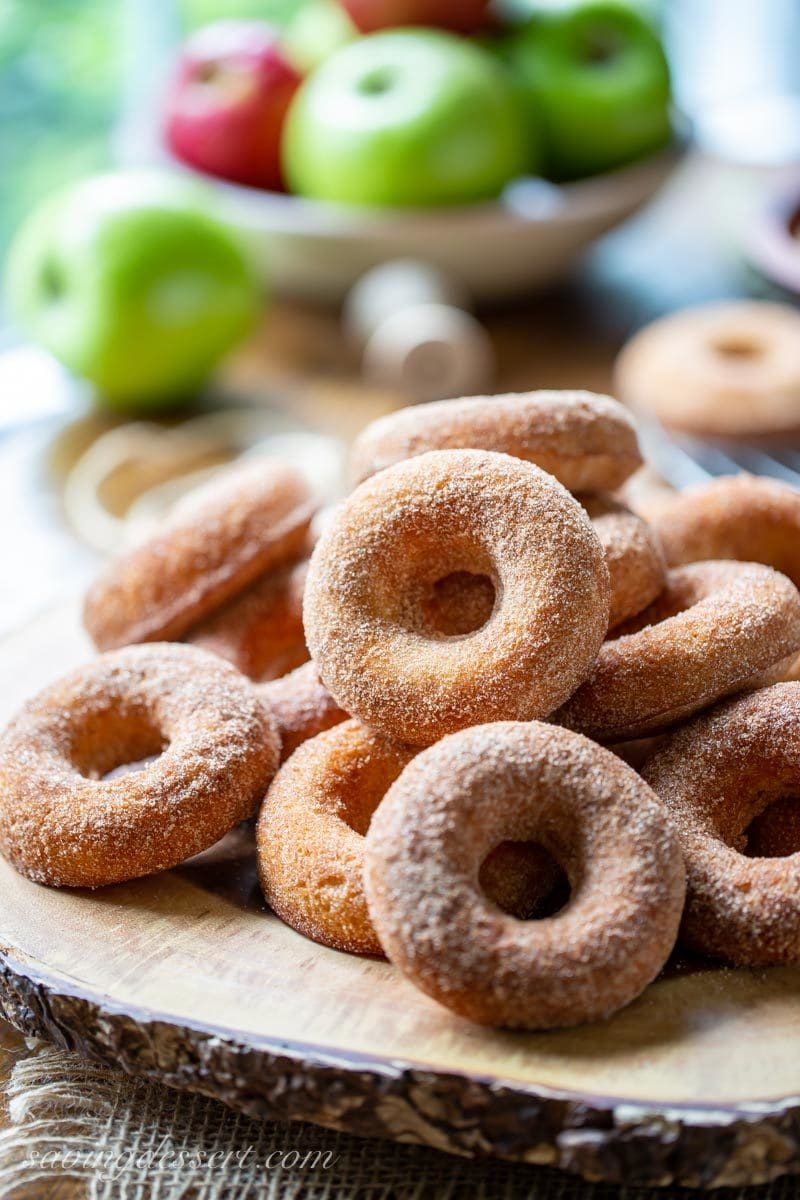 Boiled Apple Cider
When cider is boiled and reduced it creates an intense apple flavor.
Boiled cider is typically made by reducing apple cider to one-fourth its original volume. You can boil four cups of cider down to one cup to achieve this ratio. It also thickens to a syrup or molasses consistency.
For this recipe we boil the cider until it's reduced by half.
This intensifies the flavor and reduces the amount of liquid needed to get all that apple cider flavor. The more you reduce the cider the more intense the flavor will become.
When you boil the cider your house will smell amazing! But be sure to watch it closely as you don't want it to boil over on your stovetop.
All about Apple cider
Apple cider is pretty amazing stuff. Whether adding to sweet or savory recipes it's a must for fall cooking and baking. During apple season many grocery stores carry fresh apple cider so be on the lookout for this magic elixir in the produce section.
Natural cider is typically raw, unprocessed, unfiltered and unsweetened juice made from apples pressed to extract the juice and some pulp. Apple cider is a non-alcoholic beverage not to be confused with hard cider.
Hard cider is pretty great, but probably not for baking doughnuts. It's more like a cross between juice and beer and is only for the grownups.
Cider is not the same as apple juice which is sweetened, filtered and almost clear with a golden color.
Some apple cider is pasteurized (cooked) which will extend the shelf life but it also mildly affects the sweetness. Pasteurized cider will work fine in this recipe because we're cooking it down anyway so no worries.
Check your local grocery store or apple orchard for fresh pressed apple cider. It's great to drink straight from the jug or can be warmed and enhanced with fresh fruit, spices and sugar. It can also be served with or without bourbon or rum. Hot Spiced Apple Cider is a great seasonal favorite!
Bet you can't eat just one of these light and spongy cinnamon sugar coated Apple Cider Doughnuts!
Ingredients
For the apple cider reduction:
2

cups

apple cider

(16 ounces)
For the doughnuts:
½

teaspoon

ground cinnamon

½

teaspoon

salt

1 ½

teaspoons

baking powder

2

cups

all-purpose flour

(252g)

½

cup

vegetable oil

(4oz)

3

large eggs

room temperature

1

cup

granulated sugar

(222g)

1

cup

unsweetened apple sauce

(256g)

½

cup

reduced apple cider

(see notes)

½

teaspoon

vanilla extract
For cinnamon sugar topping:
1

tablespoon

ground cinnamon

⅓

cup

granulated sugar

½

cup

reduced apple cider

for brushing on warm doughnuts
Instructions
To make the apple cider reduction for this recipe:
Place 2 cups apple cider in a deep saucepan and bring to a boil over medium-high heat. Adjust the temperature to medium and continue cooking until the cider is reduced by half, to one cup, about 20 minutes. Don't walk away, you'll want to keep an eye on the cider so it doesn't boil over. Set aside to cool. Can be made the day before and refrigerated until needed. Half the reduced cider will be added to the batter, the other half will be used to brush on the doughnuts when they come out of the oven. (See NOTES below for tips)
To make the doughnuts:
Lightly grease a donut pan with vegetable cooking spray. Set aside. Place a cooling rack over a piece of parchment, wax paper or set it inside a large baking sheet.

In a small bowl whisk together the cinnamon, salt, baking powder and flour.

In a medium mixing bowl combine the oil, eggs, sugar, apple sauce, ½ cup of the reduced apple cider and vanilla. Whisk until smooth and well blended. Add the flour mixture and blend with a spatula until smooth, with a few small lumps, do not over-beat.

Fill each doughnut pan well with ¼ cup of batter. They should be almost full. Bake for 14-16 minutes. While the doughnuts are baking, mix together the cinnamon and sugar for the topping in a small bowl.

Check for doneness by inserting a toothpick into the center. It should come out clean. Allow the donuts to rest in the pan for 2-3 minutes then remove to a wire rack. Brush the warm donuts with the remaining ½ cup of reduced cider, then toss in the cinnamon sugar mixture to coat. Return the doughnuts to the wire rack to set, or eat warm and enjoy!

Before baking the next batch of doughnuts, wipe out and respray the pan for easy removal.
Recipe Notes
Be sure to re-spray your doughnut pan in between batches for easy removal.
PRO TIP: Here's an easy tip for knowing when the apple cider is reduced to one cup. Pour 1-cup of the cider into the saucepan. Place a wooden skewer straight down into the pan and mark how far up the skewer the cider comes. Add the remaining cider to the saucepan and cook as directed. Once reduced you can test by placing the wooden skewer into the pan. If it comes to the same level as marked on the skewer, it's reduced enough for this recipe. If reduced too much, it's okay, just add more fresh apple cider to make one cup.
To make muffins instead of doughnuts, fill each muffin well until about 3/4 full and bake for 23-24 minutes or until a toothpick comes out clean. Makes 18 doughnuts.
Nutrition information is calculated using an ingredient database and should be considered an estimate. When multiple ingredient alternatives are given, the first listed is calculated for nutrition. Garnishes and optional ingredients are not included.
Nutrition
Calories:
197
kcal
|
Carbohydrates:
32
g
|
Protein:
2
g
|
Fat:
7
g
|
Saturated Fat:
1
g
|
Polyunsaturated Fat:
4
g
|
Monounsaturated Fat:
2
g
|
Trans Fat:
0.04
g
|
Cholesterol:
27
mg
|
Sodium:
113
mg
|
Potassium:
77
mg
|
Fiber:
1
g
|
Sugar:
20
g
|
Vitamin A:
45
IU
|
Vitamin C:
1
mg
|
Calcium:
35
mg
|
Iron:
1
mg
Here are a few more of our favorite "doughnut" recipes you might also like:
Try these lovely baked pumpkin doughnuts with a wonderful texture and terrific flavor.
View this Recipe
Moist, tender and loaded with fall flavors from the cinnamon, reduced apple cider and applesauce
View this Recipe
Originally published September 2018, updated October 2023