This post may contain affiliate links. Please read my disclosure policy.
Rich and creamy Au Gratin Potatoes Recipe
Everyones favorite creamy Au Gratin Potatoes with Gruyère
Our Au Gratin Potatoes recipe is the perfect combination of tender cheesy potatoes and a silky, flavorful sauce.
Don't wait for a special occasion to try this Au Gratin Potatoes Recipe! It's perfect served for a simple Sunday supper alongside Classic Roast Beef or Herb Roasted Turkey Breast. This versatile side dish has been a family favorite for generations.
With a pinch of cayenne and nutmeg, and plenty of fresh ground black pepper, our well spiced potatoes are memorable. The silky sauce has an earthy, assertive and complex flavor from a little aged Gruyère cheese sprinkled between the layers, making this potato casserole irresistible!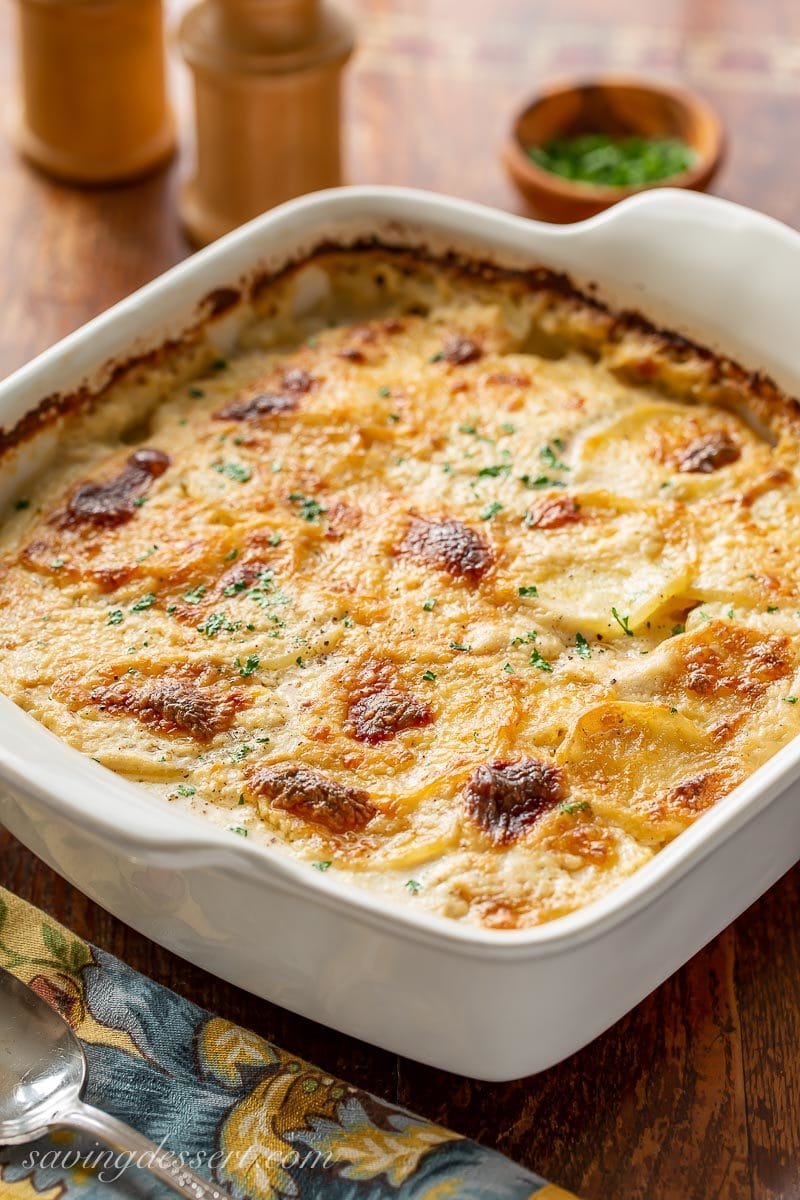 Overview: Ingredients for Au Gratin Potatoes
unsalted butter for the roux
all-purpose flour for thickening the sauce
salt
black pepper
grated nutmeg – fresh grated nutmeg is best!
cayenne pepper to add a little zing. Add more or less as desired.
garlic powder
half-and-half or a combination of whole milk and heavy cream
shredded Gruyère cheese or any good, flavorful melting cheese
waxy potatoes like Yukon gold
Overview: how to make Au Gratin Potatoes
1. Make the white sauce
Melt the butter in a saucepan over medium heat. Add the flour and cook, stirring constantly.
Next, add salt, pepper, nutmeg, cayenne, garlic powder and the half-and-half. Cook until the sauce thickens. Keep warm and set aside.
2. Prepare the potatoes
Peel and slice the potatoes. Layer a third of the thinly sliced potatoes in the prepared baking dish. Spoon a third of the sauce over the potatoes and sprinkle with a fourth of the cheese.
Repeat layering with the remaining potatoes, cream mixture and cheese.
3. Bake the casserole
Preheat the oven 350 degrees and bake for one hour. Sprinkle the remaining cheese over the potatoes and bake an additional 30 minutes or until the potatoes are fork tender, bubbly and well browned on top.
What's the difference between Au Gratin Potatoes and Scalloped Potatoes?
Such a great question that may be debated for generations to come! First Au Gratin Potatoes, or Potatoes Au Gratin, are very similar to Scalloped Potatoes. Often referred to as one and the same because they're almost identical.
Au Gratin Potatoes are a little more rich and decadent with grated cheese sprinkled between the layers of potatoes. Scalloped potatoes are made with a thicker sliced spud, so it's a little less refined dish. Also Scalloped potatoes are typically made with a cream and butter sauce, but no cheese.
Many scalloped potato recipes call for both potatoes and onions to be layered in the dish. We love adding onions or scallions in our Au Gratin potatoes, too. Simply cook them in butter when making the sauce.
Recipes for au gratin potatoes usually call for a thinly spiced potato. To be sliced wafer thin you need either amazing knife skills, or a handy dandy Mandoline slicer. In other words Au Gratin Potatoes may be a little more fancy than scalloped potatoes, but either way, both dishes are beloved, pure comfort food!
Do you have to bake Au Gratin Potatoes in an Au Gratin dish?
I don't own a proper oval Au Gratin baking dish, so I just use what I have on hand. This recipe turns out amazingly well in just about any ovenproof casserole dish or cast iron skillet! I often reach for my Emile Henry Square ceramic baking dish pictured above, which is one of my all-time favorite bakers.
Using a smaller overproof pan like mine creates a thicker potato casserole requiring a longer bake time. If you use a larger, longer Au Gratin dish resulting in a thinner casserole, you can cut 15 minutes off the baking time.
I must admit, however, I love the thick stacks of the most tender potatoes I've ever had. The fork glides through the potatoes like it's cutting through soft butter. So good!
What kind of potatoes are best for an Au Gratin Potatoes recipe?
Any variety of good cooking potato will work for this recipe. We often use Yukon gold potatoes in this casserole but russet potatoes work well too. Pick up about 3 pounds of waxy, medium sized potatoes and you're good to go.
What kind of cheese is best for Au Gratin Potatoes?
We often use a good quality Gruyère cheese in our potato casseroles. The cheese is lightly sprinkled throughout the layers to impart an amazing, salty, earthy flavor.
However, any flavorful good melting cheese will also work in this recipe. Swiss, Jarlsberg or Parmesan all add a nice punch of flavor and are great with potatoes.
Gruyère is a terrific all-purpose cheese great for snacking and utterly amazing for cooking. Gruyère has a buttery flavor and melts beautifully making it terrific for all kinds of recipes like these popovers and our Easy French Onion Soup.
Look for Gruyère in the specialty cheese section of better grocery stores. This aged cheese comes in a variety of flavors from mild to intense, and is priced accordingly. We usually pick up a medium aged Gruyère and are always happy with the results.
Make this casserole ahead for easy entertaining.
You can make this casserole up to one day ahead making it great for holidays. Assemble all the ingredients in a baking dish.
Lightly coat a piece of plastic wrap with vegetable cooking spray and press it on the top of the potatoes to remove any air. This helps to prevent the potatoes from turning brown in the refrigerator.
Bring the dish to room temperature for at least one hour before baking. This helps the casserole cook more evenly. Finally, remove the plastic wrap and bake uncovered. Enjoy!
Thanks for PINNING
Au Gratin Potatoes Recipe
Cook Time:
1

hour
30

minutes
Rich and comforting, with the perfect combination of tender potatoes and a silky, flavorful sauce.
Ingredients
2

tablespoons

unsalted butter

2

tablespoons

all-purpose flour

1

teaspoon

salt

½

teaspoon

ground black pepper

pinch

of fresh grated nutmeg

pinch

of cayenne pepper

¼

teaspoon

garlic powder

2 ½

cups

half-and-half

(20 ounces)

½

cup

shredded Gruyère cheese,

plus 3 tablespoons for topping

3

pounds

waxy potatoes

(like Yukon gold)
Instructions
Preheat oven to 350°F. Lightly grease a 9x9-inch baking dish, or 6 cup gratin dish with vegetable cooking spray or butter. Place the baking dish on a cookie sheet. Set aside.

In a medium saucepan melt 2 tablespoons butter over medium heat. Add the flour and cook, stirring constantly for 3 to 4 minutes. Add the salt, pepper, nutmeg, cayenne, garlic powder and half-and-half. Cook, stirring constantly, about 3 to 5 minutes or until it starts to thicken. Remove from the heat, cover to keep warm.

Peel and slice the potatoes to 1/16 to 1/8-inch thickness. Layer ⅓ of the potatoes in the prepared baking dish. Spoon ⅓ of the sauce over the potatoes. Sprinkle with ¼ cup of the cheese.

Repeat layering ½ of the remaining potatoes, ½ the remaining sauce and sprinkle with the remaining ¼ cup Gruyère.

Top with the remaining potatoes then pour all the remaining sauce over the top.

Bake, uncovered, for 60 minutes. * If the top is drying out too quickly, remove the casserole from the oven and gently press down with a large flat spatula submerging the potatoes in the sauce. Tent with foil, if needed, and continue baking.

After 1 hour of baking, sprinkle the potatoes with the remaining 3 tablespoons of cheese. Return the pan to the oven and cook another 30 minutes or until the potatoes are fork tender and the top is well browned.

Remove from the oven and allow the potatoes to rest 15 minutes before serving. Garnish with parsley, if desired.
Recipe Notes
* There's no need to press the potatoes down into the sauce if they are still covered.
Once assembled, this casserole can be refrigerated for up to 1 day before baking. Lightly coat a piece of plastic wrap with vegetable cooking spray and press it down on the top of the potato casserole to seal out the air. Wrap with foil and refrigerate until needed. Allow the dish to come to room temperature for 1 hour before baking
Nutrition information is calculated using an ingredient database and should be considered an estimate. When multiple ingredient alternatives are given, the first listed is calculated for nutrition. Garnishes and optional ingredients are not included.
Nutrition
Calories:
252
kcal
|
Carbohydrates:
28
g
|
Protein:
7
g
|
Fat:
13
g
|
Saturated Fat:
8
g
|
Polyunsaturated Fat:
1
g
|
Monounsaturated Fat:
4
g
|
Trans Fat:
1
g
|
Cholesterol:
40
mg
|
Sodium:
338
mg
|
Potassium:
786
mg
|
Fiber:
3
g
|
Sugar:
2
g
|
Vitamin A:
396
IU
|
Vitamin C:
14
mg
|
Calcium:
162
mg
|
Iron:
1
mg
Finally, here are a few more recipes you might also enjoy:
This Loaded Bake Potato Casserole also sounds pretty amazing. Who can resist potatoes, sour cream, cheese and bacon. What a treat!
Saving Room for Dessert is a participant in the Amazon Services LLC Associates Program ~ I earn a small commission, at no additional cost to you, which I use to pay for web hosting and services for this blog.
Updated October 2021