This post may contain affiliate links. Please read my disclosure policy.
Make-ahead freezable cookies for the holidays!
Today we're sharing some of our favorite make-ahead, freezable cookies great for making the season bright, and tasty too.
Don't forget to put out a plate of cookies for jolly old Santa!
The holidays often seem a bit frantic to me. Freezable cookies can help ease the stress.
Sometimes I don't feel completely confident everything's done. Maybe I should buy one more gift, or try another new recipe to share. My lonely neighbor would be thrilled with a homemade treat and my hair dresser cannot be forgotten either.
I'd love to say thanks to the staff at my veterinarian's office as they do an amazing job when I visit them monthly with Mocha, our old, ailing Parson Russell Terrier. We have a house full coming for dinner just before Christmas and of course I have to serve cookies!
For all these reasons and more, I try to have my favorite cookies baked ahead and frozen until needed.
Great for gifting
Just before Christmas I assemble boxes with an assortment of previously frozen cookies, and make a gift run to those near and dear to me. What better way to say thank you, and you are loved and appreciated than with a box of homemade treats?
During the holidays there's one question I get more frequently than any other: "can you freeze cookies?"  Yes you can! Many cookie recipes can be made ahead and frozen with great success. I'm part of the "bake now and freeze for later" camp, and afterwards enjoy a little less pressure during the holiday season. Freezable cookies to the rescue!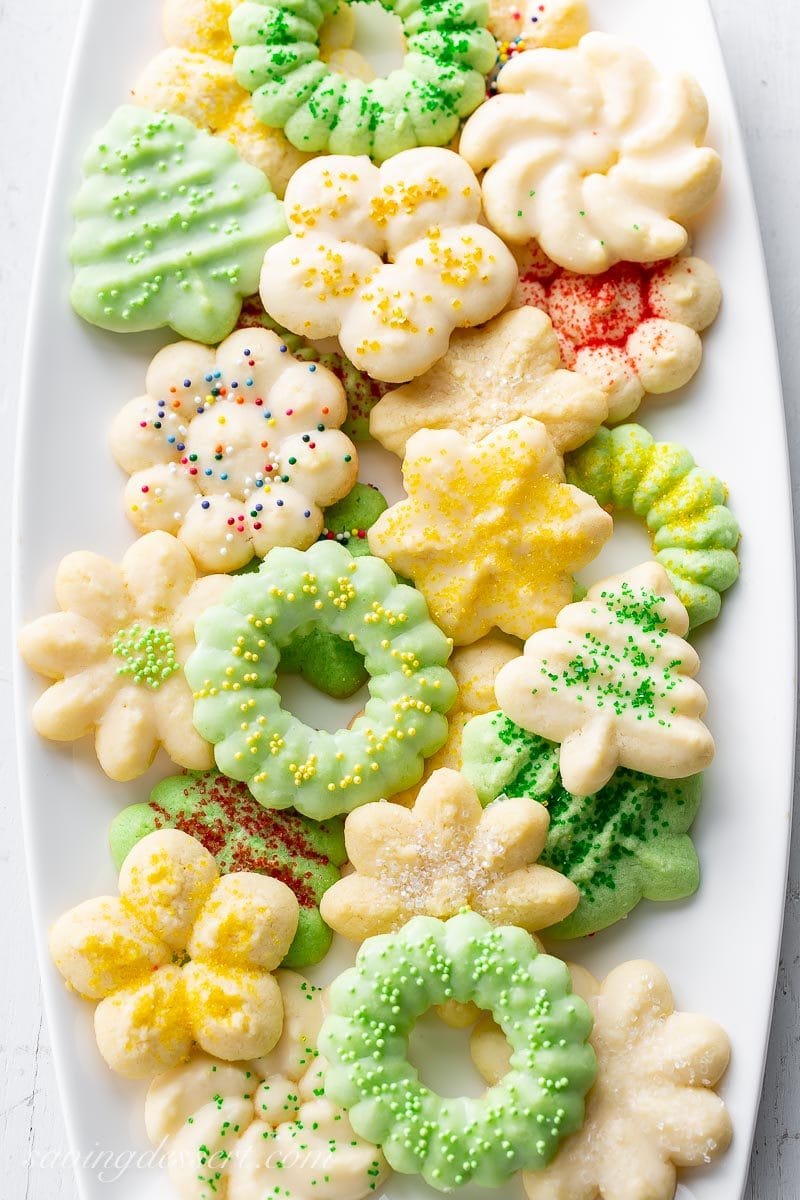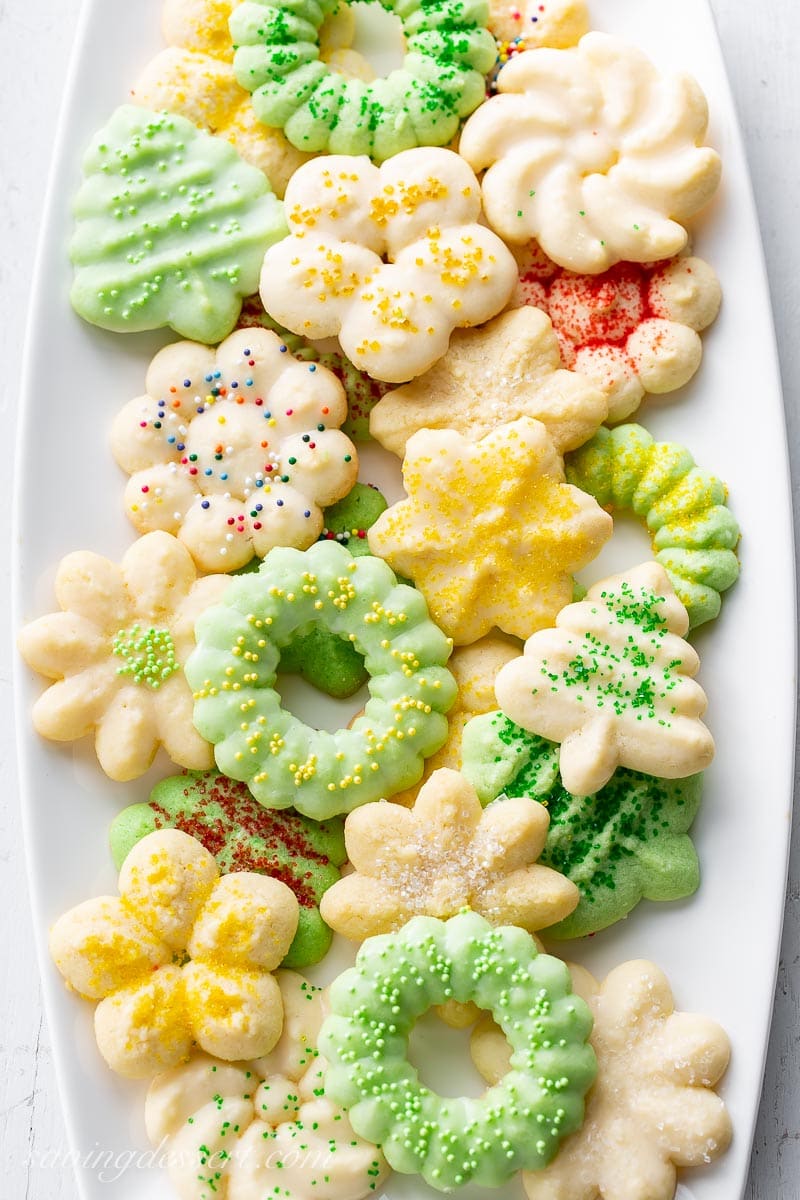 Delicate, crisp little cookies with a deep buttery flavor and a hint of almond. Classic holiday baking at its best! Brush with a simple glaze and decorate with your favorite sprinkles, if desired. These cookies can be frozen with, or without the glaze.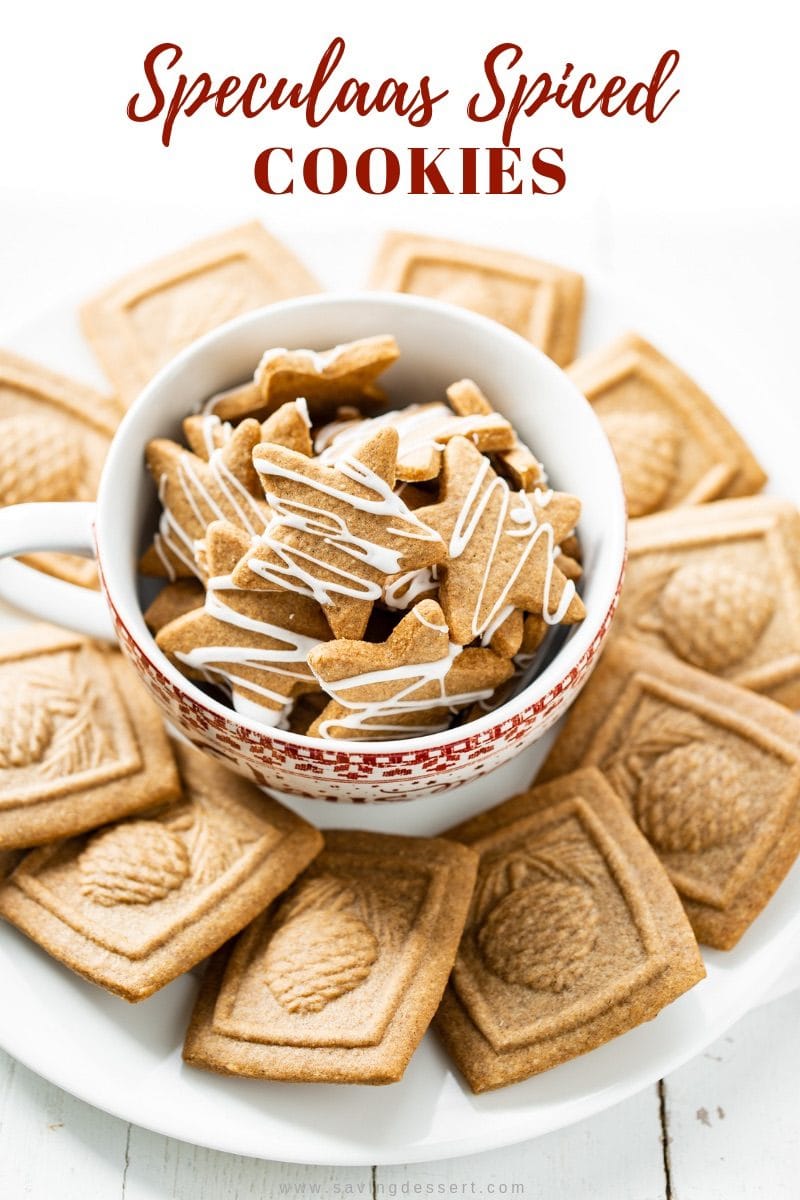 Delicious, crisp, well spiced shortcrust butter biscuits very popular in Germany, the Netherlands, Belgium and Austria. Use a cookie mold or cutter and drizzle with a simple icing if desired. These freezable cookies hold up well and are great for shipping.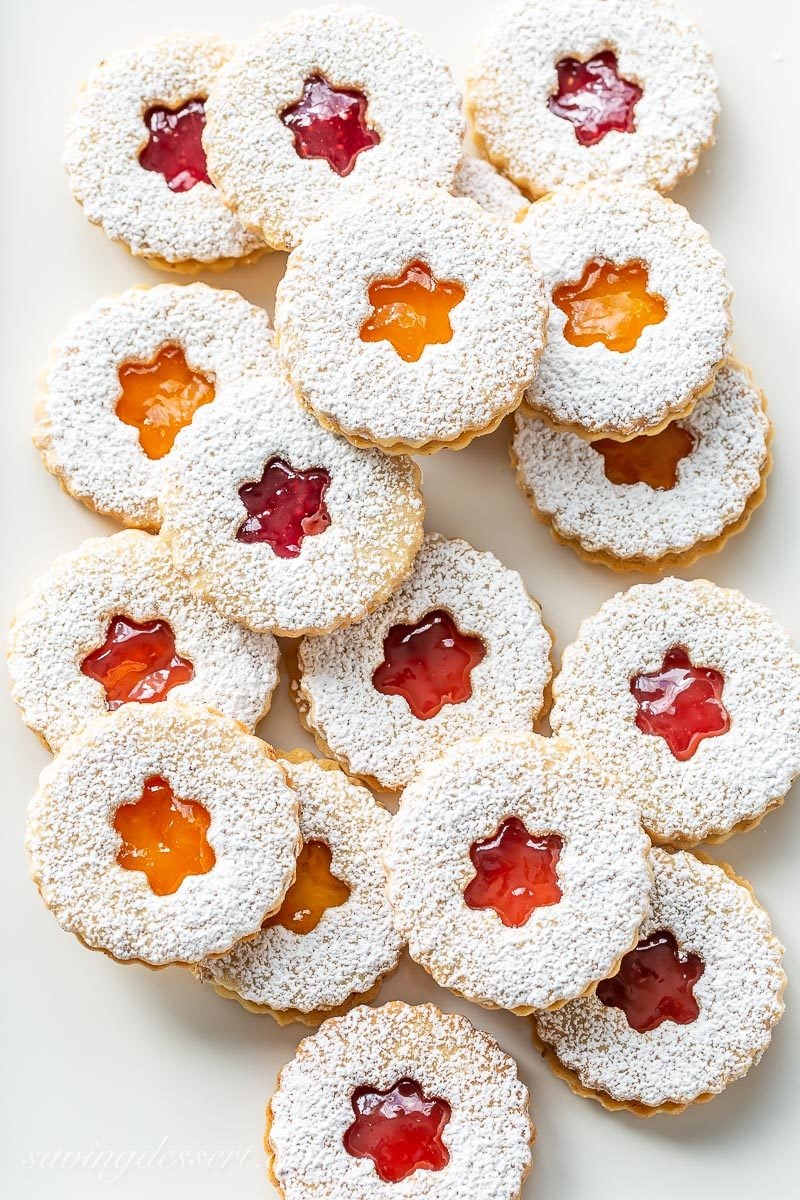 These are lovely little butter cookies made with toasted, ground almonds, a hint of cinnamon and lightly sweetened with jam. I recommend freezing the cookies before adding jam and powdered sugar. Keep these cookies refrigerated to set the jam once assembled.
The holiday are always better with homemade gingerbread cookies! This easy recipe produces cookies that hold their shape when baked, making them terrific for intricate designs.
Over the years we've made snowflakes, gingerbread men, trees and stars. Make the cookies ahead of time and freeze until needed, then invite your favorite little ones over for a cookie decorating party. To keep your kitchen from suffering a sprinkle disaster, give each child a rimmed baking sheet to use when decorating the cookies. Clean up is so much easier 😉
Not to be missed, Pfeffernüsse are traditional old-world holiday cookies popular in the Netherlands, Germany and Denmark. Similar to Gingerbread, Speculaas and Lebkuchen cookies, Pfeffernüsse typically have a softer, light texture and a hefty helping of warm  spices. Bake these cookies ahead of time and freeze, with, or without the glaze. These cookies also ship well and actually taste better over time.
Share a platter of these Butter Cookie Wreaths at your next gathering and watch them disappear! These delicious butter cookies are crisp and light, with a crunchy sugar topping that is completely irresistible. Simple, classic and great for freezing ahead.
These cookies are a deliciously fun baking project for cookie lovers of all ages. The festive shape is fun and eye-catching, and the flavor is fantastic. With the perfect hint of peppermint and a crunchy sugar coating, these easy to eat cookies are worth every minute it takes to make them. Santa's going to LOVE these cookies!
Fill your holiday cookie jar with these delicious, buttery Orange Cream Star Cookies. I've been known to eat these straight out of the freezer, and have on many occasions! I'm completely powerless when it comes to these cookies. I hope you'll give them a try and let us know what you think. Freeze them with, or without the filling. So, so good 😉
This is another one of those irresistible cookies that I can't stop eating! These Oatmeal Jammys freeze beautifully and can be also enjoyed straight out of the freezer.
I spend a lot of time on the treadmill because of these cookies, just saying. Oatmeal Jammys are unique and delicious tart-like cookies I know you'll love. They're crispy, tender, eggless shortbread filled with jam and a sprinkle of streusel around the edges.
These tender little buttery gems are loaded with flavor from the almond extract and almond flour and sweet, creamy butter.
Like a cross between Mary Berry's Viennese Whirls, a Russian Tea Cake Cookie and a buttery jam filled shortbread thumbprint, this hybrid is truly one of the best cookie recipes to ever come out of the SRFD kitchen! They freeze well and can be made with any flavor of jam.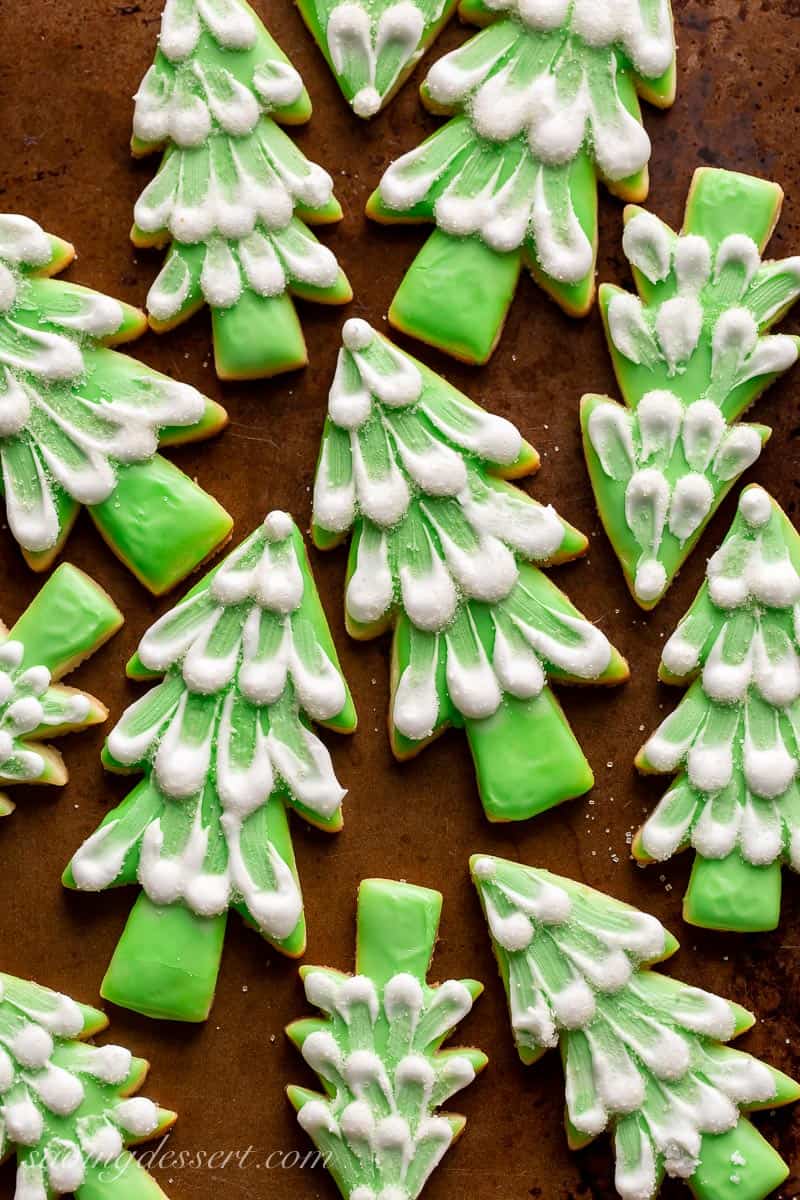 These delicious, classic sugar cookies hold their shape when baked and are easily made ahead, and frozen until needed. These truly are one of the best freezable cookies ever.
Cut into holiday shapes like stars, trees, and candy canes, then bake and freeze. Gather the kids together, young and old, and host a fun cookie decorating party.
Also known as Mexican Wedding Cookies, Snowballs, or just Tea Cakes, these easy to make, crunchy, sugar-dusted nut balls are not too sweet, and melt-in-your mouth delicious!
I've been making these cookies my entire life from my mom's recipe. These are my husband's favorite cookie and a must make every year. They also freeze very well. It's not Christmas without a batch or two of Russian Tea Cakes.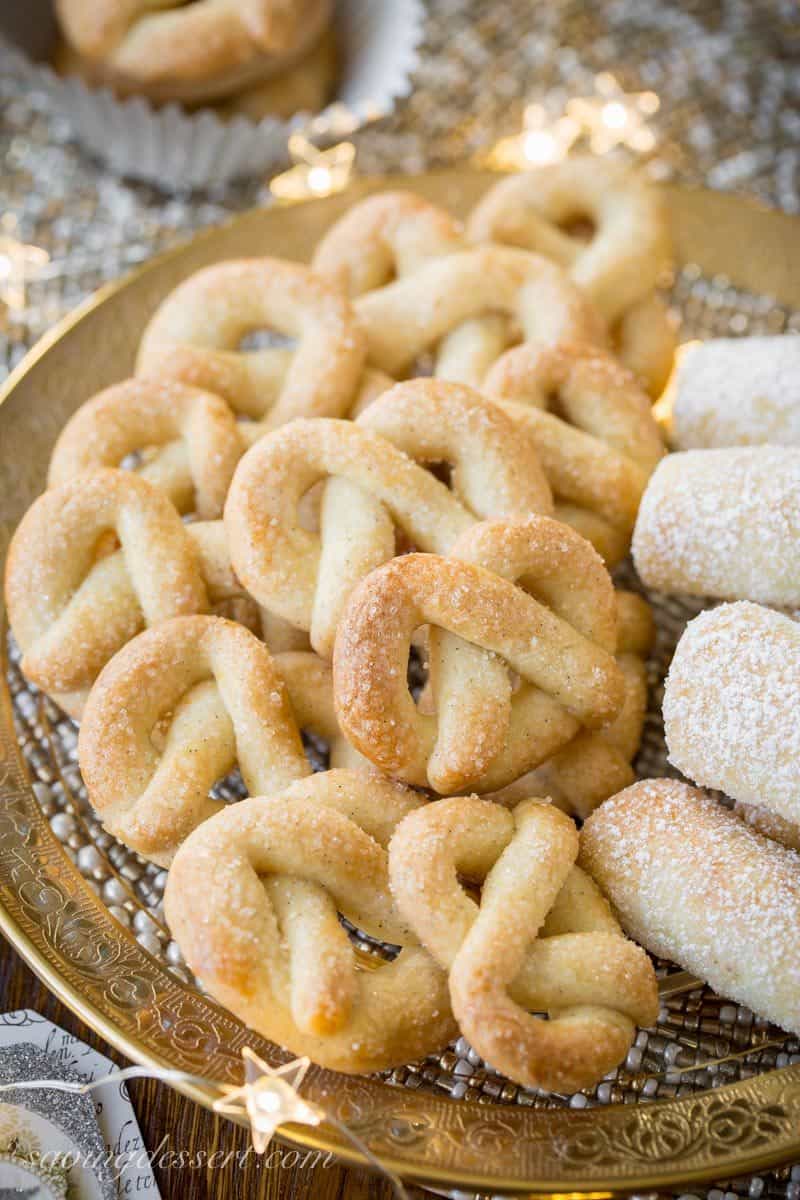 A crisp little butter cookie loaded with vanilla beans and topped with sparkly coarse sugar in a fun festive shape! This cookie dough can be made ahead and frozen for up to two weeks. Or, make and bake the cookies, then freeze.
I love classic butter cookies and these do not disappoint. These have been one of my favorite freezable cookies year after year.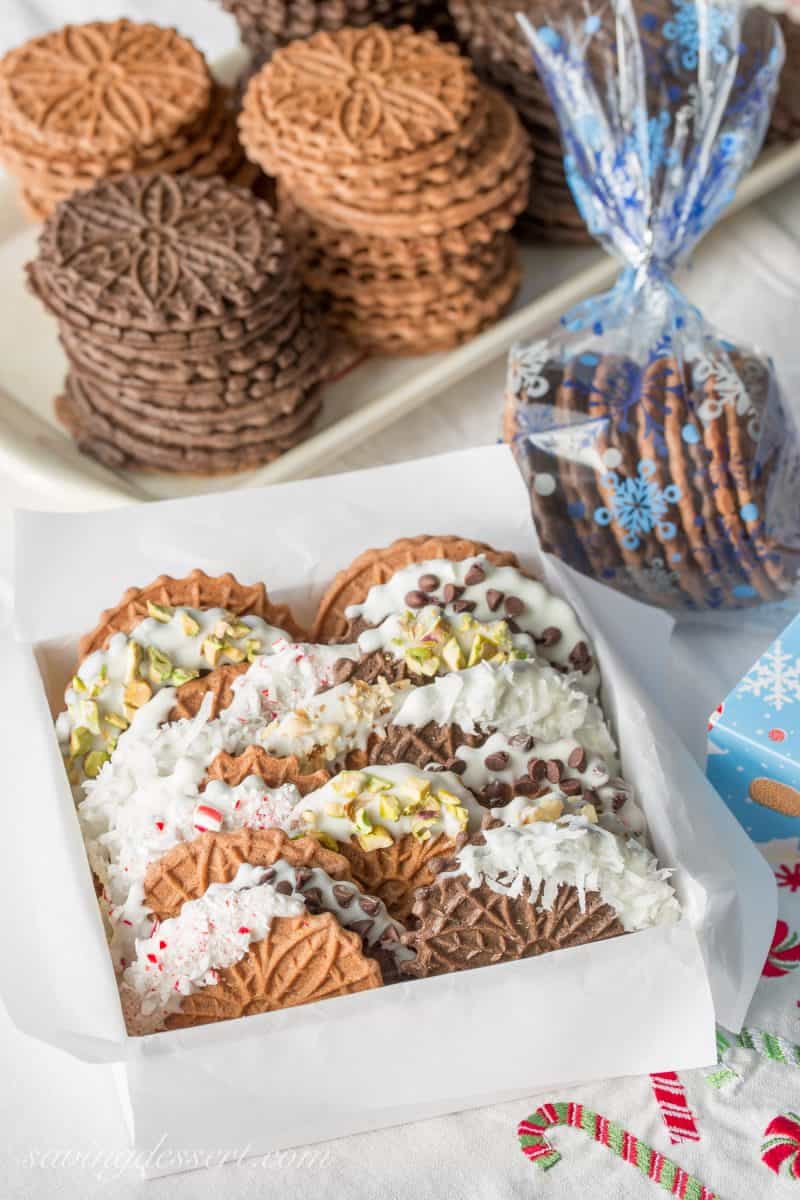 For a special holiday treat, dip the pizzelles in white chocolate and sprinkle with peppermint, walnuts, chocolate chips, coconut or pistachios. Pizzelles are a light, crisp, slightly sweet cookie that taste terrific plain or dressed up with your favorite toppings.
These cookies freeze very well and should be decorated after thawed. We made our chocolate pizzelles with two different kinds of cocoa and love them both!
Thanks for PINNING!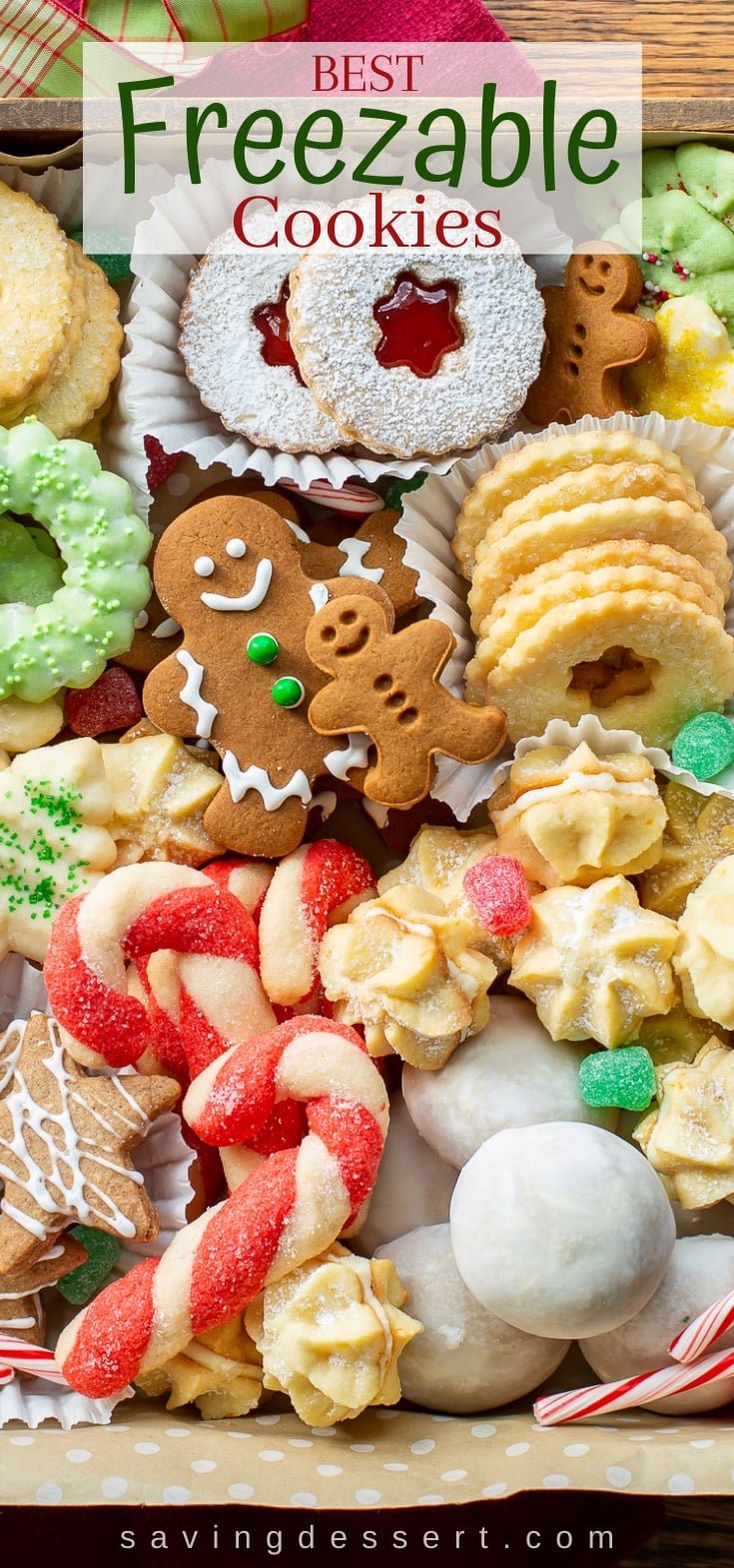 Let's be baking friends! If you make our recipe please feel free to leave a comment on this post. I'm sure your experience and insights will help all our readers, and it helps me too. If you're on Pinterest feel free to leave a comment and photo there if you have one!
If you share on INSTAGRAM tag @savingroomfordessert so we can stop by and give your post some love. FOLLOW Saving Room for Dessert on FACEBOOK| INSTAGRAM| PINTEREST | TWITTER  and subscribe to our YOUTUBE channel for all the latest recipes, videos and updates.