This post may contain affiliate links. Please read my disclosure policy.
Butterscotch-Bourbon Pudding – an easy, make-ahead creamy pudding spiked with bourbon and topped with sweetened cream and crushed ginger snap cookies
Have you ever made homemade pudding?  Pudding is a simple and easy make-ahead dessert that's a world apart from pudding in a box.   The butterscotch flavor is almost subtle, the texture is super creamy, and the "optional" bourbon is the perfect match for the caramely-butterscotch flavor.  Butterscotch, made with brown sugar, is a close cousin to caramel which is made with granulated sugar.  This Butterscotch-Bourbon Pudding sets up a little thicker than the 'not from scratch' version and the wonderful fresh taste makes a noticeable impact.   Topped with a little dollop of bourbon whipped cream and crushed Ginger Snap cookies, Butterscotch-Bourbon Pudding is a perfect anytime dessert.
Not a fan of bourbon or afraid the kids will enjoy it a little too much?  Omit the bourbon and serve the kid-friendly version with confidence.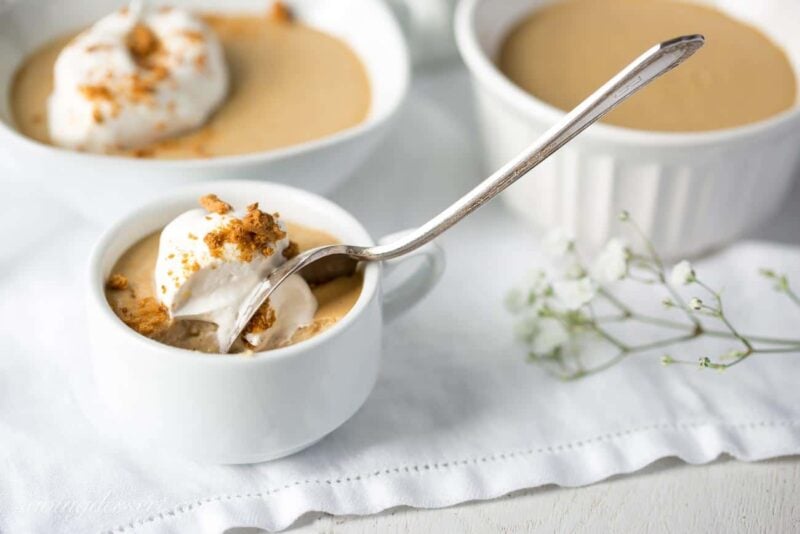 The recipe can be made a few days ahead for that 'no pressure' entertaining.
Thanks for Pinning!
Butterscotch-Bourbon Pudding
An easy, make-ahead creamy butterscotch pudding spiked with a little bourbon and topped with sweetened cream and crushed ginger snap cookies - delicious!
Ingredients
6

tablespoons

unsalted butter

3/4

cup

dark brown sugar

packed

1

vanilla bean,

split with seeds removed

3

cups

half-and-half,

or two cups heavy cream combined with 1 cup whole milk

1/2

teaspoon

sea salt

1

tablespoon

bourbon,

optional

4

large egg yolks

2

tablespoons

cornstarch

2

tablespoons

granulated sugar
For the whipped cream:
1/2

cup

heavy whipping cream

1

tablespoon

confectioners' sugar

1

teaspoon

bourbon

Crushed Gingersnap cookies for garnish
Instructions
Arrange 6 ramekins or small bowls on a rimmed baking sheet and set aside.

Add the butter to a medium, heavy bottomed saucepan. Heat on medium melting the butter and swirling the pan occasionally. Cook until the butter begins to brown and has a nutty aroma. Add the brown sugar and stir until the sugar is dissolved and the butter begins to foam. Slowly add the half and half, stirring constantly. The butterscotch may size and harden, but just keep stirring as it will melt as the half and half warms. Add the vanilla bean seeds, the vanilla bean pod and salt. Bring the mixture to a simmer and remove from the heat. Remove the vanilla bean pod and stir in the bourbon, set aside.

In a medium bowl combine the egg yolks, 2 tablespoons granulated sugar and the cornstarch. Whisk until the mixture is smooth and bright in color.

Gradually drizzle in some of the hot butterscotch mixture , whisking constantly to temper the eggs.

Pour the tempered egg mixture back into the saucepan whisking constantly until combined.

Place the saucepan back on the heat and warm the mixture until it bubbles a few times and starts to ticket - 3 to 4 minutes.

Carefully blend the hot pudding with a stick or immersion blender or a regular blender if needed. Take care if using a stand-up blender as the heat will built up so leave a opening at the top to vent the steam. Blend until the mixture is silky smooth.

Divide the pudding between the prepared ramekins and refrigerate until cold (3-4 hours) or overnight. Cover loosely with plastic wrap if storing overnight but wait until it is completely cooled so condensation does not form on the inside.

Before serving allow the pudding to sit at room temperature 15-30 minutes.

To prepare the bourbon whipped cream, beat the cream on high using a hand mixer until it thickens. Add the sugar and beat until soft peaks form. Gently add the bourbon and mix on low speed just until blended.

Serve topped with crushed gingersnap cookies if desired.
Do you listen to music when working in the kitchen?  I love Pandora and often enjoy a wide variety of music depending on what I'm making – like background music in a movie.  If you could have a theme song that played as you went along with your life, would it be rock, classical, country, pop or religious?  I think I'd have mostly instrumental music, with lots of strings.  Funny how music can change your mood or set the scene for an event or party.   Not sure where that came from but I love to listen to music while blogging, baking, working around the house and especially when walking on the treadmill.  I wish I was brave enough to give up cable TV – how much we could accomplish without the time spent in front of the flatscreen!  Hope you have a wonderful weekend – we're supposed to get another snow-rain mixture tomorrow night – so winter's not done with us yet.
Thanks so much for stopping by!
Tricia
SaveSave
SaveSave
SaveSave