This post may contain affiliate links. Please read my disclosure policy.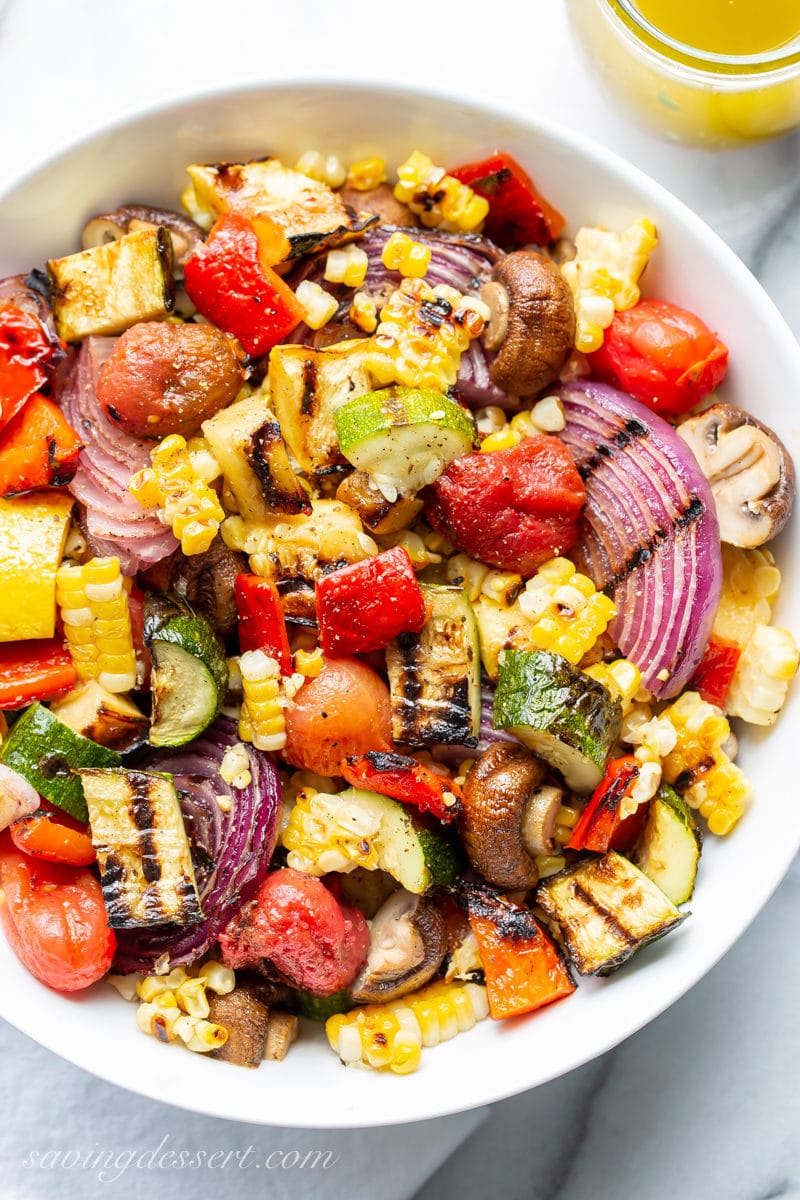 Chopped Grilled Vegetables are one of our favorite ways to enjoy summer produce!
Grilled vegetables are healthy and delicious and a great base for many different meals. This is one of those recipes that's more inspiration than instruction because you're not limited to just the veggies we've featured in this post. Take a walk around the produce section of your favorite grocery store and pick up a few vegetables you don't usually cook on a regular basis. Try cooking them on the grill and enjoy a whole new flavor profile.
What kind of vegetables are good for grilling?
Anything you can put on your grill is great for grilling! If you're using small heirloom tomatoes and mushrooms like we did here, slide them on a skewer and grill away. Love Brussels sprouts? Me too! Cut the large ones in half and slide them on a skewer too. Larger vegetables like corn on the cob, zucchini, yellow summer squash and the amazing eggplant are all easy to grill.
Sweet bell peppers and even your favorite hot peppers all cook up beautifully too. I haven't tried cauliflower or broccoli because I prefer them both steamed. But no worries – find a combination of vegetables you think will work together and fire up the grill! All the vegetables are brushed or coated with olive oil and a little salt and pepper before grilling.
Looking for a few ideas to get your started?
Eggplant:
Select a small to medium eggplant and cut in half lengthwise. Use a small paring knife, cut a crisscross pattern in the flesh taking care not to go all the way through the skin. Once cooked through, the flesh of the eggplant can be scooped out with a large spoon. Discard the skin.
Zucchini and yellow summer squash:
Pick small squash for faster cooking. Cut in half lengthwise and grill flesh side down first.
Tomatoes:
Any small tomato will do like Roma or large Grape tomatoes. Small tomatoes cook best threaded on a skewer. If using larger tomatoes, cut in half and grill.
Mushrooms:
Pick up a few of your favorite mushrooms and slide them on a skewer. Or, try big portobello mushrooms for a meaty main course vegetable. Mushrooms release moisture while cooking so you'll probably hear a lot of dripping and sizzling coming from the grill!
Onion:
Red or sweet, it's all good. Slice a large onion into four rounds. Insert toothpicks into the sides to keep the rings together.
Corn:
Probably takes the longest to cook and should be turned a several times to ensure a good char all the way around. Cut the kernels off the cob if serving in a salad as shown here.
Bell peppers:
Red, yellow or green, they're all good. Cook flesh side down first and turn once there is a good char. Once removed from the grill place the peppers in a small bowl. Cover with plastic wrap and allow them to steam for a few minutes. This helps loosen the skin for easy removal, if preferred.
Asparagus:
Select larger asparagus and snap off the tough ends.
Potatoes:
Our favorite are large red potatoes that have been boiled first, then cooled. Slice the potatoes into 4 rounds, coat in olive oil and grill until well charred.
Green Onions or Scallions:
One of my favorite ways to enjoy green onions. Slice thin and use for a garnish on grilled meats or burgers.
Carrots:
Brussels sprouts:
Thread onto skewers for easy grilling. Slice large sprouts in half as needed before grilling.
Once grilled, the vegetables are chopped into bite size pieces and combined in a large bowl for serving with our simple vinaigrette dressing. If desired, leave the grilled vegetables whole and serve hot off the grill. It's all good!
Here are some easy ways to enjoy chopped grilled vegetables: from breakfast to dinner!
Grilled vegetables make a nice addition to your meal prep to jumpstart the week ahead.
Char-grilled vegetables are a great side dish for meat, chicken or fish dinners. Serve warm or at room temperature.
Terrific served as a grilled vegetable salad with a light and easy vinaigrette dressing. Also delicious with a little feta cheese sprinkled on top.
These vegetables make a delicious Meatless Monday meal and are very satisfying served with quinoa or a brown rice blend.
Stuffed into a pita round or rolled up in a wrap, these grilled vegetables turn everyday sandwiches into something special! Add some hummus to hold it all together – yum 🙂
Combine these grilled vegetables with some eggs and cheese and bake, frittata style!
Slice the grilled vegetables and sprinkle on a pizza just before baking.
Spoon the vegetables over a bowl of pasta with marinara sauce for a nice twist on the Italian-American classic.
Grill these vegetables once and use them all week long! They keep well for up to 5 days in an airtight container in the refrigerator. Drain any juices before storing for best results.
Serve these chopped grilled vegetables in salad form with a simple vinaigrette.
We've included a recipe for an everyday vinaigrette dressing made with fresh herbs, vinegar, olive oil, Dijon, garlic and shallots. Use you favorite salad dressing or simply drizzle individual servings with olive oil and balsamic. The vegetables soak up the dressing transforming the flavor into something unique and delicious. You're going to love these grilled vegetables!
Thanks for PINNING!
Let's be grilling friends! If you make our recipe please feel free to leave a comment on this post. I'm sure your experience and insights will help all our readers, and it helps me too. Also, if you're on Pinterest feel free to leave a comment and photo there if you have one! If you share on INSTAGRAM tag @savingroomfordessert so we can stop by and give your post some love. And we'd be very happy if you'd FOLLOW Saving Room for Dessert on FACEBOOK| INSTAGRAM| PINTEREST | TWITTER  and subscribe to our YOUTUBE channel for all the latest recipes, videos and updates. Thank you!!
PRINT THE RECIPE!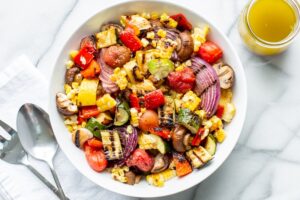 Chopped Grilled Vegetables
Course:
Meatless Main, Side Dish, Vegetable
One of our favorite healthy ways to enjoy summer produce!
Ingredients
For the vinaigrette:
½

cup

extra-virgin olive oil

¼

cup

red wine vinegar

(or other vinegar or lemon juice)

1

tablespoon

minced shallot

1

small clove garlic,

minced

1

teaspoon

Dijon mustard

½

teaspoon

salt

1

teaspoon

pepper

1

tablespoon

chopped parsley leaves
For the vegetables:
1

red bell pepper

1

large red onion

1

small to medium eggplant

2

small zucchini

1

medium yellow summer squash

8-10

mushrooms

8-10

small tomatoes,

or 2 medium cut in half

2

ears of corn

salt and pepper

⅓

cup

extra-virgin olive oil,

more or less as needed
Instructions
To prepare the vinaigrette:
Combine the ingredients together in a small jar with a lid. Shake to combine. Set aside until ready to serve.
To prepare the vegetables:
Slice the bell pepper in half. Remove the seeds and core. Cut each piece in half.

Peel the onion and slice into four rounds. Insert tooth picks into the sides of each round to hold the onion slices together.

Cut the eggplant in half lengthwise. Using a small paring knife, cut a crisscross pattern in the flesh taking care not to cut through the skin.

Slice the zucchini and squash in half lengthwise.

Thread the mushrooms and small tomatoes on skewers. If using larger tomatoes, cut in half.

Clean the corn removing the husks and silk.

Brush all vegetables with olive oil and season with salt and pepper.

Clean your grill with a wire brush. Using tongs, grease the grill grates with paper towels soaked in vegetable oil. Preheat your gas grill on high to 500°F with the top closed, about 15 minutes.

Grill the vegetables until well charred and cooked through. Grill the eggplant, pepper and squash flesh side down first then turn once to grill the other side. To achieve good grill marks, try not to move the vegetables around until charred.

Remove the vegetables to a baking tray as they are done. Some may take longer than others to cook through. Once cooled enough to handle, scoop the flesh out of the eggplant using a large spoon. Discard the skin. Remove the skin from the peppers and tomatoes if desired. Chop the larger vegetables into bite sized pieces. Cut the corn from the cob and cut the onion rings in half. Toss the vegetables together and serve warm or at room temperature drizzled with the vinaigrette as desired.
Recipe Notes
See the original blog post for additional ways to enjoy these grilled vegetables
Partially Inspired by a recipe on Cook's Country.
Nutrition information is calculated using an ingredient database and should be considered an estimate. When multiple ingredient alternatives are given, the first listed is calculated for nutrition. Garnishes and optional ingredients are not included.
Nutrition
Calories:
381
kcal
|
Carbohydrates:
24
g
|
Protein:
6
g
|
Fat:
31
g
|
Saturated Fat:
4
g
|
Polyunsaturated Fat:
4
g
|
Monounsaturated Fat:
22
g
|
Trans Fat:
1
g
|
Sodium:
228
mg
|
Potassium:
1075
mg
|
Fiber:
7
g
|
Sugar:
14
g
|
Vitamin A:
2316
IU
|
Vitamin C:
72
mg
|
Calcium:
51
mg
|
Iron:
2
mg
Finally, here are a few more of our favorite vegetable medley recipes you might like:
Eggplant Caponata is a colorful, flavorful and versatile vegetable dish that can be served as a meatless main, hearty side or appetizer. Click HERE to get the recipe.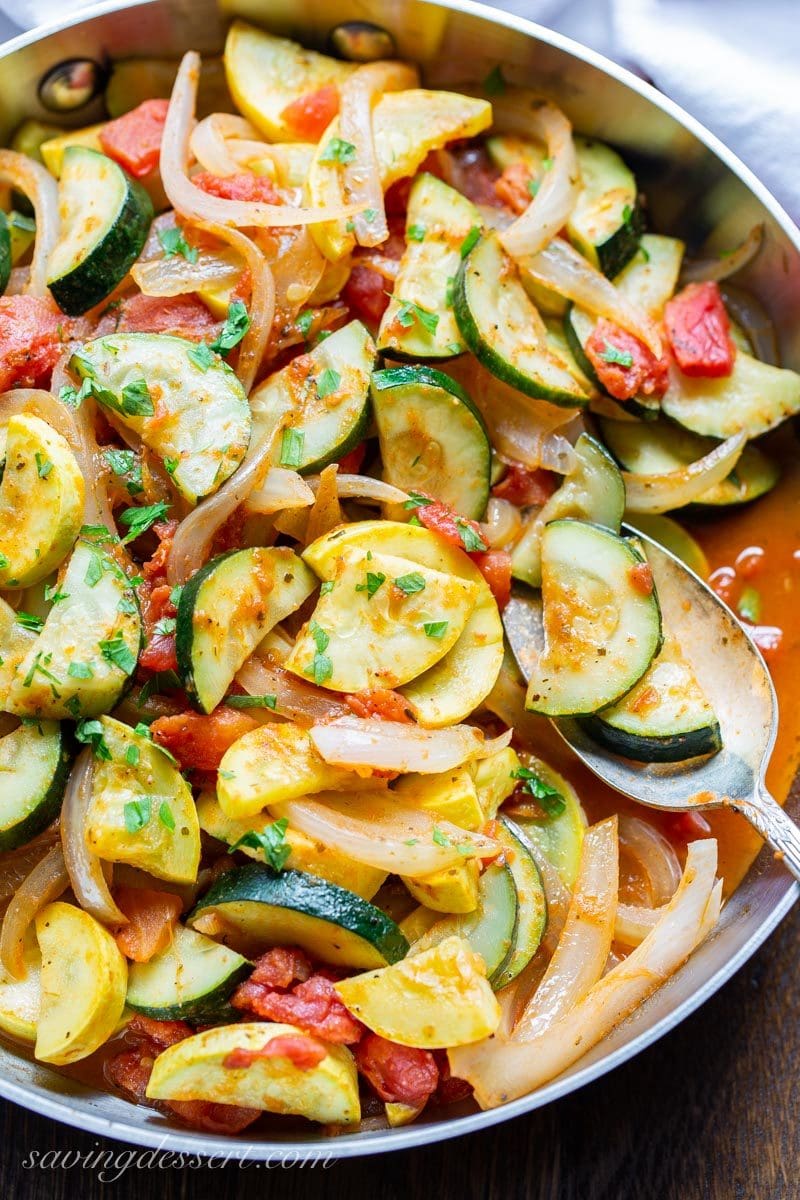 Summer Squash & Onions – a simple uncomplicated dish that is healthy, delicious, and the perfect way to enjoy the season's best yellow squash and zucchini. Click HERE to get the recipe.