This post may contain affiliate links. Please read my disclosure policy.
Easy Strawberry Cobbler – dessert doesn't get much better than this!
Bake the season with our Easy Strawberry Cobbler.
We're a cobbler family. Sweet, savory or somewhere in between, it doesn't matter, we LOVE them all 🙂 Stone fruits, berries, vegetables and even tomatoes make the most amazing cobblers. Anything that will get juicy like this strawberry cobbler is fair game in our cobbler playbook.
Strawberries are an excellent choice for cobbler as they're naturally sweet and super juicy. Who can resist a bowl of fruity, warm, sweet cobbler?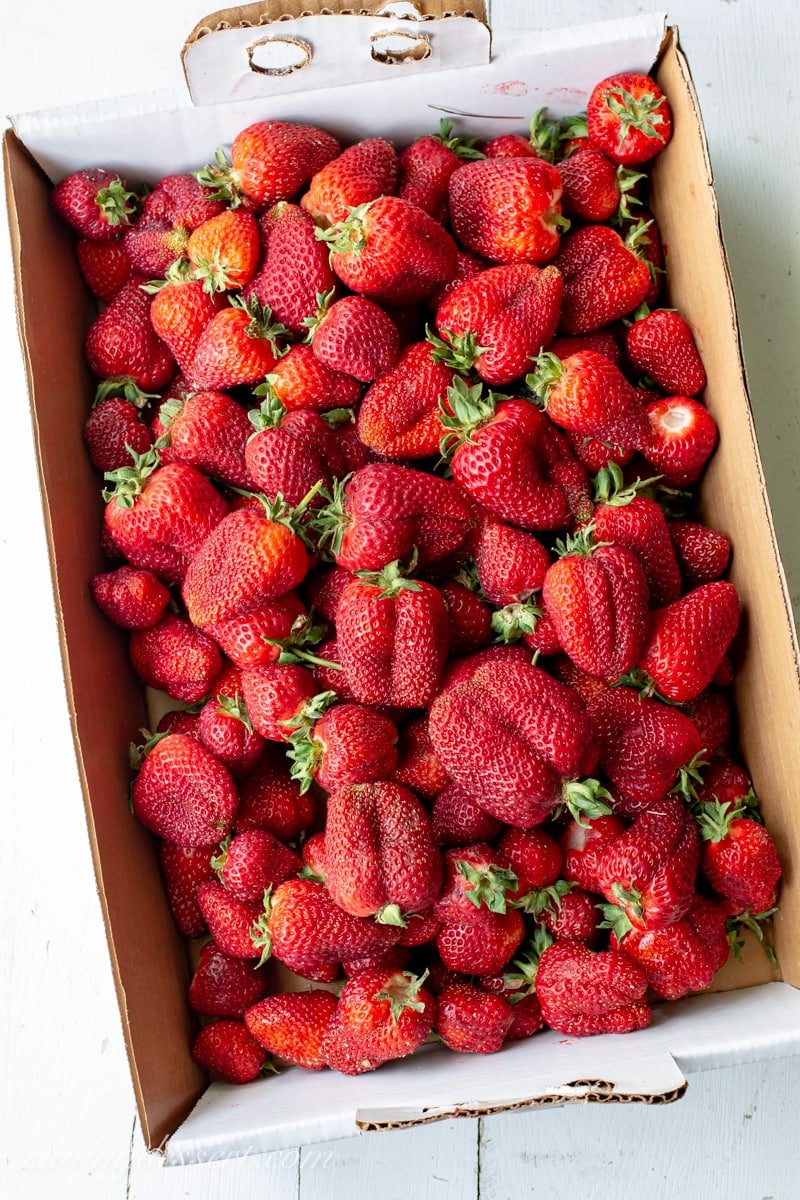 Choose locally grown strawberries for the best of the season.
I picked these strawberries from my favorite local farm, Miller Farms Market. Owner Ben Miller is great about sending out emails letting us know when the fields are open for picking. Be sure to get on an email list for your local farms and get to the fields early for the best selection.
The large strawberries featured above are from an early crop variety named "Albion." Some of the berries are almost palm sized making them very easy to pick. Their high sugar content means they're great for snacking, adding to salads and for desserts like this strawberry cobbler.
These may not be the best variety for making our Easy Small-Batch Strawberry Jam because tart strawberries can be the better option. Jam recipes typically include a fair amount of sugar, so you don't want the berries themselves to also be super sweet.
Sometimes grocery store strawberries can be hit or miss.  Here are a few tips for finding the best of the best:
Look for strawberries with light colored seeds. If the seeds on the outside are dark brown and dried up, the strawberry probably is too.
Buy local strawberries if at all possible. Less time traveling to your kitchen will yield fresher strawberries, thus better flavor. If you're buying strawberries from another country they may have been picked before they were fully ripe to survive the long distance commute.
Look for strawberries that are red all the way to the top. If the top is white, the middle of the strawberry will be too. White strawberry tops yield less flavor.
Visit your local farmers market during peak season for the best strawberries.
Finally, if you can pick your own strawberries at a local farm – go for it!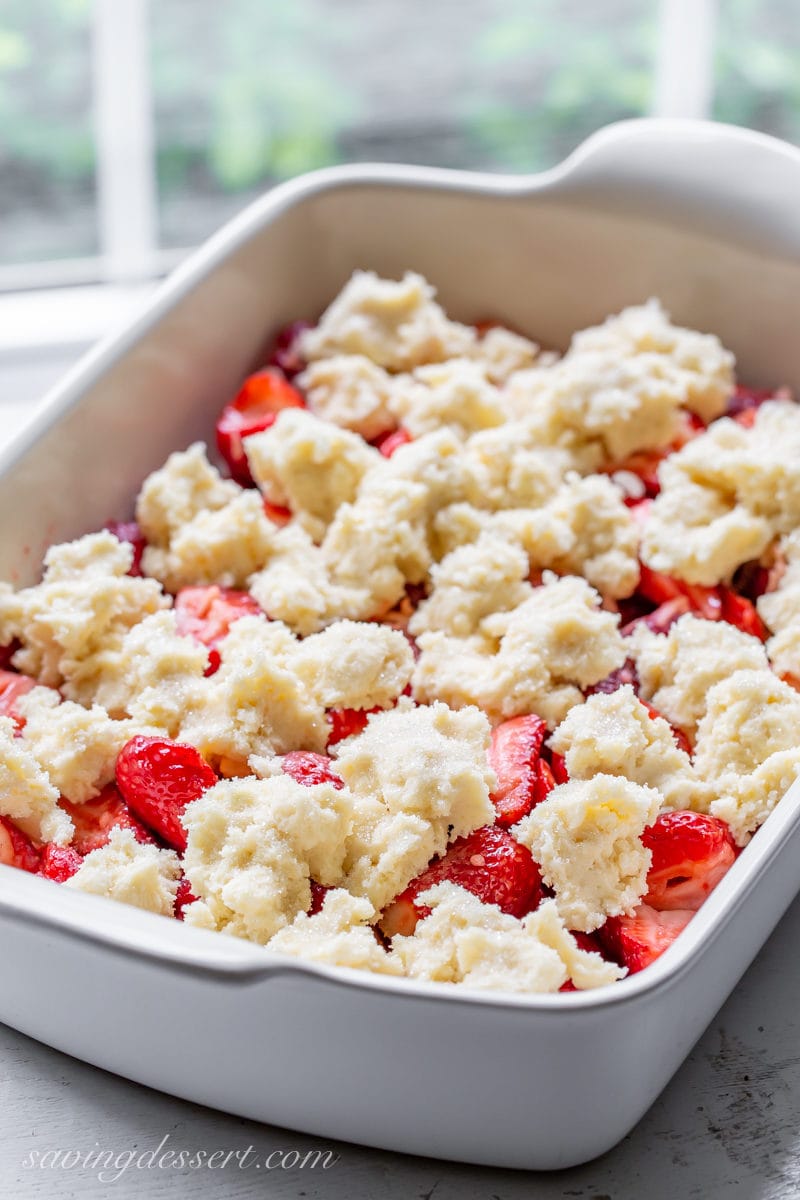 For strawberry cobbler it's best to leave the berries whole, or halved if they are very large.
If you're using small strawberries for your cobbler, just cut away the stem and the core but leave them whole. Strawberries break down quickly when baked so you want to have some texture in the cobbler sauce.
Don't worry about having enough strawberry juice swimming around under the crispy biscuit topping; you'll have plenty. If you have giant strawberries like the ones in these photos, feel free to cut them in half.
I've made this cobbler a couple of different ways but found that adding a small amount of cornstarch is best. If you use too much cornstarch the cobbler gets very thick as it cools and becomes a light pink color. It still tastes great but part of the cobbler's appeal is all the warm juiciness you get in each spoonful. Thicker is not necessarily better.
I also add half a grated Granny Smith apple to almost all my fruit desserts. I like the little bit of tart tanginess the apple brings to the cobbler. Apples are naturally high in pectin making them a great natural thickener.
Serve your strawberry cobbler hot, warm or at room temperature.
It's hard to resist hot cobbler straight from the oven. If you want the sauce to thicken up a bit, allow the cobbler to rest about 30 minutes before serving, It will still be warm and juicy but won't burn the roof of your mouth – just saying 🙂
We love our cobbler topped with a scoop of vanilla ice cream, strawberry ice cream, or even a lightly sweetened soft whipped cream.
I can also recommend adding just a drizzle of unsweetened cream to a bowl of warm cobbler. Strawberries and cream with a juice soaked sweet fluffy biscuit – you see where I'm going… ultimate strawberry paradise.
Our Strawberry Cobbler recipe is easy to make so even if you're not an experienced baker, you've got this! Enjoy
Thanks for PINNING!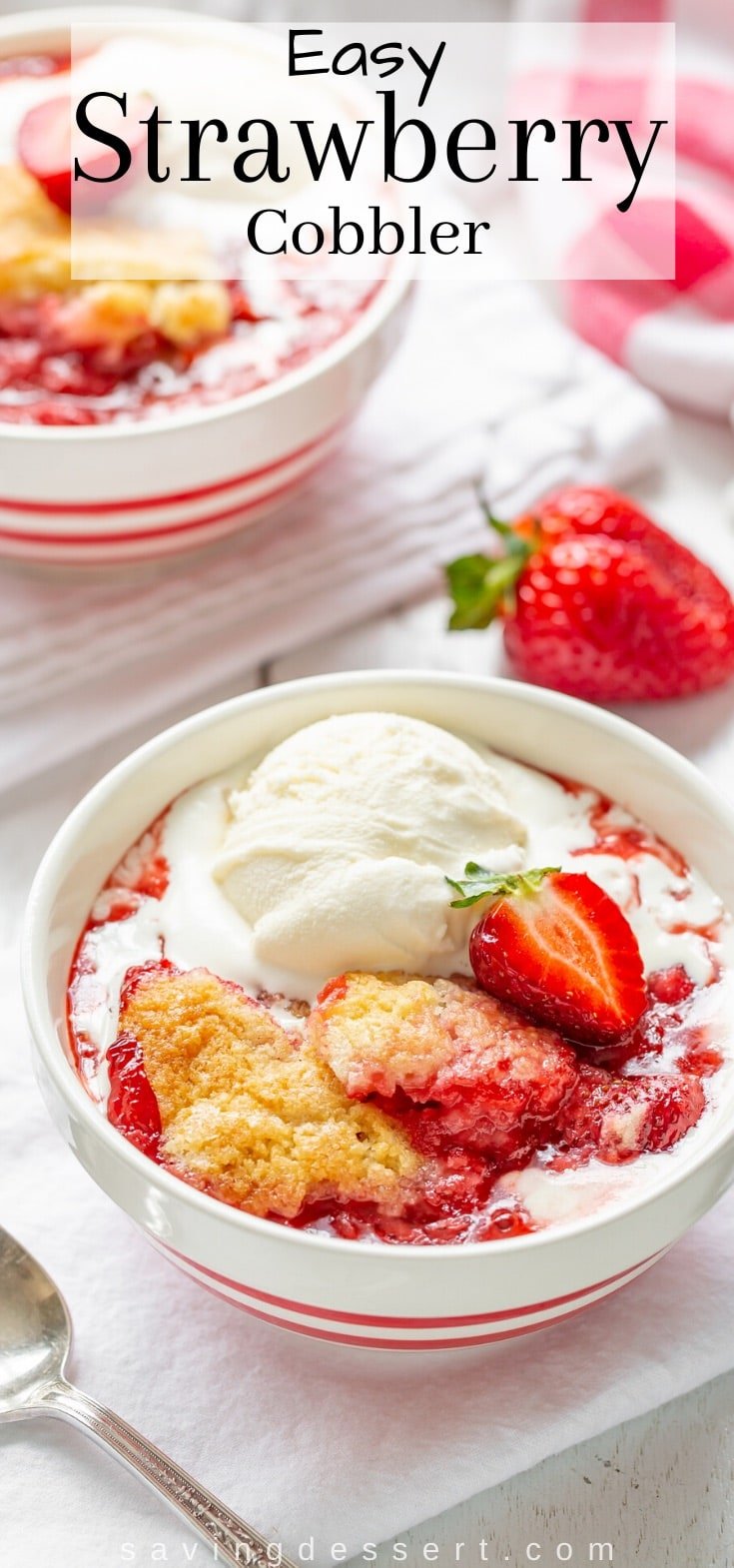 Let's be baking friends! If you make our recipe please feel free to leave a comment on this post. I'm sure your experience and insights will help all our readers, and it helps me too. If you're on Pinterest feel free to leave a comment and photo there if you have one!
If you share on INSTAGRAM tag @savingroomfordessert so we can stop by and give your post some love. FOLLOW Saving Room for Dessert on FACEBOOK| INSTAGRAM| PINTEREST | TWITTER  and subscribe to our YOUTUBE channel for all the latest recipes, videos and updates.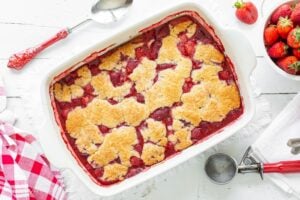 Easy Strawberry Cobbler
Total Time:
1

hour
10

minutes
Try our easy Strawberry Cobbler with juicy ripe berries topped with a sweet crumbled dough, cobbled together for a quick and easy dessert.
Ingredients
For the filling:
8

cups

fresh strawberries,

hulled (about 3 pounds) leave whole if berries are small or cut in half if very large

½

Granny Smith apple,

peeled and grated on a large box grater

⅓

cup

granulated sugar

1 ½

tablespoons

cornstarch

¼

teaspoon

salt
For the topping:
1

cups

all-purpose flour

1 ½

teaspoons

baking powder

½

teaspoon

salt

⅓

cup

granulated sugar

8

tablespoons

unsalted butter,

cubed and cold

⅔

cup

heavy cream

1

tablespoon

coarse sugar for topping

vanilla or strawberry ice cream,

for serving
Instructions
Lightly grease a 13x9-inch baking pan (see NOTES)
To prepare the filling:
In a large mixing bowl combine the strawberries and grated apple. In a measuring cup combine the sugar, cornstarch and salt. Pour the sugar mixture over the strawberries and toss to coat. Pour the strawberries into the prepared pan. Set aside.
To prepare the topping:
In a medium mixing bowl whisk together the flour, baking powder, salt and granulated sugar. Add the butter. Using a pastry blender cut in the butter until the mixture resembles coarse meal. Add the cream and stir with a fork just until moistened. Gently press the dough together using a spatula, forming a loose dough. Crumble the dough in clumps on top of the strawberries, leaving some of the strawberries exposed. Sprinkle coarse sugar on top of the dough.

Bake until the top is golden brown and the filling is bubbling, about 40-45 minutes. Serve warm topped with ice cream if desired.
Recipe Notes
This cobbler can also be baked in a 9-inch cast iron skillet or any casserole dish where it will fit. You want to have enough surface area on top so some of the berries show through the crumbled dough.
Top with a scoop of homemade vanilla ice cream.
Nutrition information is calculated using an ingredient database and should be considered an estimate. When multiple ingredient alternatives are given, the first listed is calculated for nutrition. Garnishes and optional ingredients are not included.
Nutrition
Calories:
283
kcal
|
Carbohydrates:
36
g
|
Protein:
3
g
|
Fat:
15
g
|
Saturated Fat:
9
g
|
Polyunsaturated Fat:
1
g
|
Monounsaturated Fat:
4
g
|
Trans Fat:
1
g
|
Cholesterol:
46
mg
|
Sodium:
247
mg
|
Potassium:
215
mg
|
Fiber:
3
g
|
Sugar:
21
g
|
Vitamin A:
532
IU
|
Vitamin C:
68
mg
|
Calcium:
70
mg
|
Iron:
1
mg
Here are a few more cobbler recipes you might enjoy: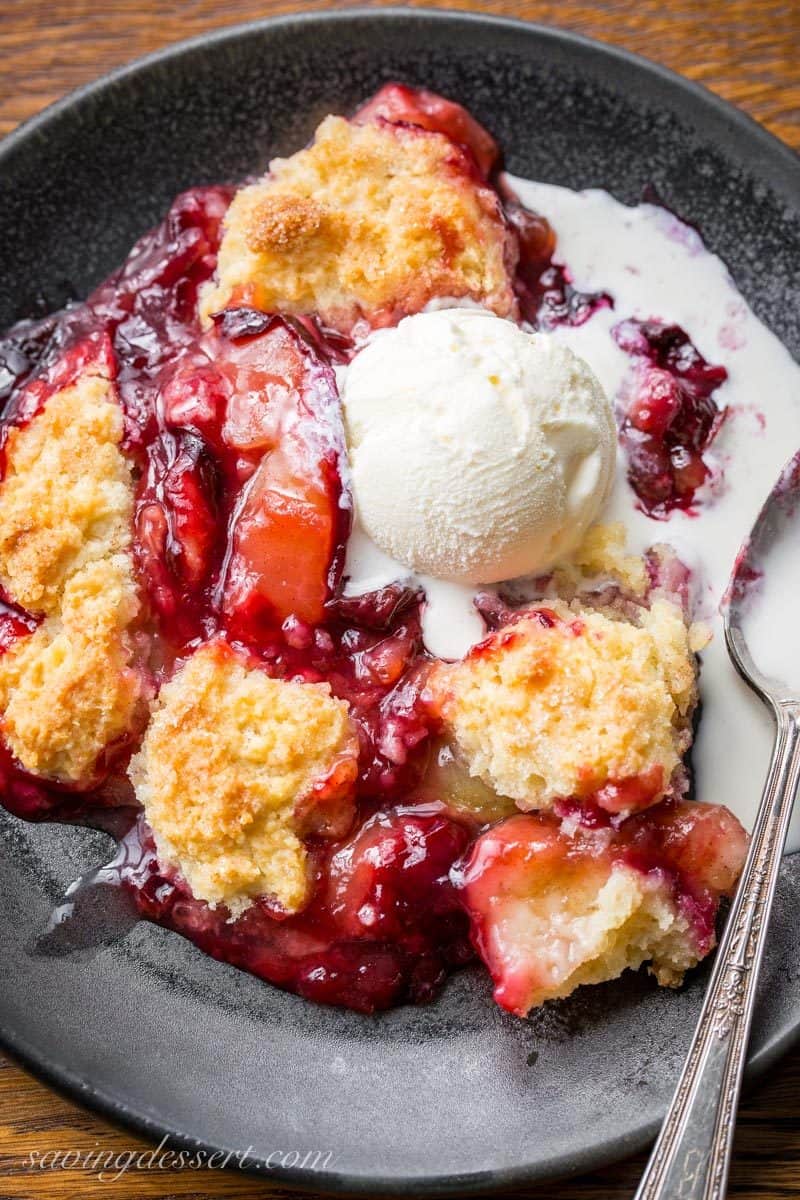 Easy Plum Cobbler – sliced fresh plums topped with a sweet crumbled dough, cobbled together for a quick and easy dessert featuring delicious, juicy fruits.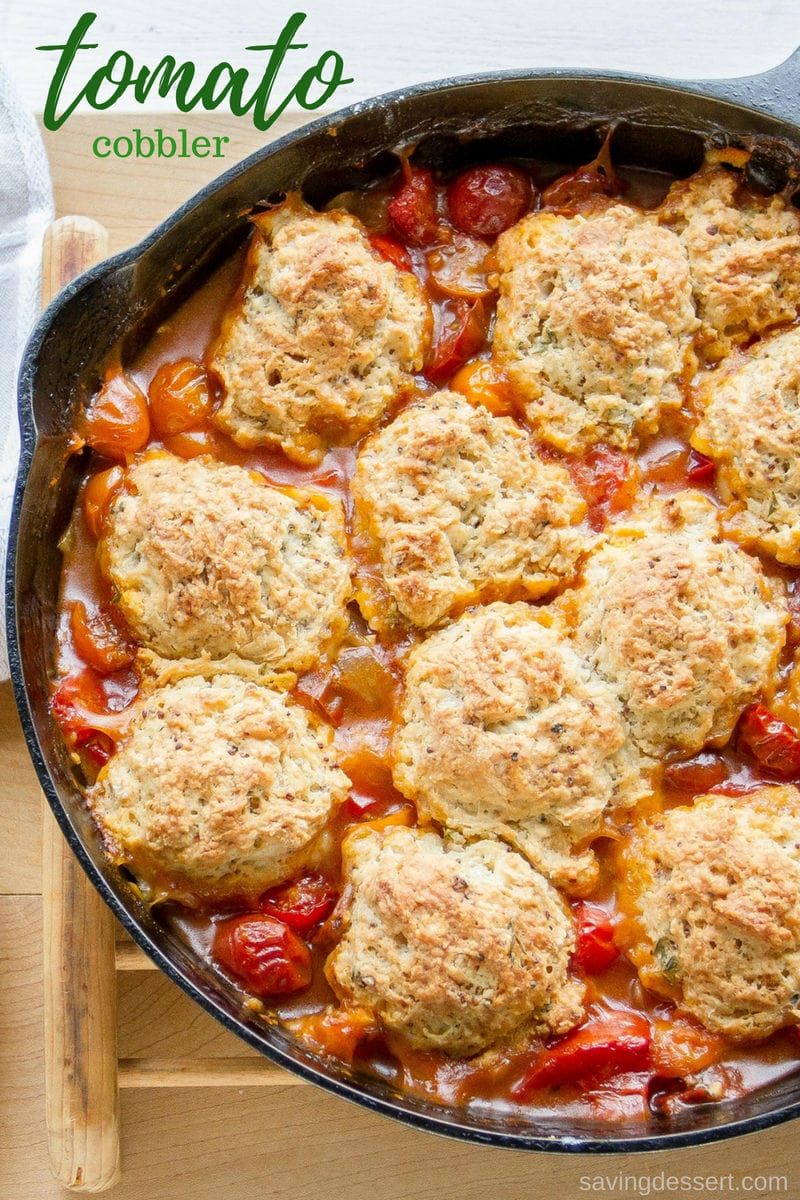 Savory Tomato Cobbler – it's hard to come up with enough superlatives to describe this wonderful, delicious, slightly sweet, savory, rich and absolutely delightful Tomato Cobbler direct from our garden to the table!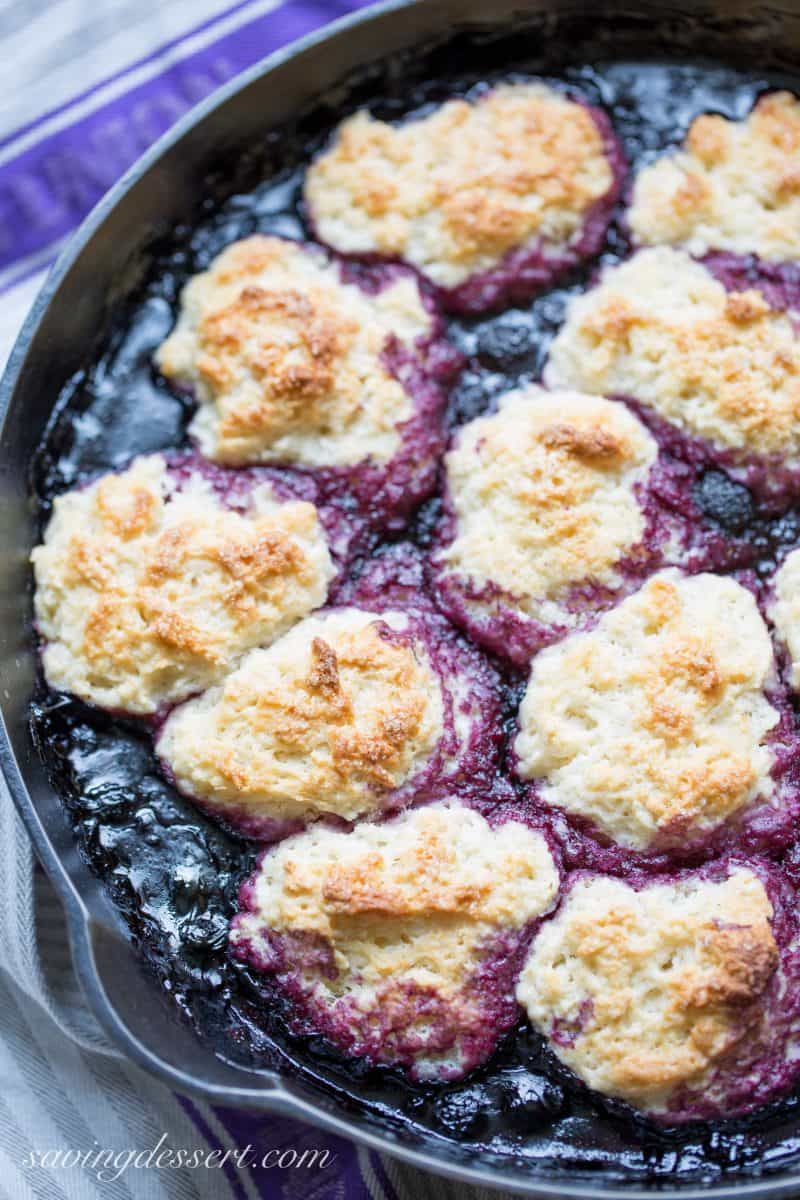 Black Raspberry Cobbler ~ A classic dessert cobbled together in a flash.  Substitute blackberries or blueberries as desired. Make the most of your summer berries!