This post may contain affiliate links. Please read my disclosure policy.
Colorful, sweet and tart fresh Fruit Salad Recipe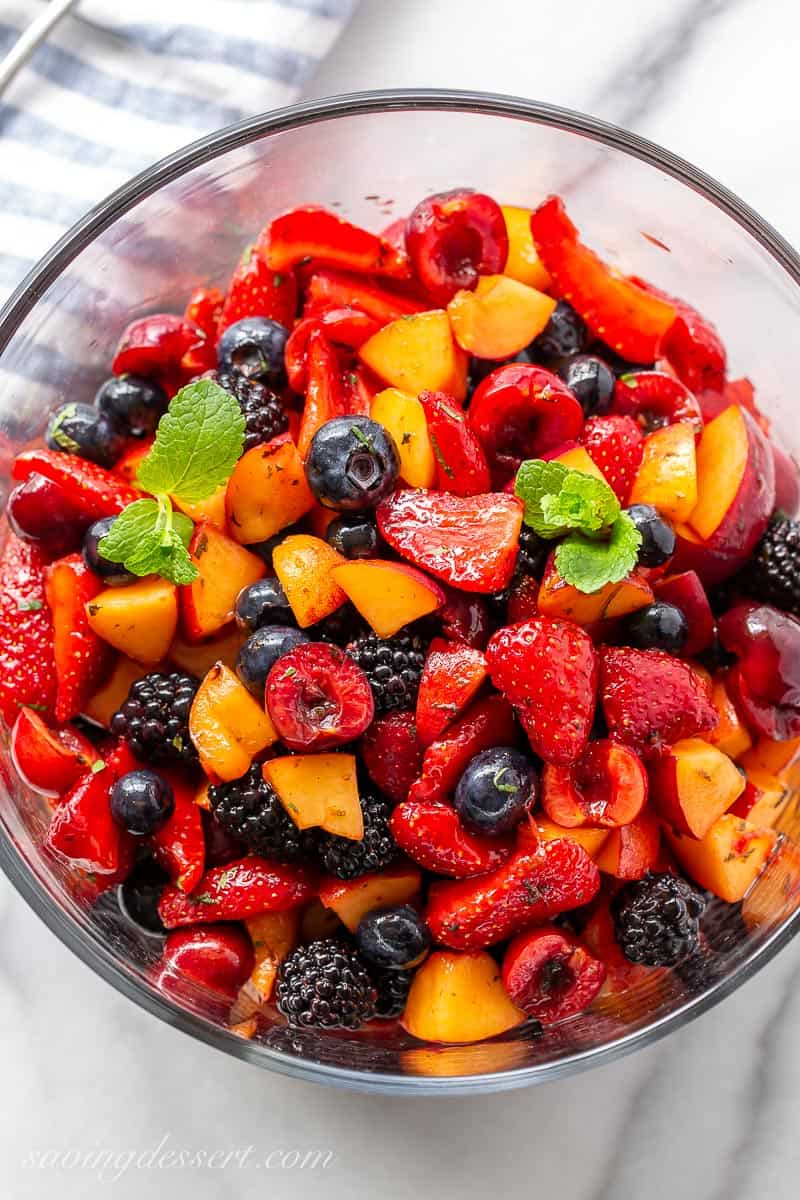 A Fruit Salad recipe for all occasions
This highly adaptable fresh fruit salad recipe is a great side dish that goes with just about everything. It's perfect served with grilled recipes and is a welcome addition at picnics and potluck gatherings.
If you love a good mojito, you're going to love this flavor combination of sweet, tart and tangy with plenty of fresh mint to delight the tastebuds!
We like to add one tablespoon of white rum with the lime juice but only when serving to mojito-loving grown-up guests. Feel free to leave it out for a family friendly version.
Overview of ingredients
The fruit used in this salad is easily adapted to whatever you have on-hand that's fresh and ripe. Be sure to use plenty of strawberries however, as they help make all that luscious syrup when macerated.
fresh mint leaves minced
finely grated lime zest
granulated sugar or honey
fresh lime juice
white rum (optional)
firm, fresh diced peaches, unpeeled
blackberries
cherries, pitted and halved
blueberries
strawberries, hulled and sliced
Optional seasonal fruits:
Fruit salads can be heavy on the berries, or with more melon pieces. Use your imagination and enjoy!
melons like cantaloupe, watermelon and honeydew are all great choices
unpeeled stone fruits like plums, nectarines or apricots
raspberries – but sure to use firm raspberries are they break down quickly
pineapple – fresh or pieces canned in juice not syrup
seedless grapes, halved or whole
mandarin orange segments
bananas – these will turn brown more quickly than other fruits so add at the last minute
diced apples – peeled or unpeeled
firm kiwi peeled and sliced
mango
use lemon juice or orange juice in place of the lime juice
make it a tropical fruit salad by adding a little shredded coconut with pineapple and mango
rough chopped nuts like pecans or walnuts for added crunch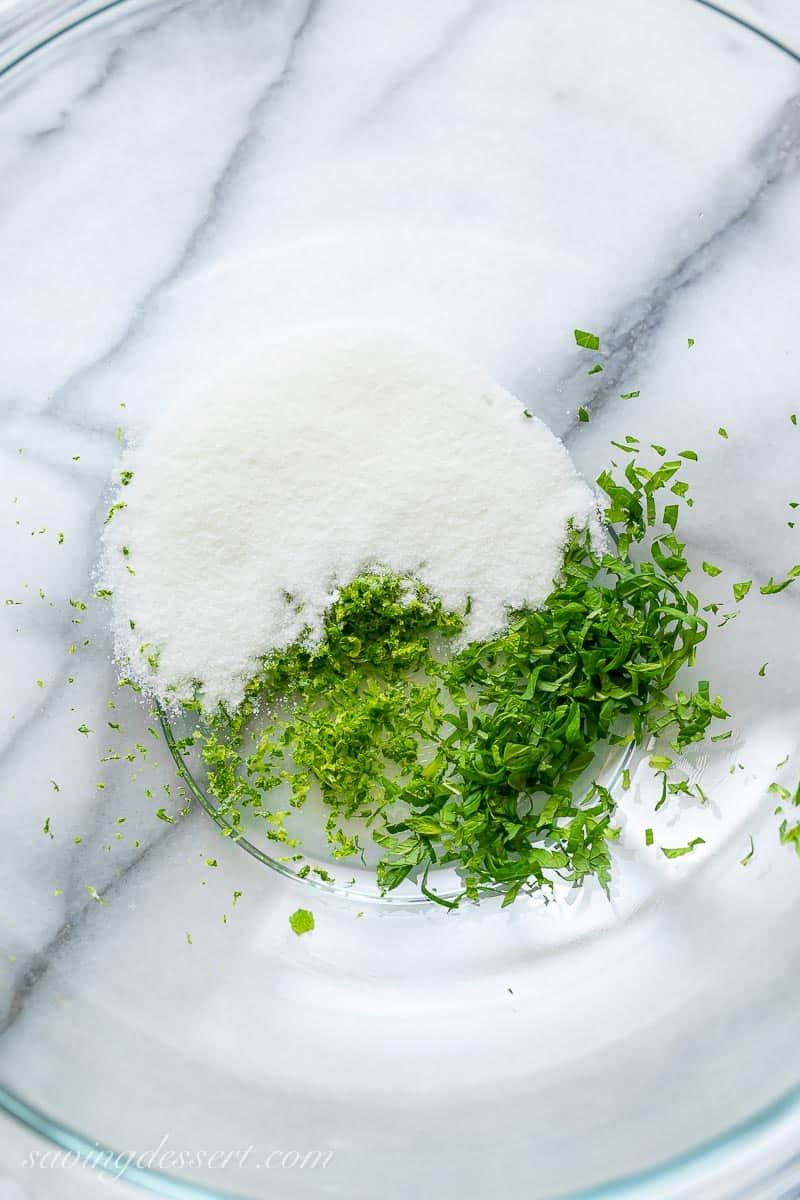 How to make a terrific fresh fruit salad
1. First combine the flavor makers
Using a muddler, the back of a spoon or a stiff spatula combine the minced mint leaves, lime zest and sugar in a large mixing bowl. Muddle and crush the mint until the oils are released and the sugar becomes damp.
2. Add the fruit to the bowl with the mint, sugar and zest
Pour the fruit into the bowl and toss gently using a spatula to combine. Set aside at room temperature, stirring occasionally, for 15 to 30 minutes or until the fruit releases its juices.
3. Add fresh lime juice and serve
Combine the fresh squeezed lime juice and rum, if using. Pour over the fruit and toss gently to combine.
Check the seasoning and add more lime juice if needed. Garnish with fresh mint leaves and serve.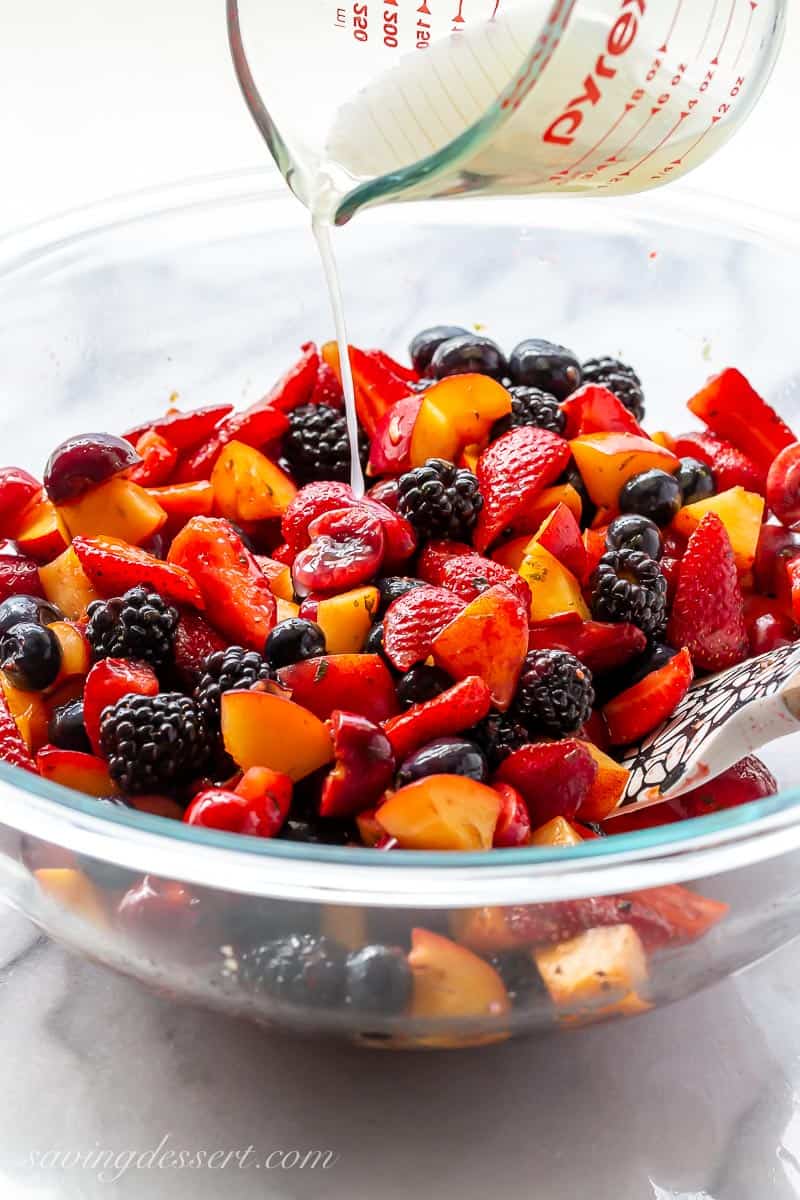 Fresh is best
We don't recommend using thawed frozen fruit for this salad. Fresh fruit is by far the best option.
That said, thawed frozen cherries are the exception and seem to work fine.
Can easy fruit salad recipe be made ahead?
As you know, fresh fruit salads are best served within a few hours after they're made. However, depending on the kind of fruit you use, it can last for up to 24 hours.
Strawberries and soft fleshy fruits like melons and peaches might get a little mushy, but they're still edible and delicious the next day.
With that in mind you can also cut the recipe in half to prevent waste. We always eat the leftovers for breakfast over yogurt, with or without the added rum. It's all good!
If you need to make the salad a few hours ahead, assemble each component and store separately until almost ready to serve.
Tips for making the best fresh fruit salad
Blackberries, cherries and blueberries all hold up very well in this salad and are some of our favorites. Any kind of berries work well in this recipe.
If using peaches make sure they are firm and not mushy.
Use fresh lime juice and check the seasoning before serving. You can always add more lime for a little more zing.
Zest only the green outer rind of the lime. Any white pith zested into this salad will cause the fruit to taste bitter.
Use a colorful combination of fruits and textures. Add at least one soft component like strawberries and/or stone fruit.
For parties scoop the fruit salad into small individual clear disposable cups for easy grab and go portions.
Call it dessert!
Add a dollop of lightly sweetened whipped cream or Cool Whip on top for a refreshing low calorie dessert.
Or, spoon the fruit over a slice of our favorite cream cheese pound cake, angel food cake or use as a topping over a bowl of our fantastic homemade vanilla ice cream.
Thanks for PINNING!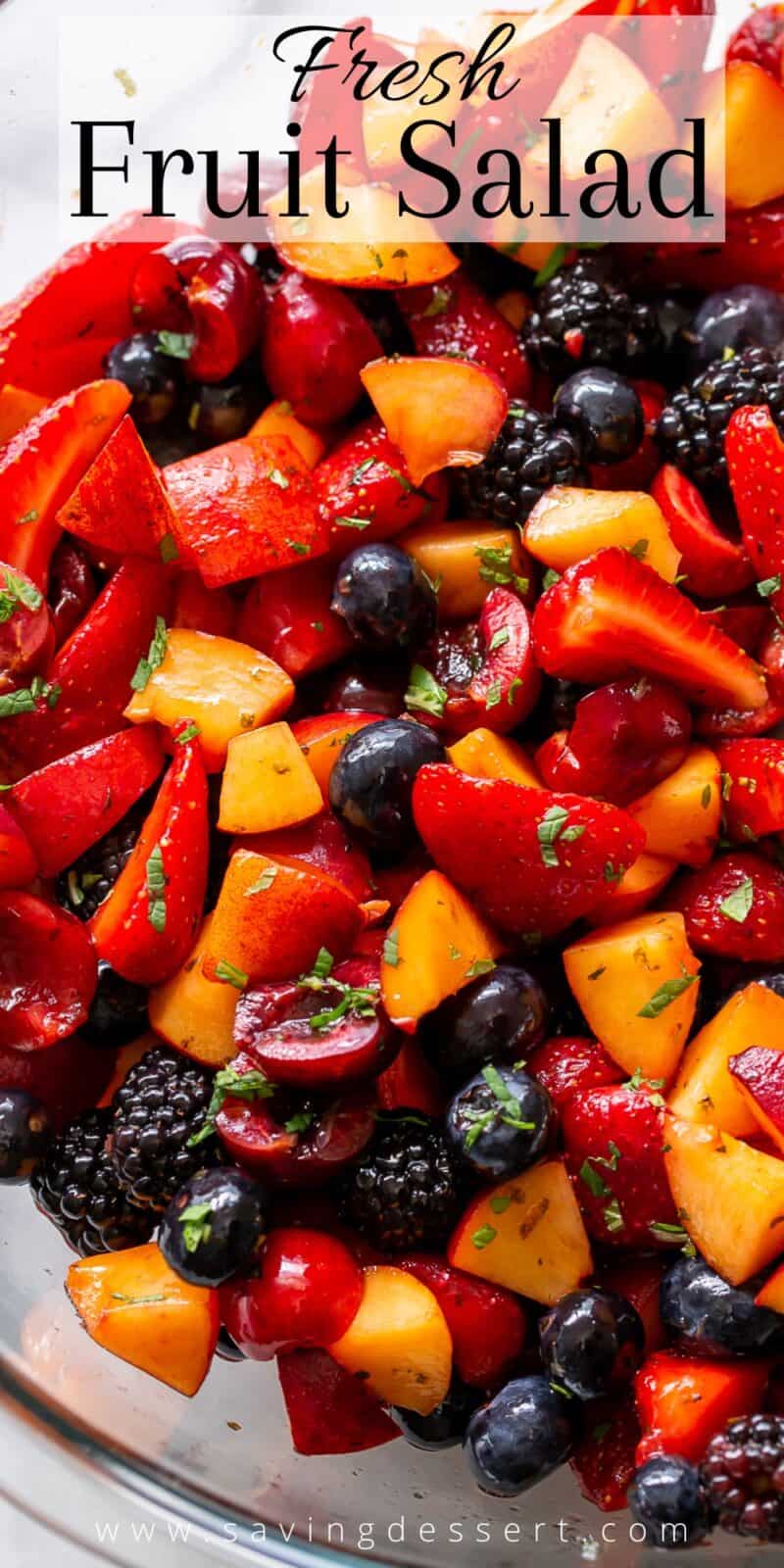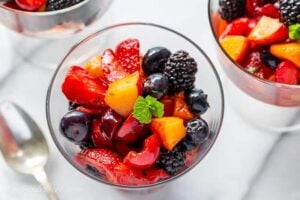 An easy and delicious fresh fruit salad perfect for summer entertaining
Ingredients
1

tablespoon

minced fresh mint leaves

finely grated zest from 1 lime

2

tablespoons

granulated sugar

1/4

cup

fresh lime juice

1

tablespoon

white rum

optional

3

large peaches

halved, pitted and cut into 1/2-inch pieces

1

cup

fresh blackberries

1

cup

fresh cherries pitted and halved

1

cup

fresh blueberries

2

cups

fresh strawberries hulled and quartered
Instructions
Combine the minced mint leaves, lime zest and sugar in a large serving bowl. Use a muddler (or the back of a spoon) to crush the mint leaves until the mint oils are released and the sugar becomes wet.

Add the fruit to the bowl and gently toss with a spatula. Set aside at room temperature for 15 to 30 minutes or until the fruit releases its juice. Add the lime juice and rum (if using).

Check the seasoning and add more lime juice if needed. Garnish with fresh mint leaves and serve.
Recipe Notes
Prepare each component ahead of time and store separately until needed. Assemble the salad a few hours before serving.
Store leftovers in the refrigerator.
This salad is best eaten within 24 hours, depending on the variety and ripeness of the fruit used.
Nutrition
Calories:
110
kcal
|
Carbohydrates:
26
g
|
Protein:
2
g
|
Fat:
1
g
|
Saturated Fat:
1
g
|
Polyunsaturated Fat:
1
g
|
Monounsaturated Fat:
1
g
|
Sodium:
11
mg
|
Potassium:
291
mg
|
Fiber:
5
g
|
Sugar:
19
g
|
Vitamin A:
370
IU
|
Vitamin C:
44
mg
|
Calcium:
26
mg
|
Iron:
1
mg
The perfect summer side!
Enjoy our easy and delicious fresh fruit salad recipe easily adapted to your favorite fruits. This salad keeps well for hours and is great served over bundt cakes, yogurt or ice cream.
Finally, if you're looking for more fruit-centric recipes, check out our Ambrosia Salad, 5-minute berry sauce recipe and these refreshing assorted Fresh Fruit Popsicles.
We are a participant in the Amazon Services LLC Associates Program, an affiliate advertising program designed to provide a means for us to earn fees by linking to Amazon.com and affiliated sites.