This post may contain affiliate links. Please read my disclosure policy.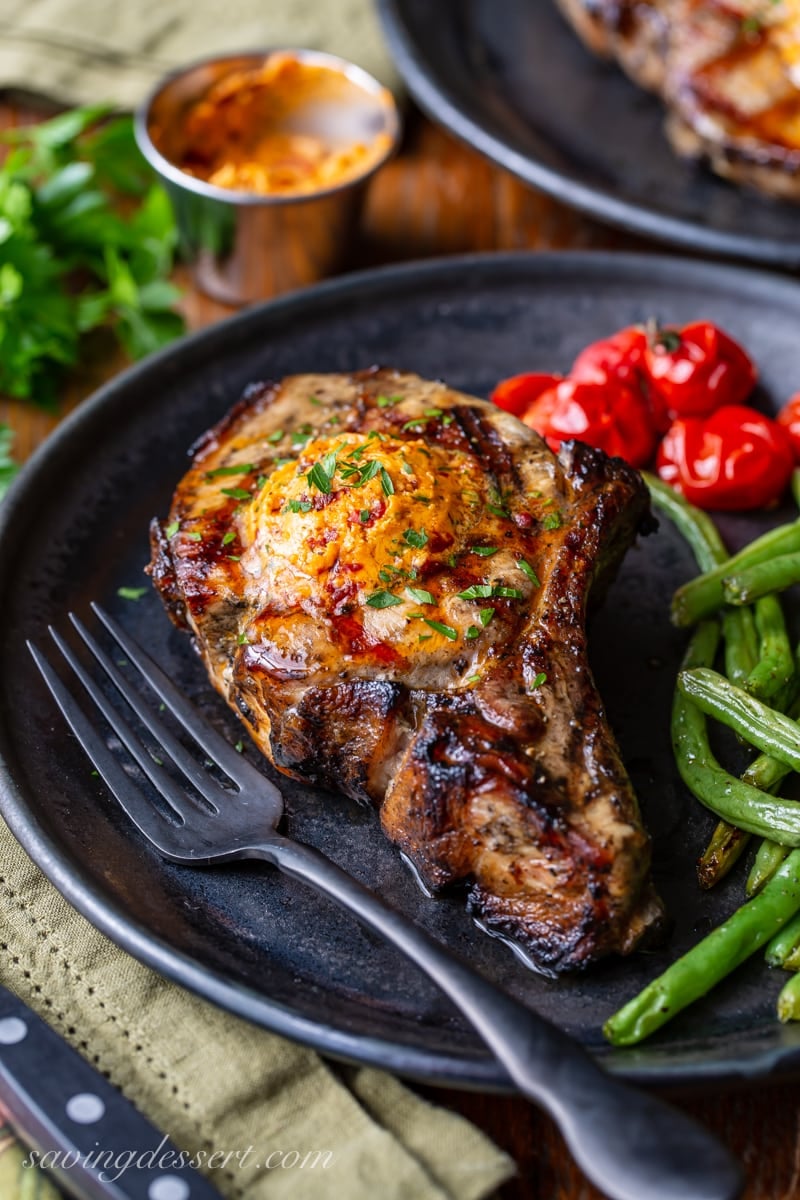 Dust off that grill and get ready for the summer season with these juicy Grilled Pork Chops with Chipotle Butter.
Who can resist a juicy, thick-cut, char-grilled tender pork chop hot off the grill? Not me! Slathered in a flavorful butter adding just a hint of smoky spice, these grilled pork chops are a winner you'll want to make all summer long. Easy is the name of the game here, with minimal hands on time!
The trick for juicy pork chops is in the brine.
I haven't always loved brining meats. I'm pretty sodium intolerant and don't often indulge in high sodium foods. Don't think brining for an hour will make these chops overly salty. The brine is just enough to seal in the juiciness.
Searing, then slow grilling to the perfect internal temperature will yield juicy, delicious grilled pork chops.
You'll want to have an instant-read thermometer on hand to ensure the pork chops are not overcooked. Nothing dries a pork chop out faster than being overcooked. Start by checking the internal temperature of your thinnest pork chop first. Once it reaches 145F remove it from the grill and tent with foil to keep warm. It helps if you can purchase pork chops that are cut to about the same thickness. Check at the butcher's counter for hand-selected chops that are 1 1/2-inches thick instead of buying the vacuumed sealed variety.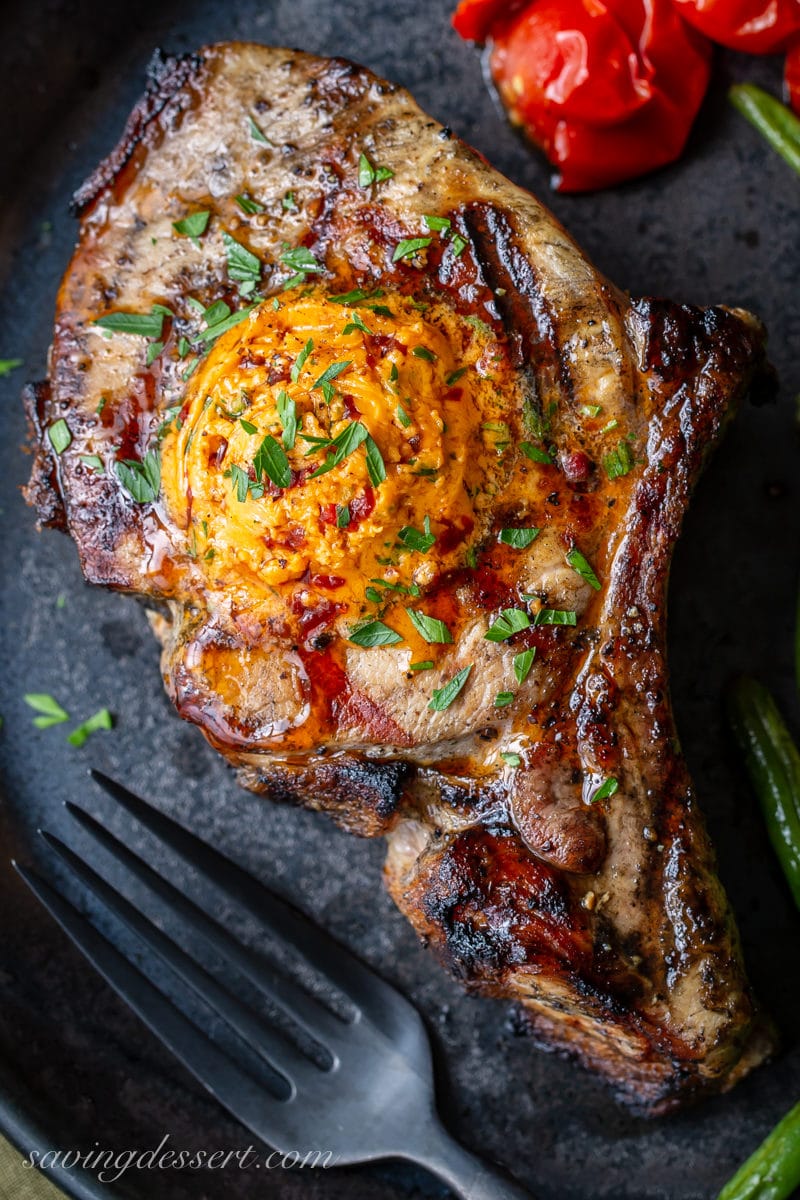 Snip the fat with kitchen shears or a sharp knife to prevent bowing or curling.
Have you ever had a pork chop curl up like a little bowl as it cooks? This curling can be prevented by taking a minute to prep the meat. There's usually a strip of fat along the outside of each pork chop, opposite the bone-in side. When prepping the pork chops cut through the fat at 2-inch intervals taking care not to cut into the meaty flesh. Problem solved! The pork chops will lay flat on the grill giving the surface of each chop plenty of char and even grilling.
Did I mention topping our grilled pork chops with this delicious chipotle butter?
We love the smoky flavor of chipotle peppers in adobo, especially when combined with sweet, creamy butter, a splash of lime juice and some fresh herbs. A small scoop of this chipotle butter adds just enough flavor to the pork chops without overpowering their lovely grilled taste.  You'll find canned chipotle peppers in the Mexican section of your grocery store and only need one chipotle pepper with a little adobo sauce for this recipe. Flash freeze the remaining canned peppers on a baking tray lined with parchment or wax paper. This is the same trick I use for tomato paste because recipes never seem to use the entire can! Once frozen, transfer the peppers to an airtight container to have on hand for your next recipe. We always have chipotle peppers in adobo sauce in our freezer at the ready.
Thanks for PINNING!
Let's be grilling friends! If you make our recipe please feel free to leave a comment on this post. I'm sure your experience and insights will help all our readers, and it helps me too. Also, if you're on Pinterest feel free to leave a comment and photo there if you have one! If you share on INSTAGRAM tag @savingroomfordessert so we can stop by and give your post some love. And we'd be very happy if you'd FOLLOW Saving Room for Dessert on FACEBOOK| INSTAGRAM| PINTEREST | TWITTER  and subscribe to our YOUTUBE channel for all the latest recipes, videos and updates. Thank you!!
PRINT THE RECIPE!
Grilled Pork Chops with Chipotle Butter
Course:
Dinner, Main Dish
Slathered in a flavorful butter adding just a hint of smoky spice, these grilled pork chops are a winner!
Ingredients
For the chipotle butter:
2

tablespoons

unsalted butter,

softened

1

canned chipotle chile in adobo sauce,

chopped fine, about 1 tablespoon

1

tablespoon

fresh parsley leaves,

chopped

1

teaspoon

fresh ground black pepper

pinch

of salt

juice of ½ lime
For the pork chop brine:
1

quart

cold water

1

tablespoon

salt

1

teaspoon

sugar
For the pork chops:
4

bone-in pork rib chops,

cut 1 ½-inch thick

fresh ground black pepper

vegetable oil
Instructions
To prepare the chipotle butter:
Mix the butter, chipotle, parsley, pepper, salt and lime juice together in a small bowl. Stir to combine. Cover and set aside, or refrigerate until needed. If refrigerated bring to room temperature before serving to soften, about 30 minutes.
To prepare the brine:
Combine the cold water, salt and sugar in a large ziploc bag or container with a lid. Stir or shake to dissolve. Add the pork chops to the brine and seal the bag. Refrigerate for 1 hour, turning once or twice.
To grill the pork chops:
Remove the pork from the brine and pat dry with paper towels. Cut slits about 2-inches apart through the fat around the outside edge of the pork chops. This will help prevent curling and keep the pork chops flat as they grill.

Lightly brush the chops with vegetable oil and season with fresh ground black pepper on both sides. Set aside.

Preheat gas grill on high for 15 minutes. Carefully oil the grill grate using tongs and paper towels dipped in vegetable oil.

Grill the pork chops until well browned, about 5 minutes per side. Reduce the heat to medium-low and continue cooking for 8-10 minutes, turning halfway through grilling. Check for doneness using an instant read thermometer. The chops should register 145°F. Transfer to a plate and tent lightly with foil for 10-15 minutes. Top with chipotle butter and serve.
Recipe Notes
Nutrition information is calculated using an ingredient database and should be considered an estimate. When multiple ingredient alternatives are given, the first listed is calculated for nutrition. Garnishes and optional ingredients are not included.
Nutrition
Calories:
346
kcal
|
Carbohydrates:
2
g
|
Protein:
35
g
|
Fat:
21
g
|
Saturated Fat:
9
g
|
Polyunsaturated Fat:
2
g
|
Monounsaturated Fat:
7
g
|
Trans Fat:
1
g
|
Cholesterol:
132
mg
|
Sodium:
1898
mg
|
Potassium:
596
mg
|
Fiber:
1
g
|
Sugar:
1
g
|
Vitamin A:
460
IU
|
Vitamin C:
1
mg
|
Calcium:
46
mg
|
Iron:
1
mg
Kitchen Essentials – the instant-read thermometer
Take the guesswork out of grilling pork chops with this easy to use instant-read thermometer. Once you own one of these inexpensive tools, you find dozens of ways to use it. This product features a super fast readout within 3-4 seconds. The waterproof function makes it perfect for liquids, food, meat, grilling and candy making. With a wide temperature range, this digital thermometer has a foldable 4.6-inch food grade stainless steel probe and auto-on/off function. Easy to use and store.  Click on the photo for more information or to purchase from Amazon.
Saving Room for Dessert is a participant in the Amazon Services LLC Associates Program ~ I earn a small commission, at no additional cost to you, which I use to pay for web hosting and services for this blog. Thanks for supporting SRFD!
Here are a few more grilling recipes you might enjoy: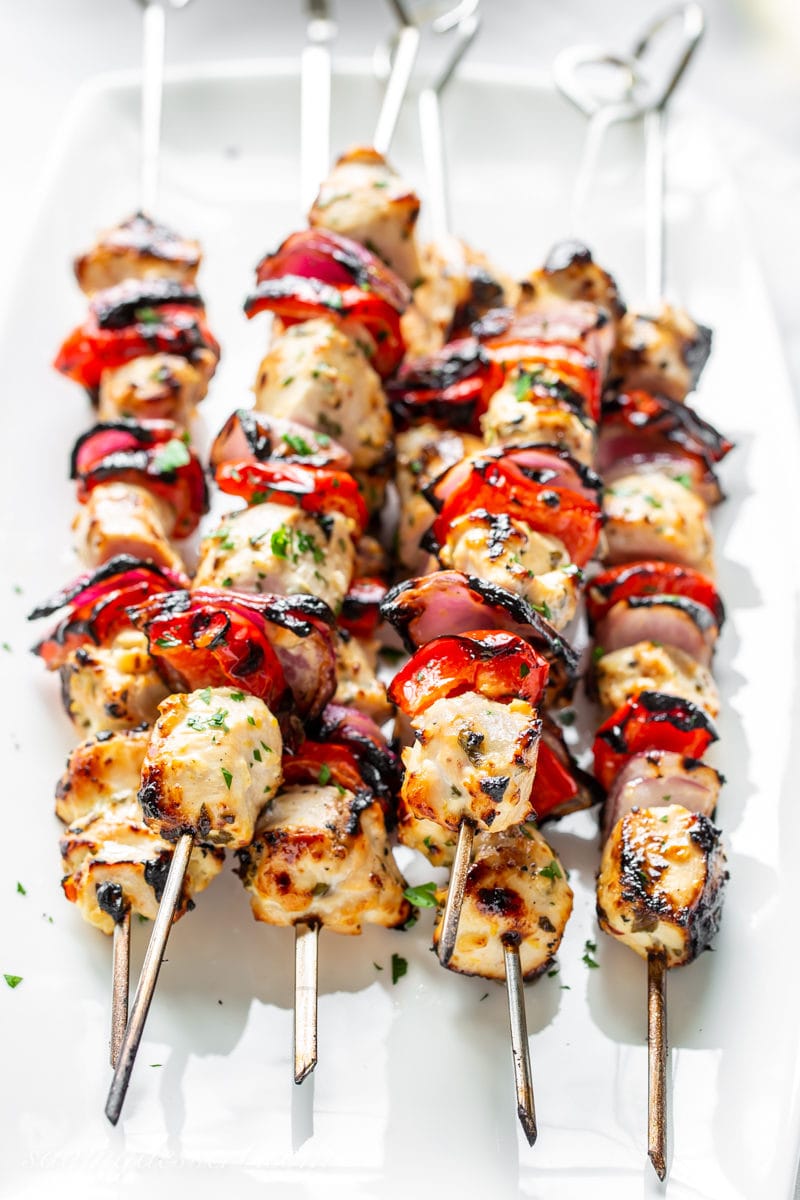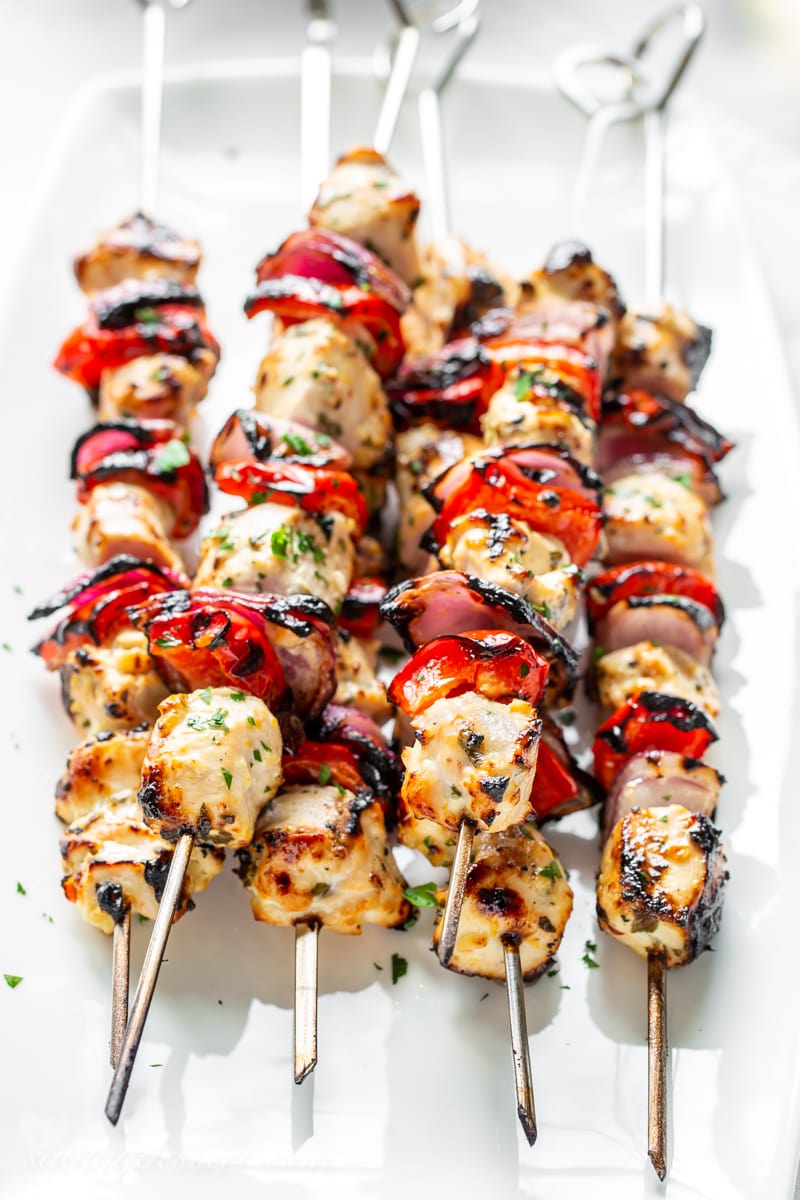 If you're looking for tender, juicy and flavorful all in one delicious bite, you'll LOVE this Grilled Greek Chicken Recipe! Without a doubt, this Greek inspired marinade is one you won't soon forget. With plenty of lemon juice, fresh herbs, silky olive oil and tons of garlic, this yogurt-based marinade infuses all your favorite chicken pieces with the intense Greek flavors we love. Click HERE to get the recipe.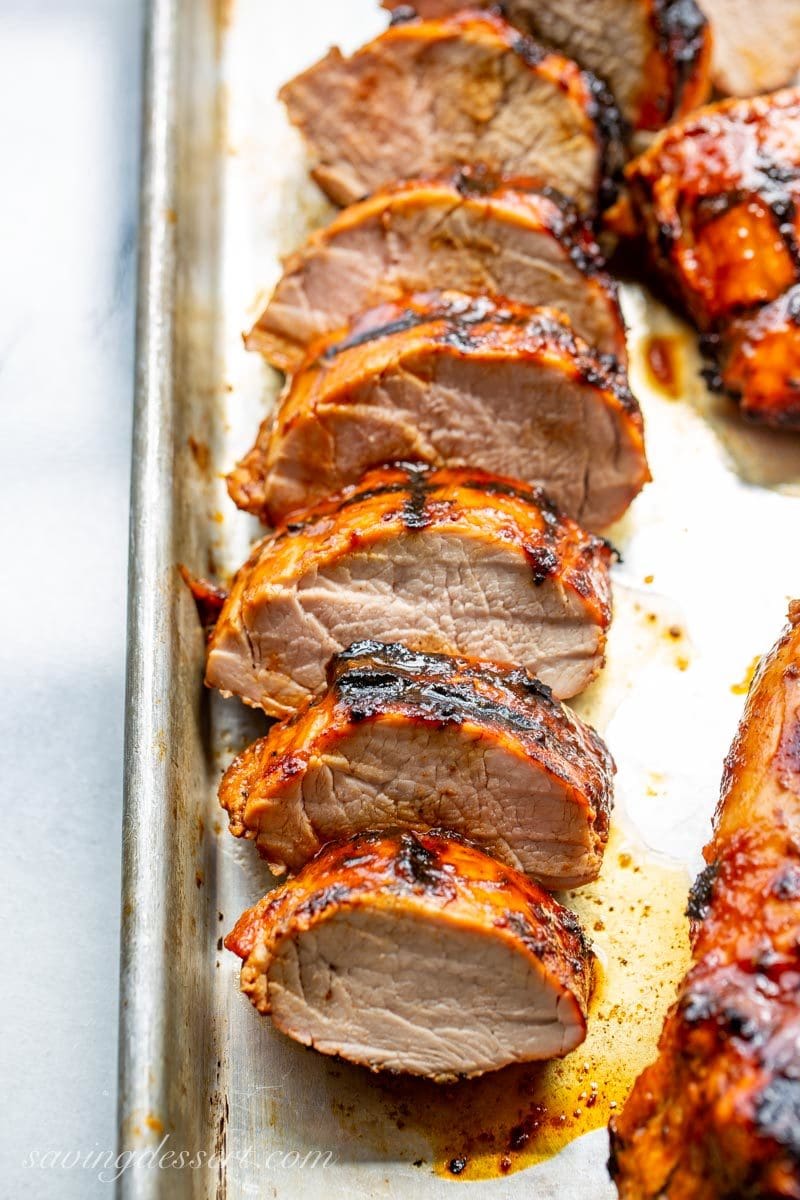 We love this easy Grilled BBQ Pork Tenderloin marinated in our homemade sweet and spicy Honey BBQ Sauce then grilled to juicy perfection. This simple main course is a summer staple at our house! Click HERE to get the easy recipe.
Have you ever wanted to make grilled skin-on, bone-in Barbecued Chicken without burning the outside while the middle is still undercooked? This recipe can help! Click HERE to get the recipe.
Thanks so much for stopping by! Tricia