This post may contain affiliate links. Please read my disclosure policy.
Creamy, bright, tangy and luscious, this Key Lime Pie Gelato has all the flavors we love in a great key lime pie, in a scoopable frozen treat!
For those of us that make homemade
ice cream
,
sherbet
, gelato and
sorbets
, the obsession is real. For those of you that don't have an ice cream maker, get one as soon as possible then start with this amazing recipe! I've been making this gelato since I developed the recipe in March 2013. It's my son's favorite frozen treat of all time, and my husband adores it too. If you're a fan of
Key Lime Pie
, or anything made with limes, this is the one for you!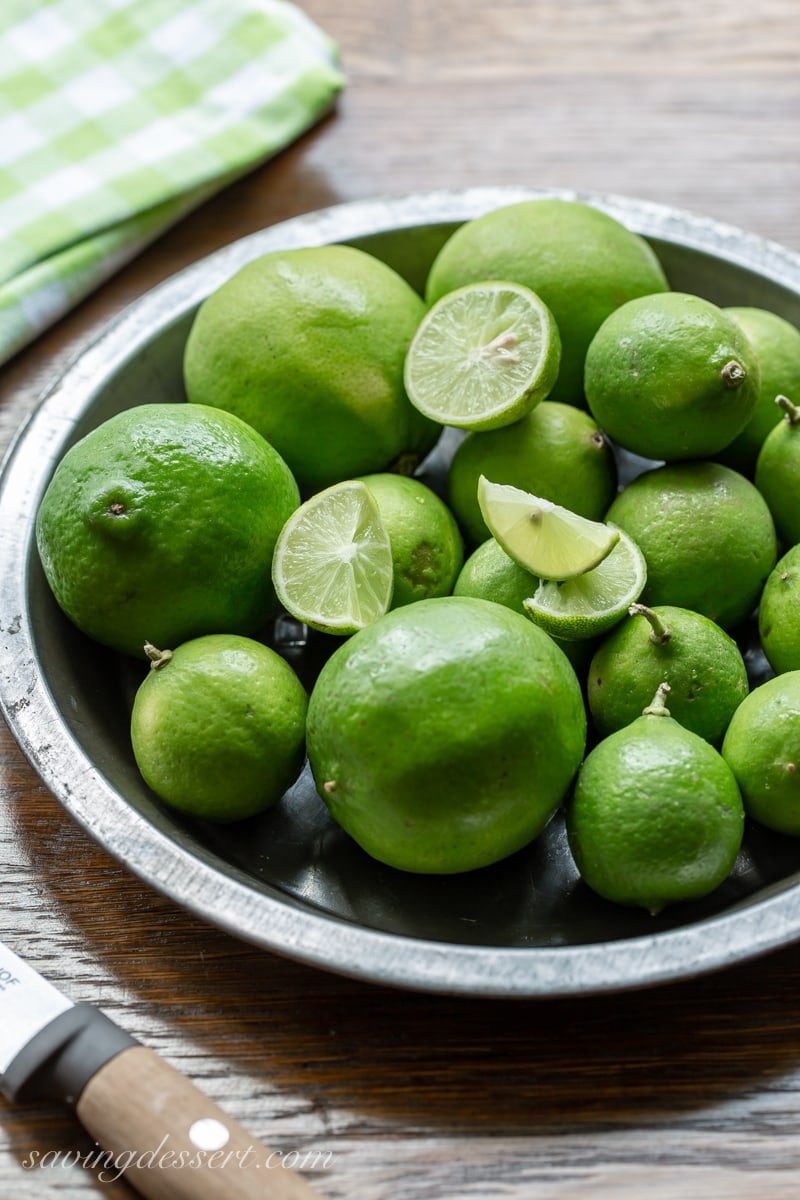 What's the difference between regular Persian limes and key limes?
First, it's easy to see key limes are much smaller than Persian limes. Once sliced you'll notice that key limes have a lot of seeds like a lemon, where Persian limes are seedless. These tiny key lime fruits have a much thinner rind, higher acidity, a stronger flavor and a distinct aroma that is easily recognized. Persian limes are actually a cross between a key lime and a lemon, which explains a lot! People often use regular Persian limes in place of key limes, and that's fine too. However, if you're a key lime fan, take the few extra minutes to squeeze fresh key limes for this recipe.
Can I use bottled key lime juice for this recipe?
I'm not a fan of bottled key lime juice but if you are, then feel free to use it in this recipe. As with any recipe I post, fresh is best in my opinion, but especially when it comes to key limes. You'll need about 10 key limes which are easily juiced using a citrus press / juicer. Check out the link at the bottom of this page to order an inexpensive juicer if you don't already have one. Easy peasy!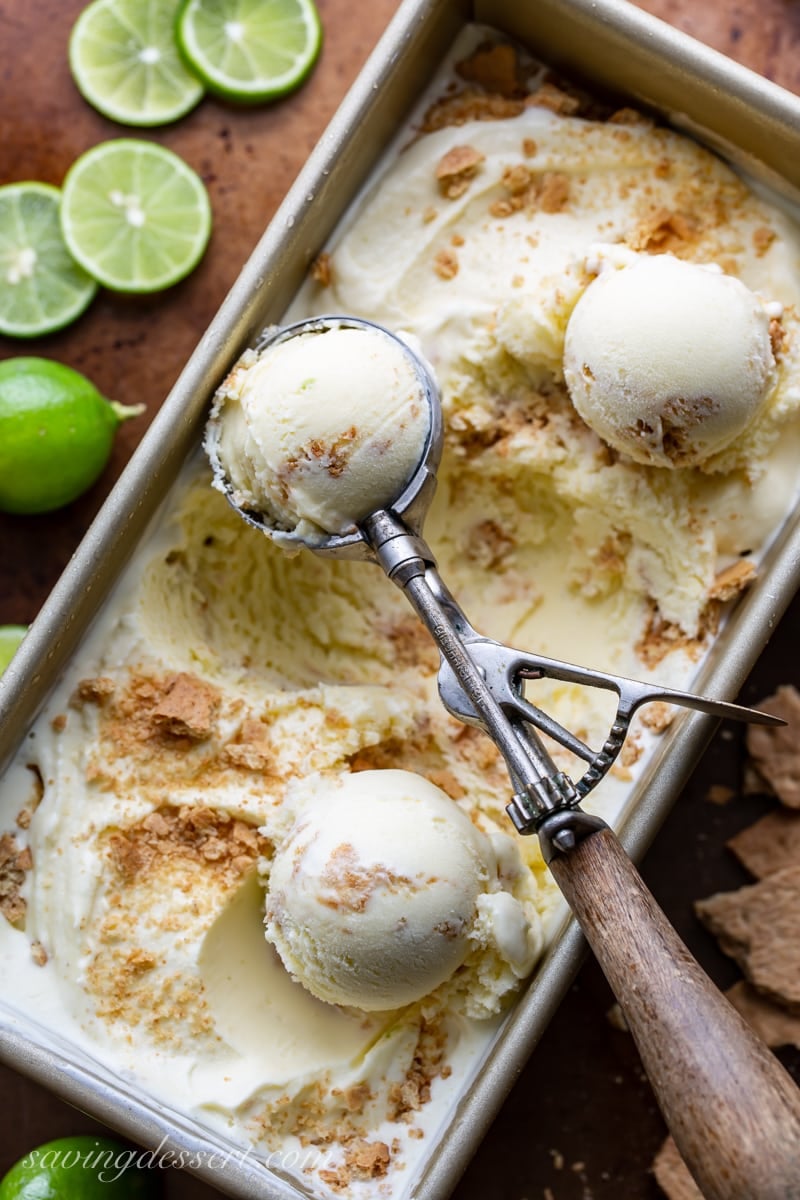 Why is this called gelato instead of ice cream?
Gelato recipes usually have a lower fat ratio using more milk than cream which is opposite American ice cream recipes. This recipe was created with that in mind using only 1 cup of heavy cream and 2 cups whole milk. However, to make authentic gelato at home, you should purchase a gelato machine. Gelato machines use a different paddle attachment than ice cream makers and churn at a slower rate, adding less air into the mixture. In the end, gelato is typically more dense than ice cream. Unfortunately gelato machines can be very expensive. If you don't want to invest in a gelato maker, no worries, just follow this recipe and freeze the mixture in a regular, inexpensive ice cream maker. It will be fantastic!
How long will this Key Lime Pie Gelato keep in the freezer?
Once you've made your Key Lime Pie Gelato, immediately transfer the mixture to the freezer in an airtight container. If you'll be serving the gelato within about 24 hours, pressing a piece of plastic wrap on the surface will be enough. If you store the gelato in an airtight container it will keep for several weeks unless somebody eats it sooner, as often happens at my house.
Don't forget the ribbon of crushed graham crackers too!
The crushed graham crackers add a wonderful textural contrast. That crunchy-smooth thing gives this gelato a Key Lime Pie quality that can't be beat! Try our recipe for Homemade Graham Crackers if you're in the baking mood. They're so good, fun and easy to make too! If you're saving room for dessert – you'll want to try this recipe for Key Lime Pie Gelato before summer slips away.
Thanks for PINNING!
Let's be cooking friends! If you make our recipe please feel free to leave a comment on this post. I'm sure your experience and insights will help all our readers, and it helps me too. Also, if you're on Pinterest feel free to leave a comment and photo there if you have one! If you share on INSTAGRAM tag @savingroomfordessert so we can stop by and give your post some love. And we'd be very happy if you'd FOLLOW Saving Room for Dessert on FACEBOOK| INSTAGRAM| PINTEREST | TWITTER  and subscribe to our YOUTUBE channel for all the latest recipes, videos and updates. Thank you!!
PRINT THE RECIPE!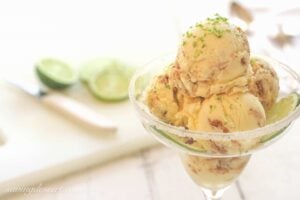 Key Lime Pie Gelato
Total Time:
8

hours
40

minutes
A deliciously creamy, tart and sweet Key Lime Gelato with ribbons of crushed graham crackers.
Ingredients
1

tablespoon

key lime zest

1

cup

granulated sugar

divided

2

cups

whole milk

5

large egg yolks

1

cup

heavy cream

⅓

cup

key lime juice

½

teaspoon

vanilla extract

1

cup

graham crackers

lightly crushed
Instructions
Combine 1 tablespoon Key lime zest in a bowl of a food processor with ¾ cup of granulated sugar. Process until the zest is very fine.

Place the zest and sugar in a heavy bottom saucepan. Add 2 cups of whole milk and cook on medium heat until the mixture reaches 170°F on an instant-read thermometer. Remove from the heat, cover with a lid and steep for 30 minutes.

While the milk is steeping, whisk the egg yolks with the remaining ¼ cup of sugar in a non-reactive medium bowl. Whisk until the eggs are foamy and slightly thickened. Set aside. Juice the limes and measure to ⅓ cup.

In a separate clean, large glass or stainless steel bowl, add the heavy cream. Set the bowl over an ice bath and place a fine-mesh sieve over the cream.

Put the steeping milk and zest mixture back on medium heat until it reaches 170°F stirring occasionally to prevent scorching.

Temper the eggs by pouring in a slow, steady stream of hot milk while whisking continuously. Once most of the hot milk has been added to the egg yolks, pour the new egg and milk mixture (custard) back in the saucepan. Heat on medium stirring continuously with a wooden spoon or heat proof spatula until it reaches 185 degrees or is thick enough to coat the back of the wooden spoon. Take care not to let the mixture boil. If needed, blend or emulsify the custard if it is not smooth.

Pour the heated custard through the sieve into the cold cream. Stir occasionally until the mixture is fully cooled, about 30 minutes. Add the lime juice and vanilla and stir until combined. Remove the bowl from the ice bath and dry the bottom with a kitchen towel. Cover the bowl and refrigerate for at least 8 hours or overnight.

Process the gelato in your ice cream maker according to the manufacturer directions. Scoop a layer of gelato into an airtight container. Top with a layer of crushed graham crackers, and then another layer of gelato. Repeat topping the final layer of gelato with the last of the crackers. Cover and freeze until set and ready to serve. Sprinkle each bowl with additional crushed graham crackers if desired.
Recipe Notes
You will need about 10 juicy limes for 1/3 cup juice. Use 1/4 cup of key lime juice if you prefer a less tart flavor
Nutritional information is based on a 1/2 cup serving.
Nutrition information is calculated using an ingredient database and should be considered an estimate. When multiple ingredient alternatives are given, the first listed is calculated for nutrition. Garnishes and optional ingredients are not included.
Nutrition
Calories:
214
kcal
|
Carbohydrates:
26
g
|
Protein:
4
g
|
Fat:
11
g
|
Saturated Fat:
6
g
|
Polyunsaturated Fat:
1
g
|
Monounsaturated Fat:
3
g
|
Cholesterol:
108
mg
|
Sodium:
74
mg
|
Potassium:
110
mg
|
Fiber:
0.3
g
|
Sugar:
21
g
|
Vitamin A:
469
IU
|
Vitamin C:
2
mg
|
Calcium:
80
mg
|
Iron:
1
mg
Kitchen essentials for making homemade ice cream, sorbet and gelato

Check out this Cuisinart ice cream maker! I've had this exact model for years and love it. It's a true workhorse in the kitchen and super easy to use and clean. I also could not live without my favorite citrus press / juicer. I use it all the time when making anything requiring lemon, lime or orange juice. Click on the photos for more information or to purchase from Amazon.
Saving Room for Dessert is a participant in the Amazon Services LLC Associates Program ~ I earn a small commission, at no additional cost to you, which I use to pay for web hosting and services for this blog.
Here are a few more key lime recipes you might enjoy:
Turn this luscious Key Lime Pie Gelato into homemade Ice Cream Sandwiches! Click HERE to get the recipe.
Coconut Key Lime Meltaways – a light and buttery bite-sized cookie with a big tropical flavor. Click HERE to get the recipe!
Key Lime Icebox Cheesecake – a terrific summer dessert with a light and creamy no-bake filling, a not-too-sweet tart and tangy flavor, and a perfectly crunchy graham cracker crust. Click HERE to get the recipe.
Thanks so much for stopping by! Tricia