Lemon-Lime Shortbread Thumbprint Cookies – a Lime infused Shortbread Cookie filled with homemade Lemon Curd and topped with a simple Lime Icing – a bright summer treat!
We have out-of-town company this week and had a family get-together to grill out and show off both our new babies.  I made these cookies to serve for dessert and they were a big hit.  When I finally got around to asking if anybody liked the cookies (required taste-tester feedback) I was told that our son had already eaten about 10 of them!  Apparently he really liked them (yeah!)  These cookies have a bright lemony flavor similar to a great lemon bar, or slice of lemon ice box pie.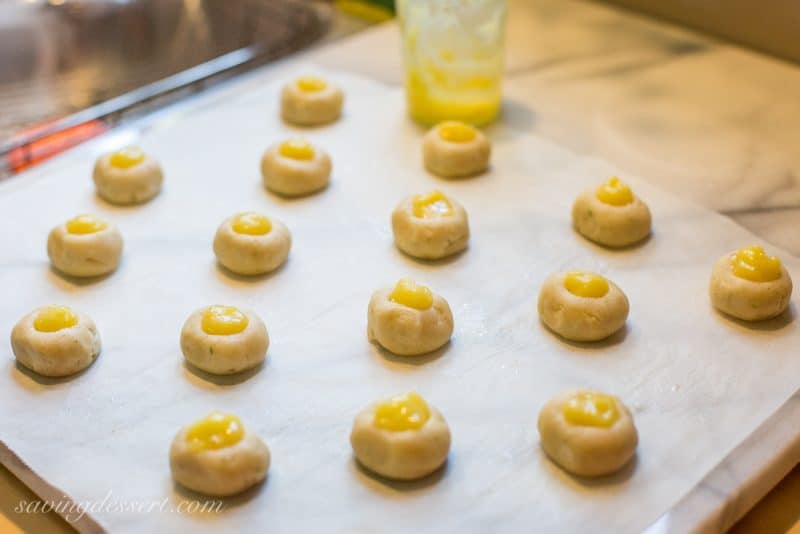 The simple shortbread dough is made with just a few ingredients then rolled into 1-inch balls.
Try not to flatten the cookies with a big thumbprint, but instead make a hole straight down into the dough.  Fill each with the lemon curd and bake!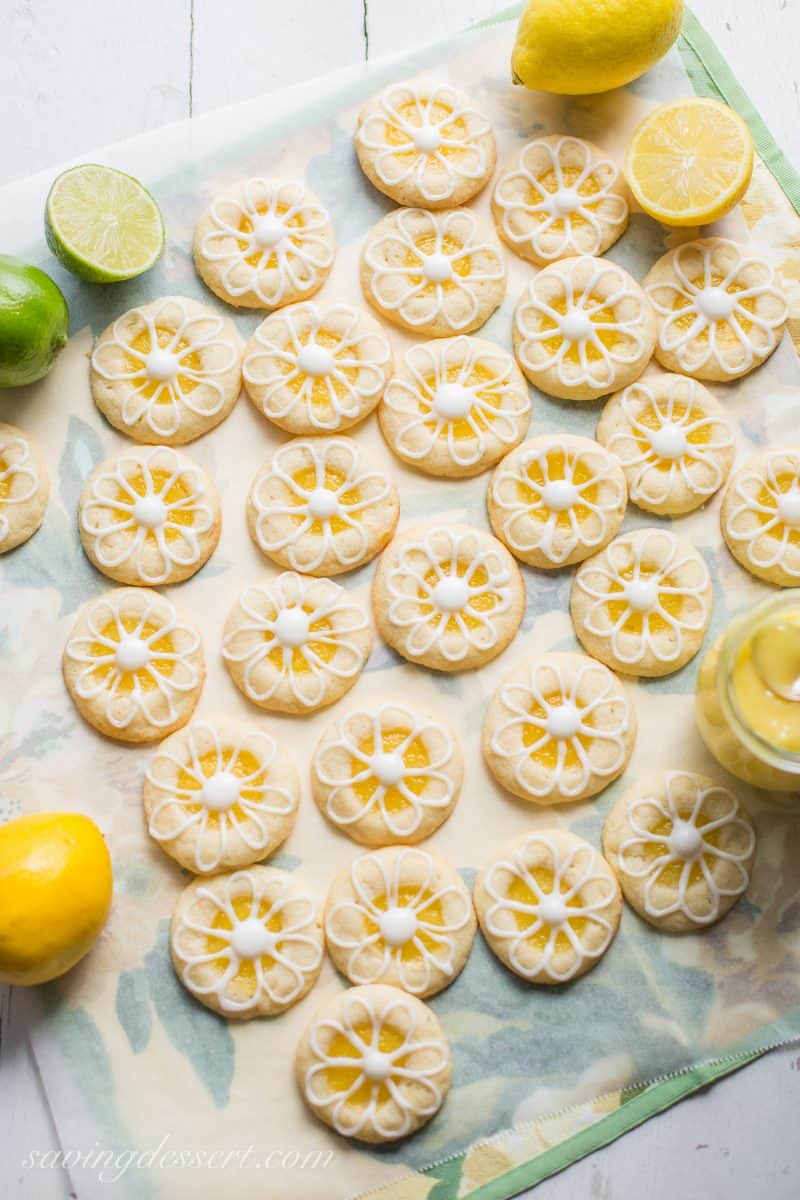 A simple icing is made with fresh lime juice and confectioners' sugar and drizzled on top for that little something extra.
I piped the icing on with a pastry bag and decorating tip but it's not necessary.   You can use a small baggie with a tiny hole cut in the corner and give it the traditional thumbprint zig zag pattern.  I thought the flowers look like summer – bright and yellow!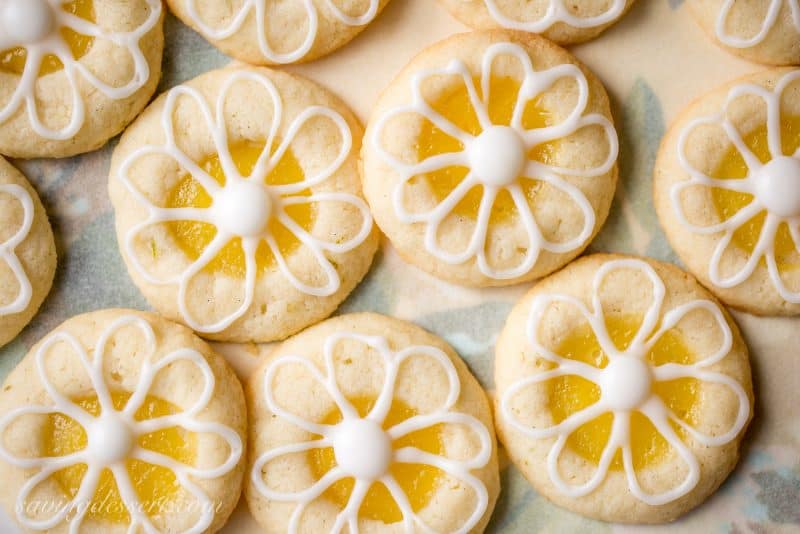 Lemon and lime are a great combination but you could use all lemon and they would be just as good.
The cookie dough is not overly sweet so the addition of jam or lemon curd seals the deal.  These cookies can be made with your favorite jam or try our easy recipe for homemade Lemon Curd.
Don't forget to pin these to your favorite cookie board!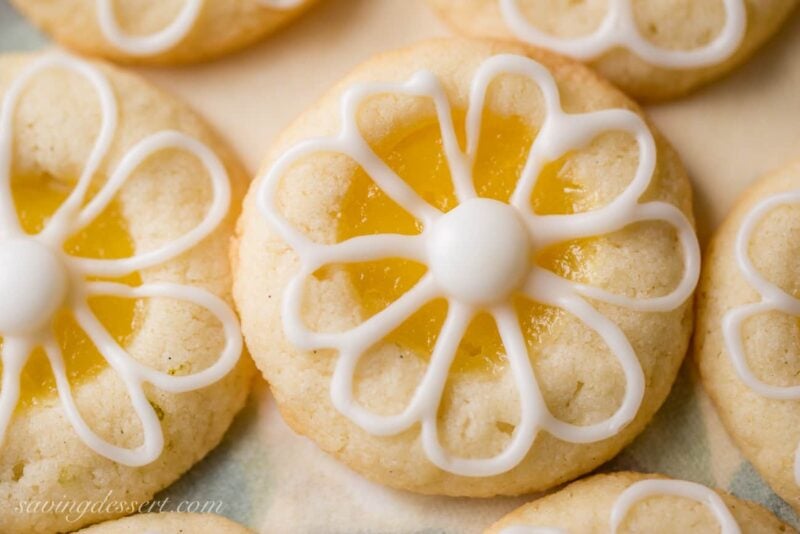 Lemon-Lime Shortbread Thumbprint Cookies
A lime infused shortbread cookie filled with homemade Lemon Curd and topped with a simple lime icing - a real summer treat!
Ingredients
1

cup

unsalted butter,

room temperature

2/3

cup

granulated sugar

1/2

teaspoon

vanilla bean paste

or pure vanilla extract

juice of 1/2 fresh lime

zest of 1 small lime

dash of salt

2

cups

plus 2 tablespoons unbleached all-purpose flour

1/2 - 2/3

cup

Lemon Curd,

homemade or store bought For the glaze:

1

cup

confectioners' sugar

juice of 1/2 fresh lime
Instructions
Combine the butter, granulated sugar, vanilla bean paste, salt, lime zest and the juice of 1/2 a lime in a large mixing bowl. Beat on medium speed until the mixture is creamy. Scrape down the sides of the mixing bowl with a spatular and blend again. Reduce the speed to low and add the flour in 3 parts. Scrape the sides and blend another 30 seconds. Cover the mixing bowl and refrigerate the dough for 1 hour.

Preheat oven to 350 degrees. Line a baking sheet with parchment paper. Shape the dough into 1-inch balls and place 2-inches apart on the prepared pan. Make an indention in the center of each cookie with a small finger - pushing straight down trying not to flatten the dough ball. The edges of the dough may crack slightly. Push the cracked dough back together to make a smooth ball. Filled each ball with a heaping 1/4 teaspoon of

lemon curd

.

Bake for 15 minutes or until the edges are lightly browned. Remove from the oven and allow the cookies to rest on the pan for a minute or two before transferring to a cooling rack. Cool completely before icing.

For the glaze combine the 1 cup confectioners' sugar and the juice of 1/2 lime and whisk until smooth. Thicken or thin as desired and drizzle over cooled cookies. Allow the icing to fully set then refrigerate leftovers.
Recipe Notes
NOTE: When making the indention for the lemon curd, use a small finger and push straight down, but only about halfway. Do not smash the dough and flatten it out. DO NOT MAKE THE INDENTION TOO DEEP. The deeper the whole, the wider the cookies will spread.
Feel free to omit the lime and use lemon zest and juice instead.
Homemade Lemon Curd is very simple to make and delicious served on pound cake, angel food cake, muffins, biscuits or scones.
Original base shortbread recipe adapted from Land-O-Lakes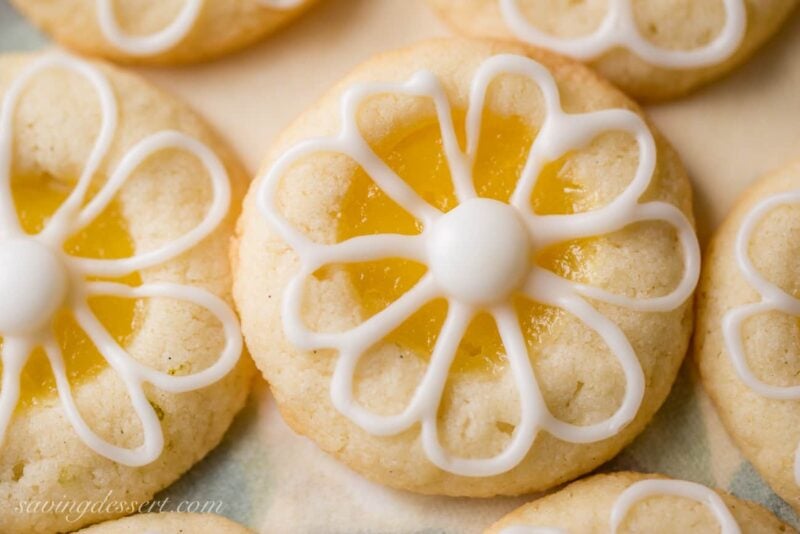 Here are a few more cookie recipes you might enjoy:
I used the following tools to make these delightful, cookies!  (Each photo is clickable)
If you do decide to purchase something at Amazon after following my link, I receive a small commission, at no additional cost to you, which I use to pay for web hosting and services for this blog.
And finally, we're off to do the sight-seeing thing in the Washington D.C. area.  We love to entertain our guests with the amazing history of the area.  There is so much to do from small town antiquing in Virginia, touring civil war battlefields, visiting the homes of the many presidents from Virginia, and all the way to the museums and monuments of Washington D.C.  Happy Monday!  Thanks so much for stopping by!
Tricia
SaveSave