This post may contain affiliate links. Please read my disclosure policy.
Easy and terrific Libby's Famous Pumpkin Pie, two ways!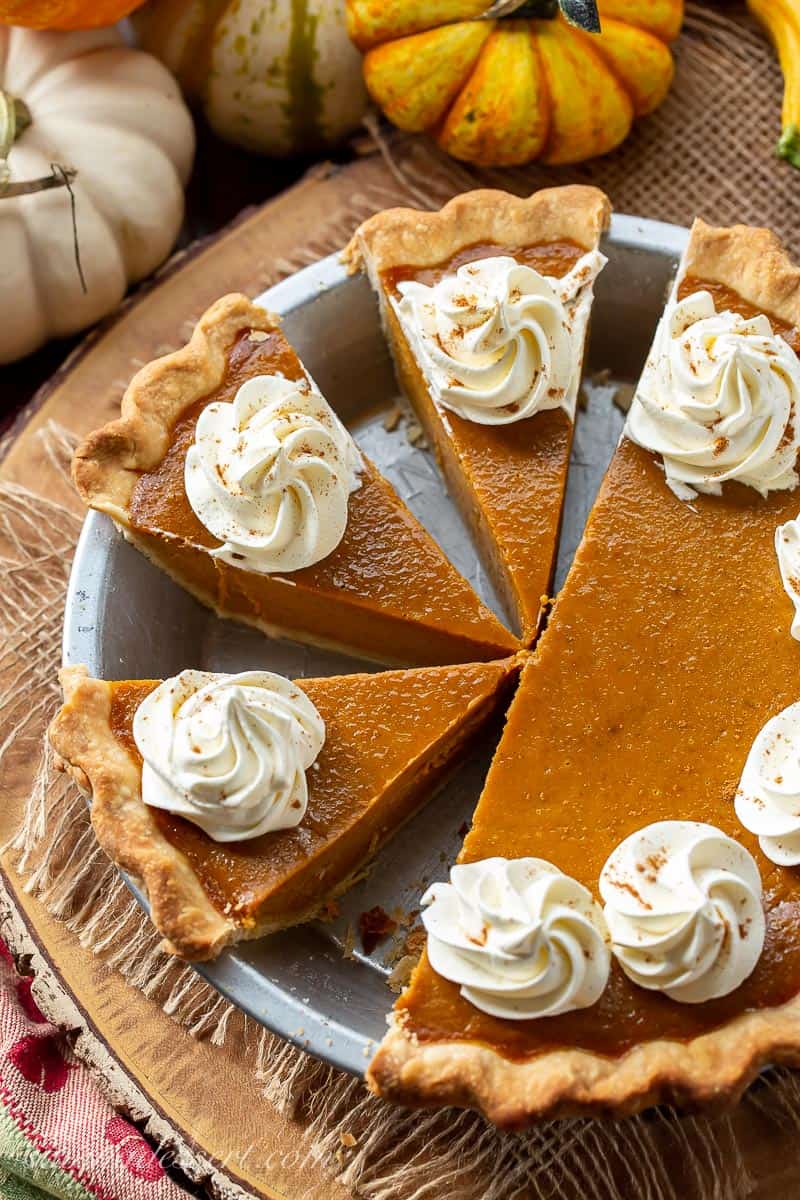 Libby's Famous Pumpkin Pie
If you've never made a homemade pie before, this is the recipe to get your started! Libby's Famous Pumpkin Pie recipe is reliable and easy to make, and yields consistency wonderful results.
And, of course, every holiday table needs a homemade pumpkin pie. Crazy enough, half our family doesn't like pumpkin pie, but the other half insists this is a must-make dessert!
How do you serve your pumpkin pie?
The only problem you may have with this pie is deciding if you dollop Cool Whip on top or garnish with canned whipped cream like Reddi-wip.
My side of the family (and my oldest nephew – you know who you are) loves pumpkin pie topped with Cool Whip. My husband's side of the family loves Reddi-Whip a/k/a squirty stuff. I suggest having both on hand because who knows if this could turn into a major family issue!
Personally I like homemade whipped cream, but I'm just weird that way. TIP: if you make homemade whipped cream, add a little pumpkin spice for flavor and color and a tablespoons of dry milk powder for stability.
Seriously though, pumpkin pie lovers always have an opinion about what kind of whipped cream they want. I recently saw a meme that sums it up perfectly: one slice of pumpkin pie inside a container of Cool Whip. Just a little pie with your whipped cream?
Overview: Ingredients for pumpkin pie (2-ways!)
First, you'll need a deep-dish 9-inch pie crust.
I always use our easy recipe for homemade pie crust, but store-bought frozen or refrigerated works well, too.
For the original famous pie filling:
Large eggs at room temperature
Vanilla extract
16-ounce can of Libby's 100% pure pumpkin
Granulated sugar, or a combination of granulated and brown sugar
Salt
Pumpkin pie spice or a mixture of ground cinnamon, ginger and cloves.
12-ounce can of evaporated milk
For the new fashioned pie filling:
Large eggs at room temperature
Vanilla extract
16-ounce can of Libby's 100% pure pumpkin
No added granulated sugar
Salt
Only 1 cup of evaporated milk
One (14-ounce) can sweetened condensed milk
Overview: How to make the perfect pumpkin pie
First prepare pastry for a deep-dish 9-inch pie and set aside.
As mentioned above, you can use homemade pie crust or store-bought refrigerated or frozen. Make sure it's a deep-dish pastry big enough to hold all the filling.
Next prepare the (original) pie filling:
Whisk together the sugar, salt, and pumpkin pie spice in a measuring cup.
In a large bowl whisk the eggs and vanilla. Next add the canned pumpkin and the sugar spice mixture.
Gradually stir in the evaporated milk until blended.
Pour into pie shell and bake in preheated 425 degree oven for 15 minutes. Reduce temperature to 350 degrees and continue baking for 40 to 50 minutes or until a knife inserted near center comes out clean.
Cool on a wire rack for 2 hours then serve immediately or refrigerate until needed.

How to make Libby's New Fashioned Pumpkin Pie:
The only changes needed to make the new version are:
Omit the granulated sugar;
Reduce the amount of evaporated milk to 1 cup; and
Add one (14-ounce) can of sweetened condensed milk at the same time as the evaporated milk.
How to avoid a soggy bottomed pie without blind-baking
Many bakers swear by par-baking or blind-baking pie crusts before filling with wet ingredients that require additional baking. I still use this method depending on the recipe.
Another option is to brush the bottom of the unbaked pie crust with an egg white and par-bake just until dry. This helps seal the crust therefore preventing the wet ingredients from soaking in.
However, there is another, even easier way to get a crisp crust without brushing with an egg-white or par-baking.
First, use a heavy aluminum pie pan like the one in the photo above. This pie pan came from Williams-Sonoma and bakes perfect pies every time. Any good quality metal pan will do.
Next, preheat the oven with a pizza stone or heavy baking sheet inside.
When ready to bake the pie, place the pie pan directly on the hot stone. This method causes the bottom crust to crisp up quickly, thereby eliminating the opportunity to get soggy.
This trick really works. I've been baking pie crusts for years using this method and alway get terrific results!
How to cut clean, pretty slices of pie:
Rinse a large sharp, thin knife under hot water. Carefully dry the knife then slice the pie, rinsing and wiping between slices.
This works for any kind of chilled, cream pie and is especially important if you have a whipped cream topping added before slicing.
Decorate with pie crust cookie cutouts
If making your own pie crust you may have a few scraps of dough remaining. Roll the leftover dough to an even thickness then cut out shapes using cookie cutters or a small knife.
I have a whole set of these tiny cookie stamp cutters and use them every year. I've decorated apple pies, cherry pie, maple walnut pies and our delicious Pumpkin Tart with Pecan Crumble with pastry cutouts. Such a fun and easy way to add some flair!
Also, you can sprinkle a little cinnamon and sugar over the crust cookies before baking, if desired. This makes a delicious, flaky treat for the baker!
How to freeze pumpkin pie
While this pie is best served within a day or two of baking, you can also freeze pumpkin pie for up to 2 months.
Flash freeze individual slices of pie on a baking sheet until firm. Transfer the frozen pie to an airtight container separated by pieces of wax paper.
Thaw the pie in the refrigerator overnight. Leave out at room temperature for 30 minutes before serving.
Thanks for PINNING!
Libby's Famous Pumpkin Pie
Total Time:
3

hours
15

minutes
The classic, delicious, never fail recipe for an easy pumpkin pie!
Ingredients
1

unbaked 9-inch deep dish pie crust,

refrigerated, frozen or homemade

¾

cup

granulated sugar

170g

½

teaspoon

salt

2

teaspoons

pumpkin spice

(see notes for homemade)

2

large eggs,

room temperature

1

teaspoon

vanilla extract

15

ounce

can LIBBY's 100% pure pumpkin

(425g)

12

ounces

canned evaporated milk

(1 ½ cups or 354 mL)
Instructions
Prepare the pie pastry and line a 9-inch deep-dish aluminum pie plate. Crimp the edges decoratively and set aside.

Place a pizza stone or heavy baking pan in the oven. Preheat oven and stone to 425°F.

Whisk together the sugar, salt and pumpkin spice in a measuring cup. Set aside.

In a large bowl whisk together the eggs and vanilla. Whisk in the pumpkin and the sugar spice mixture into the eggs. Gradually stir in the evaporated milk. Scrape the bottom and sides of the bowl with a spatula to ensure the mixture is fully blended.

Pour the filling into the unbaked pie crust and carefully transfer to the preheated oven and set on top of the hot stone. Bake at 425°F for 15 minutes then reduce the oven temperature to 350°F. Continue baking for an additional 45-55 minutes or until a small knife inserted near center comes out clean. Cool on wire rack for about 2 hours. Serve immediately or refrigerate until needed.

Top with lightly sweetened whipped cream as desired.
Recipe Notes
This pie can be made a day ahead. Refrigerate lightly until needed. Set out at room temperature for an hour before serving.

Make homemade pumpkin spice with 1 1/4 teaspoons ground cinnamon, 1/2 teaspoon ground ginger and 1/4 teaspoon ground cloves or allspice. (Optional) add 1/4 teaspoon nutmeg if desired.
OPTIONAL New Fashioned Pumpkin Pie recipe:
1/2 teaspoon salt
2 teaspoons pumpkin spice
2 large eggs
1 teaspoon vanilla extract
15 ounce can Libby's pure pumpkin
14 ounces sweetened condensed milk 
1 cup evaporated milk
Bake as directed
Both recipes adapted from Libby's canned pumpkin label.
The original Libby's recipe doesn't include vanilla extract and also calls for a little less spice.
Nutrition information is calculated using an ingredient database and should be considered an estimate. When multiple ingredient alternatives are given, the first listed is calculated for nutrition. Garnishes and optional ingredients are not included.
Nutrition
Calories:
299
kcal
|
Carbohydrates:
41
g
|
Protein:
6
g
|
Fat:
13
g
|
Saturated Fat:
5
g
|
Polyunsaturated Fat:
1
g
|
Monounsaturated Fat:
6
g
|
Trans Fat:
1
g
|
Cholesterol:
53
mg
|
Sodium:
309
mg
|
Potassium:
284
mg
|
Fiber:
2
g
|
Sugar:
25
g
|
Vitamin A:
8435
IU
|
Vitamin C:
3
mg
|
Calcium:
140
mg
|
Iron:
2
mg
Originally published November 2010, updated October 2021