This post may contain affiliate links. Please read my disclosure policy.
Tangy Mexican Street Corn Salad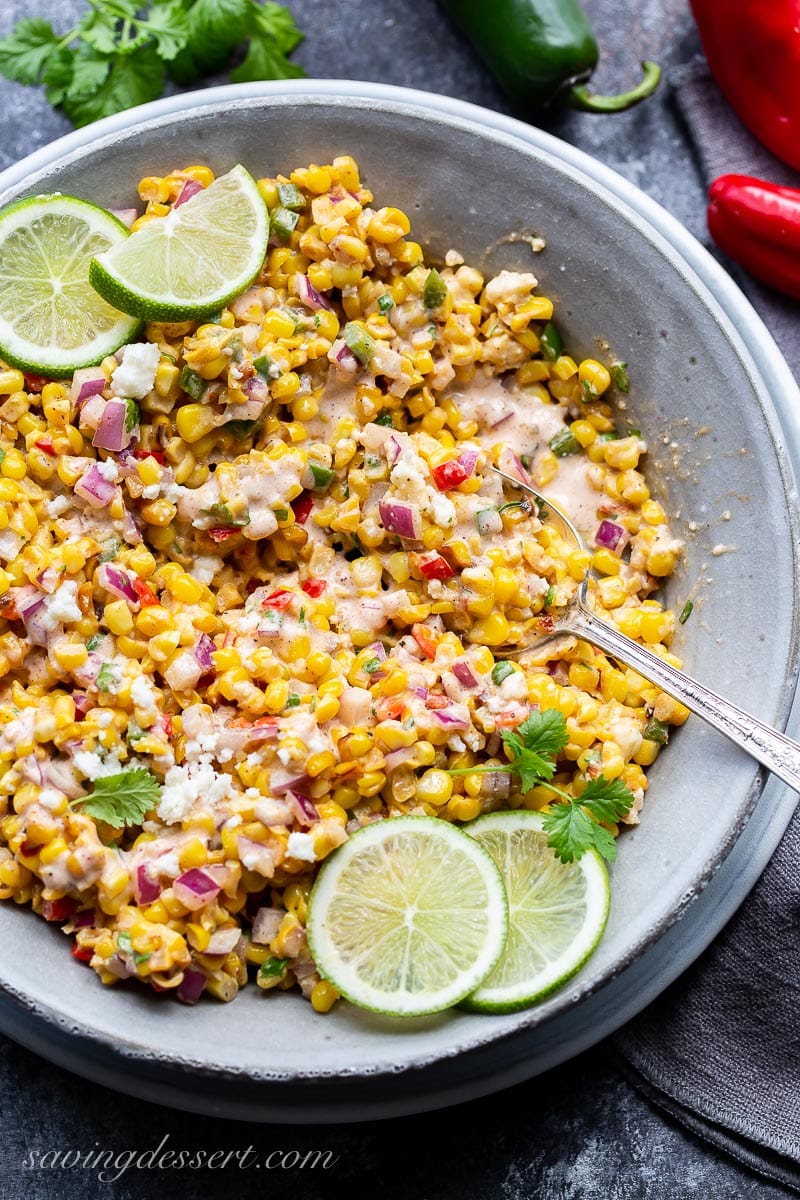 Everything we love about Mexican Street Corn in an easy, make-ahead salad!
Our Mexican Street Corn Salad is a terrific side for all your summer eats. Grilled chicken, pork tenderloin and juicy steaks are all perfect mains to share a plate with this deliciously easy corn salad recipe.
Also known as Esquites (toasted corn), this hearty salad has it all, with a brilliant combination of textures and flavors.
From the zippy, citrusy tang of the dressing to the rich creaminess from the cheese, this Mexican Street Corn salad recipe may become your most requested summer side dish, ever!
If you love our Mexican Street Corn on the cob, you're going to love this off-the-cob salad, too!
How to make Mexican Street Corn Salad
For our recipe we start with fresh corn, cut from the cob, then charred in a skillet.
While Mexican Street Corn (Elote) is typically grilled over hot coals, this easy recipe offers options for charring the corn.
Using a cooking method suggested by Cook's Illustrated, we lightly char our fresh corn with vegetable oil in a non-stick skillet set over high heat. This is done in two batches, to ensure plenty of corn gets a good char.
When the second batch is done, remove from the heat and add minced garlic and diced peppers. Sauté for about a minute then transfer to the bowl with the first batch of corn.
Can you grill the corn for this salad?
You can also use the grilling method suggested in our recipe for Mexican Street Corn. Fresh corn on the cob is wrapped in foil and grilled until cooked through.
The aluminum foil is removed and the corn is charred on the grill. Once cooled, the kernels can be cut from the cob and used in this salad recipe.
Next, combine the dressing ingredients.
Blend the mayonnaise, lime juice and chili powder together in a small bowl. Drizzle the dressing over the corn and pepper mixture.
Finally, add all remaining ingredients and toss to combine.
Add more cheese, lime wedges and fresh cilantro to garnish. Be sure to add plenty of fresh ground black pepper!
Ingredients needed for this Mexican Corn Salad recipe:
For the salad you'll need:
6 ears of corn, husks and silk removed (about 4 1/2 to 5 cups)
vegetable oil
1 clove of garlic
a small jalapeño (optional)
one small red pepper, sweet or hot
crushed red pepper flakes
red onion
Queso Fresco cheese, or substitute Cotija or Feta, if desired
loads of fresh cilantro!
For the dressing you'll need:
Mayonnaise, or substitute part with sour cream or full fat Greek yogurt. Be sure to use at least half mayonnaise for best results.
Fresh lime juice, plus lime wedges for garnish and squeezing over the salad when serving.
Chili powder – any variety will do. Ancho chili powder has a nice smoky flavor we enjoy.
Salt and fresh ground black pepper, to taste.
As you can see there are plenty of options for making this salad. If you like plenty of heat, make the recipe as written. If you prefer a little less heat, skip the jalapeño or crushed red pepper flakes, or both.
Any crumbly creamy cheese will work well. We love Queso Fresco and Cotija in this recipe. Leftover cheese is great sprinkled over fresh green salads and on any kind of taco. It's also great crumbled over our favorite Easy Chicken Enchiladas recipe.
Can you use frozen corn for this recipe?
Yes, feel free to use frozen corn for this salad. Thaw the corn in a strainer to remove as much moisture as you can before pouring into the hot skillet.
Can this recipe be served cold?
We love this corn salad served warm, room temperature or cold. It keeps well for a few days so don't worry about leftovers going bad. Stir gently before serving and top with a little more cheese and/or fresh lime juice to freshen.
Is it okay to make this Mexican Street Corn Salad ahead?
Absolutely! Since it's great served at any temperature, feel free to make this salad early in the day and refrigerate until needed.
To keep the salad at it's peak, I recommend making the corn mixture ahead, cool and refrigerate until you're ready to serve. Just before serving add the dressing, cheese and fresh cilantro. Toss and serve!
This salad is best served the day it's made. However, as mentioned above, you can refrigerate leftovers and eat it cold for several days.
Tips for making the best Mexican Street Corn Salad:
Don't worry about putting a lot of char on your corn. You're not trying to burn it, and you don't want to dry it out. The slight char on some of the kernels is just enough to flavor the salad without overpowering it.
Use fresh lime juice and pass extra wedges when served. The tang adds so much flavor and pairs perfectly with the creamy dressing.
This salad is best with a little heat but to tone it down a little you can omit the crushed red pepper flakes. Also be sure to remove all seeds and membrane from the jalapeño. This will help if you have guests who don't care for spicy hot food.
We like red onion for this salad, but sweet onions like Vidalia are fine too. The red onion adds nice visual appeal.
There are plenty of folks in the world who don't like cilantro. In fact, some people swear cilantro tastes like soap. These supertasters won't mind if you use chopped fresh parsley instead of cilantro in this recipe.
Thanks for PINNING!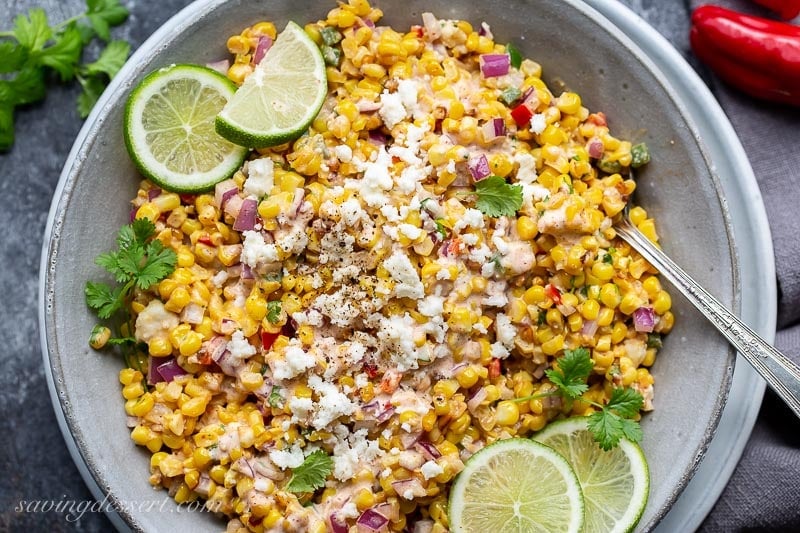 Mexican Street Corn Salad (Esquites)
Course:
Salad, Side Dish, Vegetable
Everyone's favorite charred corn salad with plenty of zing and loads of flavor.
Ingredients
For the dressing:
½

cup

mayonnaise

(118g or 4oz) (see notes below)

¼

cup

fresh lime juice

(60g or 2 ¼ oz)

1

teaspoon

chili powder

salt and pepper to taste
For the corn salad:
6

ears corn,

husks and silk removed (4 ½ to 5 cups)

2

tablespoons

vegetable oil,

divided

1

garlic clove,

minced

1

small jalapeño pepper,

seeds and stem removed, diced

1

small red pepper or chili seeds and stem removed,

chopped

¼

teaspoon

crushed red pepper flakes

½

a small red onion,

chopped

⅓

cup

Queso Fresco or Cotija cheese,

crumbled, plus extra for serving (68g or 2 1/2oz)

¼

cup

fresh cilantro leaves,

minced (parsley is fine too) (5g)

Additional lime wedges,

cheese, fresh ground black pepper and cilantro leaves for serving
Instructions
For the dressing:
Blend together the mayonnaise, lime juice, and chili powder. Season with salt and pepper to taste.
For the corn:
Cut the corn kernels from the cobs. Heat 1 tablespoon oil in a large nonstick skillet over medium-high heat until shimmering. Add half the corn kernels and spread to cover the bottom of the skillet. Season with a pinch of salt and plenty of fresh black pepper. Cover and cook undisturbed until the corn is charred, about 5 minutes. Remove the corn to a large bowl to cool. Repeat with another tablespoon of oil and the remaining corn.

Once the second batch of corn is charred, remove the skillet from the lid. Add the garlic, jalapeño, chopped red pepper, if using, and the red pepper flakes. Sauté (off heat) until the garlic is fragrant, about 1 minute. Combine with the previously cooked corn. Allow the corn mixture to cool for 15 minutes.

Add the chopped onion to the charred corn. Pour the mayonnaise mixture over the corn, peppers and onions and toss to combine. Add the cheese and cilantro and fold together until blended.

Check the seasoning and add salt or pepper, if needed. Garnish with extra cheese, cilantro and lime wedges. Serve

Refrigerate leftovers.
Recipe Notes
Substitute sour cream or plain Greek Yogurt for half the mayonnaise, if desired.
Nutrition information is calculated using an ingredient database and should be considered an estimate. When multiple ingredient alternatives are given, the first listed is calculated for nutrition. Garnishes and optional ingredients are not included.
Nutrition
Calories:
208
kcal
|
Carbohydrates:
15
g
|
Protein:
4
g
|
Fat:
16
g
|
Saturated Fat:
5
g
|
Polyunsaturated Fat:
7
g
|
Monounsaturated Fat:
3
g
|
Trans Fat:
1
g
|
Cholesterol:
9
mg
|
Sodium:
144
mg
|
Potassium:
243
mg
|
Fiber:
2
g
|
Sugar:
5
g
|
Vitamin A:
379
IU
|
Vitamin C:
18
mg
|
Calcium:
37
mg
|
Iron:
1
mg