This post may contain affiliate links. Please read my disclosure policy.
Steak Marinade that's packed with flavor and easy to make!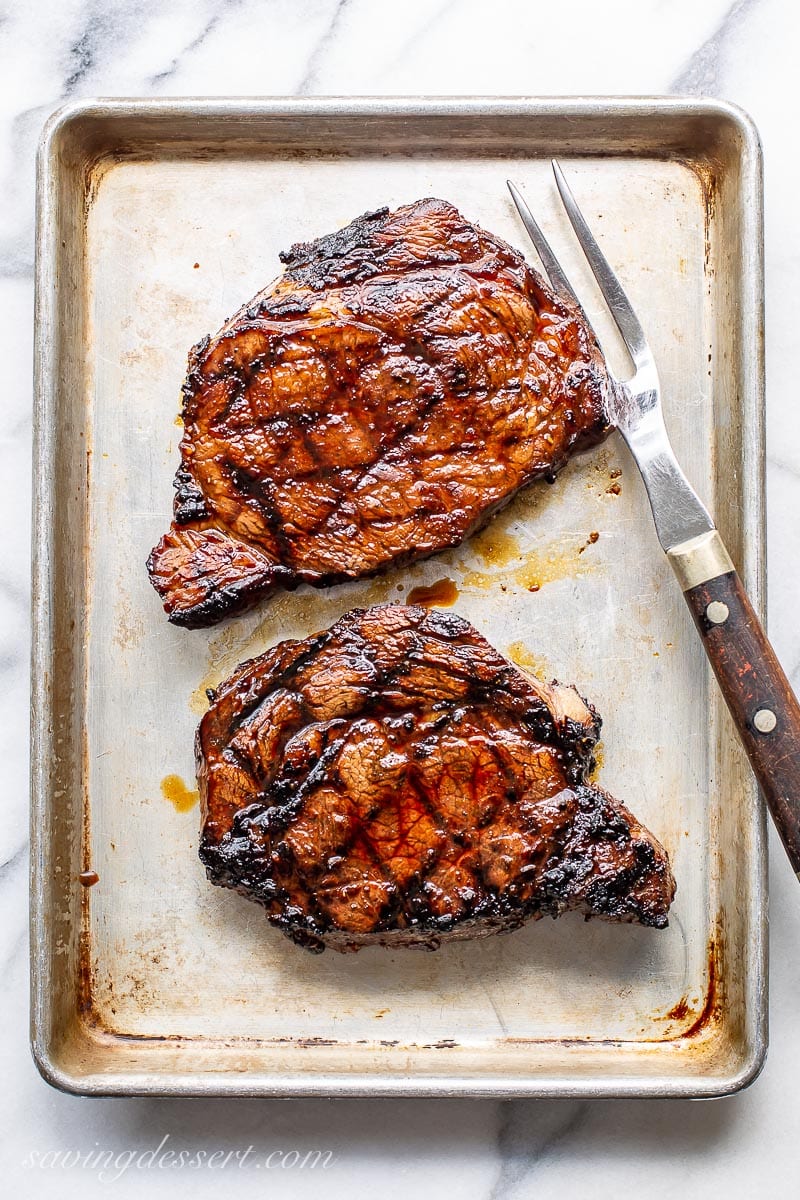 Try this delicious Steak Marinade with the perfect blend of flavors.
There's so much flavor going on in this easy steak marinade. Put this on your list of must-makes for your summer grilling menu!
We start with soy sauce for the base and a little brown sugar for a touch of sweetness. This steak marinade has the perfect amount of salt for it to brine and tenderize the meat, without overpowering the flavor. Marinating helps the steak retain moisture while cooking, yielding tender, juicy, deliciously flavored bites.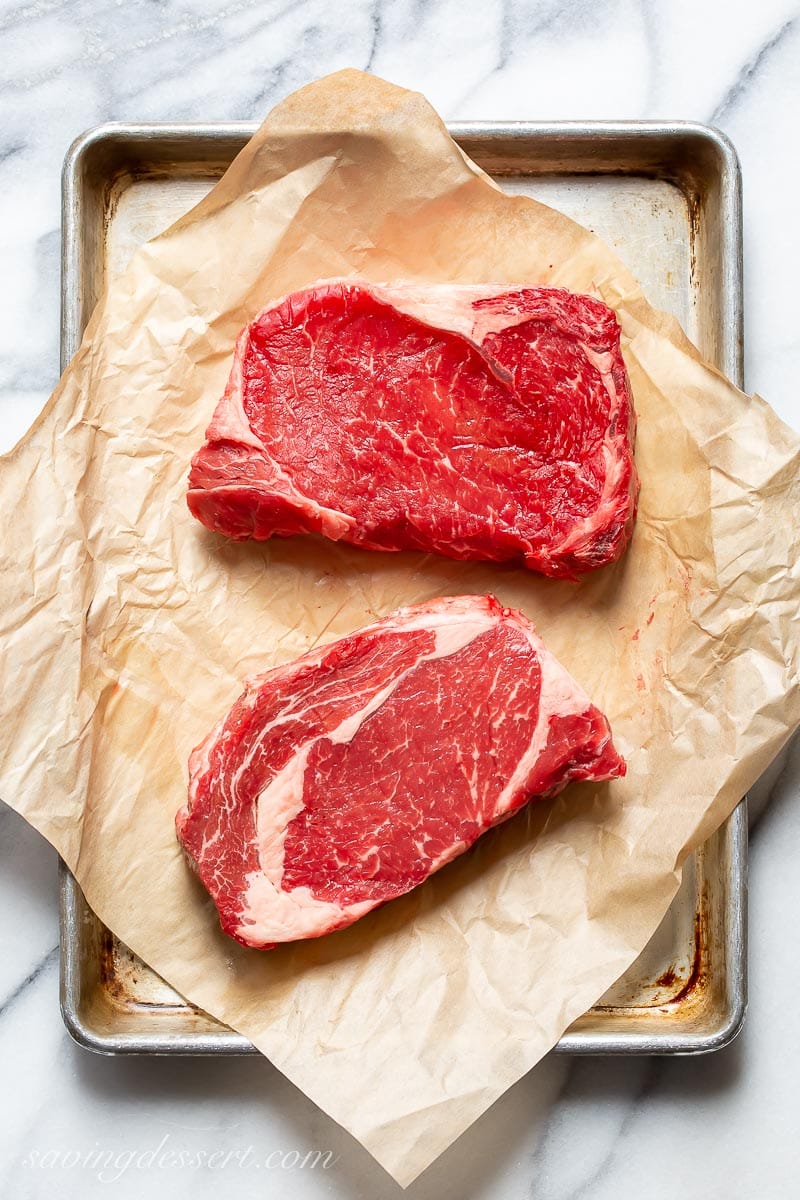 What are the best cuts of meat to use in this steak marinade?
This steak marinade is so versatile you can use just about any cut of beef, pork or chicken. We've marinated everything from boneless, skinless chicken breasts to pork kabobs with this recipe. One of our favorite and surprisingly tasty ways to use marinade is by marinating burgers! Ground beef that tastes like steak – everybody loves it!
As for steaks, sometimes we like to pick up a few great ribeyes from our local butcher shop and marinate them overnight.
What are the best kind of steaks to marinate?
Here are a few of our favorites:
Top sirloin steak, or roast
Flank or skirt steak
Flat iron steak
Steak Tips
Whole pork tenderloin, bone-in pork chops and chicken thighs are a few more main course meals that are perfect for this marinade.
How to make steak marinade
Put all the ingredients in a large zipper bag and add steaks! Zip up the bag and mix everything together until the steaks are coated in the marinade.
For this recipe you'll need:
low sodium soy sauce
olive oil or vegetable oil
brown sugar
fresh garlic cloves
good balsamic vinegar
Montreal Steak Spice (or other seasoned salt blend)
dried mustard (or use Dijon)
fresh ground black pepper
fresh grated ginger
This recipe makes enough for 4 good size steaks or 6 chicken breasts.
How long should you marinate steaks?
For the best flavor, I recommend marinating the steaks for at least 8 to 12 hours and up to 24 hours. The steaks will still be delicious if they're only in the marinade for 4 hours or so. However, more time is better when it comes to this marinade.
The same method works for chicken or pork. Generally, I try to assemble everything early in the morning and leave the meat to marinate in the refrigerator until ready to cook at dinnertime.
Be sure to turn the bag of steaks a few times while in the fridge!
Why should you marinate steaks?
Marinating meat is a good practice, especially for leaner cuts that may cook up a little dry or tough. Our easy marinade helps soften the meat by amping up the interior moisture. The acid (vinegar) and salt (soy and Montreal seasoning) help seal in the juices, yielding tender grilled meats.
Ribeye steaks are well marbled with fat, making them less in need of enhancements. However, the additional flavor is what makes ribeyes so special. The exterior surface of the meat is well flavored, but the seasoning is not overpowering. Keep this marinade in mind for leaner cuts of beef and turn them into a memorable and amazing meal.
Bottled marinades are often too salty for me, even though they may have good flavor. This recipe has just the right amount of salt to be effective and flavorful. That makes this recipe a good choice for people trying to cut back on sodium.
PRO TIP:
Remove the steaks from the refrigerator at least 30-minutes before grilling. Bringing the meat to room temperature will help it cook more evenly. If the center of the steak is cold when it hits the grill, the outside might be way overdone by the time it's cooked through.
Can you freeze steak in the marinade?
Yes you can! As stated above, this recipe makes enough marinade for 4 good sized steaks. Since it's just the two of us at home now, I often divide the marinade between two bags and put two steaks in each bag. One goes in the refrigerator for dinner, and the other goes in the freezer for dinner another time!
Thaw the frozen steaks overnight in the refrigerator. Discard the marinade and grill steaks as desired.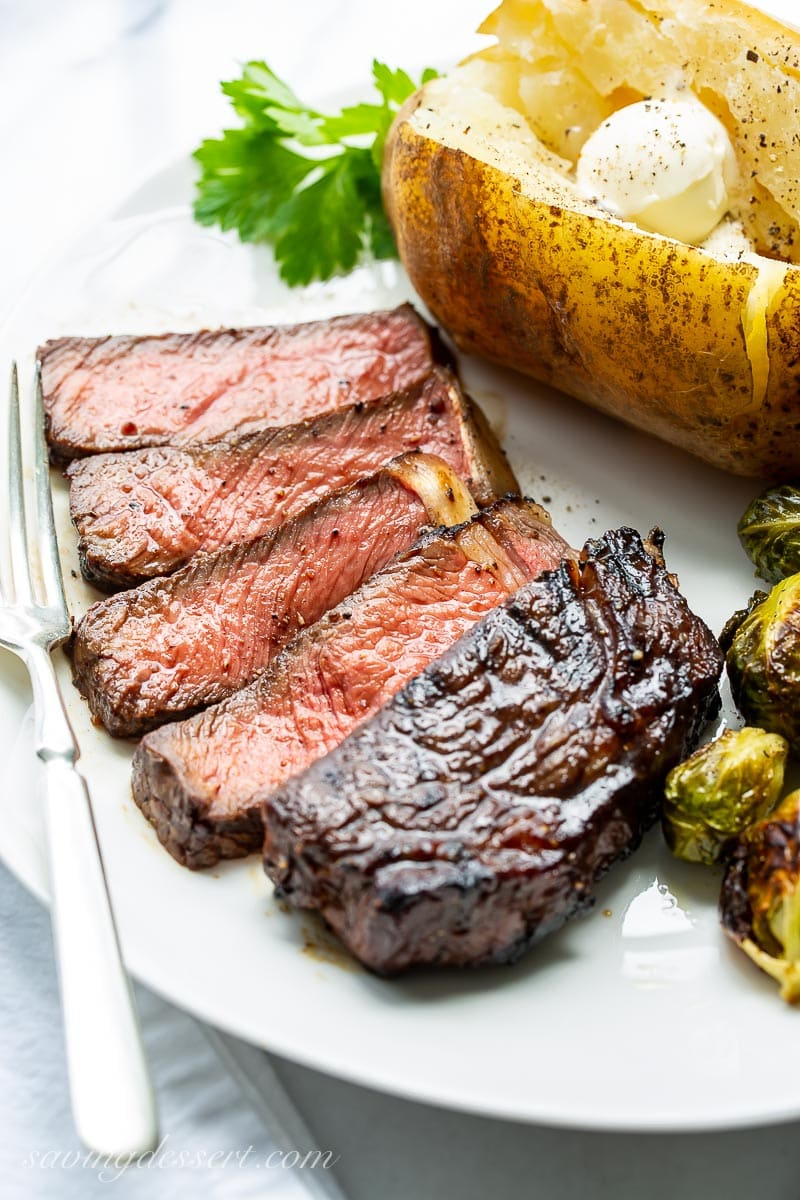 What's good to serve with grilled, marinated steak?
Enjoy these steaks with a big, buttery baked potato and a fresh green salad or oven roasted vegetable. Everything can be prepped ahead making it perfect for a dinner party on the deck. The baked potatoes can even bake on the same pan as the vegetables. Easy to make and very easy to clean up.
Add a fresh crusty baguette, a cold beer or bottle of wine, and you've got a relaxing meal everybody will love!
Thanks for PINNING!
Let's be grilling friends! If you make our recipe please feel free to leave a comment on this post. I'm sure your experience and insights will help all our readers, and it helps me too. Also, if you're on Pinterest feel free to leave a comment and photo there if you have one! If you share on INSTAGRAM tag @savingroomfordessert so we can stop by and give your post some love. FOLLOW Saving Room for Dessert on FACEBOOK| INSTAGRAM| PINTEREST | TWITTER  and subscribe to our YOUTUBE channel for all the latest recipes, videos and updates. Thank you!!!
PRINT THE RECIPE!
Steak Marinade
Total Time:
8

hours
10

minutes
A delicious steak marinade with the perfect blend of flavors.
Ingredients
¼

cup

low sodium soy sauce

⅓

cup

olive oil,

or vegetable oil

¼

cup

brown sugar

6

cloves

garlic,

peeled and quartered

3

tablespoons

balsamic vinegar

1

tablespoon

Montreal Steak Seasoning

1

teaspoon

dried mustard

1

tablespoon

grated fresh ginger

1

teaspoon

fresh ground black pepper

4

steaks
Instructions
Combine all ingredients in a large zipper bag. Add the steaks, chicken or kabobs and marinate for at least 8 hours or overnight in the refrigerator, turning occasionally.

Remove the steaks from the marinade, allowing the excess to drip back into the bag. Discard the bag and marinade. Grill as desired.
Recipe Notes
Nutrition information is calculated using an ingredient database and should be considered an estimate. When multiple ingredient alternatives are given, the first listed is calculated for nutrition. Garnishes and optional ingredients are not included.
Nutrition
Calories:
715
kcal
|
Carbohydrates:
20
g
|
Protein:
47
g
|
Fat:
50
g
|
Saturated Fat:
17
g
|
Polyunsaturated Fat:
4
g
|
Monounsaturated Fat:
29
g
|
Cholesterol:
138
mg
|
Sodium:
657
mg
|
Potassium:
709
mg
|
Fiber:
1
g
|
Sugar:
16
g
|
Vitamin A:
64
IU
|
Vitamin C:
2
mg
|
Calcium:
55
mg
|
Iron:
5
mg
Here are a few more of our favorite marinated and grilled recipes: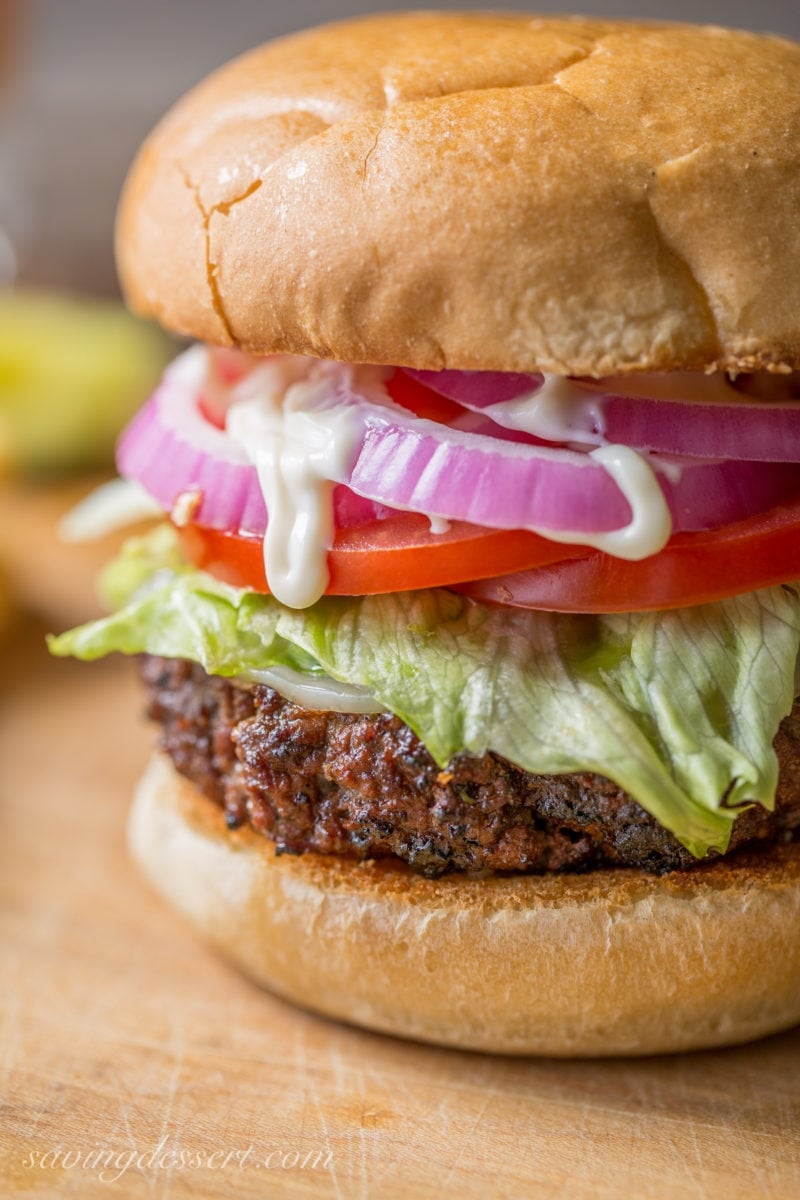 A deliciously juicy home grilled burger that tastes like steak! Transform your ground beef into something exceptional.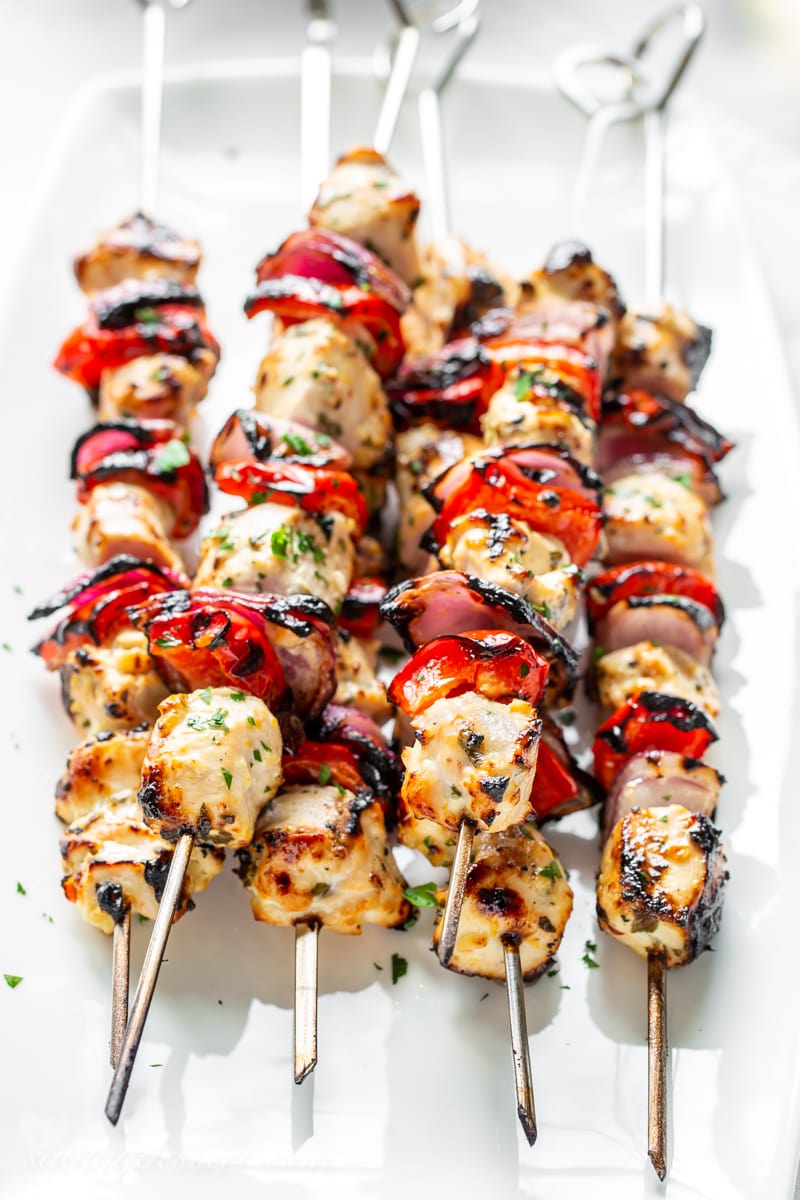 If you're looking for tender, juicy and flavorful all in one delicious bite, you'll LOVE this Grilled Greek Chicken Recipe! Use this marinade recipe for skewers, boneless chicken breasts or thighs, or bone-in, skin on chicken breasts, too.
It's easy to make delicious Grilled Lobster Tail at home! Buttery, rich and succulent, lobster tail on the grill is a real treat at a fraction of the cost you would pay when dining out.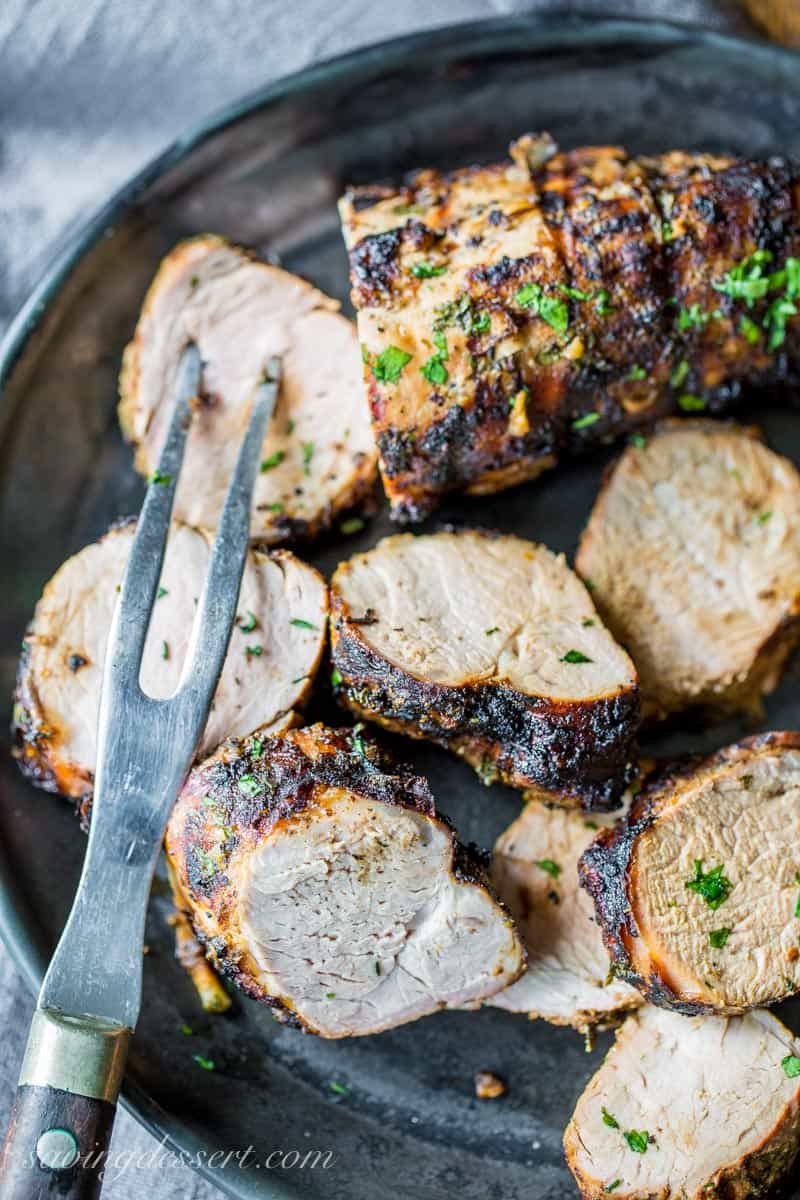 An easy and delicious overnight marinade with powerful flavors from the garlic, citrus and herbs. Grilled to perfection, this tender pork will garner praise from your grateful dinner companions!