This post may contain affiliate links. Please read my disclosure policy.
Easy, flavorful and healthy Minestrone Soup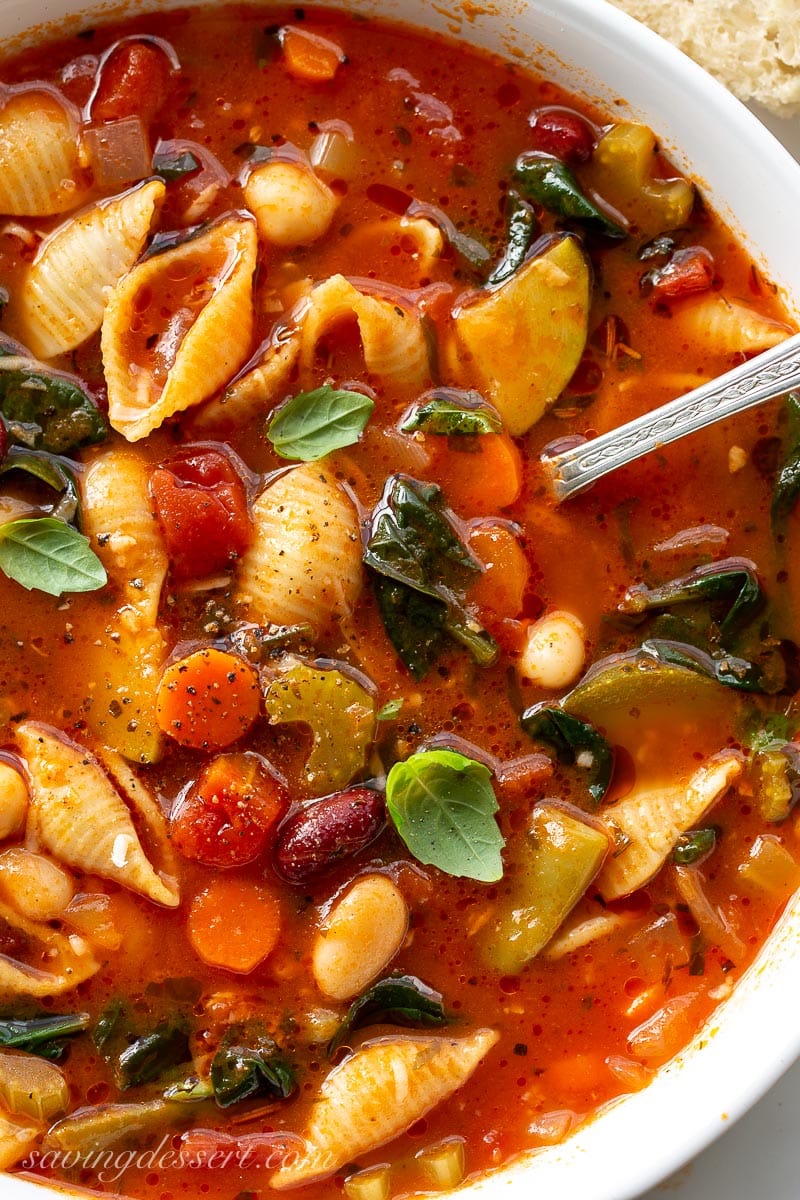 Healthy, hearty and so delicious!
Our fresh Minestrone Soup is full of healthy legumes, green leafy spinach, vegetables, plenty of herbs, a handful of pasta, all in a wonderfully rich tomato broth. This recipe makes a big pot of delicious vegetarian soup. Make it on the weekend for dinner and have leftovers for lunch all week.
This Minestrone soup keeps well for up to 5 days in the refrigerator. The pasta shells soften a bit overtime, but not so much that they turn to mush. The pasta also soaks up some of the broth creating a thicker, chunkier soup. Simply add a little extra vegetable broth or hot water when reheating if desired.
Soup must be one of the most brilliant recipe ideas ever created. It's filling and satisfying with a lovely combination of textures and flavors. Enjoy a complete and satisfying meal in a bowl of this wonderful, healthy soup!
Overview of ingredients for Minestrone Soup:
At first glance, this may look like a really long list of ingredients to prepare for one simple pot of soup. However, many of the ingredients come straight out of a jar or can. Don't let this simple list scare you off!
olive oil
onion
garlic
carrots
celery
zucchini
fresh parsley
dried oregano
Italian seasoning
crushed red pepper flakes (optional)
fresh ground black pepper
sliced fresh basil leaves
fresh thyme leaves
vegetable broth – low sodium is best if you can find it. You can use chicken broth or chicken stock in place of the vegetable broth, but we prefer the recipe as written.
canned diced tomatoes (low or no salt)
bay leaf
canned Italian cut green beans
red kidney beans (canned)
cannellini beans (canned)
garbanzo beans (canned)
fresh baby spinach leaves
small or medium pasta shells
fresh Parmesan for garnish
What is Passata and where can I find it?
Passata is strained, uncooked tomato puree with the seeds and skins removed. This fresh tasting sauce is different from both tomato sauce and tomato paste which are cooked and often include seasoning and other ingredients like garlic and vegetables.
Check online at your local grocery store, or inquire at the customer service desk to see if they carry passata. Cento Rustica Passata and Pomi Strained Tomatoes are two popular brands you might find in your store. These products may be found near the canned tomatoes or the international section of the store.
If you can't find passata, tomato puree will work. You can also buy whole steamed canned tomatoes and process them in a blender or food processor. Strain the blended tomatoes through a find mesh sieve to remove the seeds.
Finally, if you're on the East coast, Wegman's Grocery Store carries their own branded passata. It's a great product at a wonderful price.
Grab a few bottles of passata when you find it so you can make this Minestrone Soup, our Baked Gnocchi with Tomato, Ricotta and Spinach, and this creamy Coconut Chicken Soup recipe.
How does this Minestrone Soup compare to Olive Garden?
We believe our Minestrone Soup recipe tastes much better than Olive Garden's. Also our soup has a lot less sodium, so that's a big plus. This Minestrone is loaded with fresh vegetables, the broth is incredibly flavorful and of course homemade is always better!
Now that restaurants have to post nutritional information, I've noticed high amounts of salt seems to be a real problem with many restaurant specialties. Sodium is the one thing I can't have a lot of, therefore, it's very important to me that my recipes taste fantastic even without tons of salt.
Some salt is necessary in almost every sweet or savory recipe. Please feel free to taste this Minestrone soup when finished, and make adjustments as needed for your family. If you're adding Parmesan as a garnish, you probably won't need additional salt.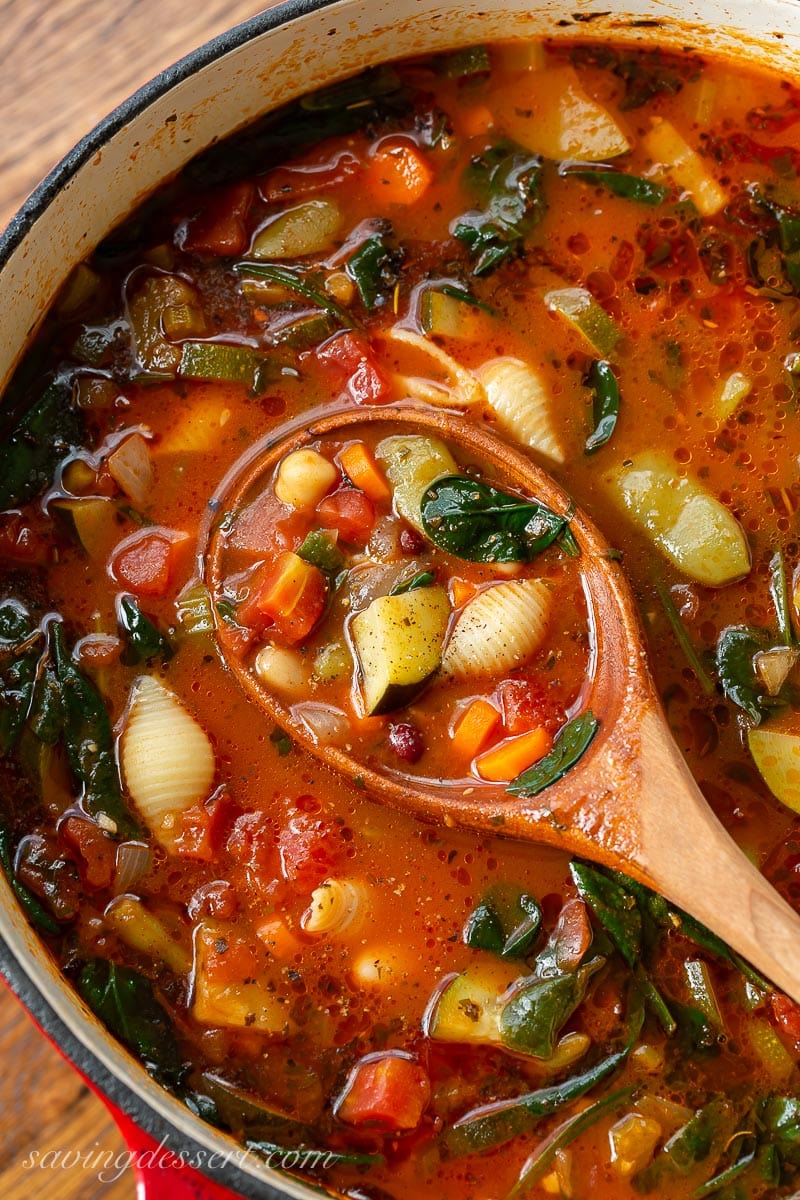 What kind of greens can you use in this Minestrone Soup?
For this recipe I usually add baby spinach leaves at the end. However, feel free to substitute kale or Swiss chard if you prefer. For me, leafy greens are all pretty interchangeable. If using baby kale or Swiss chard, be sure to cook the greens just a little longer to soften.
I make, eat and create a lot of recipes for soups and stews. Some include many of the same ingredients, i.e. carrots, celery, onion, zucchini and fresh leafy greens like kale and spinach. You may be wondering if all the recipes taste the same. No worries, each bowl full has its own delicious personality and unique flavor.
This is one of our favorite soup recipes. Minestrone soup has an incredibly rich tomato flavor that is synonymous with authentic Italian cuisine. Just wait until you smell it simmering away on the stove top. Your family may just run to the table and beg for more of this great recipe.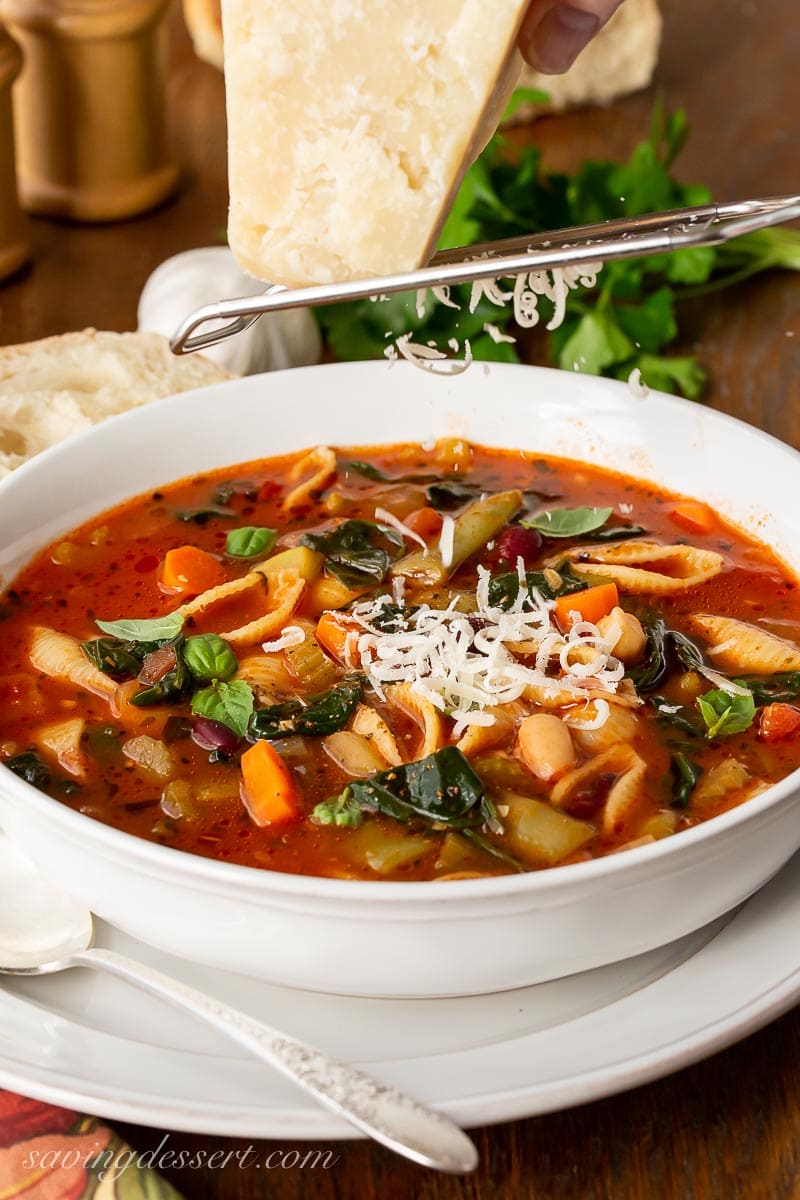 We serve Minestrone with a nice crusty bread and plenty of fresh grated Parmesan cheese.
Sopping up the broth with a hunk of crusty bread is one of my favorite ways to enjoy a bowl of soup. Add a nice bottle of wine and you have a complete meal fit for company. This soup is healthy and filling and really hits the spot all year long.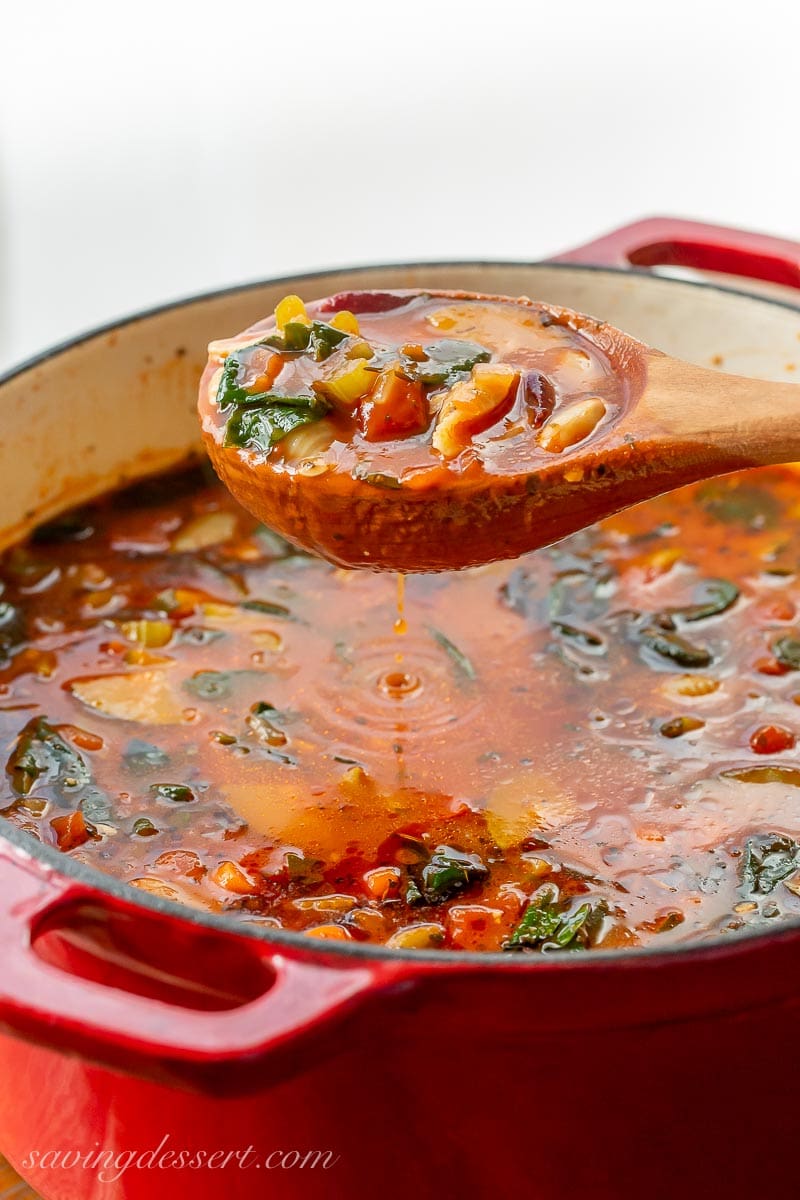 How to make fantastic Minestrone:
Start by sautéing the vegetables. Add the onion, garlic, carrots and celery in olive oil in a large soup pot or Dutch oven over medium-high heat.
Next add the zucchini, spices and fresh herbs, vegetable broth, tomatoes, passata, water and bay leaf. Simmer for 30 minutes stirring occasionally.
Finally, the spinach, all the beans and pasta. Cook for another 15 minutes or until the pasta is al dente.
Check the seasoning and add salt and pepper, to taste. Garnish individual bowls with Parmesan and fresh basil leaves.
This soup is absolutely delicious and best served with a plenty of fresh crusty bread!
Can you freeze Minestrone Soup?
This Minestrone soup freezes very well, especially if you undercook the pasta. Reheat the soup gently so the pasta doesn't turn to mush.
Another option is to leave the pasta out, freeze the soup and then add cooked shells when you reheat the base. This soup doesn't need to cook all day, it's pretty quick to throw together. If you freeze the Minestrone complete with pasta, just be sure to rewarm gently.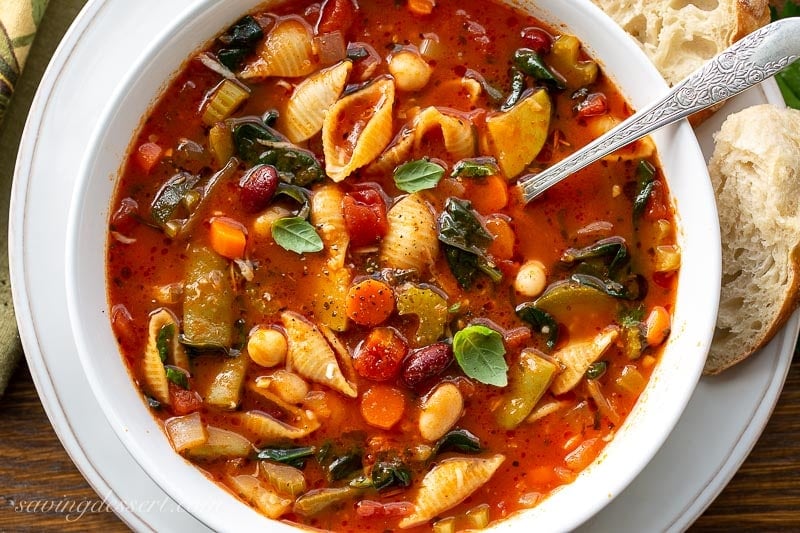 You can smell the amazing flavor before tasting the very first spoonful.
The aroma of our Minestrone is homey and fresh. After one bite you may find yourself transported to a small Italian bistro with white table cloths and bottles of red wine. A mini-vacation and you never have to leave the house!
Leftovers might even be better than the first bowl. Try it and see for yourself. I think you'll agree! We love this recipe and hope you do too.
This is a great pot of soup that's good enough for company and simple enough for lunch or dinner any day of the week.
Thanks for PINNING!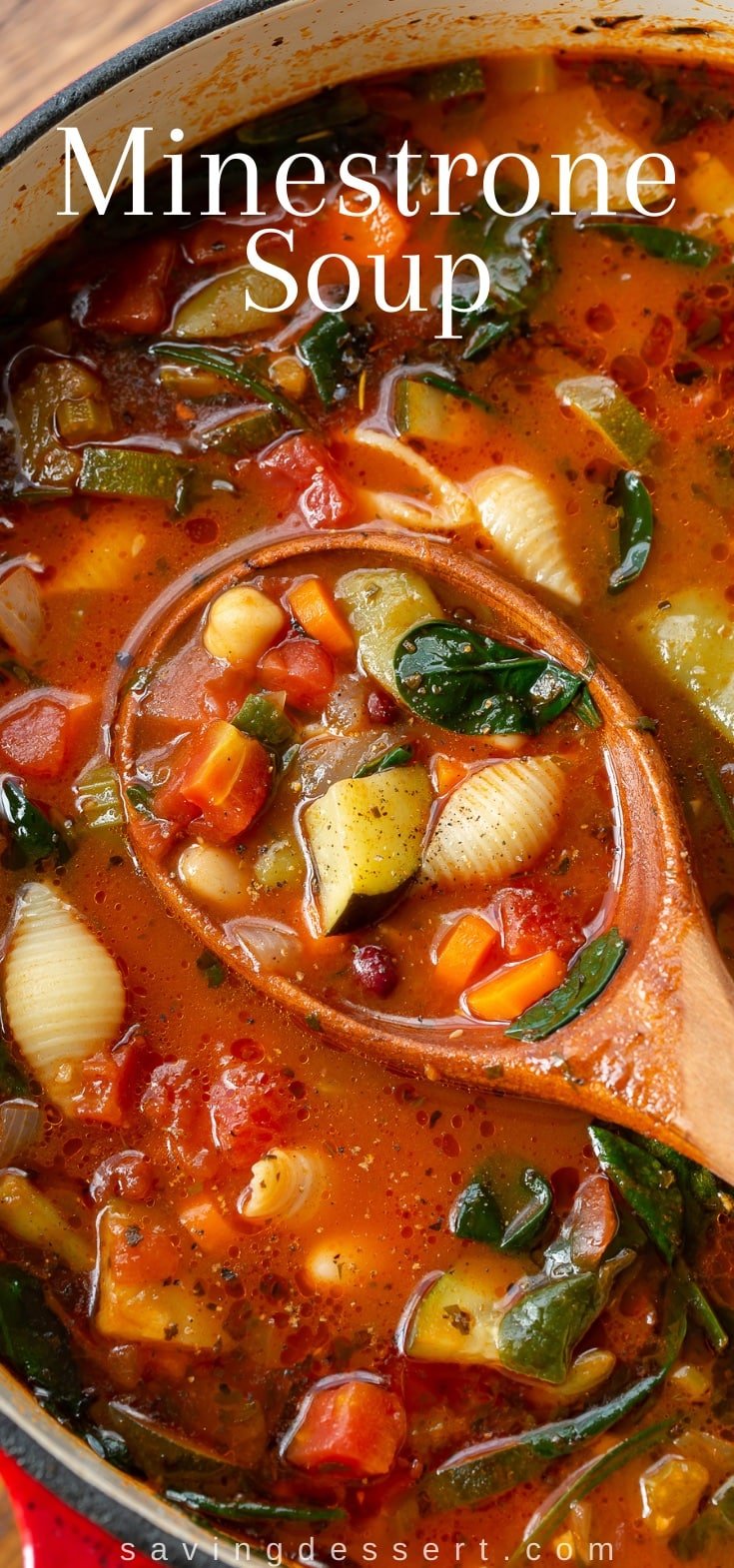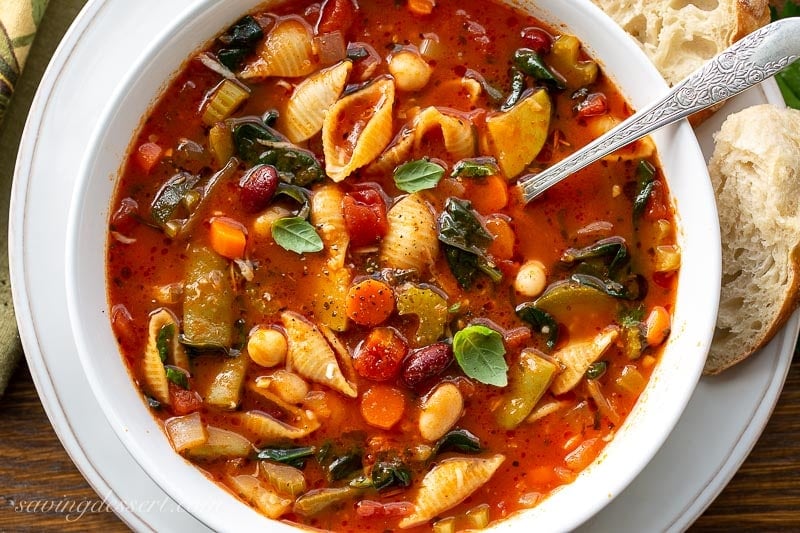 Minestrone Soup
Total Time:
1

hour
15

minutes
A rich tomato broth loaded with healthy legumes, vegetables and fresh herbs
Ingredients
3

tablespoons

olive oil

1

large onion

diced

4

cloves

garlic

minced

3

whole small carrots

peeled and diced

2

stalks celery

diced

1

medium zucchini

sliced and quartered

1 ½

teaspoons

dried oregano

1

teaspoon

dried Italian seasoning

¼

teaspoon

crushed red pepper flakes

(optional)

1

teaspoon

ground black pepper

2

tablespoons

fresh parsley

chopped

1

tablespoon

fresh basil leaves

julienned

1

teaspoon

fresh thyme leaves

8

cups

vegetable broth

(low salt)

14.5

ounce

can diced tomatoes

(low or no-salt) do not drain

24

ounce

bottle Passata *

1

cup

hot water

1

bay leaf

14.5

ounce

can Italian cut green beans

drained and rinsed

15

ounce

can red kidney beans

drained and rinsed

15

ounce

can cannellini beans

drained and rinsed

15

ounce

can garbanzo beans

drained and rinsed

4

cups

fresh baby spinach leaves

lightly packed

1

cup

small shell pasta

or medium shells

Fresh grated Parmesan cheese

for garnish
Instructions
Heat the olive oil in a large heavy bottom soup pot on medium heat. Add the onion and sauté until slightly translucent. Add the minced garlic and sauté for 1 minute, stirring constantly. Immediately add the carrots and celery. Cook, stirring gently for about 2-3 minutes or until the oil has coated all the vegetables. Add the zucchini, spices, fresh herbs, vegetable broth, tomatoes with juice, Passata, hot water, and bay leaf. Bring to a boil, reduce the heat to maintain a simmer, cover and cook for 30 minutes stirring occasionally.

Add the drained and rinsed green beans, kidney beans, cannellini beans, garbanzo beans, baby spinach and pasta. Cook until the pasta is al dente, about 15 minutes. Remove and discard the bay leaf.

Check the seasoning and add fresh ground pepper and salt if needed.

Garnish individual bowls with fresh grated Parmesan cheese and serve.
Recipe Notes
* Passata (strained tomatoes) - can be found near the spaghetti sauce in your local grocery store
Nutritional information may vary depending on the products used in this recipe.
Nutrition
Calories:
215
kcal
|
Carbohydrates:
37
g
|
Protein:
10
g
|
Fat:
5
g
|
Saturated Fat:
1
g
|
Polyunsaturated Fat:
1
g
|
Monounsaturated Fat:
3
g
|
Sodium:
315
mg
|
Potassium:
743
mg
|
Fiber:
10
g
|
Sugar:
8
g
|
Vitamin A:
4213
IU
|
Vitamin C:
23
mg
|
Calcium:
113
mg
|
Iron:
4
mg
Without a doubt I could eat soup almost everyday and never tire of trying new recipes.
If you love soup too, and have an instant pot, you may want to check out this easy Vegetable Soup.
Finally, here are a few more recipes you might also enjoy: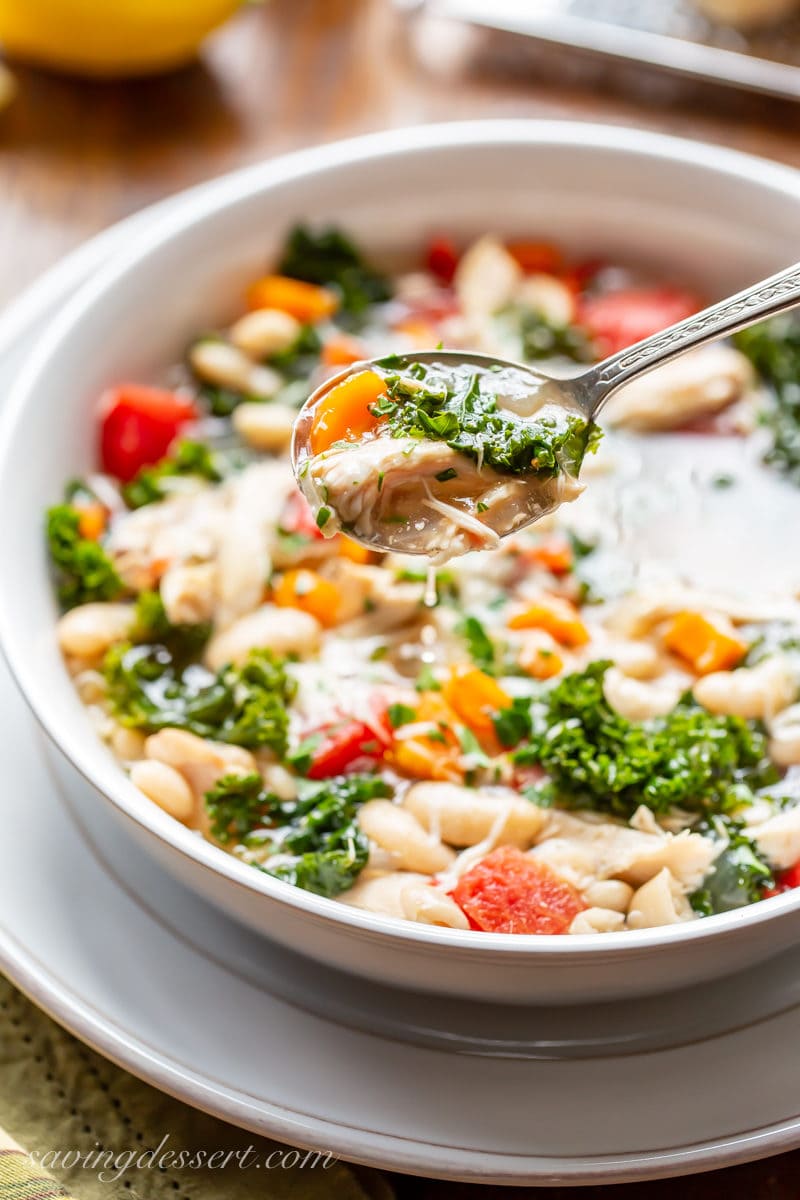 Slow-Cooker Chicken & White Bean Soup is an easy load-and-go favorite for busy weeknights or anytime we want a healthy, hearty meal. This soup is packed with flavor and plenty of tender chicken, healthy kale and creamy soft beans.
Pasta e Fagioli is a deliciously hearty, stew-like soup loaded with pasta, beans and Italian sausage. Every bite is rich with flavor and plenty of vegetables.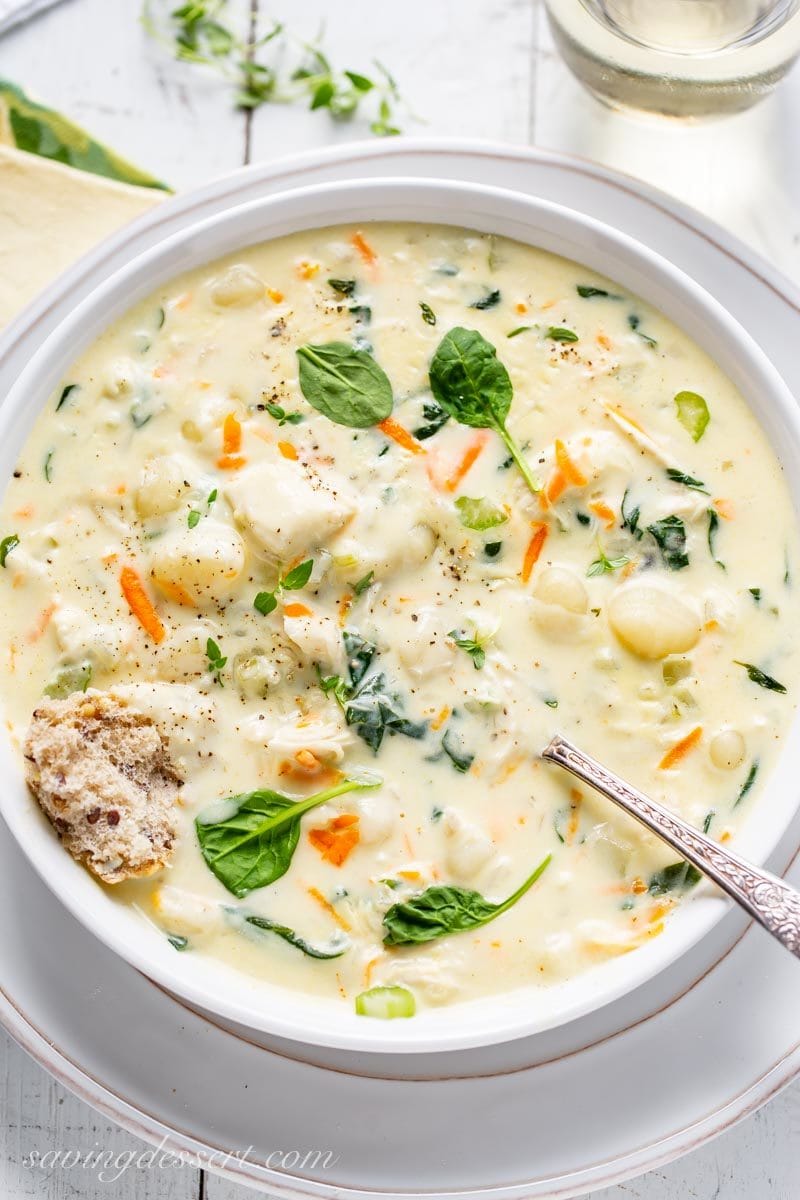 With a silky, creamy broth, tender chunks of chicken, loads of fresh spinach and pillowy soft gnocchi, our Creamy Chicken Gnocchi Soup is comforting, easy to make and very satisfying.
Saving Room for Dessert is a participant in the Amazon Services LLC Associates Program. As an Amazon Associate we earn a small commission from qualifying purchases, at no additional cost to you
Originally published January 2016, updated March 2021
SaveSave